Hullo all you Flow Frothers, and welcome to the first edition of Flow's Fresh Produce for the year 2020! Consider this a slightly belated Happy New Year from Mick & Wil here at FlowMTB, and we hope you all had a marvellous break over the Xmas holidays! For those of you enjoying your summer riding trips, we'd really rather not know. But we still hope you're enjoying yourselves.
Yes, we're just a little tardy with our New Years wishes, but has anyone else noticed just how massive the start of 2020 has been so far? Because it's been humongous! If you've been following us here at FlowMTB, you'll no doubt have seen all of the new bikes released over the past couple of weeks, in what is traditionally the 'off-season' for all the big brand launches. After the last few weeks though, we're not convinced there's actually an off-season anymore.
Not when we've had Specialized launch its new Levo SL lightweight e-MTB, or Pivot Cycles bring out its second generation Switchblade. Of course you'll no doubt be aware that Santa Cruz has also finally decided to jump into the e-MTB game with the amusingly-named Heckler, which has caused quite the stir. And just this week Norco decided to unveil the brand new Sight VLT, which is very, very different to the previous version. We've had the chance to ride and rate all four of those bikes, so be sure to check out the reviews right here if you fancy.
Beyond all the bombshell bike releases, there's been scads of other stories and reviews we've been busy beavering away on in the New Year, including Mick's colourful feature on all the bikes & tech from the Cannonball MTB Festival. And if you're looking for any inspiration for a riding trip this year, be sure to read Imogen's Top-5 reasons for mountain biking in Alice Springs – some lovely photos and inspirational words in there to get you yearning for some outback adventures.
Now that we've gotten through some of those early bike launches, we've had a moment to breathe and go through all of the new kit that's turned up at Flow HQ for testing. And there is A LOT! So grab a cuppa, settle in, and get ready for a heady dose of shiny new kit. As always, give us a hoy if you've got any questions about any of the products you see here. Enjoy!
---
Fox Speedframe Helmet
The Fox Flux is dead! Long live the Flux! In its place, Fox has introduced a brand new trail helmet called the Speedframe. We like the new name, which helps to better align it with the full-face Proframe and the half-face Dropframe.
The Speedframe maintains an open-face shell and is designed with trail riding in mind. There are 19 vents in total, including three vents over the brow, which kind of gives it a slightly 'Specialized' vibe. There's a big ol' visor that offers three firmly-indexed positions. Set it in the highest position, and you can stow your goggles up there too. Inside the helmet you'll find the latest version of the MIPS protection system, as well as anti-microbial padding that can be removed and washed if your microbes are simply too powerful.
Fox offers the Speedframe in three versions. Here we've got the more expensive 'Pro' model, which gets a snazzy FidLock chin buckle that uses the wizardry of magnets to bring it together. More importantly though, the Speedframe Pro gets the Varizorb shell, which combines two different densities of EPS foam into the one shell. You can spot this in the photo above – the light grey EPS foam is a softer density and is placed closer to the rider's head, while the black EPS foam is a firmer density and is placed on the outer part of the structure for better impact strength.
For $70 less you can get the Speedframe MIPS helmet, which uses the same overall shape and MIPS protection system, but skips the dual-density Varizorb foam and the FidLock buckle. Or for $100 less there's the standard Speedframe, which is MIPS-free. All three helmets come in a tonne of colour options and in Small, Medium or Large sizes.
---
Ride Concepts Transition Clip Shoes
Ride Concepts is still a relatively new name in the mountain bike footwear world, but the fledgling brand is having a red-hot crack at the big hitters with a solid line of both flat pedal and clip pedal shoes. The Transition is RC's flagship clip pedal shoe designed for trail riding and enduro racing. You get laces and a big Velcro strap to tie it all down, while D3O inserts in the footbed and around the ankle provide impact protection. The 40mm wide cleat box is designed to accept all modern 2-bolt mountain bike cleat systems, and it's surrounded by a textured rubber outsole that uses RC's mid-density DST 8.0 compound.
---
Dynaplug Racer Tubeless Tyre Repair Kit
For repairing a tubeless tyre puncture on the trail, we've found it hard to go past the quality and effectiveness of a Dynaplug. The US brand makes a host of different solutions for plugging a hole in your tyre, including the lightweight Racer option we have here. This double-ended tool is beautifully machined from solid billet 6061 aluminium and weighs just 23 grams. It's slim enough to fit in a saddle bag, jersey pocket, or with your tube strap on the frame. You get three of the pointy-tip plugs and two blunt Megaplugs included.
---
Dynaplug Megapill Tubeless Tyre Repair Kit
Compared to the original Dynaplug Pill, the Megapill is, err, more mega? It's bigger, that's right. And it holds more plugs too. And it comes with a Megaplug in it – that's the thicker tubeless plug that has blunt, rounded tip for sealing up particularly large punctures. Also inside the Megapill is the world's tiniest shank for cutting off the rubber tail that's left behind after you've done your plugging. And all of that comes inside a texturally-pleasing machined alloy case.
---
Dynaplug Megaplugger Tubeless Tyre Repair Kit
If you're not so fussed on carrying a zillion plugs or you don't need the fancy alloy case, the Megaplugger uses a lighter plastic housing. As its name suggests, it comes with the bigger Megaplug applicator, along with a couple of spare plugs in the box. Plus the cutest little yellow pipe-cleaner. Spare plugs for any of the Dynaplug systems we've got here can be bought separately as a 5-pack for $19.95 (pointed or bullet-tipped), and you can get a 3-pack of the XL-sized Megaplugs for $22.95.
---
DHaRCO Tech Tee
Aussie mountain bike apparel brand, DHaRCO, has got a new season line of riding jerseys, tech tees, baggy shorts, and gloves. We've got one of the new stone-coloured tech tees, which are made from a fabric called Drirelease. Made up of 85% polyester and 15% cotton, Drirelease aims to provide the softer feel of cotton while better wicking moisture for vastly better breathability. You can get these tech tees from Small through to XXL and in a bunch of colour options.
---
DHaRCO Gravity Shorts
To go with the new jerseys and tech tees, DHaRCO has revamped its Gravity Shorts with a new cut that supposedly fits truer to size than the previous version, which was known for being on the small side. Using a 4-way stretch fabric, the Gravity Shorts get a couple of zippered pockets and an adjustable waist with a Velcro cinch-strap on each side. Available in Small through to XXL in Black, Blue and the Camo we have here.
---
DHaRCO Connor Gloves
We dig the jazzy patterns of DHaRCO's full-finger gloves, including the flowery print on these Connor gloves. These have a streamlined fit and a minimalist construction for comfort and summer riding breathability. The synthetic palm is free of padding for a close fit on the grips, and the the thumb and index finger are supposedly smart-phone friendly. There are four other colour options, and all gloves come in Small through to XL sizes.
---
DHaRCO 3/4 Sleeve Jersey
Inspired by Connor Fearon's race kit, the Fast Tropical print on this 3/4 jersey is an obvious match for those dazzling gloves. With an over-the-elbow length, the 3/4 jersey offers a touch more abrasion and sun protection than a regular short-sleeve jersey, but keeps things light and breezy. Quick-dry polyester helps there too, as do the side mesh panels, which are kept black for tasteful discretion. Like the Tech Tee, this bad boy goes up to a XXL size.
---
DHaRCO Gravity Pants
An entirely new product for 2020, the DHaRCO Gravity Pants were designed in collaboration with Connor Fearon to provide full-length protection while still maintaining a close-fit for less flapping in the breeze. Not just for DH racing, these Gravity Pants are built light and stretchy enough for winter trail riding. These get the same 4-way stretch fabric as the Gravity Shorts, but that fabric runs all the way down to the ankles, where they taper in above your shoes. There's room for knee pads underneath, and you get three pockets and an adjustable waist band. Sizes go from Small up to an XXL.
---
ODI F-1 Vapor Grips
These are ODI's answer to the popular silicone foam grips from the likes of ESI. Utilising ODI's own A.I.R.E compound, these provide a nice squishy feel that's supported by millions of tiny air bubbles trapped inside. ODI says you get a slower rebound for more control and more comfort, while a textured and dimpled surface gives you more to hold onto. As for weight? These come in at just 74g for the pair, which is a good bit lighter than a lock-on grip.
---
Lezyne Digital Shock Drive
The Lezyne Digital Shock Drive is without doubt one of Wil's favourite tools, which explains why he was absolutely distraught when he lost his 3-year old pump on the trail a few weeks ago. Thankfully he didn't have to endure too many sleepless nights, as we've just had a replacement Shock Drive turn up at HQ to satisfy his trailside-tuning needs. A very compact digital shock pump, this little doohicky is small enough to fit into the stealth pocket of a pair of bib shorts. It has a nice, big  display that reads to the nearest whole number, plus there are gold bits, which look sweet. If you want to tune your fork and air pressures accurately, ditch the bulky analogue pump and get one of these.
---
RockShox PIKE Ultimate Fork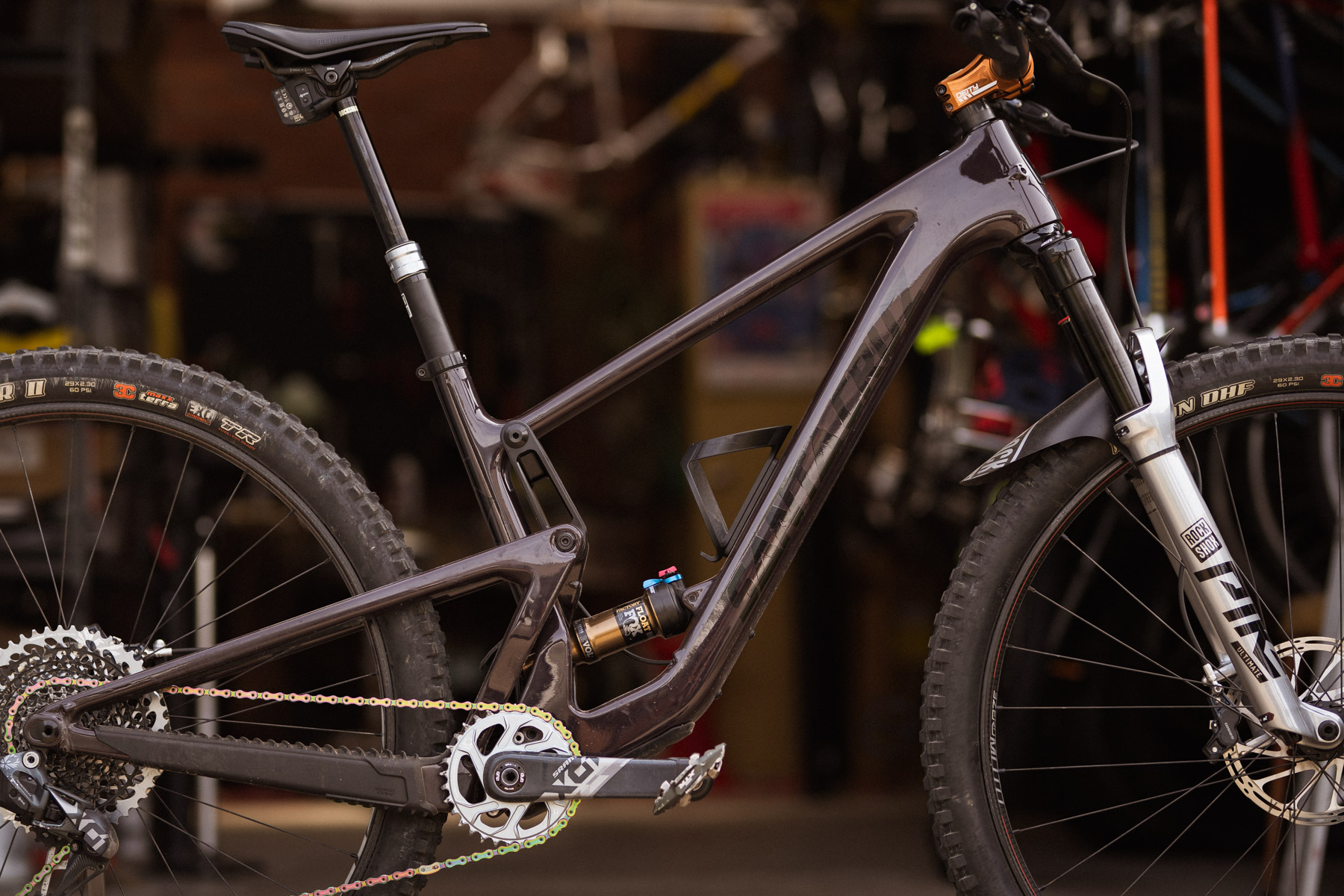 One of the biggest stories so far in 2020 has been on this bike here – Mick's custom-built Santa Cruz Tallboy 4.0. Equipped with a SRAM AXS drivetrain and Reverb dropper post, along with Zipp 3Zero Moto wheels and a Deity cockpit, it is one seriously good-looking piece of trail shreddery. If you haven't read that article already, you owe it to yourself to check it out right now.
The only part of the puzzle that Mick wasn't totally happy with was the fork. To begin with, he built the Tallboy with a 140mm travel Fox 34 fork that had a 51mm offset. However, the new Tallboy is significantly longer and slacker than its predecessor, and is also optimised around a reduced-offset fork between 120-130mm of travel. While the Fox fork worked fine, the handling wasn't quite right.
To rectify its handling, Mick has just plugged in a 2020 RockShox Pike Ultimate fork with 130mm of travel and a shorter 42mm offset. Compared to the 2019 Pike, the latest model gets the revised Charger 2.1 damper, low-friction SKF seals and Maxima Plush damping fluid to provide smoother performance for greater traction and control. Currently this fork has the RCT3 damper, which offers adjustable low-speed compression damping and a 3-position lever to offer open, medium and firm settings. However, we're about to get our hands on a Charger RC2 damper for even greater high-speed control. Stay tuned for an update on that one!
---
Fox Flexair Lite Shorts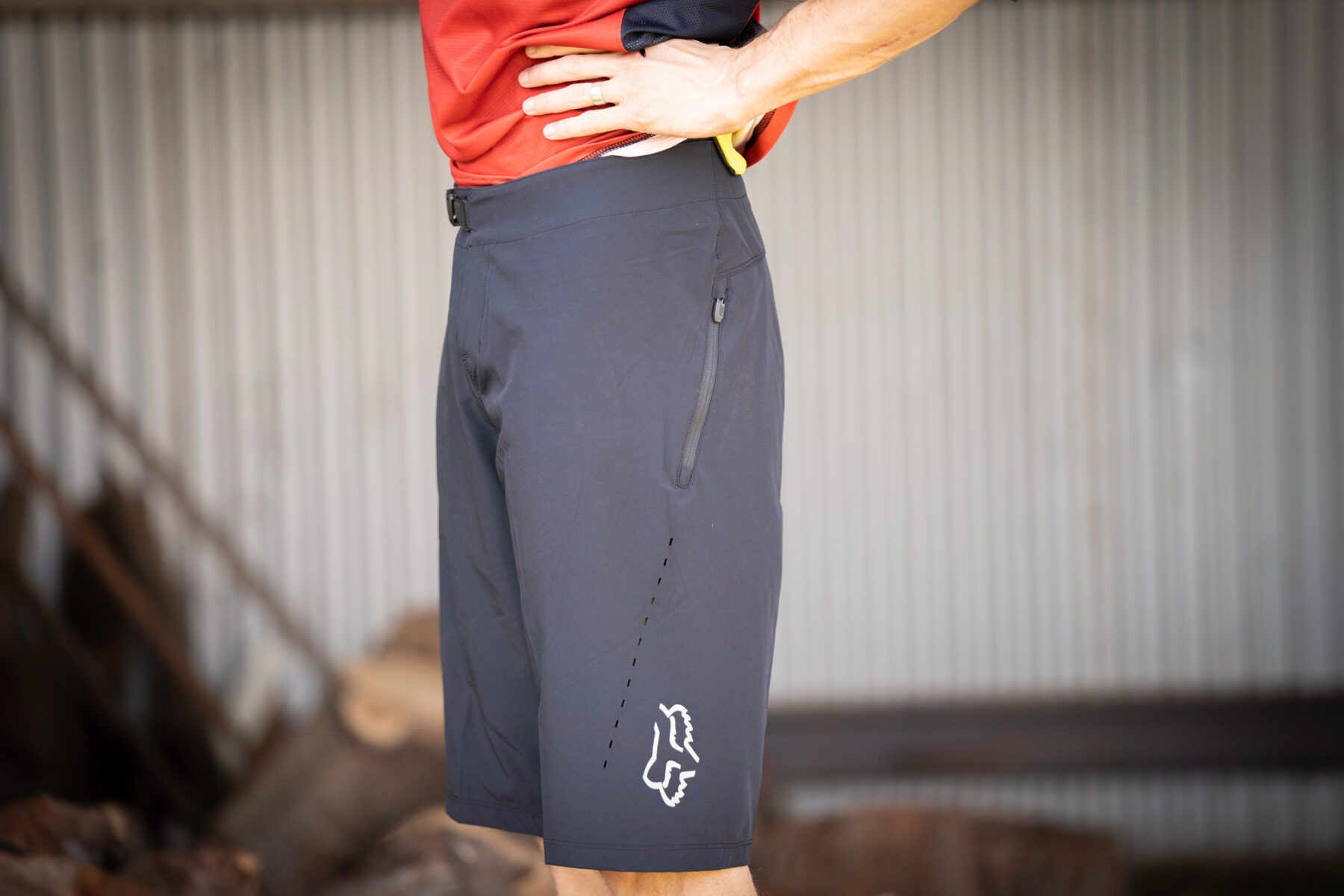 For those who want the lightest and breeziest kit available, Fox has the Flexair Lite short. Built with TruMtion 4-way stretch fabric, these shorts have a very light and soft feel along with in-built ventilation via laser-cut perforations on the outside of each thigh. There's a single zippered mesh pocket to keep your mobile phone or keys handy, otherwise everything is stripped back to the bare minimum, with a single ratchet closure system on the waist. A padded liner is included, but can be removed if you want to wear these with your favourite bib shorts.
---
Mo' Flow Please!
Enjoyed that article? Then there's plenty more to check out on Flow Mountain Bike, including all our latest news stories and product reviews. And if you haven't already, make sure you subscribe to our YouTube channel, and sign up to our Facebook page and Instagram feed so you can keep up to date with all things Flow!