Former professional road racer Michael England and Edwina Hughes have been crowned the champions of The Redback 2016, the six-stage, four day mountain biking stage race in Alice Springs across arguably some of the most amazing courses in the whole of Australia.
The field heading into the ninth year of the event (formerly the Ingkerreke Commercial MTB Enduro), was a mix of elite, top and aspiring riders including Specialized Australian MTB team member Shaun Lewis (2013 runner-up), two time Olympic triathlete Courtney Atkinson, Cannondale's James Downing, local junior champion Luke Pankhurst and Tasmania's Alex Lack.
As expected Alice Springs dished up plenty of sunshine across the four days of racing, and even some rain and thunderstorms today making the racing brilliant with tactics coming into play for those chasing or protecting general classification rankings.
Gladstone's Michael England (33), race leader on an accumulated time of 09:12:49 said he had expected a big challenge, but had been working hard the last few months to get fit.
"It's great to come out with the win, I expected a good placing, but you're always unsure as to how everyone else is going," England said. "I was keen to go well in the time trial; that was always going to be a decider, because there was an opportunity to make a lot of ground in riding well, as opposed to a mass start."
England said he knew the sort of terrain and single track he was up for, but being shorter stages compared to the marathons he is used to, was quite excited to see how his body would go.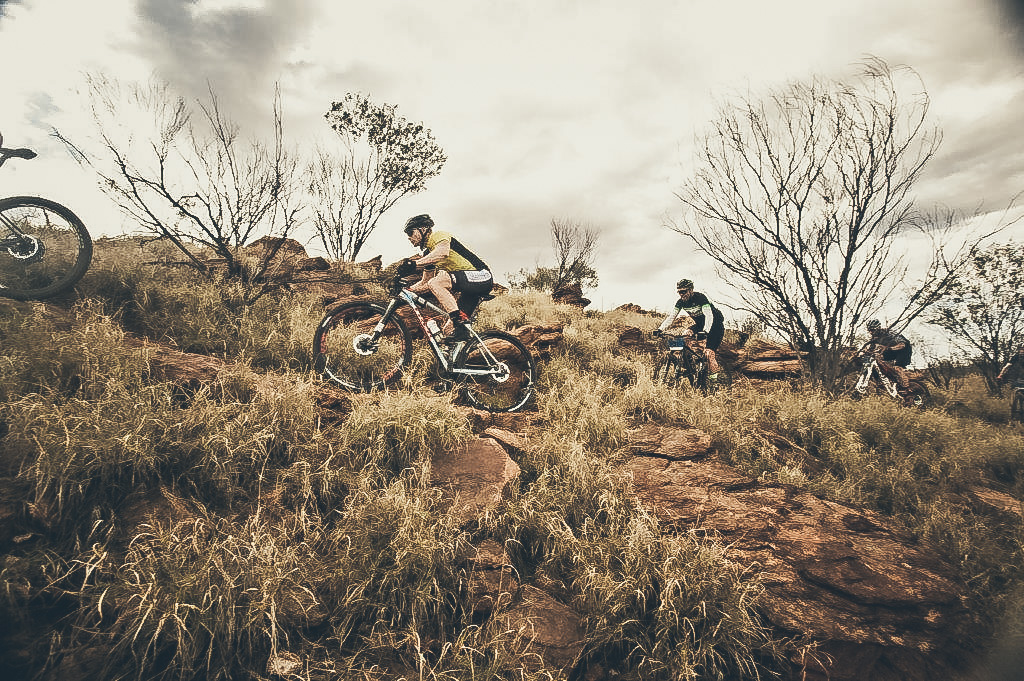 "It went pretty well, it's all about recovery, straight after each stage; my main tactic was just don't lose time.
"Road (racing) was a job, it was full time, and I've now got family, and I work full time. Mountain-biking's a great mix; obviously the commitment's there to bit fit, at the pointy end of the field but it's good fun.
"I really enjoyed it; it's been a great event to attend, it's the first one for me, so yeah I'm really happy with how everything's gone."
Shaun Lewis (35, ACT) claimed three stage wins, but couldn't make up the time lost with a broken chain 20 metres from the start of Friday's Stage 4, to hold his position as leader in general classification. Lewis' Stage 6 win today earned him the Tavis Johannsen Memorial Trophy.
"It's been a very fun week, very enjoyable, and lots of fun. I'm very happy, apart from mechanical issues, which is part of bike racing. Normally snapping a chain only costs you two or three minutes to fix, but being right at the start of the race, you're stuck behind all the traffic, but that's all part of it. After the damage with mechanical, I just tried to win stages; that was the best I could do for the week.
"I really enjoyed the racing when it was close; it was pretty nail-biting to the finish which is good. And I thought the format was really good overall.
"The young guys are riding really well, Luke Pankhurst and Alex Lack; I was quite impressed by seeing him ride, his skills in the singletrack are really good, so when he was up the front he made it really quick, and a lot of fun; that made it pretty exciting."
The lead on the women's side of the draw was held tightly from the get-go by Tasmania's Edwina Hughes (32), who out of the blocks claimed Stage 1, and backed it up with wins in Stages 2, 3 and 6 to win overall (10:38:36).
"I'm unbelievably happy, it was such a fantastic race, and to come away with the win is just the icing on the cake," Hughes said.
"I felt pretty good coming into it, I was definitely quietly confident, but you never know coming into these things, how it's going to go, and had luck on my side, with no mechanicals. For the first few stages, I just rode as hard as I could, and by the end of the second day I felt pretty comfortable with my lead, so I felt all I had to do was keep an eye on second place, and hope for the best.
"The trails were incredible, absolutely amazing; proper mountain biking trails, it just felt so wild. It was one of the friendliest races I've ever done; it was a really nice feeling out there on course. I'd love to come back, it was an amazing experience."
Race Director John Jacoby from Rapid Ascent said the racing had been really good, with some exciting sprint finishes.
"We had beautiful riding conditions; a few warm days, but others sunny, with a cool breeze, and the perfect temperature," Jacoby said. "Luke Pankhurst, overall junior winner was up there with the opens, and junior Zoe Cuthbert as well. The veterans and the masters categories were also super competitive; they were posting some really good times.
"They all loved the course, there are some great tracks out there, and the final stage today was probably the favourite; it captures some of the best bits of singletrack that Alice has to offer. It's always great to finish on such a high. Thank you and well done to all riders."
---
RESULTS:
The Redback General Classification
1 – Prime (18-39) – Michael ENGLAND (5) – 09:12:49
2 – Prime (18-39) – Alex LACK (7) – 09:13:36
3 – Veteran (40-49) – Chris HANSON (3) – 09:14:39
The Redback General Classification Female
1 – Prime (18-39)   – Edwina HUGHES (321) – 10:38:36
2 – Junior (Under 18) – Zoe CUTHBERT (12) – 10:56:01
3 – Veteran (40-49) – Georgina LANDY (139) – 11:05:19
For more results: CLICK HERE – Multisport Australia – The Redback
http://www.multisportaustralia.com.au/Home/QuickResults?clientId=1&raceId=1617&culture=en-US
EVENT DETAILS:
18-21 August 2016 – Alice Springs, Northern Territory
4 days, 6 stages:
Central Communications Stage 1 – 40km Cross Country Race – Thursday (AM)
Rapid Ascent Stage 2 – 300m ANZAC Hill Climb – Thursday (PM)
Endura Stage 3 – 22km Individual Time Trial – Friday (AM)
NT Tourism Stage 4 – 22km Night Race – Friday (PM)
Lasseters Stage 5 – 50km Cross Country Race – Saturday (AM)
Chifley Alice Springs Resort Stage 6 – 45km Cross Country Race – Sunday (AM)
Website: www.TheRedback.com.au
Twitter: @Rapid_Ascent #TheRedback
Facebook: https://www.facebook.com/rapidascentevents