A big Happy New Year to all you frothers out there, and welcome to the first edition of Flow's Fresh Produce for 2022! We're still scratching our heads as to how the holidays came and went so quickly, but moaning aside, we hope you've all had a splendid break over the festive period, with many mountains climbed, rocks hopped and berms schralped.
Since we last caught up, there has been a'plenty happening in Flowlandia. You may have tuned in to see our Cannondale Jekyll review, and for something a little different to our usual programming, Wil also put together a video on his recently upgraded Specialized Chisel that has somehow managed to come in below the 10kg barrier. Wowsers!
We also published our review on the latest Specialized Levo SL, which was then followed by the news that Specialized is finally offering an alloy version of the regular Levo that doesn't cost a kerbillion dollars.
It isn't all about new bikes though. You may have heard about the launch of the Australian Slopestyle Tour, and there's also been a big announcement out of the Victorian High Country regarding the expansion of the Falls Creek trails. There's also a new trail network being proposed for Cardwell in Queensland, and Colin also delivered a fantastic feel-good article about the rebirth of Fox Creek in South Australia following the devastating 2019 bushfires.
Yes indeedy, there is a heap of juicy stories and reviews there for you to get stuck into – good news for anyone who's currently isolating from Covid and looking for a way to pass the time. Even better, we've also received a sled-worth of fresh test product, and here we'll be taking you through all the glorious details. We hope you enjoy folks, and here's to a bloody brilliant 2022 filled with less pandemics and more riding good times. Yiewwww!
---
DT Swiss XRC 1501 Wheels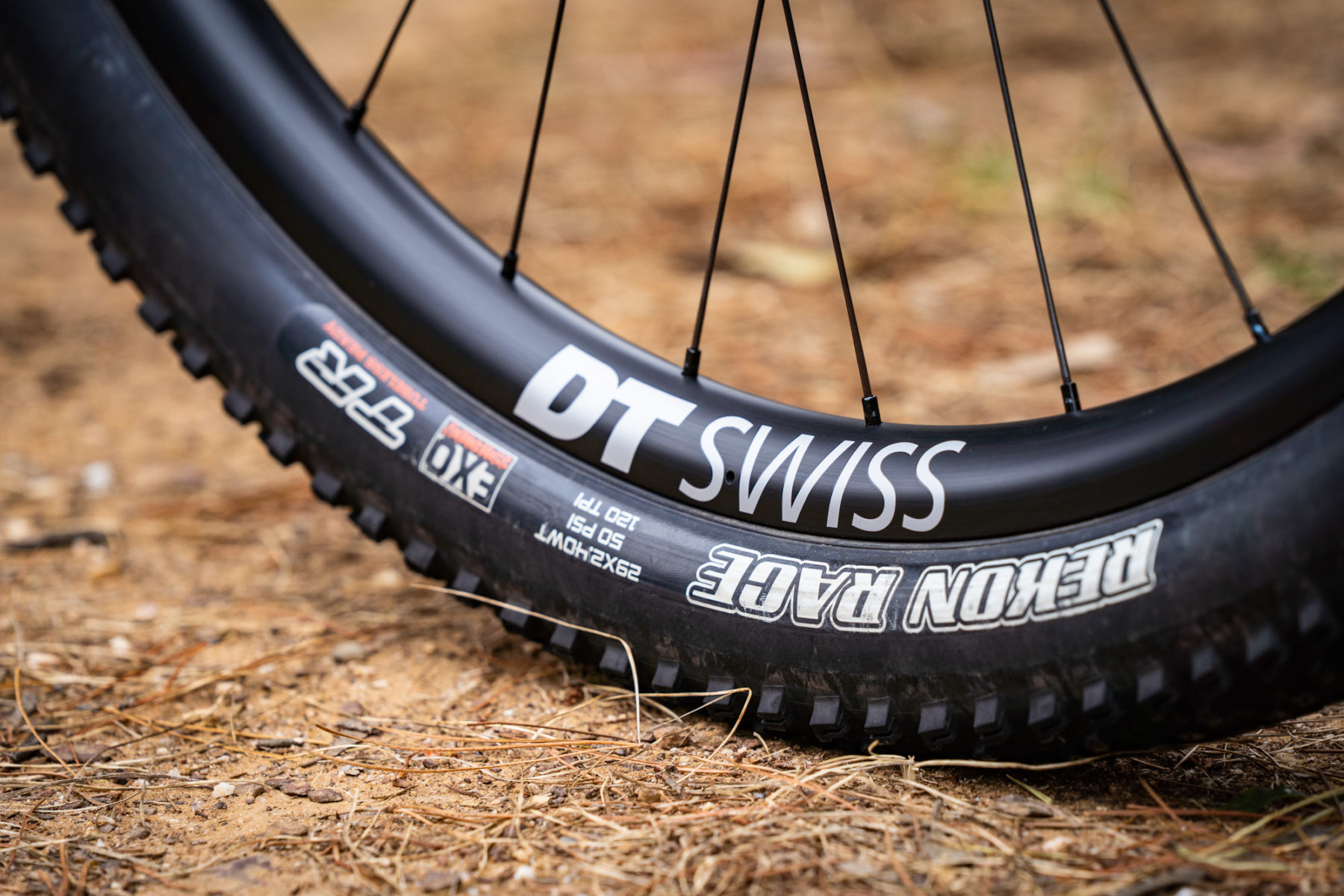 Arriving as a lightweight upgrade for one of our long-term test bikes, the DT Swiss XRC 1501 is a premium carbon wheelset that claims to meet the elevated demands of modern high performance XC bikes. Featuring hookless carbon fibre rims and a 30mm internal width, these are designed to pair up perfectly with the latest crop of 2.3-2.4in wide XC tyres, like the Maxxis Wide Trail Rekon Race and Aspens we've set them up with.
At the centre of each wheel is the latest DT Swiss 240 hub set, which is equipped with the new generation Ratchet EXP freehub mechanism. You get 36 engagement points, which offer a beautifully subdued 'purr' when freewheeling. The wheels are then handbuilt with straight-pull DT Swiss Competition Race spokes and Prolock nipples.
Coming in $750 cheaper than the top-end XRC 1200 wheels we've previously tested, the XRC 1501 wheelset aims to offer similar performance albeit with a bit more weight. Our test wheelset tipped the scales at 1,589g including tubeless tape, valves and a Micro Spline freehub body (a SRAM XD freehub is also included in the box). That's barely a 70g penalty over the XRC 1200 wheelset, which makes these without doubt the better value option.
We'll be putting these to the test over the coming months to see how the performance stacks up on the trail, and to find out whether these are a worthy upgrade from the stock hoops that come on many mid-level XC bikes.
---
Maxxis Aspen 2.4WT Tyres
To suit those DT Swiss wheels, we've got some fresh Maxxis 2.4in Wide Trail tyres that are designed specifically for rims with a 30mm inner width. On the back is the latest Aspen, which is a tyre you'll regularly see being used on the rear and front of Nino Schurter and Kate Courtney's race bikes. Not being exactly World Cup material ourselves, we've paired the Aspen with a knobblier Rekon Race 2.40WT up front.
Despite the Aspen's sparse tread pattern, these are surprisingly good XC tyres, offering substantially more grip and comfort compared to the anaemic 2.25in version. They're supported nicely on the wide rims, and they produce noticeably less rolling resistance over the Rekon Race.
Our Aspen test tyres have come in as light as 717g, making these an impressively lightweight option given the high volume casing. They do measure up true to size, so you'll want to make sure your bike can fit a 2.4in rear tyre, since that clearance is not always a given on an XC bike.
On the trail they offer a very supple and compliant ride quality thanks to the big volume and 120TPI carcass. This allows the tyre to conform around obstacles, reducing feedback and maximising surface contact for improved grip. While they do feature EXO reinforcement in the sidewalls, we're still using a CushCore XC insert in the rear wheel to ward off pinch-flats while protecting those fancy carbon rims.
The wear rate isn't amazing, since there isn't a lot of tread to carry the load to begin with, so we wouldn't recommend them for general trail bashing or wet conditions. But for XC racing in dry, dusty and hardpacked conditions, these are a fantastic and well-priced option.
---
Syncros Fraser iC SL XC Carbon Cockpit
As part of the ongoing project to turn our Scott Spark 910 test bike into a Spark RC, we've received a lightweight one-piece carbon fibre cockpit from Syncros. It's the Fraser iC SL XC handlebar, which you'll find as standard equipment on the high-end Scott Spark RC models.
Integrating the stem into the single carbon structure, it is pretty darn light at just 271g. That's less than half the weight of the alloy bar and stem that came off the bike, which is a considerable weight saving.
It's not the lightest option out there though. the Bontrager RSL we're currently testing weighs in a 239g, and the old Syncros Fraser was lighter again at an unbelievable 226g. This new version has a more conventional T-bar profile, and the stem appears to be significantly beefier too, likely to increase stiffness and strength around the steerer tube.
The Syncros Fraser iC SL XC handlebar features a 740mm width with a 4° upsweep and an 8° backsweep, and it's manufactured in 50, 60, 70, 80 and 90mm stem lengths. We've gone for the 60mm version, which features a 12° drop to get the bars down lower compared to the stock setup on the Spark 910.
The shape of the stem is designed to integrate neatly with the special headset and internal cable routing system used on the new generation Spark. A couple of stick-on cable guides are included for managing the various cables, though these are optional. Also optional, underneath the bar is a hidden mounting area that allows you to affix a variety of different brackets to suit a Garmin or Wahoo GPS computer, a GoPro or a front light. That's useful, because the centre of the handlebar uses a slightly ovalised shape that won't accommodate standard light and accessory brackets.
---
Fox Nude 5 Shock
In our quest to turn the Spark 910 into a racier and lighter Spark RC, there was one piece of the puzzle that was a little more hidden than the rest. While both versions of the Scott Spark feature 120mm of rear wheel travel, the shock itself is actually different between the two, with the Spark RC featuring a lighter and smaller volume air can.
We've not seen a lot of discussion around this, and we were keen to see exactly what the difference would be on the trail. Rather than speculate, we requested to get a Nude 5 shock in to replace the bigger Nude 5T shock that comes standard in the Spark 910.
Both shocks are manufactured by Fox (though there are also RockShox-made Nude shocks on certain Spark models too) and they both feature trunnion mount in a 165x45mm size. The key difference is the volume, with the Nude 5 getting a smaller air can that offers a more progressive spring rate. In theory, this should lead to better pedalling support, at the expense of some small-bump sensitivity and comfort. A side benefit is that the smaller Nude 5 shock is also lighter (295g vs 376g).
Much of the shock's function is otherwise identical. The air valve points out vertically, allowing it to be easily accessed through the removable hatch on the downtube of the new Spark. There's also externally adjustable rebound damping, and a 3-position compression dial that is remote activated to provide the three distinct suspension settings via the TwinLoc remote. You can also tune the volume of the positive air chamber via specific plastic spacers. As to how it rides? Stay tuned for our long-term test. In the meantime, be sure to check out our Scott Spark review.
---
Orucase Trail Pal
Based out of San Diego in California, Orucase produces a juicy range of handlebar bags, top tube bags, tool rolls, saddle bags and even travel cases for transporting your bike. The Trail Pal is one of the newer products from Orucase, and it's designed specifically for mountain biking.
Pitched as a compact and versatile storage solution for carrying spares on your ride, the Trail Pal is manufactured from thick Kevlar-reinforced fabric. It'll fit a 29er tube inside, and there are separate pouches for stowing CO2 cylinders, tyre levers, a multi-tool and a tubeless tyre plugger. Underneath the main flap is a slim zippered compartment that's ideal for securing smaller items like spare chain links.
Once loaded up, the Orucase Trail Pal secures to your bike via a large rubber gear strap. It's slower to remove and install compared to a regular saddle bag or tube strap that uses a basic Velcro strap, though it is claimed to be significantly more durable. You can also get a fair bit of tension on it, and the underside of the pack is lined with rubber to minimise slipping.
We've had good results with fitting the Trail Pal to the underside of the saddle on XC bikes, and also at the base of the downtube on trail bikes when clearance permits. It's less secure when mounted to skinny top or seat tubes though, especially since the pack can be fairly bulky when it's fully loaded up. As such, there may be some frame and suspension designs that simply won't work well with the Trail Pal.
It's otherwise pretty secure once in place, and compared to using a simpler tube strap, we like that the inner tube is somewhat protected from the elements inside the bag. It's also nice to have all your essential spares in the one place, especially as we're moving the Trail Pal from bike-to-bike on a regular basis.
---
Stan's NoTubes DART Tool V2.0
Released a little over two years ago, the Stan's NoTubes DART is a tubeless tyre plug tool that claimed to quickly and effectively seal up punctures encountered on the trail. Our experience hasn't been overly positive with the original DART tool however, so we were curious to see this updated version turn up at Flow HQ.
Compared to tubeless tyre plug systems like those from Dynaplug and Lezyne, the DART tool is quite different in its use of a soft fabric-like material. This material is laser cut to provide flexible wings, which are able to easily conform to the shape of the puncture. A chemical treatment is applied to the material, which supposedly reacts with Stan's NoTubes latex-based tyre sealant to spark up a faster reaction so that the puncture seals up faster.
The fabric plug connects to a pointy plastic tip, which you use to pierce through the puncture when plugging the tyre. On the original DART tool, we found the connection between the fabric and plastic tip to be sub-par, with about a 50% failure rate of the two separating. Once separated, the plug would typically release from the tyre either during the repair, or a few minutes later while riding on the trail. Not ideal.
According to Stan's NoTubes, these new DARTs get a stronger plastic tip that is sonically welded to the fabric to provide a much stronger connection. The fabric itself is also claimed to be new and tougher. We'll be putting those claims to the test shortly, but for the punctures that we were able to successfully repair with the original DARTs, the seal was certainly effective. We also like that you don't have to trim the plug afterwards, like you would with a regular tyre plug.
The tool itself is otherwise unchanged. There's a plastic barrel that houses two DARTs inside it, with a clear threaded cap that seals them from dirt and contaminants. You can also buy top-up DARTs in a refill pack, though we're still waiting to confirm Australian pricing and availability.
---
Fox Enduro Pro D3O Knee Guards
Helping to bring the new year in with style, we've had a bunch of fresh new season kit arrive from Fox Racing. Shown here are the new Enduro Pro knee guards and matching elbow pads, which are ready to protect us from whatever 2022 decides to throw our way. Ha – we can always hope right!
Designed to strike a balance between impact protection and pedalling flexibility, the Enduro Pro knee pads feature a lightweight sleeved construction that sees them fitting much like a knee warmer. Inside is a custom-moulded D3O armour plate that is soft and squishy to the touch, but hardens on impact to help disperse and absorb those forces. This clever non-Newtonian material actually becomes more flexible as it warms on your skin, providing unhindered flexibility while pedalling and moving around on or off the bike.
Compared to the regular Enduro knee guards, the Enduro Pro features a more detailed construction that gives it a very secure and slip-free fit. There's an elastic cuff at both the top and bottom of each sleeve, complemented by a third that sits behind the knee. Along with the stretchy moisture-wicking Lycra fabric and the breathable mesh panels at the rear, these pads not only stay in place while riding, they're next to unnoticeable, even during hot summer rides.
We've been impressed with the fit of the Fox Enduro Pro Knee Guards so far, and we're also stoked to see them offered in no fewer than six (!) sizes from X-Small through to XX-Large.
---
Fox Enduro Pro D3O Elbow Guards
The matching Fox Enduro Pro Elbow Guards use a similar sleeve-style construction, with full-length mesh panels lining the inside face of each arm for maximum breathability. The rest of the sleeve is made from a stretchy Lycra fabric, though Fox has added rubber dots all over the outside face to protect it during a crash.
The wide elastic bands at the top of the sleeve are complemented with inwards-facing silicone grippers, which keep them in place around your biceps. As with the knee pads, you can get these in six sizes from X-Small through to XX-Large.
Just like the knee pads, you're getting the same D3O material to protect your elbows and forearms, though here the insert is quite flat and somewhat oversized on our Small-sized pads. As such, it doesn't quite articulate as well around the pointier elbow joint, and it seems to stick out quite a bit when your arms are bent. This could be down to Fox using the same size insert across all six elbow pad sizes, though we haven't confirmed this.
The D3O material does soften up after the first few minutes of riding, and we suspect riders who fit into a size Large or bigger won't encounter the same issue. Even still, we'd like to see a stronger curve moulded into the insert to give it a closer and more snug fit.
---
SendHit Nock MTB Handguards
Brought over from the world of motocross, hand guards have been growing in popularity amongst mountain bikers who are looking to provide some additional armouring for their hands and brake levers. This is especially the case for the enduro racers, e-MTB enthusiasts and backcountry trail riders that are venturing into less chartered terrain, where there's a greater risk of smashing your knuckles on overhanging tree branches and having your skin pierced by angry thorns and thistles.
Designed to give you an extra degree of bush-bashing protection, the SendHit Nock Handguards are one of the newest options on the market. Sold as a pair, they're built with alloy bar clamps and a polyamide nylon shield that offers impact resistance and the ability to flex as needed. Thanks to a simple twin-bolt bracket, the distance between the shield and the grip can be adjusted between 7.8-9cm.
Installing the Nock Handguards alongside a set of SRAM Code brake levers has proved simple, though the lack of a hinged clamp means you'll have to remove the grip. There's useful protection on offer, with a thick bed of foam placed on the inside of the guards to help soften the blow. For our tester Dan, who's suffered numerous riding injuries to his hands over the years, the reduced chance of having a tree branch slap his highly sensitive pinky fingers is well worth the odd aesthetics.
Fitment is more complicated with Shimano brake levers, depending on your setup. While the alloy clamp is only 10mm wide, we're often running our brakes closer to the grip than that. This means you either need to compromise on your preferred brake lever position by running them further inboard, or try to fit the handguard clamp in between the brake lever clamp and where it braces against the bar. If you have a separate dropper post clamp, this complicates things further.
This will of course be a non-issue for anyone who has more than 10mm of room between their brake lever clamp and the grip. Still, we'd like to see some sort of lateral adjustment built into the clamp design. Better yet, integrating the clamp into the grip's locking collar would be super neat. The SendHit Nock Handguards are otherwise well made, and once you've ridden through scrubby overgrown singletrack with them, it's hard to go back.
---
Specialized Zee Cage II
Some weirdos might struggle to get excited by a bottle cage, but we'll just have to excuse them for never having lost a bottle while out on a ride or during the middle of a race. Having fallen victim to that frustrating experience in the past, we're fairly picky when it comes to bottle cages, especially the side-entry options that have become mandatory on most modern mountain bikes.
Our favourite option? That would have to be the Specialized Zee Cage, which is easily one of the most secure side-entry bottle cages we've used.
These are available in both right-hand and left-hand specific versions, and there's even a carbon S-Works model for $100 AUD. We'll swallow the 15g weight penalty for these considerably cheaper composite versions though, which do a fine job. Also worth noting, you can bolt on a Specialized EMT tool to the bottom portion of the cage (as shown in the above photos), though the holster and tool are sold separately.