Hello Flow Frothers, and welcome to a frosty edition of Flow's Fresh Produce.
As the cold well and truly sets in across the country, take a journey with us to the warmer climes of Tropical North Queensland for a look at the Triple R through the ages. The race turns 30 this year, making it the country's longest running point-to-point mountain bike race!
On the calendar for the start of August is the Quad Crown Sapphire Coast, set to kick off the four-race series. We caught up with Race Director Jason Dover to find out what's on the menu for the event. Looking a bit later in the year, the Ignition MTB Fest is once again headed for Falls Creek to ring in the start of the riding season. There will be demo bikes, shuttles, guided backcountry rides, great food and drinks and two brand new trails for folks to enjoy — how good!
We also learned New South Wales is getting a new gravity park with the Barrington Bike Park. Based on the same property as the Steps Barrington Campground, we caught up with the folks running the show to find out more about the trails and when you'll be able to ride there. A bit further afield, we've got a cracking feature on a totally new riding experience in the Whaka Forest, the aptly named Forest Loop. This 35km trail circumnavigates the entire Whakarewarewa Forest and sounds like quite an adventure.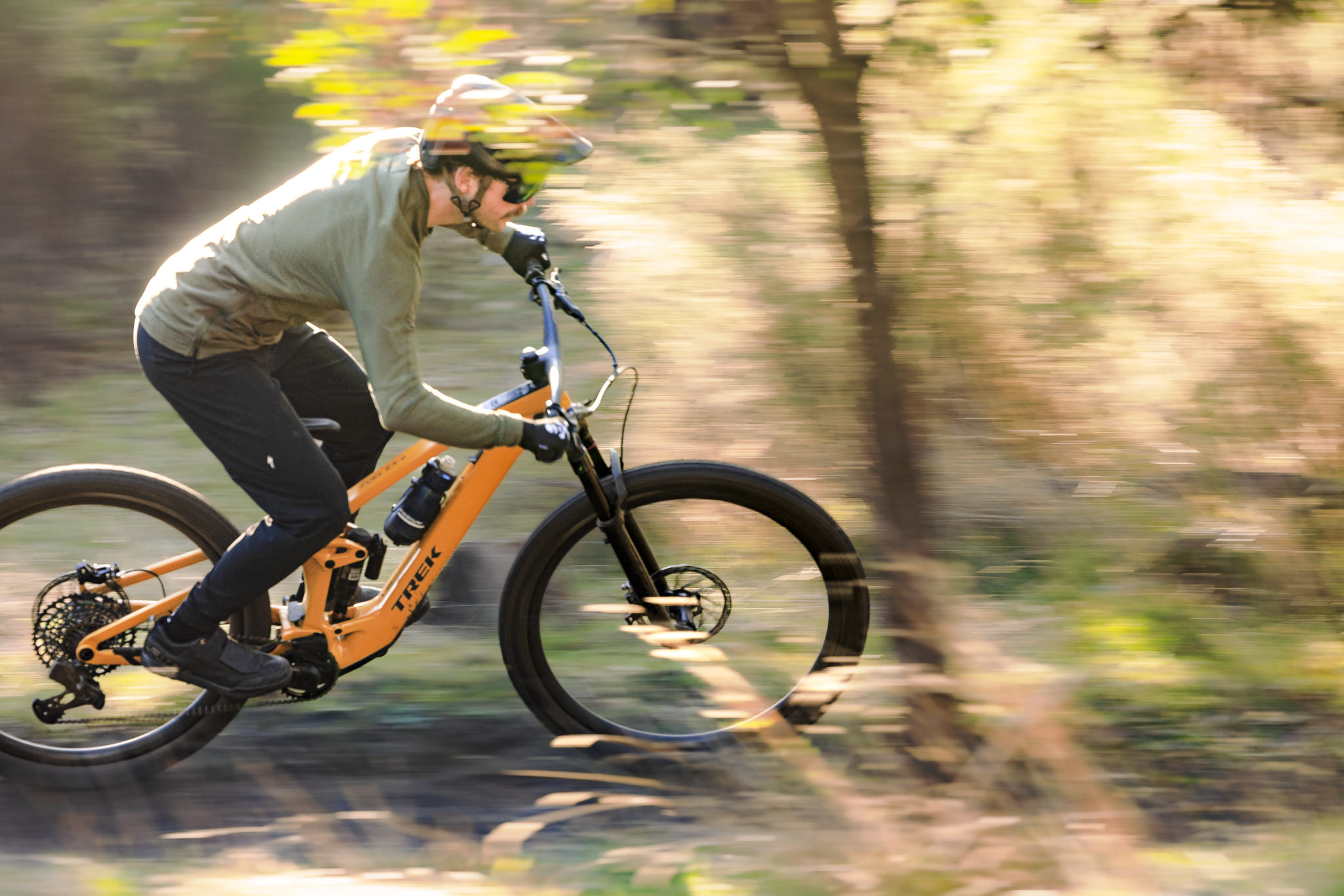 In gear news, Trek launched its latest e-MTB, the Fuel EXe, with a never before seen motor that is dead silent. Mick and Wil have had their grubby hands on this lightweight e-MTB, and we've put together an in-depth review. Also new is Shimano's XT Di2! First launched when front derailleurs and 11-speed cassettes were the norm, Shimano has resurrected the groupset as an e-MTB-specific option, incorporating the motor to allow for pedal-free gear changes and fully automated shifting.
Speaking of e-MTBs, Colin caught up with the minds behind Merida's eOne-Sixty for a deep dive on what's made this bike such a smashing success, and where the German brand thinks e-MTBs are headed.
And with that, you're all caught up. So without further adieu, grab a warm beverage and take a gander at the latest gear to land at Flow HQ.
---
Maxxis Forekaster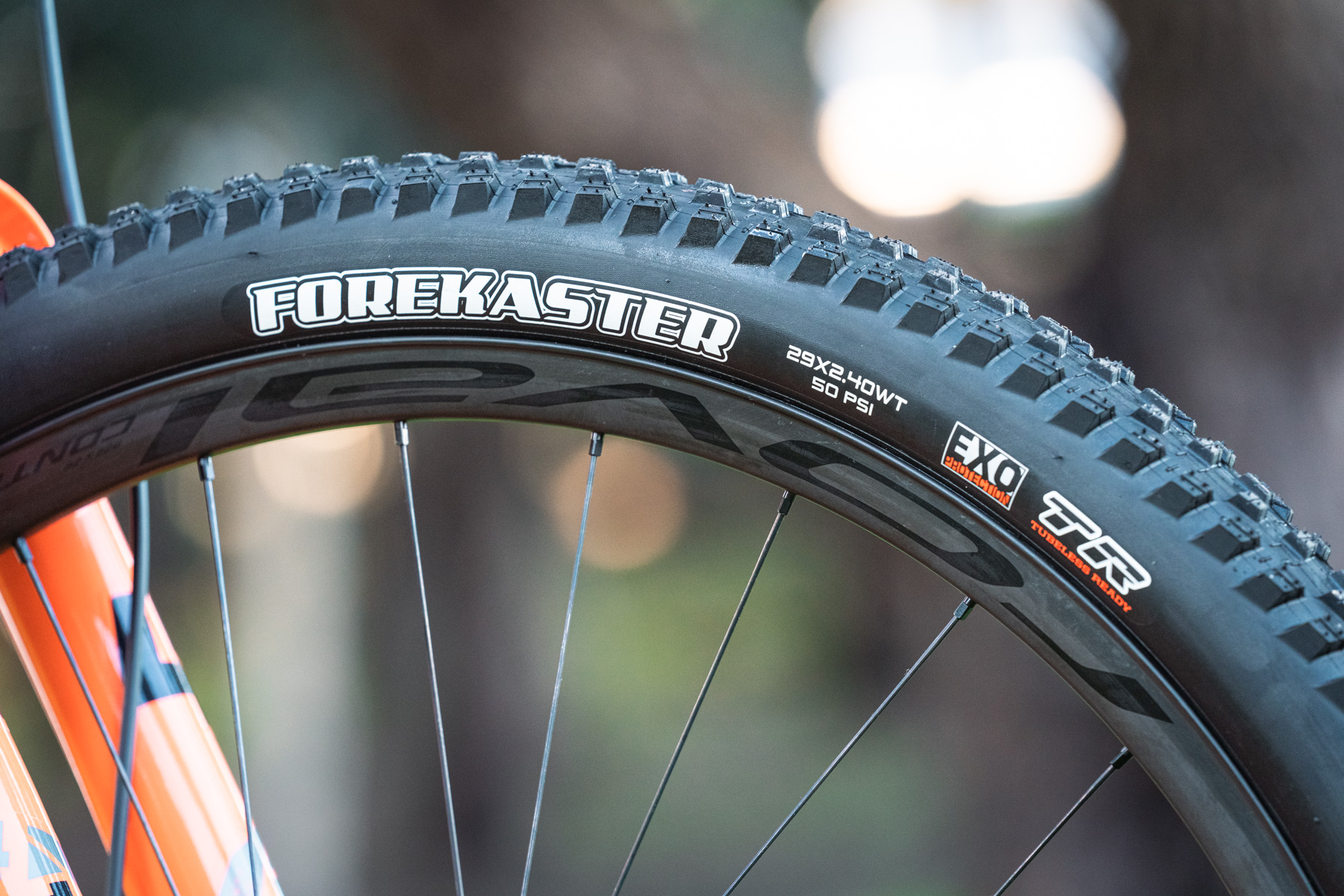 Originally a wet weather XC tyre, Maxxis has relaunched the Forekaster with a new tread pattern and a fresh outlook on life. Now billed as a 'downcountry' tyre, the updated Forekaster sees a more crowded centreline to keep rolling resistance as low as possible, while taller side knobs should provide more bite when you dip into a corner. According to Maxxis, the new Forekaster is designed to bridge the gap between its cross-country race-focused tyres like the Rekon and Ikon, and its burlier gravity-oriented rubber like the Minion and Dissector.
Every tread block features siping to help the knobs bend and stretch to find purchase on slippery roots and rocks, and the casing sees ridges the whole way around to help clear mud.
Only available as a 29in tyre at launch, Maxxis is offering the new Forekaster in 2.4in and 2.6in widths, with an EXO casing and either the Dual Compound or 3C MaxxTerra compound. We've just mounted up a set of the narrower width with the brand's Dual Compound rubber, which tip our scales at 940g. These tyres are so fresh we haven't even had the chance to wear the tyre nibs off, but we'll be rectifying that very soon.
---
Alpinestars clothing and pads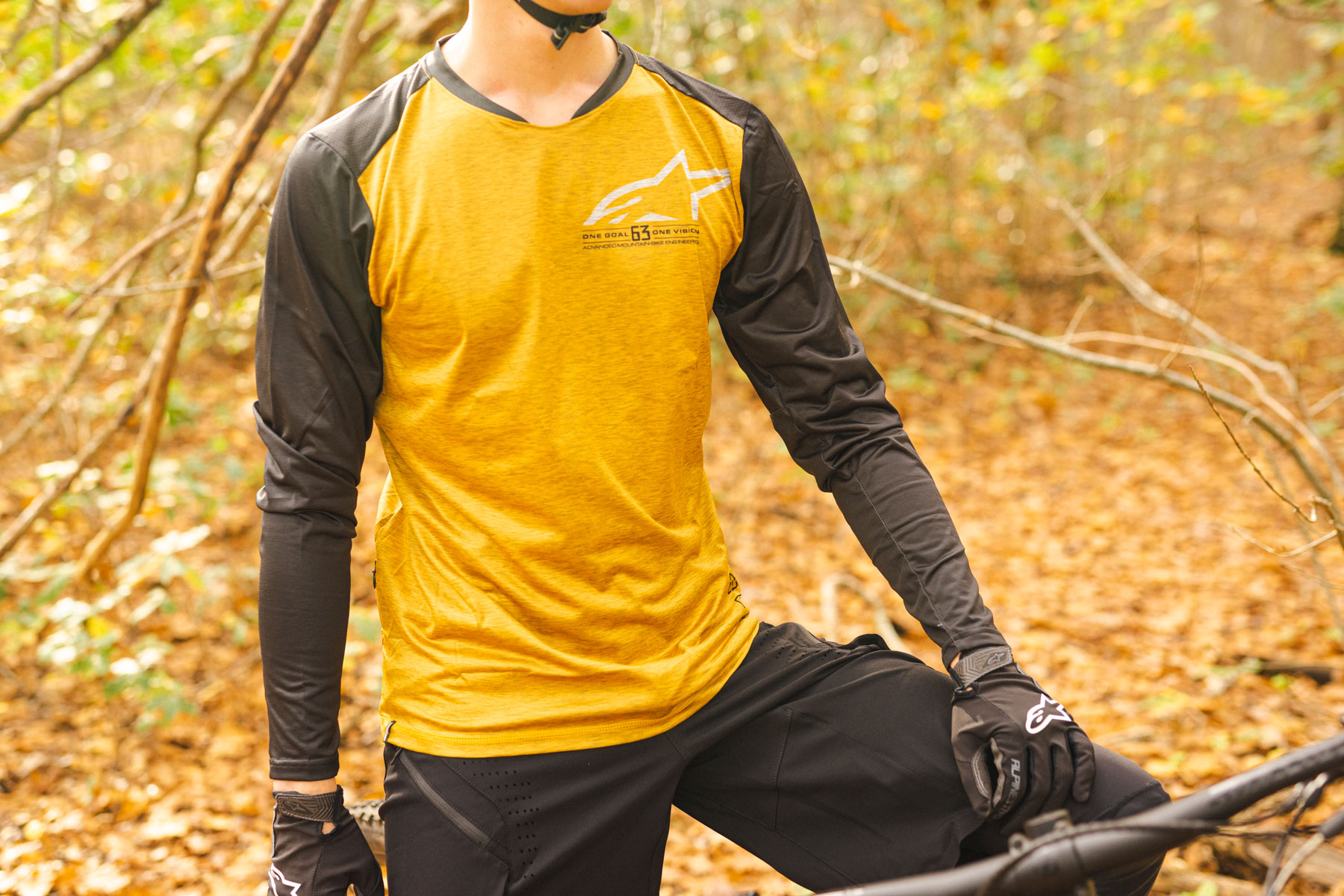 On test here we've got a range of new clothing from Alpinestars. We've got our hands on the Alps 6.0 Long-Sleeve and Short-Sleeve Jerseys, the Alps 8.0 Shorts, Drop 6.0 Glove, Paragon Lite Knee Protector and the Nevada Packable Jacket. Alpinestars has a long-standing reputation for its motorsports gear, and has applied all of that technical know-how to its MTB kit, without the usual clashing bright colours, geometric graphics and gaudy logos the size of a humpback whale.
Both the long and short sleeve jerseys are similar in construction, using a lightweight, quick-dry fabric that we've found comfortable and breathable. The jerseys also feature a zippered pocket on the lower back, large enough for your keys or a small snack.
At the bottom, we also have the Alps 8.0 Shorts. These trail-oriented baggies are made from a poly-fabric and see strategically placed laser-cut vents. All of the seams around the crotch are offset to prevent saddle hangups, but the strong stitching has caused some uncomfortable rubbing on our quads when riding without knee pads. The shorts feature velcro adjusters on the waist to ensure a snug fit and have two pop studs to lock the fly in place. There's also zippered waist pockets on both sides.
Speaking of kneepads, we've also been testing out the Alpinestars Paragon Lite Knee Protector. Alpinestars are serious when they say 'Lite,' these low profile, trail-oriented kneepads are based around a simple slip-on design without velcro or straps and roll up into a small bundle for storage.
These 'barely there' kneepads breathe well and offer oodles of flexibility, but don't offer enough protection to shrug off kneecap-shattering rocks.
To finish off our Alpinestars wardrobe, we have the Drop 6.0 Gloves and Nevada Packable Jacket. The gloves use a stretchy material over the top of the hand, while a perforated synthetic suede palm offers a degree of protection when you go rubber side up. As a bonus, the material on the tips of the fingers plays well with touchscreens so that you won't miss out on any 'gramable moments.
The Nevada Packable Jacket has been a handy addition over winter. It's robust enough to take the bite out of cold winds and light rain, and it packs down small enough to fit comfortably in a pocket.
---
Yoshimura Chilao Pedals
Continuing on the theme of brands born in motorsport, we've received some new products from Yoshimura, a Japanese company founded by pilot and engineer Hideo Yoshimura in 1952. Since then, he has built the brand around high-quality motorcycle engine components.
Yoshimura followed a similar trajectory to outfits like Renthal and Tag Metals, applying their existing manufacturing equipment to produce mountain bike components. The result is some pretty schmick and extremely well-finished kit.
The Chilao pedals feature a concave platform made from 6061-T6 billet aluminium and replaceable pins, which come in several pretty colours. Depending on the size of your hoofs, you can pick between the small (100 x 95mm) or the large (110 x 107.25mm) version of the pedal.
The small pedal is claimed to weigh 340g per pair, while our test set of large pedals weighed in at 375g.
---
Yoshimura ENDH Stem
Also on test from Yoshimura is the ENDH Stem. This is one of the only stems we've ever seen that can be used on both triple clamp and single crown forks. Although not the lightest, the ENDH Stem has a few nifty features.
Due to the lifted design, the stem actually pushes the bars up quite a bit which is helpful if you're out of steerer and keen to gain extra height. If you're stuck in a pickle with a short steerer tube, the miniature stack height of the ENDH stem might also come in handy.
Our experiences with other stems using two faces clamping vertically onto each other had us anticipating creaking issues. So far, there hasn't been a sound, and the ENDH is significantly stiffer than the Renthal stem it replaced.
---
Earshots V2 Headphones
Mid last year we featured the first generation Earshots, and ever since, the Kiwi outfit has been hard at work on the follow-up V2 headphones. The second-generation wrap-around earbuds feature an upgraded charging case with LED lights built-in to let you know how much juice it holds.
You can expect around 10 hours of continuous playback out of the wireless headphones, and the case can recharge them from flat to full up to 15 times, meaning you'll rarely have to plug it into a USB socket.
One of the most significant improvements is the removal of the screws from the backing plate. On the original Earshots, we had some corrosion issues from sweat, a big problem given they're designed for exercise. Fortunately that problem has been solved with the second-generation offering. The new carry case is also significantly more robust, and the headphones have far superior sound quality for whatever genre of music you're into.
They still retain the magnetic clip design, which worked well on the first-generation headphone, and we've still been unable to shake these free on even the roughest of trails.
With the original version priced at $166AUD, the second generation is slightly more expensive at $189AUD, a warranted price bump for the improvements in build and sound quality.
---
Thule Helium Platform XT
Thule's Helium Platform XT is the Swedish outfits latest no-frame contact, hitch-mounted bike rack. Adopting a similar design to the ultra burly 1Up racks available in North America, two ratcheting arms grab the tyre, so there is no need to worry about damage to carbon frames.
Thule says the rack can handle wheels from 26-29in, up to a 3-in wide tyre and a max wheelbase of 1,320mm. As the name suggests, the Helium XT is the lightweight option in Thule's range, and the bulk of the rack is made from aluminium. According to the Flow Scales Of TruthTM, the one-bike rack we have here weighs just 12.2kg (Thule also offers a two-bike version). With that feathery performance on the scale, the rack is only rated to carry bikes weighing 20.5kg, so it's probably not the best option for folks lugging around full-power e-MTBs.
Designed to work with both 1.25in and 2in hitch receivers, installation and removal is a breeze, which is no surprise given the rack weighs about as much as a trail bike. The anti-wobble works a treat, and the Hitchswitch lever allows you to tilt the rack down to access the boot without having to remove bikes. Thule includes all the lock cores, but the built-in cable lock leaves a bit to be desired, if we're honest.
If you're carrying e-MTBs or ultra-long DH sleds, the Helium probably is not the rack for you, and something like the Thule T2 Pro XTR is a better option. But with this rack, there is no frame contact, no puzzling to make oddly shaped frames fit, and your lower back will appreciate the lack of mass every time you install and remove it.
We should note that hitch and towball racks with bikes loaded may obstruct lights and number plates like on our Subaru 'Flowrester.' So to ensure you don't have an unfortunate run-in with the fuzz, you'll need to add on the Thule Universal Lightboard, which costs an extra $159 AUD.
---
Thule Rail 8l
Hydration packs seem to have gone out of fashion for the moment, and while it's lovely to ride bag free, having all your kit, plenty of water and room for a spare layer, without having to Tetris everything into downtube storage, pockets, and frame straps is equally as nice.
Thule's Rail 8l is a mid-sized option with some clever features. With room for a 2.5l reservoir, the main compartment has pouches and zippered pockets to keep your tools, spares and pumps well organised inside. The waist strap has elastic pockets well-sized for snacks and other things you may need on the fly, and on the back, there's a small exterior pocket and attachment points for things like knee pads and convertible helmet chin bars.
Designed to keep the centre of gravity low in the pack, the Rail has a sternum strap and waist strap, and the bag hugs your body tight, so when you're getting bucked around on a janky descent, litres of water aren't sloshing around pulling you off-line.
It's hard to comment on just how well the Rail breathes as it is the middle of winter, and it's even chilly at our SEQ HQ, but all the touch points are made from perforated open material with purpose-built air channels. So far, it's been pretty darn comfy.
But the show stopper of this pack is the ReTrakt hose management system. A sleeve with a magnetic strip runs up the bottom 15cm of the hose and sticks to a corresponding strip on the shoulder strap. After you've had a drink, spit out the hose, and through the magic of magnets, it finds its home every time without any outside help.
---
Muc-Off Secure Tag Holder
Air Tags are a pretty nifty GPS tracker that utilises the massive number of Apple devices floating around the world to help you find things that are lost.
Privacy concerns aside, they seem like a great way to track down a bike should it go on an unauthorised walkabout, so we've picked up a few of these button-sized doodads for exactly this purpose. There are a few ways to mount these suckers to your bike that are quite a bit more elegant than the liquid nails to the underside of the saddle we were initially planning, and one such option is the Muc-Off Secure Tag Holder.
Designed to be mounted underneath your bottle cage with a pair of T25 security bolts, the case is made from aircraft-grade 6061 aluminium, and is available in 12 colours. It's an extremely well-finished piece of kit that doesn't rattle and will not be easily removed from your bike by a would-be thief. However, there is one inherent problem with this little unit.
Aluminium is REALLY good at blocking radio signals, and with the Air Tag inside the holder, you've wrapped it on all sides with the stuff. On the box, Muc-Off says it doesn't block the tracker signal, or the little chirps the tags make to help you zero in on their location. So we decided to test this claim.
For the first test, we dropped two tags (one in the case, one not) behind a tree near a bus stop and collected them the following morning, keeping track of the "your tag has been found" notifications. The free Air Tag pinged for the first time about 15-min after we dropped it and continued to do so throughout the day. The Muc-Off tag never pinged.
Testing to see how far an iPhone could pick up the tags, inside the Muc-Off case, we lost connection between 23-30ft, and the naked tag still had a strong signal at 100ft —we stopped here because we ran out of room to walk backwards. This is only one set of tests, but it's clear the alloy casing has a definite impact on the signal.
The Muc-Off Secure Tag holder is a really well-finished product and an elegant way to mount an Air Tag to your bike. Unfortunately, it's just made of the wrong material.
---
OneUp E-Bar
OneUp has sent us its brand new Carbon E-Bar. Based around the brand's ovalised carbon handlebars that are designed to flex vertically for compliance, but not laterally to maintain steering precision.
This e-MTB version has wire ports, grooves, and internal routing for Shimano Steps switch units and Bosch's LED Remote to keep the front end of your bike as clean and tidy as possible. Unfortunately, it doesn't work with Specialized, Rocky Mountain or Bosch's older controllers, and you'll also need a stem that can accommodate the centre wire port.
With a 35mm clamp diameter, the bars have an 8° backsweep and 5° upsweep and come out of the box measuring 800mm wide, though we've cut them down to a more shoulder-pleasing 780mm.
---
BikeYoke Barkeeper Stem
Another exotic stem to land at the Flow Mothership is the BikeYoke Barkeeper. The forged, multi-tempered stem is made from 7075 aluminium, and all the contact points are precision machined to ensure tight tolerances and prevent any pressure points with the one-piece design. It's then surface hardened by shot peening, laser engraved and anodised — talk about an involved manufacturing process!
According to Bike Yoke, the wrap-around face plate creates an extremely robust front end without a tonne of weight, but because the faceplate is not removable, high-rise bars may not work. The brand says they've successfully tested bars with a 35mm rise, but best to check the compatibility chart on the Bike Yoke website.
This 35mm Barkeeper weighs a little over 80g, and has a 40mm stack height and zero-degree rise. Mick has popped it on the front of his Santa Cruz Tallboy, replacing the 50mm Deity Copperhead he was using, to shorten the reach and liven up the steering.
---
Bike Yoke Grippy Grips
Also gracing the cockpit of Mick's Tallboy is a set of Bike Yoke's Grippy Grips. According to Bike Yoke, the genesis of these grips was frustration with the bits of rubber that twist and tear off fresh grips straight out of the box. So the German brand took matters into its own hands.
The solution it came up with was to use a rubber that's stiff and sturdy enough that it doesn't twist, to limit wear, but it's moulded into a honeycomb pattern, so it doesn't feel like you're hanging onto a 2×4. Inside the grip, Bike Yoke placed strategic cutouts in the nylon sleeve to align with the outside palm area — the spot folks often complain about numbness — and the rubber goes through to the bar, said to improve damping and support. Bike Yoke also slightly ovalised the diameter of the grip to provide more damping and support for the palm, without increasing the overall diameter.
The single clamp grips are 140mm wide, 31mm around and weigh a hair over 110g for the pair.