2017 is a big one for Giant and Liv mountain bikes! After a strong roadie focus last year, the pendulum has swung back to the dirt, with a comprehensive overhaul of the Anthem and Trance lines, cool tweaks to the XtC, a new women's trail bike and the first women's specific 160mm bike on the market.
---
Anthem and Trance get a big overhaul
Key points:
Metric/Trunnion mount shocks with longer strokes provide improved sensitivity and damping.
Both bikes get longer reach, lower bottom bracket and shorter rear end with Boost.
Trance gets a 150mm fork.
Anthem gets a dose of 'roids, with more travel, beefy forks and aggressive spec.
Almost no front derailleurs to be seen.
---
Giant have given the Anthem and Trance their most significant overhaul in years for 2017, turning two of Australia's most popular lines of bikes up a notch. Both bikes get the slacker/longer/lower/Boost treatment that's become as common as Botox, but these geometry changes are really second fiddle to some significant suspension improvements. Giant's Maestro system gets a big overhaul, totally reworked to take advantage of the new Trunnion mount and metric shock sizing. Read on for all the details!
The problem with innovation, according to Giant's Kevin Dana, is that "solving a problem people didn't know they had, looks identical to building something no one needs." That's an interesting, and accurate, observation. We've all seen many genuinely positive innovations in mountain biking initially come under heavy consumer criticism, shot down as 'bike companies selling us shit we don't need or want'. More often than not, the critics change their tune once they've seen the new technology in action, or they've seen the innovation put to practical application on the trails.
The new Metric shock sizing and Trunnion shock mounting system that's at the core of the remodelling of Giant's 2017 Anthem and Trance series certainly falls into this category. When Metric/Trunnion was announced a few months ago by RockShox, the response was, predictably "what's wrong with the current shocks?" or "typical bike industry, coming up with another way to make current bikes redundant." But something as simple as changing the way a shock fits or mounts into a bike has allowed Giant to make a host of cool improvements to the Anthem and Trance.
The key message is that with Trunnion mounting, Giant can fit a longer stroke shock in a smaller space. A longer stroke shock means a lowered leverage ratio, and subsequently lower air pressures, which has the flow on effect of improved small bump sensitivity and less damping loads. All up, it lets the shock work better! According to Giant, the Anthem requires 7.3% less air pressure than the previous model. For the Trance, the reduction is 3.3%. These aren't big numbers, admittedly, but small changes can have a big effect. We're looking forward to giving them a ride to put the theory into the field.
An additional benefit is that the entire shock/suspension arrangement sits lower in the bike now too, lowering the centre of gravity and standover heights on small frames. There's also more clearance internally for dropper post cables, which should make routing easier. Driving the new shock is a massive one-piece 'Advanced Forged Composite Link', made from carbon it's stiffer and roughly half the weight of the previous alloy link. The carbon link isn't just confined to the premium models either – it's found on all new Anthem and Trance models, regardless of whether they're alloy or carbon framed.
Giant are keen to stress that they were very early to the Trunnion mounting party; they began working on the concept with FOX and RockShox back in 2013, so there has been a lot of development to get the bikes and shocks to this point.
From a geometry perspective, the Anthem and Trance get some massaging. These changes are most pronounced in the Anthem as you'll see above – most notably the head angle has been slackened by a full one and a half degrees.
The Trance on the other hand has less pronounced geometry changes. According to Giant, this is because their geometry already nailed that holy trinity of 'longer, lower, slacker' and was ahead of the curve back in 2014. "Our mistake was that we didn't shout about it loud enough back then," says Kevin Dana. Regardless the Trance's numbers are now feature a 10mm longer reach, a 5mm lower bottom bracket. The Anthem is also 10mm longer up front. With the benefit of Boost 148mm hub spacing, Giant have been able to shorten the rear ends of both bikes by 5mm too.
Looking specifically at the Trance, Giant have maintained the Trance's place in the range as their do-it-all trail bike. There have been a few smart spec changes to enable the bike to change a little harder, like a 10mm longer fork than in the past, up to 150mm. Giant have also paid close attention to feedback that the Trance needed some rims that were capable of matching its abilities (as we noted in our review of the Trance Advanced 1), and you'll now find wider, sturdier wheels across the whole Trance range.
The changes to the Anthem platform are more comprehensive. It gets longer travel all round, going up to 110mm out back and 120mm up front. There are now dropper posts on all models too, excluding the base model Trance 3. Combine this with more supple suspension, longer reach and generally tougher spec, and the Anthem really moves from being a cross-country racing platform to a short-travel trail bike. In fact, the new 'regular' Anthem looks more like last year's Anthem SX range! (Read our review of the Anthem Advanced SX here) We like this a lot – it opens up the scope of use for the Anthem, making it a much more versatile bike. Take the top of the line Anthem Advanced 0, for example. It now comes with a Pike up front, a dropper post and big Nobby Nic rubber – when you compare this to the 2016 model, it's a huge change of direction and positioning.
With the Anthem now pointed in a slightly different direction, this opens the door up for a new dedicated cross-country race bike to emerge! We would be very surprised if we don't see a new 29er, cross-country focused, 100mm-travel bike from Giant very soon. In their wholesale move towards 27.5", Giant lost a lot of cross-country racers who continue to prefer the rolling speed of a 29er. We're sure this is about to be addressed.
Both the Anthem and Trance get a new stealthy rear axle to match the Boost hub spacing. The clean lines of the bikes is also helped by the almost total absence of front derailleurs across the entire mountain bike range. We counted only a handful of models that weren't using either 1×11 running or the new 1×12 SRAM Eagle drivetrain. With the new SRAM NX and Shimano SLX 1×11 drivetrains available at such good price points, Giant have embraced single-ring in a big way.
There are no frame changes to the Reign and lined up alongside the new Trance and Anthem, it already looks dated! It doesn't take much imagination to work out there'll be an updated Reign coming sometime soon, with the Metric/Tunnion shock, carbon linkage and Boost hub spacing to match the Trance and Anthem.
---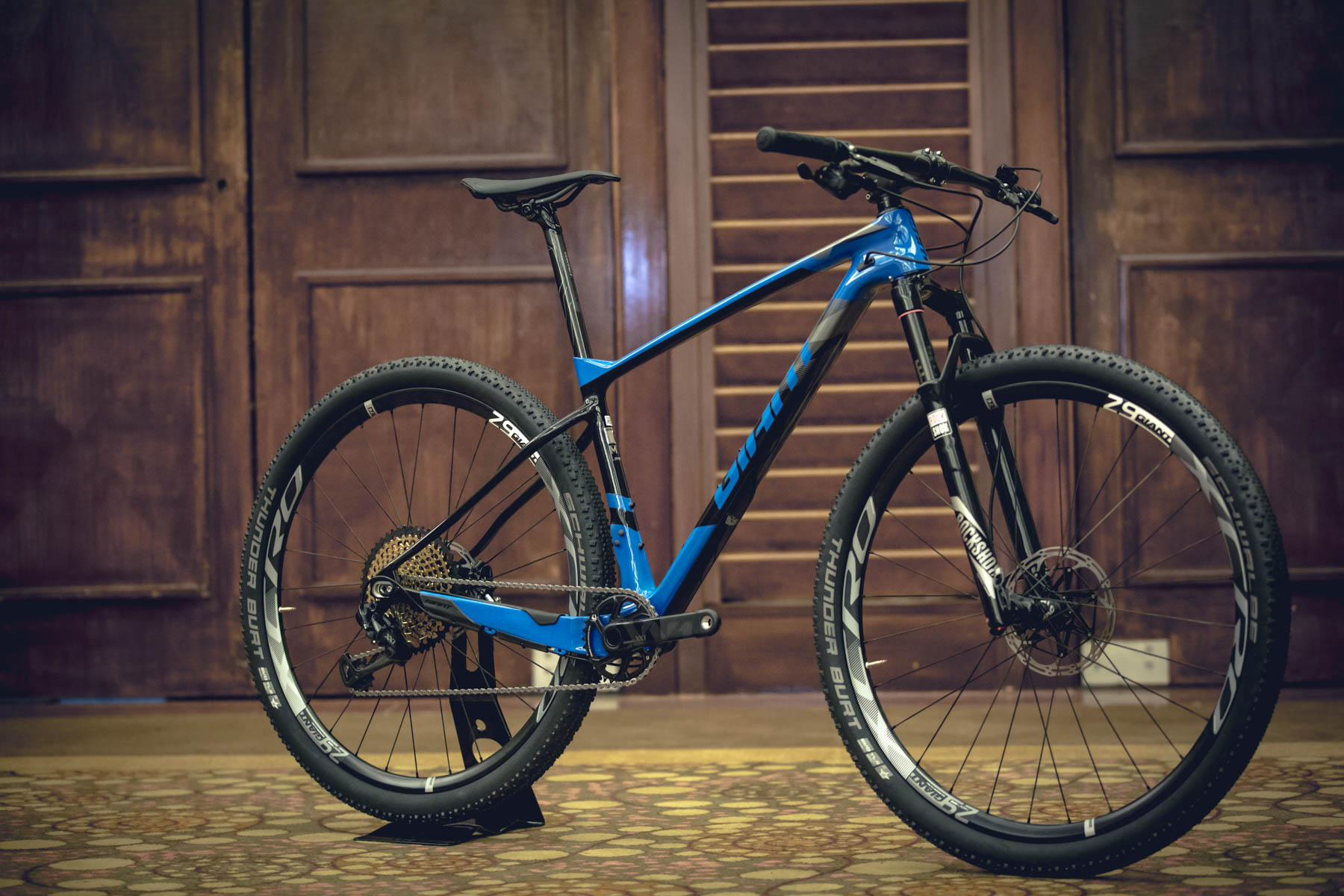 XtC gets Plus compatibility
Key points:
27.5+ compatible.
Horizontal sliding dropouts for easy single speed conversion
---
In the world of hardtails, the big news is that popular XtC Advanced 29er can now be transformed into a trail-slaying fun bike with 27.5+ wheel compatibility. Internationally, Giant are offering the XtC in a couple of Plus variants, but at this stage there's no certainty these will be coming to Australia. This is a pity, because we think these big-rubbered, dropper-equipped machines look awesome! Hopefully they make a mid-season appearance.
Horizontal dropouts make a surprise appearance as well. Single speeds certainly aren't something we associate with Giant, but now if you do decide to grow a beard, burn your iPhone in a campfire and ditch your gears, you can!
---
Liv Range Highlights: The Hail women's specific Enduro bike, and new Pique trail bike
Key points:
Liv offer the first women's specific 160mm Enduro weapon, the Hail!
Pique trail bike 120mm all round
Liv bikes get all the same Maestro improvements as the Trance and Anthem
---
The Liv Hail is the first 160mm women's specific bike on the market.Liv, the women's specific brand launched by Giant a two years ago, is arguably the fastest growing bike brand in the world right now. And mountain bikes are playing a big role in the brand's success, with over 300% growth in performance mountain bike sales since 2014. These are not modified men's bikes, but completely standalone offerings, designed from ground-up for women. The geometry is different to what you'd find on men's bikes (they don't just get a shorter stem, narrower bar and different saddle), with a lighter suspension tune, a lower gearing range and other attentive details like shorter cranks.
The most exciting development from Liv is the new Hail, the very first women's specific 160mm Enduro bike to hit the market. This is a rapidly growing segment in the women's market, but until now there simply haven't been any genuinely women's specific bikes to serve it.
With a full 160mm front and rear, Boost hub spacing and the same metric/Trunnion mount updated Maestro linkage as seen on the Trance, it's a no hold barred weapon. Expect many of the design attributes found on the Hail to make their way across to the Reign in the future.
The trail riding segment gets two new bikes as well. The Pique is an all-rounder 120mm platform, available in four models, two in carbon two in alloy. Again, it's walking in step with the Anthem and Trance, with all the same frame and suspension updates.
Coming in at a lower price point is the Embolden, an alloy-only offering using the same suspension FlexPoint suspension system as found on the Giant Stance. At this stage the Embolden isn't making its way to Australia, but we're crossing our fingers it might make it as a mid-season release.