Hitting Mogo, Glen Innes and Gundy, goodnessgravel is about to kick off its 2023 event calendar, exploring the best country roads NSW has to offer.
Born out of trying to get folks out of the city and exploring back roads, goodnessgravel has evolved into a three-event series taking in a trio of country towns that may not otherwise be on your radar. But with the gravel riding they have to offer, they absolutely should be.
We caught up with Mr goodnessgravel himself, Will Levy, to find out more about the series and get the inside scoop on the courses.
What is goodnessgravel?
If Will Levy's name looks familiar, you may know him from twowheeltours, which has been running Euro cycling tours, including taking folks to the Haute Route — you know, the event that set the stage for the Netflix doco Icarus — for over a decade.
Then Covid hit and stopped international and most domestic travel.
"We would spend a lot of time overseas, and then Covid came along, and we thought, alright, how long is this going to last? Nobody really knows," says Levy. "I wasn't going to go back to teaching, so we had to come up with something else."
As it happens, Levy used to run the Bowral Classic, a Gran Fondo that attracts about 3,000 people to the Southern Highlands yearly. Putting on an event this size is basically a PhD in dealing with permits, councils, volunteers and the like. Looking abroad, gravel has done nothing but gain steam, so Levy started putting in the groundwork to shine a light on the bulk kilometres of remarkable unpaved roads around NSW.
"People weren't going to be able to travel overseas, for who knows how long, but they are going to want to travel and spend money. We're using pre-existing infrastructure, which is the country roads, and so people can come to rural areas, stay overnight, spend some money and go for a sweet ride, but stay off main roads," he says.
After doing an audit of the gravel riding opportunities for the Eurobodalla Shire, the council said, 'if you fill out this form, you can get a grant to put on an event.' And so goodnessgravel Mogo was born.
"We're trying to get people to explore and get out of Sydney or wherever, to these rural towns and have a great experience.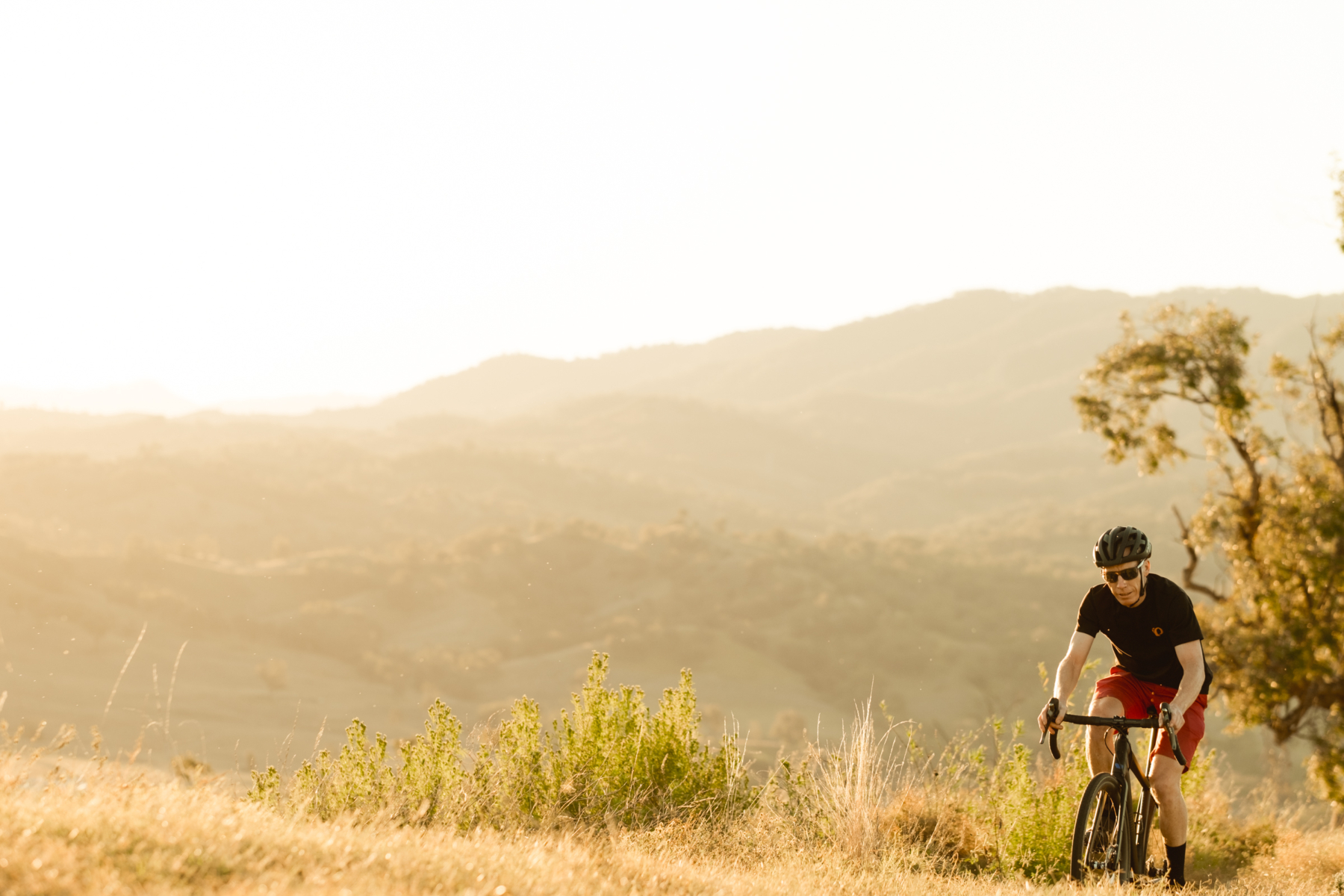 Similar to the Beechworth Granite Classic, goodnessgravel is not a race, there are no awards for finishing first, and there is no clock running.
"The first one back gets a Lindt ball, but then so does everyone else when they finish. You'll get a free beer, a sausage sandwich and another cold drink," says Levy.
How hard are these events?
According to Levy, fitness is the most challenging part of any of the three events. With the big loops coming in around 130km, fitness will definitely be a critical factor in determining your day.
"You never know what weather conditions you're going to get or whether the council have been out to fix the potholes, but I think the biggest thing is being fit enough to complete these courses — they're definitely not flat," he says.
The loops are adventurous, taking in water crossings and even one short section of 4WD track, but they aren't designed to be a sufferfest for the sake of being a sufferfest.
"A lot of it, the road surface is better than Military Road in Sydney," he laughs.
With that, all bikes are welcome at goodnessgravel, but Levy recommends leaving your road bike at home. He tells Flow the entries are about 76% gravel bikes, 20% mountain bikes, 1% e-Gravel bikes and 3% e-MTB.
Each event usually offers a long and short course, fully catered aid stations, complete with live music, on-course support and mechanical assistance. Each rider also receives a 'mankie' which is a hat/map/hankie. There is a sweep van, however seats are limited, so he warns it should not be treated as a sag wagon.
goodnessgravel Glen Innes | April 15
According to Levy, the beauty of the Glen Innes event is the remoteness.
"You'd be lucky to see a few cars out there," he says.
With three courses, the big day out covers 125km with 1,700m of climbing, there is also a 75km course with 1,000m of vertical ascent, or the 'Piccolo' option, which is a 35km look with 450m climbing.
The first quarter of the Glen Innes course is the hardest.
The long course starts out with a climb up Mt Mitchell Road, which is the most challenging ascent of the day, with extended sections above 12 per cent gradient. The tarmac ends about 28 km in, and you'll hit the high point about 1km later, reaching 1259m above sea level.
"Then you're onto Mount Slow, and you go through these huge granite boulders. It's so unbelievably beautiful."
From there, the course goes down into an area called Red Range at about 80km in, where you'll find the second rest stop of the day.
"It's this tiny little town, with an RFS, a community hall and a public school. There is this guy who raises the best chickens in NSW — I think that might be self-professed. But he runs the community hall." says Levy.
From there, it's a flowing descent through Lambs Valley, and back onto the tarmac into Glen Innes.
goodnessgravel Mogo, NSW | June 17, 2023
You may already be aware of Mogo because of the massive 155km trail network currently under construction. Eurobodalla Shire is also home to what Levy says is the hardest goodnessgravel event. The long course is 130km with 2,700m of climbing, and the short loop takes in 70km with 1,595m of uphill.
"It's kind of designed in a figure-eight, and there is hardly a section of flat road. It's just up, down, up, down, up, down, and we've got quite a few river crossings as well," says Levy.
The event kicks off in Mogo and heads for a town called Runnyford which has one of the few timber plank bridges that survived the bushfires in 2019.
"It's something out of Neverland because it's like 200m long — it's quite stunning. When the fires came through, I think they lost 80 of these bridges because most of them are wood, but this one survived," says Levy.
Once you cross the Buckenbowra River, you climb up to the first rest stop at Nelligen, 38.5km into the day.
"Then you ride some of what I think is Australia's best gravel through the state parks, Mogo State Forest," says Levy.
After what's called the Big Bit climb, it's onto the Old Princess Highway, which is unpaved and extraordinarily narrow. Levy tells us it's hard to believe that the main thoroughfare of the South Coast was that treacherous for a car.
At about 75km in, you hit the Clyde River, where you're met with a sizeable 100m long shallow crossing.
"At worst, the deepest it is, is up to your shin, so some people ride across, and others take their shoes off and walk. Not being a race, there's no pressure," says Levy.
Once you have a chance to dry out, this section of the course is the calm before the storm — the crux of the day, Egan's Rough Stuff.
"It's the most idyllic road. You go past this amazing farm, and then this beautiful lake, and then all of a sudden, it's not so beautiful anymore because you hit the 4WD track. It's probably only 1km, and then straight into a steep climb for a very short period," says Levy.
Once you've made it up, and over the top, the hard work is done, and it's a cruisy, rolling  — but not flat — pedal back to Mogo.
goodnessgravel Gundy | October 15, 2023
Touring the Upper Hunter, goodnessgravel Gundy will have a long 135km course which features a whopping 2,700m of ascending. According to Levy's estimate, riding at 18kph will take 7.5-hours — not for the faint of heart. There's also a 75km 'short' course with 1650m of ascending.
Kicking off with 8km of pounding pavement, you hit gravel and a guided tour of some of the most storied polo (equestrian) farms in the state.
"You'll go over a lot of cattle grids, and have cows, sheep, and horses all around you — they could be on the road with you," he says.
Heading into the first rest stop at 43km, there's a water crossing over Greens Creek, and then the aid station where food, drinks, and a band will be waiting.
"The second rest stop is run by these two older ladies who are literally the most Australian people I've ever met. They are the nicest people, and they're so helpful," says Levy.
The next section of the course can only be described as a high, a low, and an extreme high. Here you'll enter the famed grass tree forest.
"You pedal out through Timor, and you go up this hill into the grass trees," he says. "There's literally thousands of grass trees along this one road around the Timor Caves area."
After you've scraped your jaw off the ground from the amazement of what you've just witnessed, it's the infamous WWW (Will We Walk) climb. This is a stonking ascent up to Sergeant Gap, where the gradient regularly tips above 10%, winding its way up to 958m above sea level.
"Then there is a fast descent, and the beauty of it from there, it's almost a 60km flowing descent once you get over the top of Sergeant Gap. You ride from about 60km to about 120km, pretty much all descending from 960m above sea level to about 250m — and there is no one around," he says.
On the way back, you run through the second aid station at Ellerston, which is also home to the Packer Media empire's infamous farm. On the way by you'll catch glimpses of the private golf course — the sand in the bunkers is whiter than what you'll find in Jervis Bay.
There's one last uphill surge with under 10km to go before you're back in Gundy with a Lindt ball, a beer and a sausage sandwich at the Linga Longa Pub. Levy recommends taking advantage of the Gundy weir to cool off tired legs.
goodnessgravel gives back
It doesn't take long in speaking to Levy to understand he's very conscious of the impact of what he does, whether it be using sustainable number plates, not using zip ties and only printing shirts for those who want them and also the time, and resources the local community puts in to help these events run smoothly.
That's why $10 from each entry goes back to the local community, whether it be the Scouts, Rural Fire Service, or the Lions Club.
"Some of these communities have been through hell we just don't understand. It's not like we're raising a million bucks, but it's just a way of saying thank you; whether we're using the scouts and they send out some people to help out at the rest stop — on top of just being good people and helping us out," he says. "We can't do these events without having locals help us."
What else should you know?
When you enter a goodnessgravel event, you're assigned a number for life. So say your number plate says 37, every other goodnessgravel event you enter, you'll get the same number. Levy tells us they're up to 722, and some folks have been to every event.
"The rider plates are made of cotton dipped in bee's wax and fully sustainable, and we try not to use zip ties, so everyone gets twine to attach their rider plate onto their bike," he says.
As part of the event, there are also photographers stationed along the course, and the photos are available free to riders as part of the entry fee.
Levy also told us that a fourth event is headed for the goodnessgravel calendar. He was coy with specifics, but did say it will likely take place in November and be much closer to Sydney than the existing three.
Entries are open now. For more info or to sign up, head over to the goodnessgravel website.