Good timing, Jigsaw Jumps are here to save a lawn near you
Precious dirt dug from shallow graves to build shonky jumps on pristine lawns are popping up around every locked down neighbourhood this year, you know the type. Kids and big kids are spending more time than ever carefully curating their own sets of jumps near home, and getting airborne for kicks. Off the back of growing enthusiasm for taking flight and amidst lockdown in 2020, the idea for Jigsaw Jumps was born.
Jigsaw Jumps is based in Warburton, Victoria, and has come to market with a novel take on the BYO portable ramp. Founder Sam Knight tells Flow he wanted to create a ramp that could be chucked in a backpack and taken just about anywhere, though, with overseas competitors already in the market, the bar had been set — so they needed to provide something unique.
We got our hands on a set of jumps, rounded up some willing senders, and tested them around a few of our local parks and trails. Read on for our thoughts.
What are they made from?
Knight says he worked hard to find durable materials that could stand up to a beating but emphasised locally sourced products.
"The sides of the ramps are made from Australian-grown structural plywood, with layers of pine and eucalyptus hardwood, exterior grade glue, and a water-resistant film face. The elastic loops that provide tension and flexibility to hold the pieces securely in place are made from shock cord manufactured in Melbourne, using premium marine grade elastic core and woven UV-resistant polyester. Even the toggles used to strap the bundles of ramp pieces together are made in NSW by the fantastic Aussie company The Original Shockloc," he says.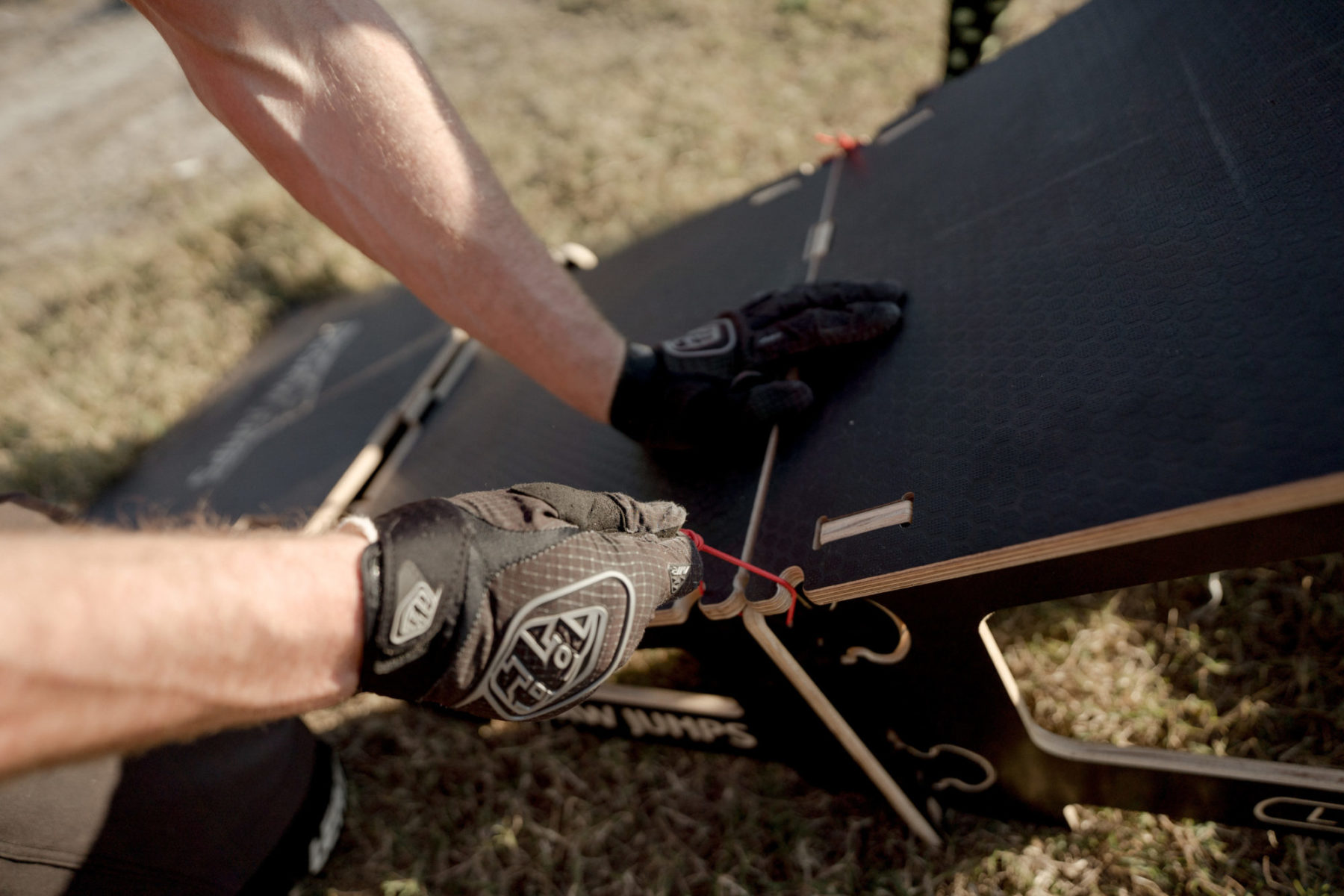 The only component of the Jigsaw Jump that doesn't come from within Australia is the non-slip, textured birch plywood layer used on the launch pad, as there isn't anybody that makes it locally.
While the early prototypes were cut from sheets of plywood by hand using an actual jigsaw, for the production version Knight drew everything up in CAD and uses computer-controlled CNC routers to accurately cut and engrave the materials to keep manufacturing tolerances tight.
The range of ramps
The range of ramps from Jigsaw Jumps caters to a vast range of skill sets, from beginners wanting to hone their air awareness to experts chasing road gaps and big trick jumps. There is also a 'Junior' model just for kids, mini-shredders as young as three can roll over it on a balance bike and then progress to jumping it when they are big enough for a pedal-bike.
Each model can be broken down into smaller sections, allowing the rider to get accustomed to the pop of the ramp before progressing to the next stage. Pieces of the design can also be used as a rolldown style backing ramp to remove the intimidating drop off when first getting into jumping.
Ramp models and pricing
Ramps start at $269 for the ultra-compact Pocket Rocket and top out $489 for the Large model ramp.
Considering the variety of setups you can make using a single ramp, we think this represents decent value for honing your jumping skills.
Extensions and add ons
If the stock options simply aren't sendy enough for you, extensions are available to make the ramp even higher and steeper. The ramps can grow as the rider progresses, with extra sections available to add to the end of the Junior, Medium and Large ramps.
There are a couple of small tabletop jump kits available too- both the Junior and the Medium jumps can have flat sections added to connect two ramps facing each other. A lot of consideration has gone into the modular designs.
Transporting the ramps
Knight had the idea for Jigsaw Jumps while stuck at home during the Melbourne lockdown, with no MTB trails within his restricted travel zone. He cut the initial prototype ramp to fit in an Uber Eats delivery bag so that he could ride down to the local park with his giant puzzle pieces in tow.
Thankfully, the production carrying solution is a bit more refined than a food delivery bag. A mix of webbing straps and bungee cords hold the pieces together inside the bag, and the backpack has chest and waist straps to keep the load close to your body and stable. Bombing your wildest local singletrack with the backpack on might be a bit ambitious, but you can secure the jump snugly to your back en route to your next destination.
Assembling the ramps
Included with your ramp are clear instructions that won't leave you scratching your head like your latest Ikea purchase. The pieces fit together neatly (just like a jigsaw puzzle!) and are held in place by bungee cords that loop over the ramp face.
This bungee cord and puzzle piece interface create an impressively stable structure, without the need for tools, fiddley fasteners or an engineering degree to convert the pile of pieces into a jump.
Riding the ramps
Now for the fun part! We took the Jigsaw Jump to a number of destinations to put it through its paces and had an absolute blast. The modular design meant less confident riders could test out our Large model ramp with a roll down platform on the back, before progressing to the full-size ramp.
At full size, it didn't take long to get a feel for the pop and radius of the ramp. After a few hits to get comfortable, you could start to rack up air miles.
With the large ramp, a sloped landing is definitely recommended, as your ankles and wrists will make you well aware of their displeasure with landing flat off the 52cm lip.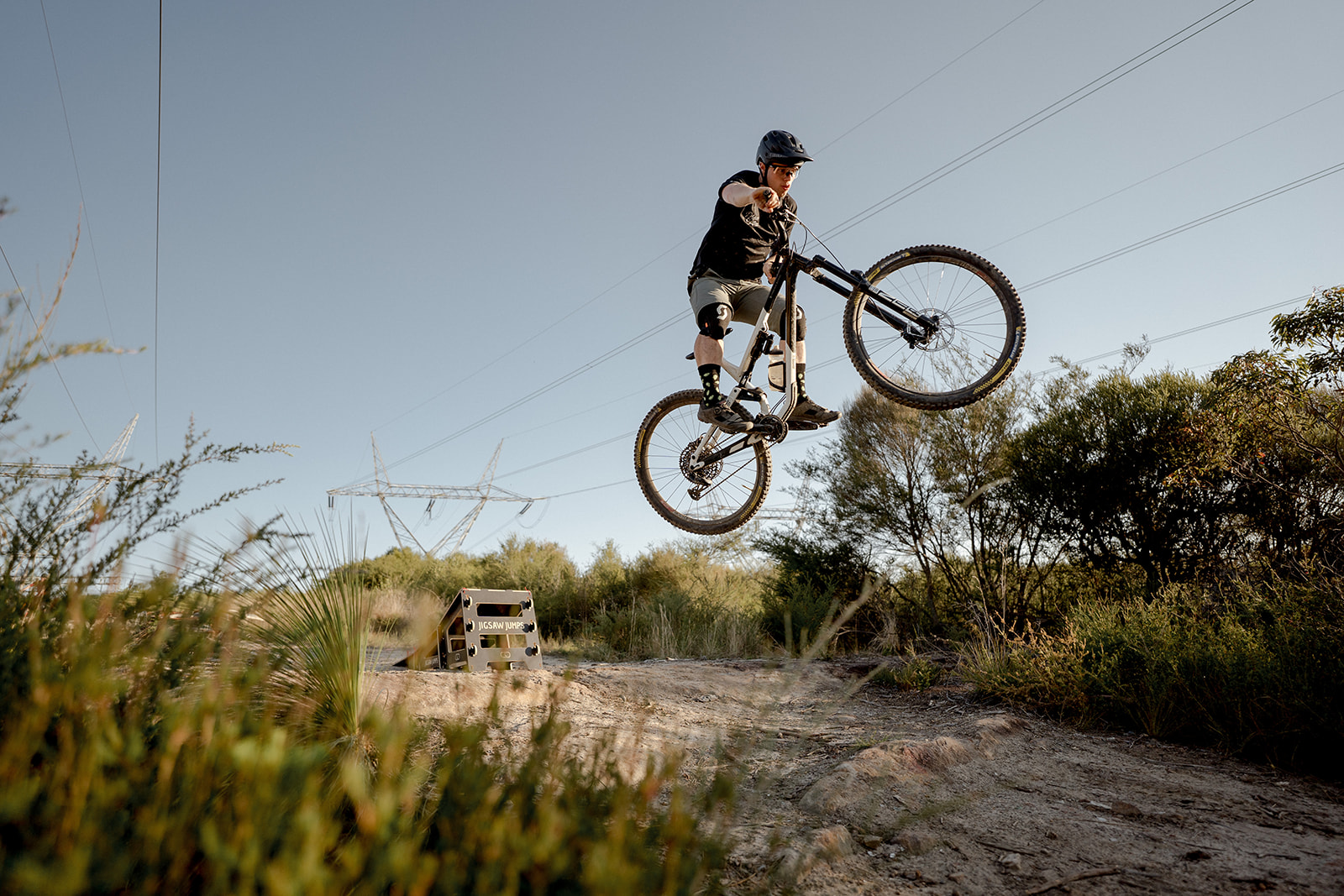 The radius and pop of the whopping 79cm extension for the large ramp definitely calls for a suitably steep downhill landing transition as you return from orbit.
We took the ramp to a few places where it could be used as a step-down, using just the first two sections, which helped keep our trajectory long and low. Other locations called for more height, so we'd tack on the taller end pieces.
How do I get my hands on one?
Jigsaw Jumps are sold direct through its website, and are made to order. Keep an eye on their social media for updates about more add ons coming for the existing range.