Friday was day two of the Subaru National Mountain Bike Championships in Bright, Victoria seeing cross country riders battling it out on a dusty course in the sun.
Friday covered the first half of the Olympic Cross Country race program, with riders racing lap-based events on a 5.16 kilometre trail.
In the U17 Men's Cross Country, Kian Lerch-Mackinnon (VIC) and Cam Wright (QLD) sped away from the pack early on, creating a 28.1 second gap from the rest of the field on the first lap.
Lerch-Mackinnon was able to extend this lead even further and on the third and final lap he really put the pedal down, finishing an impressive 42.3 seconds in front of second placed rider Wright.
"It's very nice on my birthday to win the Champs, I'm very happy," said Lerch-Mckinnon.
"It was pretty hard, I didn't have the best start going in to the first fireroad in third. But I managed to get past Cam and Dean and I just basically led from there."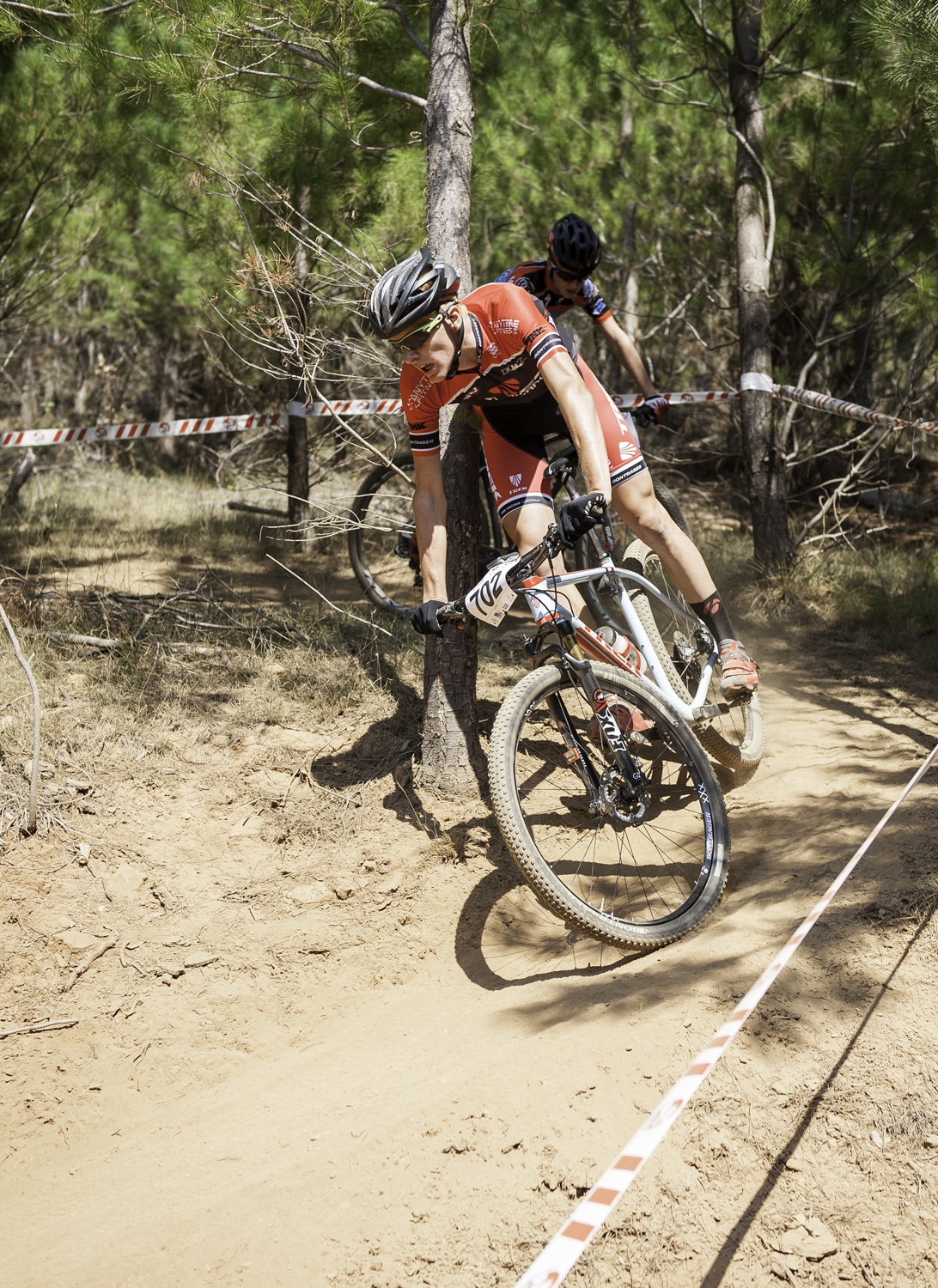 Dean Cane (QLD) took third ahead of a talented field.
New South Wales rider Charlie Todd bagged the U15 Men's National Champion jersey, creating a huge lead and finishing over a minute in front of Riley King (NSW) and Fergus McQueen (NSW), who placed second and third respectively.
"I've been training hard all season and to be National Champion feels really good," said Todd.
"I didn't have the start that I wanted, I slipped on the first corner but on the first fire road section I was able to get into the lead and I just pushed on from there".
In men's masters racing action, legend of the sport Rob Eva (VIC) added yet another national title to his collection that spans both decades and disciplines, this time winning the Masters 5 crown.
In the U17 Women's Cross Country race, Katherine Hosking (NSW) took out the National Championships title, battling hard against 2015 Subaru National Series Winner Sarah Tucknott (WA).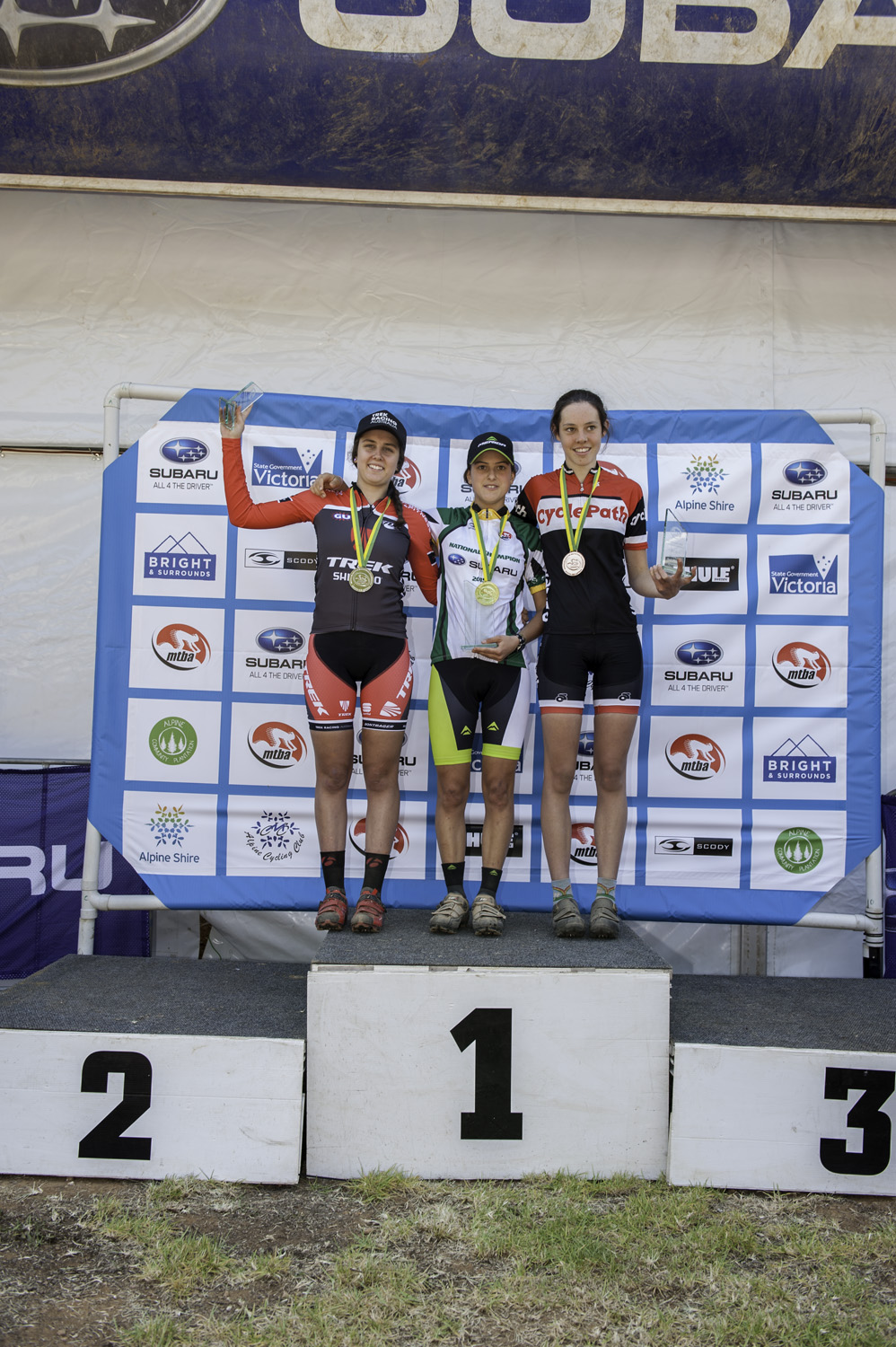 "I'm super stoked about the race and super happy," said Hosking in her after-race interview.
"In the past few races her [Tucknnott's] last lap has been her fastest so I really had it in my mind to just keep thinking she's going to catch up, so I had to go hard for the whole race."
This was Hosking's third National Championships title, but the first one in the U17 category.
Western Australia's Tucknott rode into second place and local Tegan Atherstone (VIC) was third.
In the U15's race, it was all about last night's winner of the Junior Cross Country Rider of the Year award – Zoe Cuthbert (ACT) – who added yet another title to what has been an amazing start to the year for the young rider.
Emily Wooster (NSW) placed second and Isabella Hosking (NSW) third.
Special mention goes to Sharon Heap (QLD), who added yet another National title to her huge collection, taking out the Masters 5+ category.
Heap was also the recipient of the Female Masters Mountain Biker of the Year Award last night at MTBA's inaugural Awards Function in Bright.
Racing will continue tomorrow with the Elite Male and Female Olympic Cross Country races, Downhill seeding and Observed Trials action.
Spectators are welcome free of charge here at Mystic MTB Park in Bright, Victoria.
All information about the event can be found online at: http://mtb.subaru.com.au/national-championships