Get excited folks, because we've just got our hands on the brand new Merida One-Sixty! All-new for 2023, the One-Sixty arrives alongside a new One-Forty, with both platforms introducing a totally new frame shape and suspension design. There's been a seismic shift in the approach to sizing and geometry, with the new models also introducing in-frame storage, mullet compatibility and an adjustable dropper post with 30-230mm of travel. Indeed there is a lot going on with these new bikes, so let's get stuck in to see why Merida reckons these are the most advanced mountain bikes it has ever developed.
Merida One-Sixty & One-Forty Overview
The reason we're seeing the new Merida One-Sixty and One-Forty arrive at the same time is because both models actually share the same frame and suspension design. What separates the two bikes is the amount of suspension travel they offer, and along with some key spec changes, Merida has been able to produce two very different bikes.
The Merida One-Sixty is the burly enduro bike designed for the roughest trails. It's built around 29in wheels on the bigger frame sizes, and a mullet setup with a 27.5in rear wheel on the smaller sizes. It's equipped with a 170mm travel fork and the rear suspension either delivers 161mm of travel in the 29er setup, or 171mm in the mullet setup.
The Merida One-Forty is the trail bike. It features 29in wheels across all frame sizes, with a 150mm travel fork and 143mm of rear wheel travel. You'll see that the One-Forty models are equipped with a slightly less aggressive spec with lighter forks, in-line shocks and faster-rolling tyres. The result is a lighter and more pedal-friendly package designed for all-day trail riding.
New Flexstay suspension design
The most obvious change with the new Merida One-Sixty and One-Forty is the suspension layout. Taking cues from Merida's XC bike, the Ninety-Six, the shock now mounts horizontally underneath the top tube. The lower eyelet is captured by an alloy shock extension, and is driven by a compact rocker link. Both models feature the same 230mm eye-to-eye shock length, but a different stroke is what alters the rear travel.
You'll see that there is no pivot down at the dropout, with the one-piece swingarm adopting a flex-stay design. According to Merida, there is actually very little rotation through the seatstays, with there being more deflection found in other parts of the frame, like the seat tube.
Having removed the traditional pivot, the engineers were able to reduce weight and complexity, while supposedly maintaining long-term durability, even on the alloy frames. To that end, Merida states the new One-Sixty and One-Forty frames have passed Category 5 testing and are rated for bikepark use.
It's got a mullet chip
At the top of the rocker link on the new Merida One-Sixty and One-Forty frames is a two-position flip chip. This is designed to allow you to run either a 29in or 27.5in rear wheel, while maintaining the same geometry.
Suspension travel does change between the two positions;
One-Sixty Rear Travel: 162mm (29in) – 171mm (Mullet)
One-Forty Rear Travel: 143mm (29in) – 151mm (Mullet)
On the note of suspension, Merida claims that the leverage ratio is size-specific. Larger frames feature a slightly more progressive rate to provide increased support for heavier riders.
Fresh sizing, with an adjustable dropper post
Further developments have been made in the approach to sizing and geometry for the new Merida One-Sixty and One-Forty.
Taking inspiration from Specialized's S-Sizing concept, Merida is offering X-Short, Short, Mid, Long and X-Long frame sizes. Riders will be encouraged to choose their size based on their preferred reach.
To maximise sizing flexibility, Merida has developed its own adjustable dropper post that can be set anywhere between 30-230mm of travel. That is a huge range of adjustment, and it means riders will be able to tailor the total drop based on their optimal saddle height. The Team TR post features the larger 34.9mm diameter for stiffness, and it slots into a straight, uninterrupted seat tube.
Merida has also employed compact head tube lengths in order to minimise the overall stack height and allow riders to easily size up. Larger frame sizes will come with a higher rise handlebar and the option to run a full suite of headset spacers to lift the bars up, though we're curious to see how the tallest riders will find the riding position.
Geometry
As for geometry, the new Merida One-Sixty features a 64° head angle. The One-Forty is a degree steeper at 65°, since it comes with a shorter travel fork.
Curiously, both frames feature the same 79° effective seat tube angle. How? Merida specs the One-Forty with a seatpost that incorporates a 10mm offset, while the One-Sixty gets a 0mm offset. Clever!
Rear centre length is a compact 434mm on the One-Sixty, and grows to 437.5mm on the One-Forty. Whereas some brands are offering size-specific rear centre lengths, Merida chose to maintain the chainstay length across all frame sizes. It states that the small changes that other brands are offering are too little to provide any meaningful difference in front-to-rear weight distribution, and so it stuck with the same length for all sizes.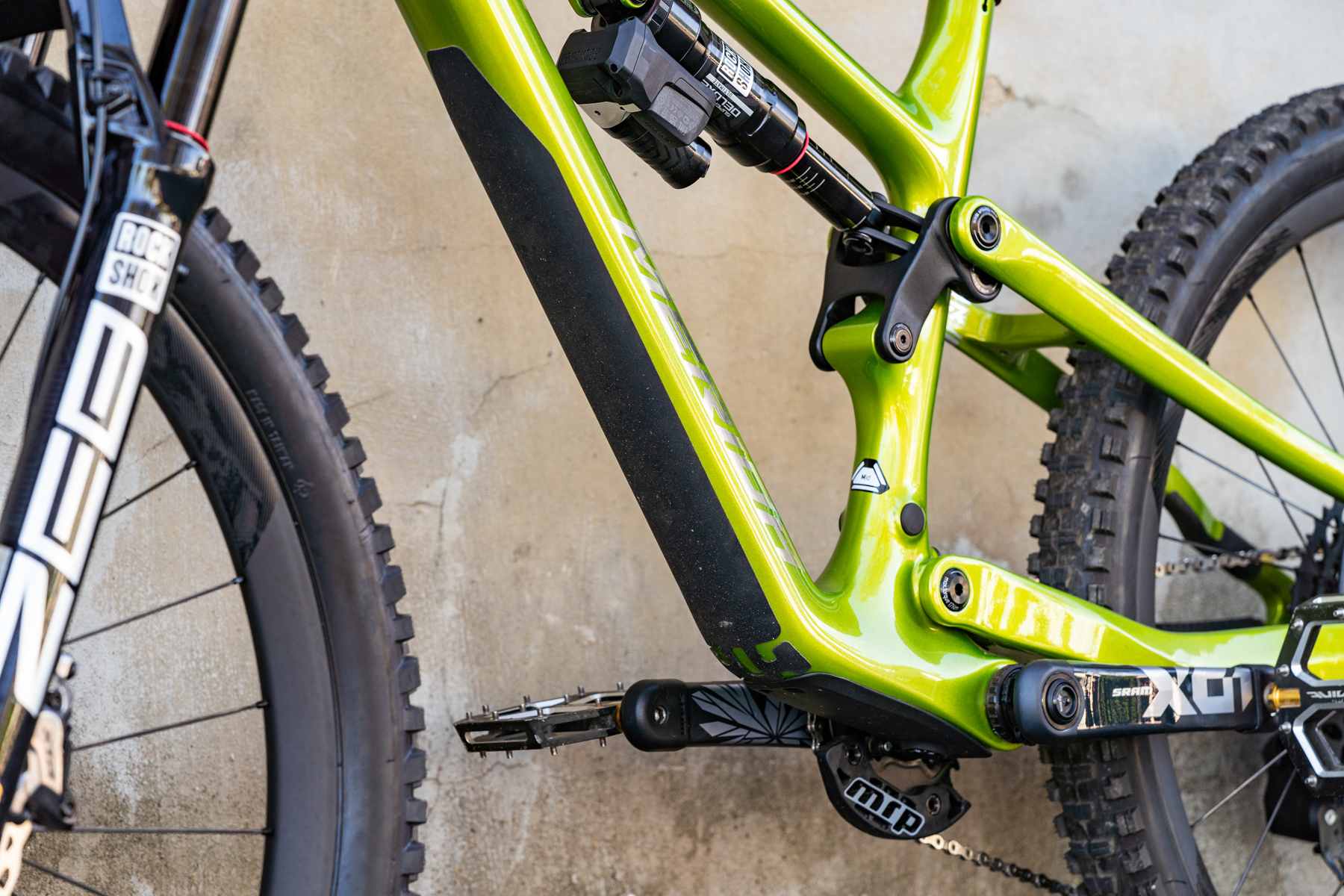 Integrated storage & frame protection
The Merida One-Sixty and One-Forty feature a variety of options for stowing tools and spares to allow you to ride pack-free.
Alloy frames get a conventional water bottle mount, while the carbon frames feature a built-in Fidlock bottle mount that sits flush in the frame. A 600ml Fidlock bottle will also be included.
Speaking of the carbon frames, these introduce a new storage compartment called the Merida Service Port (MSP). There's a removable hatch underneath the bottom of the downtube that gives you access to the internal cable routing, while also providing a cavity to store additional spares and tools.
All frames can accommodate an optional tube base plate that allows you to carry a spare tube just forward of the shock mount, and most models will come supplied with a mini-tool that stows inside a holster underneath the saddle. There's also a hidden 4 & 6mm hex key integrated into the rear axle lever.
Merida has also developed a sturdy bolt-on rear mudguard that comes standard on all models. A longer guard is also available separately for those who ride in really filthy conditions. You'll find generous armouring underneath the downtube and along the drive-side chainstay, while protective film has been pre-applied in key areas from the factory.
Along with the threaded BB, standard Boost spacing and SRAM UDH, it's all practical stuff. Well, except for the headset cable routing, which we continue to have mixed feelings on.
Merida One-Sixty & One-Forty prices & specs
With both alloy and carbon frame options, there are a huge number of models across the Merida One-Sixty and One-Forty lineup for 2023.
Prices will start at $3,399 AUD for the Merida One-Forty 400, and they'll top out at $13,499 AUD for the Merida One-Sixty 10K. It's worth noting that the 10K model is also the first Merida to come spec'd with RockShox Flight Attendant.
We've just received our Merida One-Sixty test bike, and we are very keen to see how it performs on our local trails. We're also eager to see whether the same frame and suspension layout will be incorporated into the new eOne-Sixty, which aside from getting a new motor and battery, has been largely unchanged since it was introduced in 2019. Time will tell…
In the meantime, read on below for all the specs and prices on the 2023 Merida One-Sixty and One-Forty lineup, and stay tuned for our in-depth review coming soon!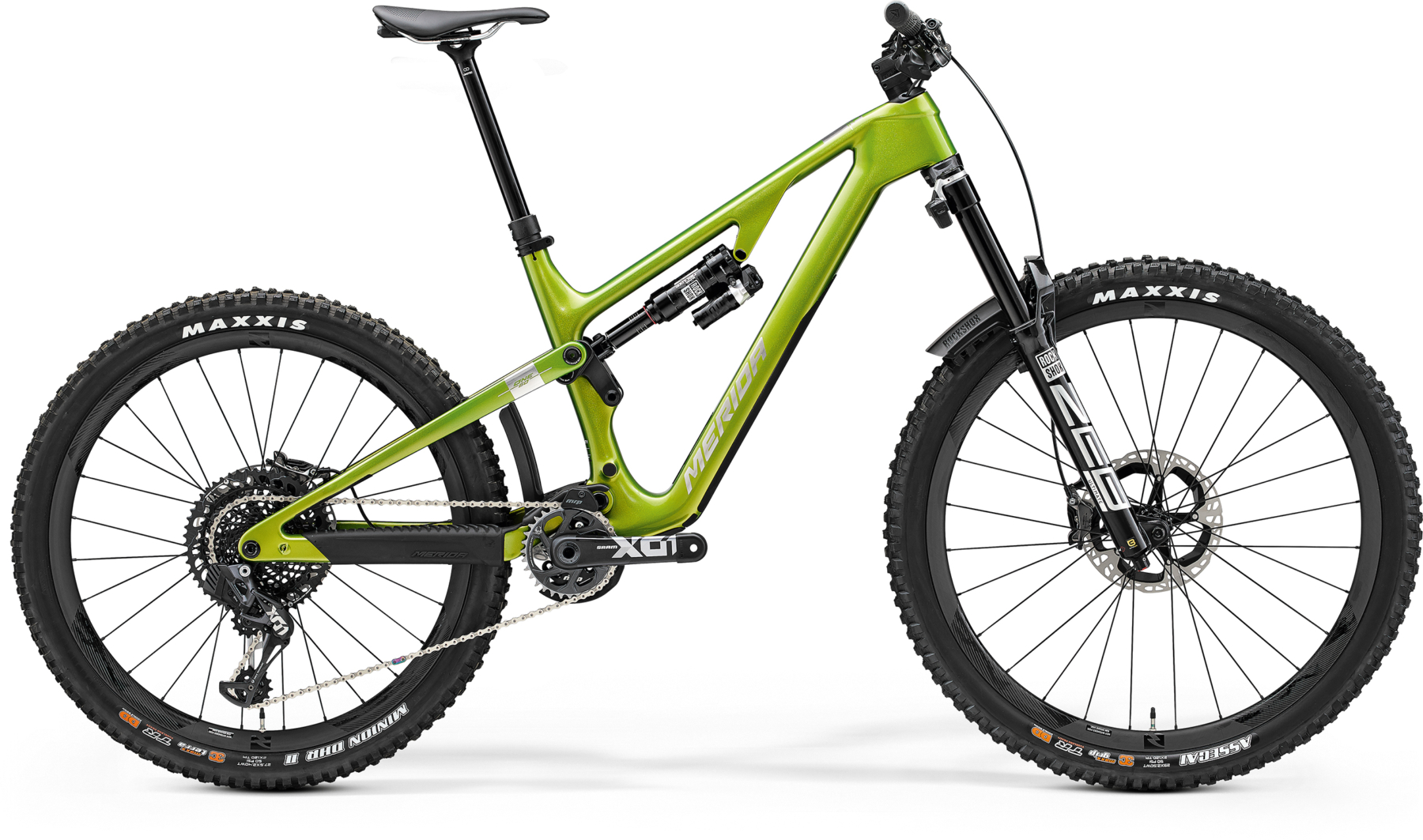 2023 Merida One-Sixty 10K
Frame | CF4 Carbon Fibre, Flexstay Suspension Design, Travel: 162mm (29in) – 171mm (Mullet)
Fork | RockShox Zeb Ultimate, Flight Attendant Damper, 44mm Offset, 170mm Travel
Shock | RockShox Super Deluxe Ultimate, Flight Attendant Damper, 230x65mm
Wheels | Reynolds Blacklabel Enduro, Carbon Rims, 28mm Inner Width
Tyres | Maxxis Assegai DoubleDown 3C MaxxGrip 2.5in Front & Minion DHR II DoubleDown 3C MaxxTerra 2.4in Rear
Drivetrain | SRAM X01 Eagle AXS 1×12 w/30T Crankset & 10-52T Cassette
Brakes | Shimano XTR 4-Piston w/203mm Rotors
Bar | Merida Team TR, Alloy, 780mm Width, Rise: 18mm (XS-S), 30mm (M-XL)
Stem | Merida Expert eTR11, 40mm Length
Seatpost | Merida Team TR, 34.9mm Diameter, 30-230mm Travel
Saddle | Merida Expert SL, V-Mount w/Merida Minitool
Claimed Weight | 15.01kg
RRP | $13,499 AUD
2023 Merida One-Sixty 8000
Frame | CF4 Carbon Fibre, Flexstay Suspension Design, Travel: 162mm (29in) – 171mm (Mullet)
Fork | RockShox Zeb Ultimate, Charger 3 Damper, 44mm Offset, 170mm Travel
Shock | RockShox Super Deluxe Ultimate, 230x65mm
Wheels | Race Face Turbine R30, Alloy Rims, 28mm Inner Width
Tyres | Maxxis Assegai DoubleDown 3C MaxxGrip 2.5in Front & Minion DHR II DoubleDown 3C MaxxTerra 2.4in Rear
Drivetrain | SRAM GX Eagle AXS 1×12 w/30T Crankset & 10-52T Cassette
Brakes | Shimano XT 4-Piston w/203mm Rotors
Bar | Merida Team TR, Alloy, 780mm Width, Rise: 18mm (XS-S), 30mm (M-XL)
Stem | Merida Expert eTR11, 40mm Length
Seatpost | Merida Team TR, 34.9mm Diameter, 30-230mm Travel
Saddle | Merida Expert SL, V-Mount w/Merida Minitool
Claimed Weight | 15.3kg
RRP | $9,799 AUD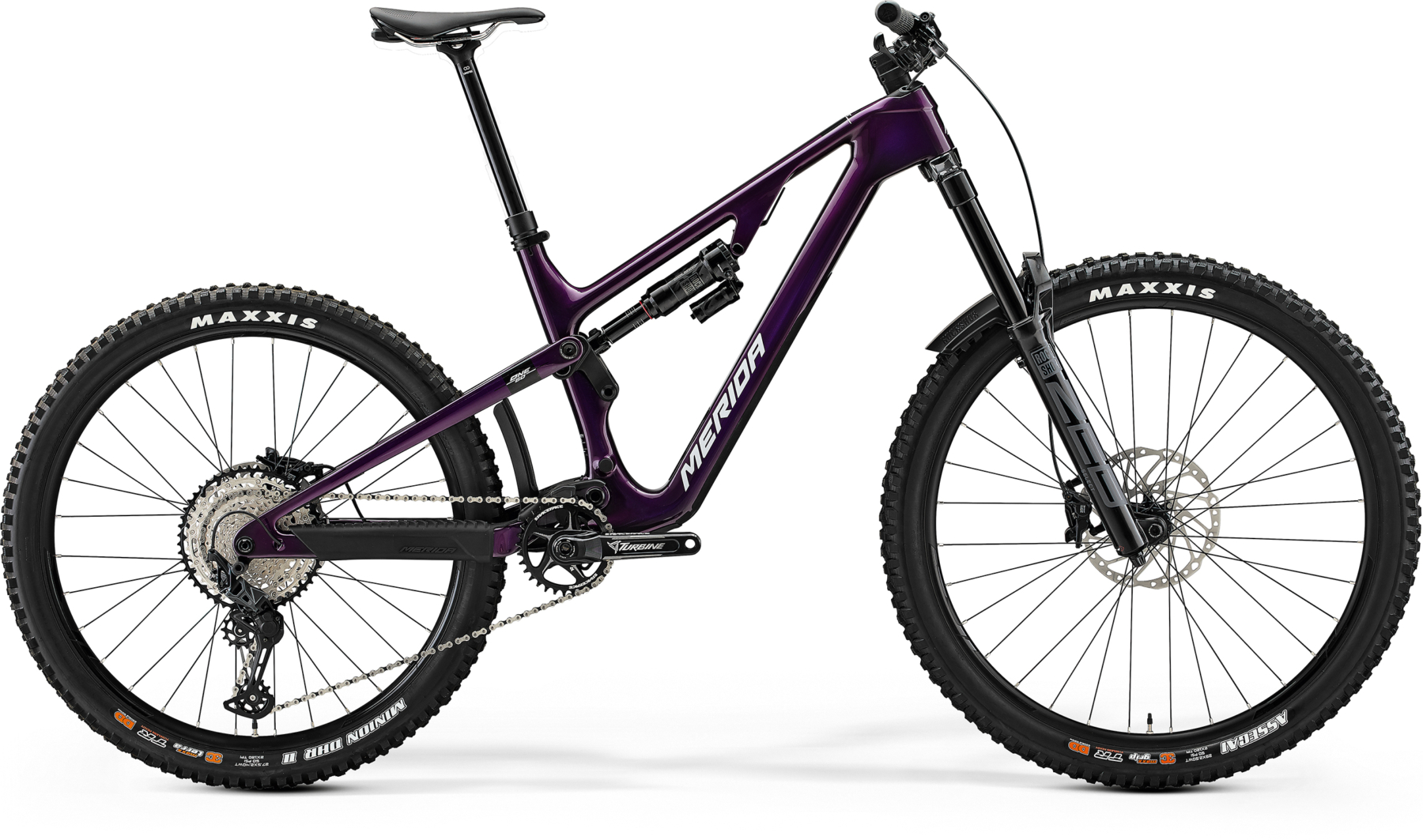 2023 Merida One-Sixty 6000
Frame | CF4 Carbon Fibre, Flexstay Suspension Design, Travel: 162mm (29in) – 171mm (Mullet)
Fork | RockShox Zeb Select, Charger RC Damper, 44mm Offset, 170mm Travel
Shock | RockShox Super Deluxe Select+, 230x65mm
Wheels | Shimano SLX Hubs & Merida Expert TR Alloy Rims, 29mm Inner Width
Tyres | Maxxis Assegai DoubleDown 3C MaxxGrip 2.5in Front & Minion DHR II DoubleDown 3C MaxxTerra 2.4in Rear
Drivetrain | Shimano SLX 1×12 w/30T Race Face Turbine Crankset & 10-51T Cassette
Brakes | Shimano SLX 4-Piston w/203mm Rotors
Bar | Merida Team TR, Alloy, 780mm Width, Rise: 18mm (XS-S), 30mm (M-XL)
Stem | Merida Expert eTR11, 40mm Length
Seatpost | Merida Team TR, 34.9mm Diameter, 30-230mm Travel
Saddle | Merida Expert SL, V-Mount w/Merida Minitool
Claimed Weight | 15.67kg
RRP | $6,999 AUD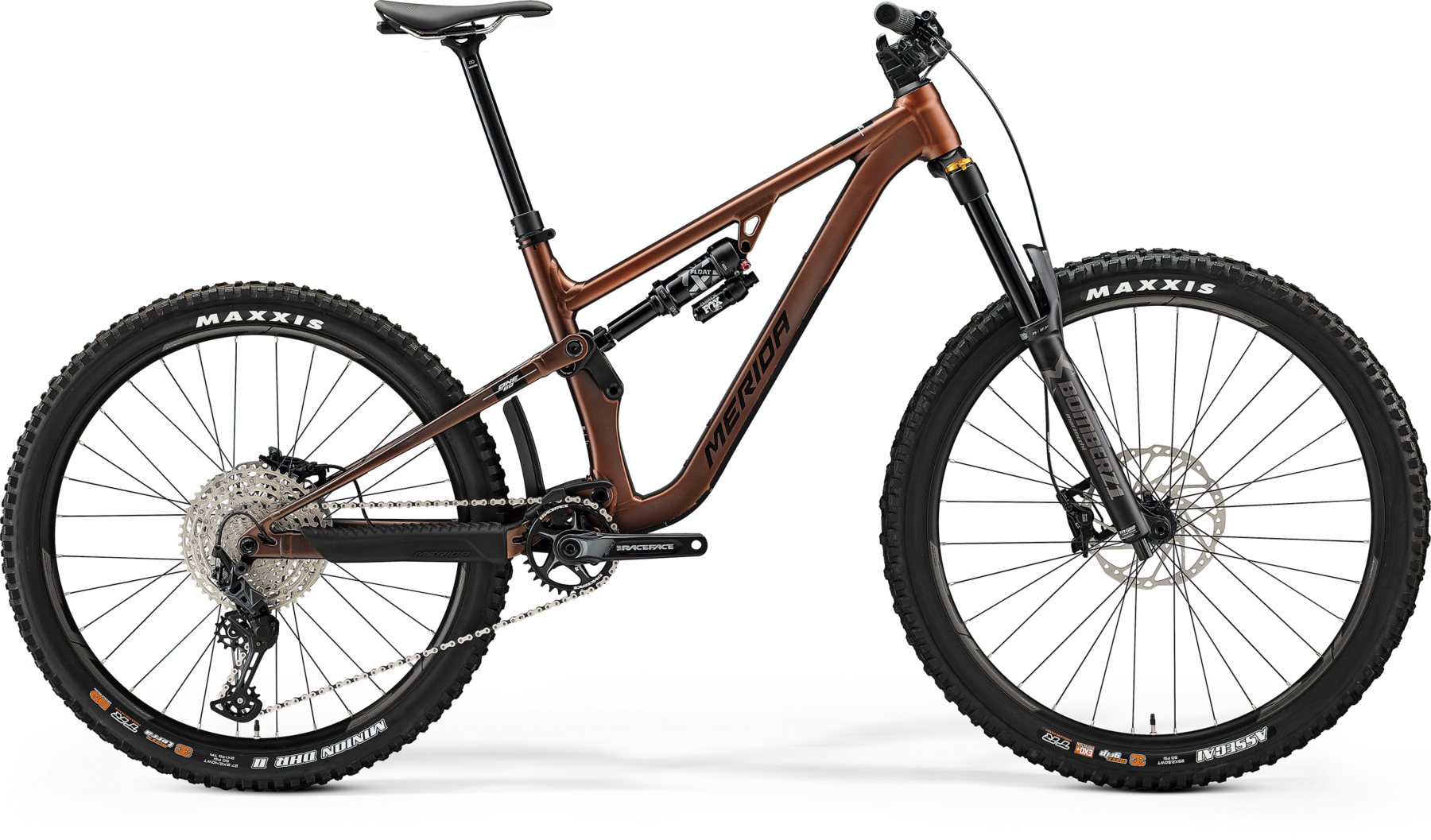 2023 Merida One-Sixty 700
Frame | Lite III Alloy, Flexstay Suspension Design, Travel: 162mm (29in) – 171mm (Mullet)
Fork | Marzocchi Z1, GRIP Damper, 44mm Offset, 170mm Travel
Shock | Fox Float X Performance Series, 230x65mm
Wheels | Shimano SLX Hubs & Merida Expert TR Alloy Rims, 29mm Inner Width
Tyres | Maxxis Assegai DoubleDown 3C MaxxGrip 2.5in Front & Minion DHR II DoubleDown 3C MaxxTerra 2.4in Rear
Drivetrain | Shimano Deore/SLX 1×12 w/30T Race Face Crankset & 10-51T Cassette
Brakes | Shimano SLX 4-Piston w/203mm Rotors
Bar | Merida Team TR, Alloy, 780mm Width, Rise: 18mm (XS-S), 30mm (M-XL)
Stem | Merida Expert eTR11, 40mm Length
Seatpost | Merida Team TR, 34.9mm Diameter, 30-230mm Travel
Saddle | Merida Expert SL, V-Mount w/Merida Minitool
Claimed Weight | 16.65kg
RRP | $4,999 AUD
2023 Merida One-Sixty 500
Frame | Lite III Alloy, Flexstay Suspension Design, Travel: 162mm (29in) – 171mm (Mullet)
Fork | RockShox Yari RC, Motion Control Damper, 44mm Offset, 170mm Travel
Shock | RockShox Deluxe Select+, 230x65mm
Wheels | Shimano MT400 Hubs & Merida Comp TR Alloy Rims, 29mm Inner Width
Tyres | Maxxis Assegai DoubleDown 3C MaxxGrip 2.5in Front & Minion DHR II DoubleDown 3C MaxxTerra 2.4in Rear
Drivetrain | Shimano Deore 1×12 w/30T Race Face Crankset & 10-51T Cassette
Brakes | Shimano Deore 4-Piston w/203mm Rotors
Bar | Merida Team TR, Alloy, 780mm Width, Rise: 18mm (XS-S), 30mm (M-XL)
Stem | Merida Expert eTR11, 40mm Length
Seatpost | Merida Expert TR 11, 34.9mm Diameter, Travel: 125mm (XS), 150mm (S), 200mm (M-XL)
Saddle | Merida Expert SL, V-Mount
Claimed Weight | 16.68kg
RRP | $3,999 AUD
---
2023 Merida One-Forty 10K
Frame | CF4 Carbon Fibre, Flexstay Suspension Design, 143mm Travel
Fork | Fox 36, Factory Series, GRIP2 Damper, 44mm Offset, 150mm Travel
Shock | Fox Float DPS, Factory Series, 230×57.5mm
Wheels | Reynolds Blacklabel 329 Trail, Carbon Rims, 28mm Inner Width
Tyres | Maxxis Minion DHF EXO 3C MaxxTerra 2.5in Front & Dissector EXO+ 3C MaxxTerra 2.4in Rear
Drivetrain | SRAM X01 Eagle AXS 1×12 w/30T Crankset & 10-52T Cassette
Brakes | Shimano XTR 4-Piston w/203mm Rotors
Bar | Merida Team TR, Alloy, 780mm Width, Rise: 18mm (XS-S), 30mm (M-XL)
Stem | Merida Expert eTR11, 50mm Length
Seatpost | Merida Team TR, 34.9mm Diameter, 30-230mm Travel
Saddle | Merida Expert SL, V-Mount w/Merida Minitool
Claimed Weight | 14kg
RRP | $11,999 AUD
2023 Merida One-Forty 8000
Frame | CF4 Carbon Fibre, Flexstay Suspension Design, 143mm Travel
Fork | Fox 36, Performance Elite, GRIP2 Damper, 44mm Offset, 150mm Travel
Shock | Fox Float DPS, Performance Elite, 230×57.5mm
Wheels | Race Face Turbine R30, Alloy Rims, 28mm Inner Width
Tyres | Maxxis Minion DHF EXO 3C MaxxTerra 2.5in Front & Dissector EXO+ 3C MaxxTerra 2.4in Rear
Drivetrain | SRAM GX Eagle AXS 1×12 w/30T Crankset & 10-52T Cassette
Brakes | Shimano XT 4-Piston w/203mm Rotors
Bar | Merida Team TR, Alloy, 780mm Width, Rise: 18mm (XS-S), 30mm (M-XL)
Stem | Merida Expert eTR11, 50mm Length
Seatpost | Merida Team TR, 34.9mm Diameter, 30-230mm Travel
Saddle | Merida Expert SL, V-Mount w/Merida Minitool
Claimed Weight | 14.65kg
RRP | $9,499 AUD
2023 Merida One-Forty 6000
Frame | CF4 Carbon Fibre, Flexstay Suspension Design, 143mm Travel
Fork | Marzocchi Z1, GRIP Damper, 44mm Offset, 150mm Travel
Shock | RockShox Deluxe Select+, 230×57.5mm
Wheels | Shimano SLX Hubs & Merida Expert TR Alloy Rims, 29mm Inner Width
Tyres | Maxxis Minion DHF EXO 3C MaxxTerra 2.5in Front & Dissector EXO+ 3C MaxxTerra 2.4in Rear
Drivetrain | Shimano SLX 1×12 w/30T Race Face Turbine Crankset & 10-51T Cassette
Brakes | Shimano SLX 4-Piston w/203mm Rotors
Bar | Merida Team TR, Alloy, 780mm Width, Rise: 18mm (XS-S), 30mm (M-XL)
Stem | Merida Expert eTR11, 50mm Length
Seatpost | Merida Team TR, 34.9mm Diameter, 30-230mm Travel
Saddle | Merida Expert SL, V-Mount w/Merida Minitool
Claimed Weight | 15.25kg
RRP | $6,499 AUD
2023 Merida One-Forty 700
Frame | Lite III Alloy, Flexstay Suspension Design, 143mm Travel
Fork | Marzocchi Z1, GRIP Damper, 44mm Offset, 150mm Travel
Shock | RockShox Deluxe Select+, 230×57.5mm
Wheels | Shimano SLX Hubs & Merida Expert TR Alloy Rims, 29mm Inner Width
Tyres | Maxxis Minion DHF EXO 3C MaxxTerra 2.5in Front & Dissector EXO+ 3C MaxxTerra 2.4in Rear
Drivetrain | Shimano SLX 1×12 w/30T Race Face Crankset & 10-51T Cassette
Brakes | Shimano SLX 4-Piston w/203mm Rotors
Bar | Merida Team TR, Alloy, 780mm Width, Rise: 18mm (XS-S), 30mm (M-XL)
Stem | Merida Expert eTR11, 50mm Length
Seatpost | Merida Team TR, 34.9mm Diameter, 30-230mm Travel
Saddle | Merida Expert SL, V-Mount w/Merida Minitool
Claimed Weight | 16.28kg
RRP | $4,799 AUD
2023 Merida One-Forty 500
Frame | Lite III Alloy, Flexstay Suspension Design, 143mm Travel
Fork | Marzocchi Z2, RAIL Damper, 44mm Offset, 150mm Travel
Shock | RockShox Deluxe Select+, 230×57.5mm
Wheels | Shimano MT400 Hubs & Merida Comp TR Alloy Rims, 29mm Inner Width
Tyres | Maxxis Minion DHF EXO 3C MaxxTerra 2.5in Front & Dissector EXO+ 3C MaxxTerra 2.4in Rear
Drivetrain | Shimano Deore 1×12 w/30T Race Face Crankset & 10-51T Cassette
Brakes | Shimano Deore 4-Piston w/203mm Rotors
Bar | Merida Team TR, Alloy, 780mm Width, Rise: 18mm (XS-S), 30mm (M-XL)
Stem | Merida Expert eTR11, 50mm Length
Seatpost | Merida Expert TR 11, 34.9mm Diameter, Travel: 125mm (XS), 150mm (S), 200mm (M-XL)
Saddle | Merida Expert SL, V-Mount
Claimed Weight | 16.49kg
RRP | $3,899 AUD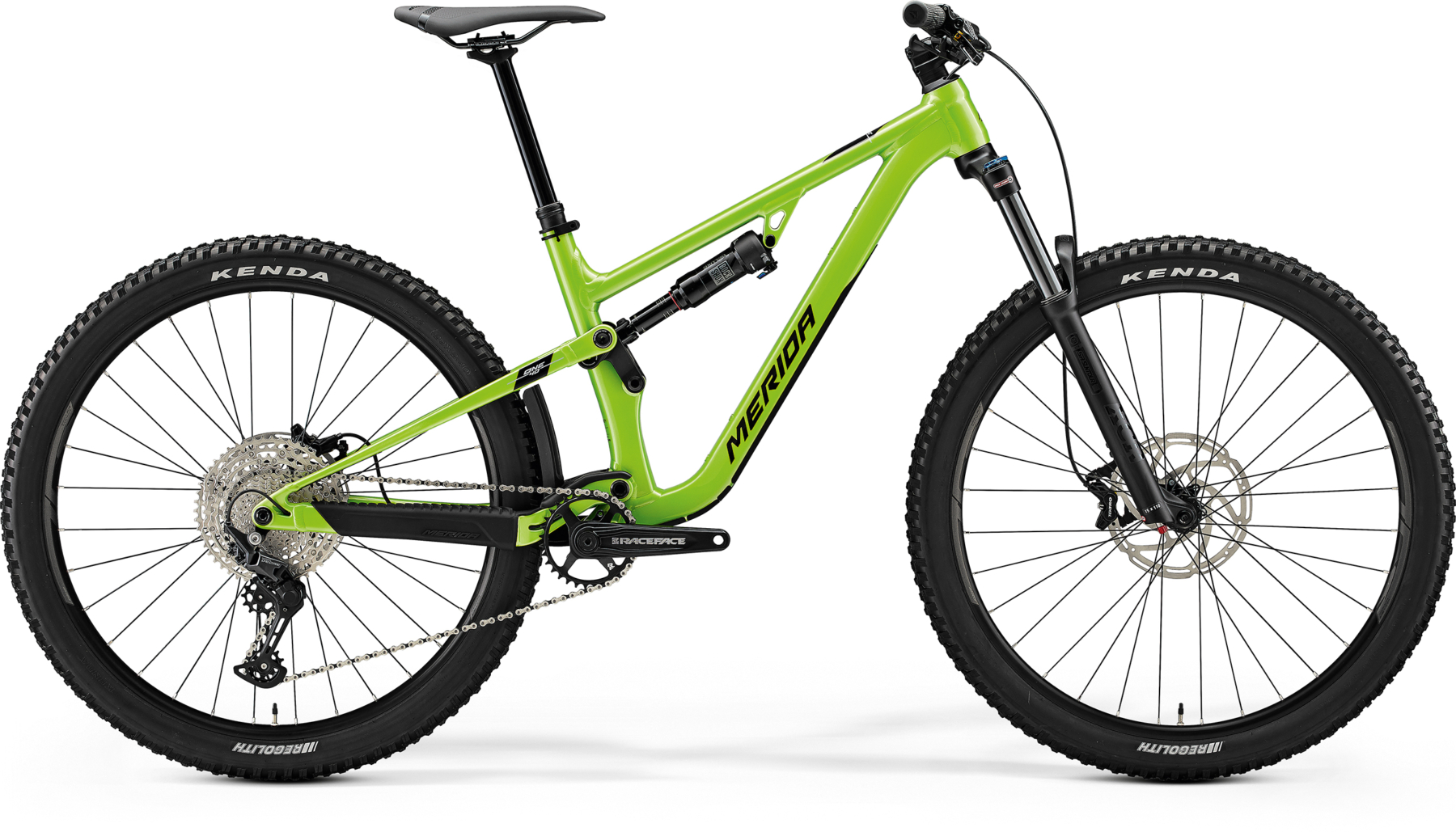 2023 Merida One-Forty 400
Frame | Lite III Alloy, Flexstay Suspension Design, 143mm Travel
Fork | SR Suntour XCR34 LOR DS, Air Spring, 51mm Offset, 140mm Travel
Shock | RockShox Deluxe Select+, 230×57.5mm
Wheels | Shimano MT400 Hubs & Merida Comp TR Alloy Rims, 29mm Inner Width
Tyres | Kenda Regolith 2.4in
Drivetrain | Shimano Deore 1×11 w/30T Race Face Crankset & 11-51T Cassette
Brakes | Tektro HD-M745 4-Piston w/203mm Rotors
Bar | Merida Team TR, Alloy, 780mm Width, Rise: 18mm (XS-S), 30mm (M-XL)
Stem | Merida Expert eTR11, 50mm Length
Seatpost | Merida Expert TR 11, 34.9mm Diameter, Travel: 125mm (XS), 150mm (S), 200mm (M-XL)
Saddle | Merida Expert SL, V-Mount
Claimed Weight | 16.88kg
RRP | $3,399 AUD