Gwin's Winning Run:
Tales of The Mob – Episode 7, Mont Sainte-Anne:
Australian Dean Lucas found himself in the hot seat prior to the 20 minute break for TV, and around that time, the rain increased from a drizzle to a downpour. Many of the on-site fans thought the racing was over with most riders battling to get within 10 seconds of Lucas' time. That was until his teammate Jack Moir (AUS) put in an incredible run, finding time in the 3rd sector, and crossing the line in 4th place. At that point, the team radioed up the mountain to inform Aaron what had taken place and that a top time was possible.
After Jack Moir came in, Troy Brosnan (AUS) also put down a great run going into 3rd place. It was clear the top guys had a shot. Next up it was Danny Hart (GBR) who was ahead of Dean Lucas until the finish line and he slotted into 2nd before World Cup leader Greg Minnaar (RSA) took to the track. Only 1 second down at the first split, the major surprise came at the 2nd split which showed the South African down by 20secs. An off track excursion had cost him a lot of time, and ultimately a disqualification for an incorrect entry back onto the course. Next up Loic Bruni (FRA) crossed the line for 3rd and so the attention turned to the last man down, fastest qualifier Aaron Gwin who some doubted had the wet weather experience to deal with the conditions. What happened next was simply incredible. Picking up green lights all the way down, at one point 2 seconds up on everyone, Aaron took a historic win in the most extreme conditions.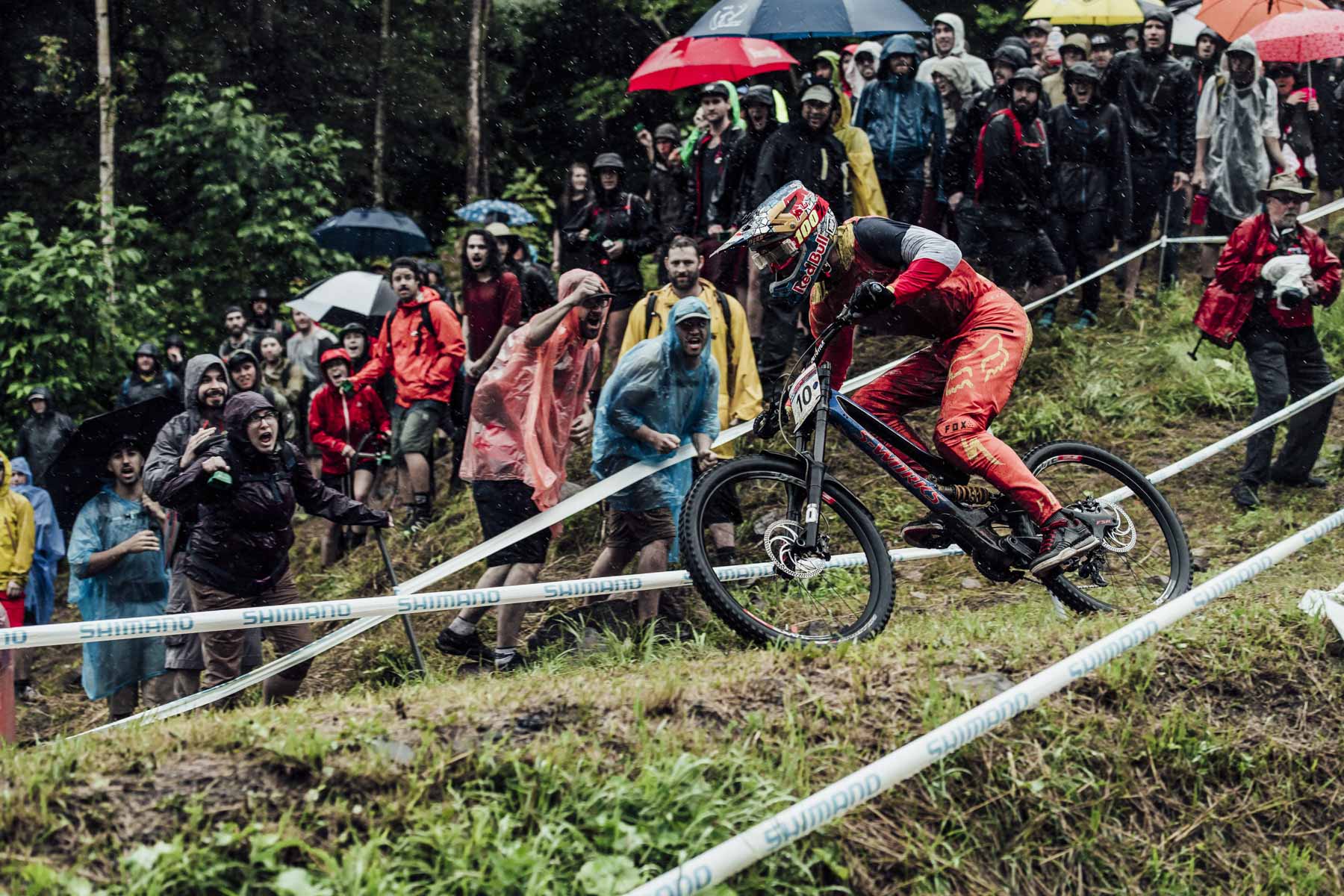 "The fact that I've been sitting here for 10 minutes now trying to figure out how to start off this quote for our press release should explain my feelings after today's race. It's hard to find the words; I'm just happy. It's been a crazy season but we've kept fighting through the ups and downs, and this weekend wasn't any different. It feels good to get that win. Conditions like we had today make the win feel even better. I'm happy for myself, my team, the sponsors that support us and the thousands of fans who've been encouraging me all season. Thanks to all of you for the love. I wanted to take this title fight to the last race, and now we get to do that, so let the fun continue!" – Aaron Gwin
The title chase is now just 33 points away from Greg Minnaar in 1st, with Troy Brosnan only 44 points behind Aaron. Mathematically, only Greg, Aaron or Troy can win the title, and it will all go down to the wire in Vale Di Sole in 3 weeks from now.