Specialized are the boss. With their gap-free range of exemplary bikes, strong and visible marketing, thorough array of parts and accessories and their excellent in-house components, it's no wonder these guys sit so high in the mountain bike food chain. What's new for the next season? What can they improve on? For 2015 Specialized release a new Enduro, and do more than just dip a toe into the water with the 650b bikes.
The women's range makes up for a huge portion of Specialized's catalogue, with a new Era (29″ wheel race bike modelled around the Epic) and a Rumor EVO all-mountain bike. Our first impressions of the women's range is here.
We snagged a few quick test rides around the Gold Coast's fast and zippy singletrack of Nerang, and and in between dirt time we perused the halls of the 2015 dealer show, and picked out our fave new rigs for next year. Here are our thoughts on the new bits and bobs from the bold crew from Morgan Hill, California.
Click on the smaller images for captions and details.
Highlights from the 2015 mens mountain bike range:
New Enduro with 650b wheels.
New wide profile Roval Fattie wheels.
Stumpjumper EVO with 650b wheels (released a few months ago).
New 380g dropper post with a slight 35mm of drop, the SXP, on Epic and Stumpjumper HT.
Low-tread aggressive Slaughter tyre on Stumpjumper EVO, Demo and Enduro range.
The Camber remains unchanged for 2015, aside from a couple of spec changes.
You'll have to look hard to find SRAM brakes, with more Shimano and Magura on the vast majority of models.
There are five fat bikes…jeeeez.
[divider]Enduro[/divider]
Specialized have had a bike named 'Enduro' in their lineup for many years, long before it became a trendy buzzword, and the sport blew up on the international scene in a big way. The Enduro comes in two flavours, 650b and 29″, with a couple of carbon models and one aluminium framed versions available in Oz.
The downhill World Cup superstars Aaron Gwin and Troy Brosnan both raced the Enduro 650b at the first two rounds of the 2014 World Cup in Pietermaritzburg and Cairns. If they can whack a dual crown fork on an Enduro and light it up at World Cup level, we have no doubts that it's up to the hardest riding we can deliver.
When Specialized released the Enduro 29, they focused heavily on keeping the bike's dimensions short in the rear end, with the chain stay measuring a paltry 430mm thanks to the development of a special front derailleur mount (or by ditching it completely for SRAM 1×11 models). 29″ wheels on a 155mm-travel bike is a tough one to get right, but the end result was amazing, the bike never felt too big or too long.
Still, a bike with 29″ wheels still has its drawbacks, hence the smaller 650b option. Here at Flow, we ride medium size bikes, we love to jump, pump and let the bike hang out on the trails, slide a bit, pull manuals and hoon around. That's where a smaller wheeled bike shines. What the 29″ Enduro gains over the 650b Enduro in traction and sheer rolling speed, it loses to its smaller brother in agility and playfulness. It's your pick! To be completely honest, we often wish we didn't have to think about wheel sizes so much. Will bikes like the Enduro all be 650b in the future? We hope so.
We took the 650b out for a razz, and holy moly did we love it! Our initial fears that on the fairly flat and buff trails of Nerang would not be enough to fully appreciate such a capable mountain bike, were banished when we let the brakes off and burned around the turns at reckless pace. So much suspension should really suck you of your pedalling energy, but we give this Enduro the thumb up.
Specialized offer the Enduro in the up-for-it EVO format too, with slightly more travel (180mm) and Rockshox BoXXer and an Ohlins coil shock too. In fact, it's pretty much the exact bike that Gwin and Brosnan raced early in the season!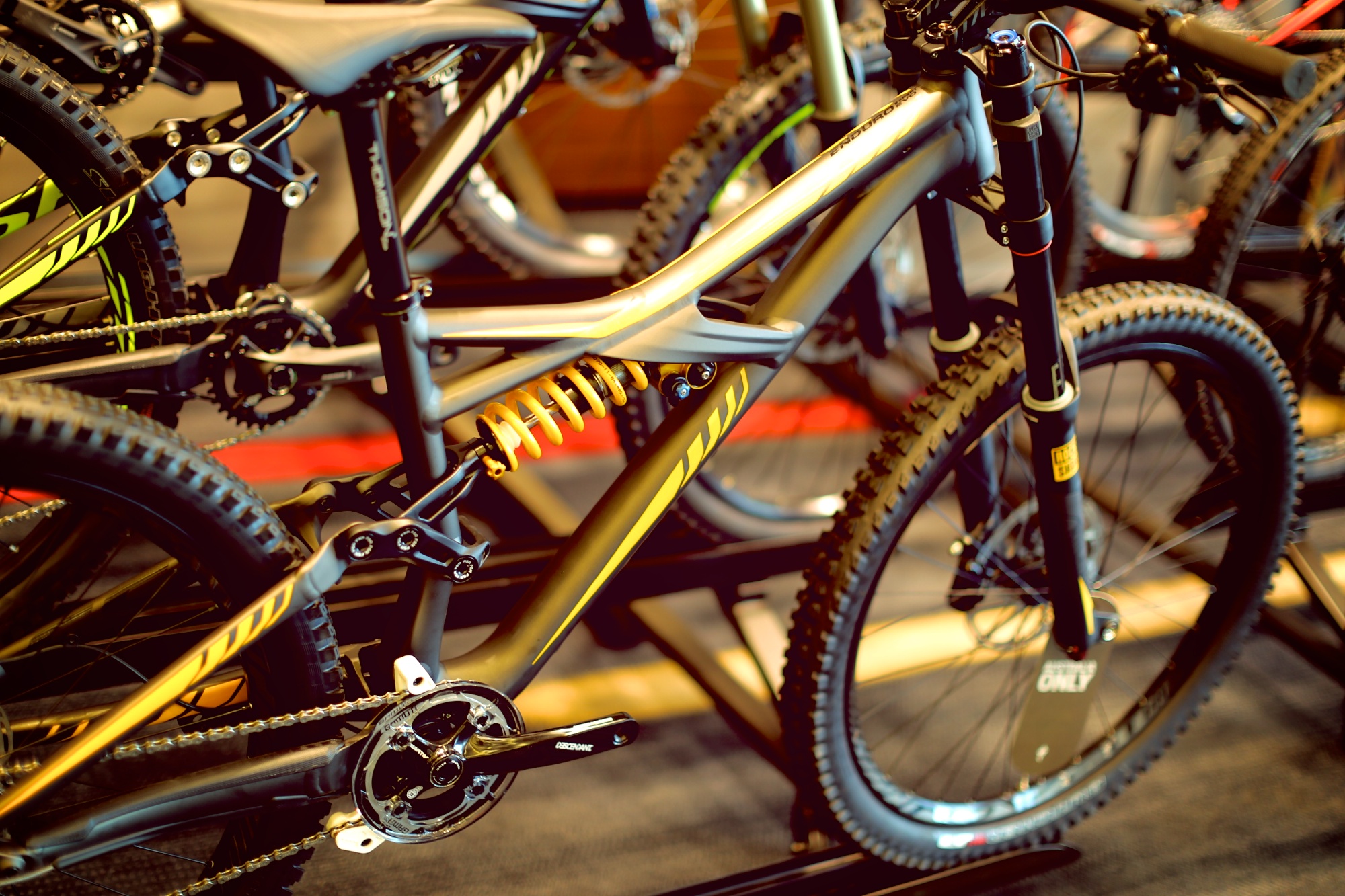 [divider]Stumpjumper FSR[/divider]
Carrying the same name as the world's first ever mass-produced mountain bike, the Stumpjumper FSR is a bike that suits the traditional mountain biker, one who favours all-day rides, up and down all types of terrain. The good old Stumpy is a well-loved, comfortable and capable classic.
Starting at $3199 for the Stumpjumper 29, the FSR range is an eight-strong offering of well-specced bikes. There are six 29ers (including two EVO models) and two 650b EVO models as well.
Check out our review of the 2014 Stumpjumper Carbon Expert here.
The Stumpjumper EVO 650b was the first bike that Specialized announced would be rolling on 650b wheels. The news was received with mixed feelings, as we all know how strongly Specialized professed that 29ers were the way forward, and they had 29″ wheels across the overwhelming majority of their mountain bike range. But, hey presto, we have an Enduro, Demo and a Stumpjumper in 650b now. Maybe Specialized didn't do themselves any favours with their somewhat awkward  media release headlined "Bigger is better, except when its not". But either way, we welcome 650b bikes to the catalogue.
Giving the purchaser the option of the same bike in two wheel sizes is both a blessing and a curse. Is there too much choice? Or is this the way the whole industry is going?
In the Stumpjumper 29er series, there are no real changes from 2014 aside from spec. The regular Stumpjumper 29 still has 135mm travel, and the two EVO versions (one carbon, one alloy) get a 5mm increase in suspension travel, a long fork, with a few key parts to boost its attitude, like meaty tyres and wider handlebars.
When it comes to the 650b bikes, there are again two options, in carbon or alloy. Instead of making expensive new moulds for the 650b, Specialized have actually added a spacer under the headset of a 29er Stumpy mainframe, to achieve the right geometry for 650b parts to be used, coupled with an entirely different aluminium rear end. Compared to most of the superbly refined range, especially the 650b Enduro, the approach of using a spacer to correct the frame geometry for 650b wheels feels a little underdone.  In Specialized's defence, we've been told that through simply using the spacer, they were able to achieve the right geometry without the costs of constructing a completely new frame. So that's got to be a good thing for the consumer, as they aren't cheap in the first place.
Construction aside, how did the 650b Stumpjumper ride? We took out the bright yellow Expert Carbon 650b out for a solid few laps, and we liked it for the most part. The geometry is quite unique though, in classic Specialized form, the bottom bracket is low, but this one had us banging pedals on the ground when climbing up rocky terrain. Too low? We think so. Our cranks were scuffed up after one lap.
The handlebars are fairly tall too, we'd drop them down or swap for a flat bar unless your local terrain is steep. On paper, the tall bars, low bottom bracket and a fairly sharp 68 degree head angle seems like an odd combination, but it rides well. The smoothness off the FSR suspension was a real highlight, and cornering the bike was a blast, with oodles of traction and a very confident and centred position with wide bars holding your body in a good position for any unpredictable terrain ahead.
The trails of Nerang are hard packed, with loose gravel and sand patches to catch you out. A few jumps here and there, and many flat turns. The Stumpjumper really was a hoot to blast about on, we'd love to keep one in our quiver for the long all-day rides. Just watch your pedals on rocks.
[divider]Stumpjumper HT[/divider]
HT = hardtail. No rear shocks on this one; it's got an eye for the buffed cross country race tracks.
There are five models in this racy series this year, only one of which is alloy. For 2105, the Stumpy HTs get a SWAT kit (allen key set mounted to bottle cage) and we see a FOX Terralogic fork creep back into the range on the Marathon Carbon. FOX's Terralogic damping system is not too different to the Specialized Brain damper which many Specialized riders will be familiar with, using an inertia valve to keep the fork firm until you hit a bump.
It's funny to say, but it's the seat post on one of the Stumpy HTs that really got us going! The XCP dropper post is found on the Stumpjumper HT and a couple Epics, and with a slight 35mm of drop, it allows the rider just that perfect bit of freedom to move about when the trails are rougher or steeper. It's a part-carbon post, in 27.2mm diameter, with a neat internally routed cable. Mmm, chapeau Specialized on that one! We think this is just the ticket for cross country racers who don't need a 100 or 125mm dropper post.
The back end of this bike is gorgeous, with an allen key bolt-up rear hub axle in place of a quick release skewer and a pair of very thin seat stays, offering a bit of give and compliance to the ride quality of the lightweight hardtail.
[divider]Epic[/divider]
Specialized Australia bring in a whopping nine models of the Epic in three variations.  The three variants of the Epic differ slightly, but are based around the same FSR suspension with a FOX Brain rear shock. There is the mighty sharp angled and lean Epic 29 World Cup, the generously geared and SWAT equipped Epic 29 Marathon, and the regular Epic 29. It's no wonder why the Epic is the only dual suspension bike to win a World Championship XCO race, these guys are bred for the race track.
There's no 650b wheels on any Epic, they 100% lend themselves to the bigger 29″ wheel's rolling efficiency and generous traction.
The World Cup model uses only 95mm of suspension travel front and back. In a world where 100mm of travel is as lean as you get from almost every other brand out there, the Epic World Cup doesn't pretend to be anything but a pure cross country race bike. All World Cup models use a single-ring drivetrain, and without a front derailleur to worry about, Specialized can go to town in the name of stiffness, with a wide and remarkably fat chainstay. Behind the chainring the tolerances are tight, all in the name of achieving a stiff, and responsive pedalling bike.
We snuck out on the Specialized S-Works Epic 29, the top of the pile, $12500 bike for a couple laps of the buff Nerang trails. What does a bike that costs this much ride like? Not too bad… Ok, it's a real delight. The low weight, quick wheels and snappy handling made for a fast feel that you'd expect from the most premium of bikes available. It's not hard to see what you're spending these type of dollars on when you're actually riding it, believe us. The new Shimano 11-speed XTR paired with the RockShox RS-1 fork makes for a jaw droopingly gorgeous parts kit and with a Brain damper in the fork matching the FOX Brain rear shock, you can make it as firm or plush as you like with a twiddle of the dials.
Twisting and winding our way through the open forest, we relished in the momentum and efficiency of the low-weight 29″ wheels. The Epic is a super sharp handling bike, with class-leading efficiency and pure speed.
This was also Flow's first ride on the wild new inverted fork from RockShox. Sure, it twists when you hold the wheels between your knees and pull and push the handlebars, more than a SID would, but on the trail its another story. The carbon legged RS-1 is so incredibly smooth, supple and quiet on the dirt. The fork really takes a lot of the sting out of the trail with the combination of both a good suspension action, and a little bit of 'give' in the chassis, in a good way. We're still worried about the price and exposed inner legs to trail damage, but we love its look and feel so far.
The Epic would have to be our pick for the cross country races or multi day stage races in the calendar.
[divider]Demo 8[/divider]
Now you can ride the bike that Troy Brosnan piloted to a World Cup win in Fort William this year. A 650b wheeled Demo 8.
Specialized have released a completely new S-Works Demo Carbon that is due early next year, but still honour the masses with two versions of the immensely popular aluminium Demo, tweaked to fit 650b wheels.
Aside from the upsize in wheels, the Demo is now available in a new sizing range called S3 Geometry. No longer are the bikes XS, S, M, L etc, where the length and height increases with each size. Instead, you you choose your length, and you choose your height. This has come about from riders going a size up on their downhill bikes for the stability of a longer wheelbase, and so now you can a long size without the seating position going higher if you don't wish to.
[divider]Fatboy[/divider]
FIVE fat bikes in the Specialized range for 2015. Isn't that nuts? Like a tumour, it's growing, and this just proves it.
The Fatboy Expert with a RockShox Bluto fork is a bit of a winner, and with decent suspension, the bikes don't bounce about uncontrollably anymore. We might even test one…
[divider]Body Geometry and the Retül fit system[/divider]
Specialized bought the exclusive rights to the industry leading Retül Müve body fit system. If you see one of these at your local Specialized dealer, sign up for a proper fit. It's a whole-body experience and will let you get the most out of your bike, in comfort.