Founded not too long ago in 1992 by a German World Cyclocross Champion, Focus produce bikes so polished they had us fooled that they'd been around a lot longer than that. Their bikes are dripping with German engineering, and the pricing is pretty good too.
We headed down to Focus Australia's 2016 range preview in the glorious Barossa Valley to politely dodge the delicious wine and fine food in the name of selfless mountain bike media, and see what new bikes are on offer.
It's a big year for the brand with a whole new 120mm travel suspension bike – the Spine – finally filling the big gap between their enduro weapon, the SAM and the Raven or Black Forest hardtail.
Also fresh for next season is the all-new Raven. The racey 29er hardtail gets reworked in a big way with a nod to both compliance and stiffness, and it's a wild looking thing indeed.
[divider]Spine.[/divider]
This all-new model looks the goods, with 120mm travel 27.5″ wheels in a lightweight frame, remote rear shock lockout, a dropper seatpost and frame geometry that won't be too afraid of serious mountain biking. Being a completely new model Focus were able to work from the ground up, offering a bike to best suit the modern mountain biker after a quick handling short travel bike.
This is the bike that Focus was lacking, to fill the gap between the hardtails and the SAM.
Taking visual and design elements from its bigger brother the SAM, it uses a single pivot design that drives a one-piece rocker link. A beefy head tube junction with strikingly angular lines join a slim and straight set of tubes out the back.
The big port for internal cables will accept any drivetrain configuration easily, from double chainrings to singles. Also it'll accept cables for an adjustable seatpost and even for a remote rear shock lockout.
We'll see three carbon and two aluminium Spines coming to Australia, plus a women's specific 'EVO Donna' version.
Spine C 0.0 – $9999
Spine C Factory – $6999
Spine C SL – $4999
Spine EVO $3799
Spine EVO Donna – $3799
Spine Elite – $2899
[divider]Raven.[/divider]
For 2016 the Raven carbon hardtail frame is meaner and lighter than ever, with a claimed weight of only 885 grams for the top level Max frame.
The folks at Focus have gone pretty hard to design this new hardtail to be as compliant as possible. Making the most of the magic carbon material's ability to take on any shape and wall thickness, the result is a bike that you can visibly see flexing and bending in places when you sit on it, but remains completely rock solid when leaning on the cranks or bars. We'll be receiving a Raven to test soon, we can't wait to put it to test on the trails.
Focus hold a seriously strong presence in the road and cyclocross market and racing scene, and there is no hiding that when you take a close look at the Raven's frame. It's a very aggressive yet sleek shape, with loads of big shapes up the front that peter out to slim and thinly constructed lines out the back.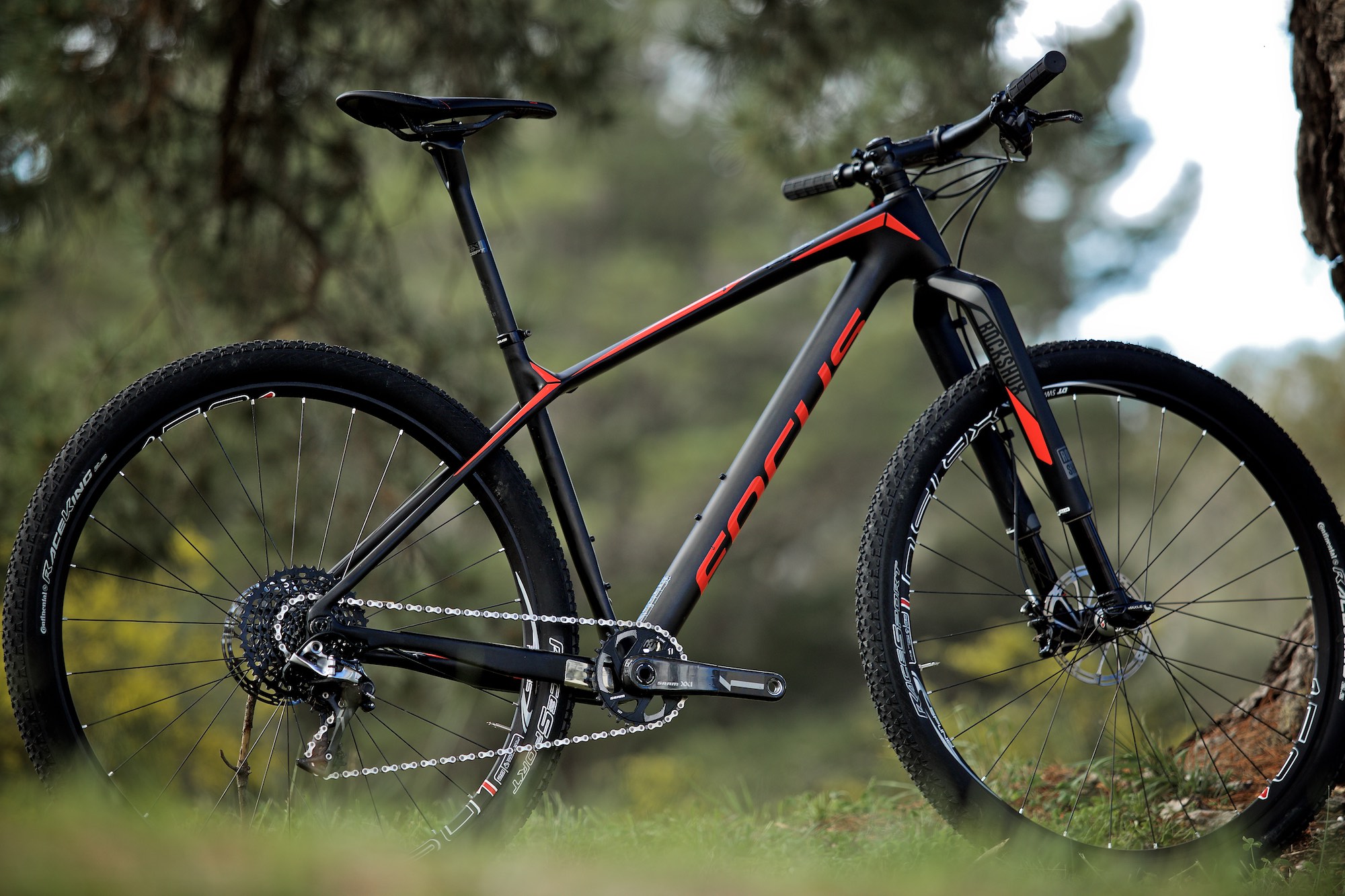 Coming to Australia with 29″ wheels only, we'll see five models and one women's specific Raven Donna with 27.5″ wheels.
Raven Max Team 29 – $7999
Raven Max Factory 29 – $4999
Raven Max Pro 29 – $4499
Raven EVO 29 – $3499
Raven Elite 29 – $2899
Raven Elite 27 Donna – $2899
[divider]SAM.[/divider]
The SAM was the first Focus we ever tested, and it sure was a good one. We loved its classic styling with straight aluminium tubes, anodised finish and big welds, but new for 2016 is a carbon options of this burly machine.
It's more than just a carbon frame too, a revision of the frame geometry sees the SAM keep up to date with the popular demands from modern riders with shorter chainstays, wheelbase and a slightly lower bottom bracket.
The SAM uses 160mm of travel, a slack 65.8 degree head angle, 27.5″ wheels and the new carbon version loses 8mm in chainstay length to bring it to a zippy 430mm.
Four versions of the SAM will make it to our shores, three carbon and one aluminium.
SAM C Team – $8999
SAM C SL – $6999
SAM C Pro – $5499
SAM Factory – $3999
---
We've lined up a whole host of 2016 Focus bikes for testing, so keep an eye out for our trail review of the SAM C, Spine and Raven Max very soon.