We're back again with another wintery edition of Flow's Fresh Produce. The snow has been piling up in the alpine areas, and the warm riding clothing has been in heavy rotation at Flow HQ.
With the mercury continuing to drop, we're currently dreaming of the Reef to Reef. Running from August 18-21, the race is smack bang in the dry season up in the tropics, and the blue skies, warm temps, and bikes and beers on the beach sound like a pretty great proposition to us. It's also the 30th year of the RRR, which runs on the final day of the stage race; we're working on a piece about the history of this event — so watch this space. If the travel bug has you looking a bit further afield, we've found a run in Rotorua where you can race the Whaka 100, hit up Crankworx, go to a stadium concert, have plenty of time to ride and play tourist, and still have annual leave to spare.
Our bike testing guru Wil has put together a guide on Best XC bikes and how to choose the right one for you. Having tested just about every desirable XC bike available in Australia, this guide is packed full of real-world riding experience, comparing and contrasting the lot and help you to work out which platform will be a good fit.
In gear news, Marzocchi has launched an air shock for the first time since it was brought back from the grave, and Canyon has lifted the veil on a totally redesigned Lux World Cup that comes with a lighter carbon frame and updated geometry.
We also stumbled upon quite a controversy surrounding a small urban trail network in Perth. Manning Park is a green space right in the middle of suburbia and has been home to an unsanctioned trail network for 20-years and counting. However, the local council recommended this network be shut down and mountain bikes banned from the park, against the wishes of a community engagement group commissioned by the very same council — but the rabbit hole doesn't stop there.
On that same note, the Warburton Mountain Bike Destination has just passed a milestone in the EES process with the Inquiry and Advisory Committee hearings now complete. This is where stakeholders and individuals had the opportunity to present their case about whether the project should go ahead. The proceedings should have been information dense and about as exciting as watching grass grow, but in reality, they were jam-packed with government agencies caught telling porkies, conflicts of interest, and expert witnesses who were hardly experts on the subject matter. We've put together a summary of the fireworks.
And with that, you're all caught up. So without further adieu, grab a warm beverage and take a gander and the latest gear to land at Flow HQ.
---
2023 Fox 36 GRIP2 Fork
On test here is the venerable Fox 36, which has been updated for 2023 with a new crown and steerer assembly that is claimed to reduce weight by 20g, while maintaining the same stiffness levels as the previous fork. Fox also claims the new CSU is 'more durable', which we suspect is to do with addressing the creaking that some riders have encountered with previous forks. We'll be putting this fork through the wringer to see if those claims hold true, and to see how the 36 stacks up against the brand new RockShox Lyrik.
It'll be quite the battle too, as the Factory Series Fox 36 we have on test is equipped with the superb GRIP2 damper, which features high and low speed adjusters for both the compression and rebound damping. The latest 36 chassis also gets the air/oil bypass channels on the back of the lowers, pressure relief valves, and a floating axle that's designed to keep the lower legs parallel regardless of deviations in hub widths. Add in the Kashima-coated upper tubes and the latest EVOL air spring with tuneable volume spacers, and you've got one of the most adjustable and most desirable all mountain/enduro forks on the market. Is it still the king though? Stay tuned for our in-depth review coming soon!
---
Race Face Aeffect R Flat Pedals
Alongside the recently-released Atlas flat pedals, Race Face has also added a new Aeffect R flat pedal to the range. Coming in $40 cheaper than the Atlas, the Aeffect R pedals make a few material choices to help bring the price down, while still delivering a broad and high-traction interface.
Made from 6000-series alloy, the pedal body measures 110mm long by 115mm wide. As well as being a touch wider than the Atlas pedals, the Aeffect R body is slightly thicker too at 15.5mm. That means they're heavier, coming in exactly as claimed at 440g for the pair (compared to 385g for the Atlas).
Inside you'll find an inboard bushing and outboard bearing that spin around the chromoly axles. They're designed to be easy to pull apart for routine maintenance, with no specialist tools required.
Instead of pins, the pedal bodies are furnished with 10 steel grub screws per side. The open mouth from the top-loading design gives them impressive bite on soft-soled shoes, and we typically find they're more durable, especially compared to alloy pins. Adjustment is limited, and you will need vice grips when removing munted screws, though replacements are cheap and readily available.
We've got a pair of anodised purple Aeffect R pedals on test here, but if purple ain't your jam (who even are you?) there are five other snazzy colours to choose from.
---
Specialized Stumpjumper 27.5 Mullet Link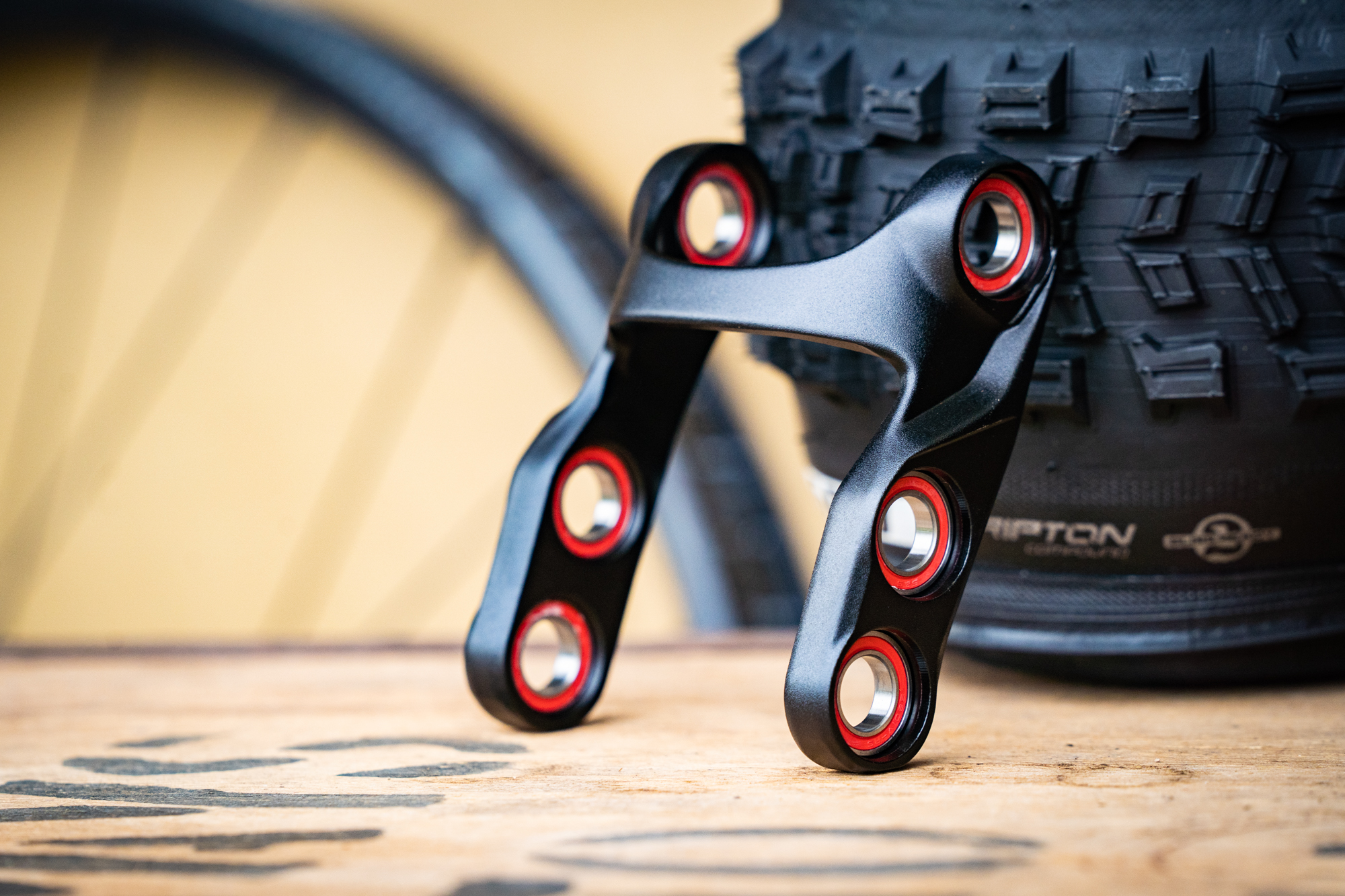 In our recent 2022 Specialized Stumpjumper review, we mentioned we'd be holding onto that bike for a longer term test, specifically to ride it with a mixed wheelsize setup.
This has been made possible with the introduction of an aftermarket linkage that Specialized has developed specifically for the carbon Stumpjumper frame, which allows you to fit a 27.5in rear wheel while correcting the geometry and kinematics. It's a curious addition to the range, as most mullet bikes on the market tend to be longer travel enduro bikes or heavy duty e-MTBs. To find out how the lightweight Stumpjumper performs in mullet party mode, Specialized sent us out the new link to test out the concept.
The mullet linkage is made from forged and CNC machined alloy, and it's supplied with the sealed cartridge bearings already pressed in. This makes the swap a relatively straightforward process, as you don't need any additional hardware or specialist tools.
According to Specialized, the mullet link does increase rear travel slightly from 130 to 135mm. It also lifts the bike's BB to accommodate for the smaller 27.5in rear wheel, restoring the geometry and ride height in the process. Of course the Stumpjumper's chainstay length remains the same, but the theory is that the smaller rear wheel provides a sharper turn-in angle compared to the stock 29in wheel, and potentially a more naturally playful setup. Does it do the trick? Stay tuned for our review coming soon.
---
Roval Traverse 27.5 Wheel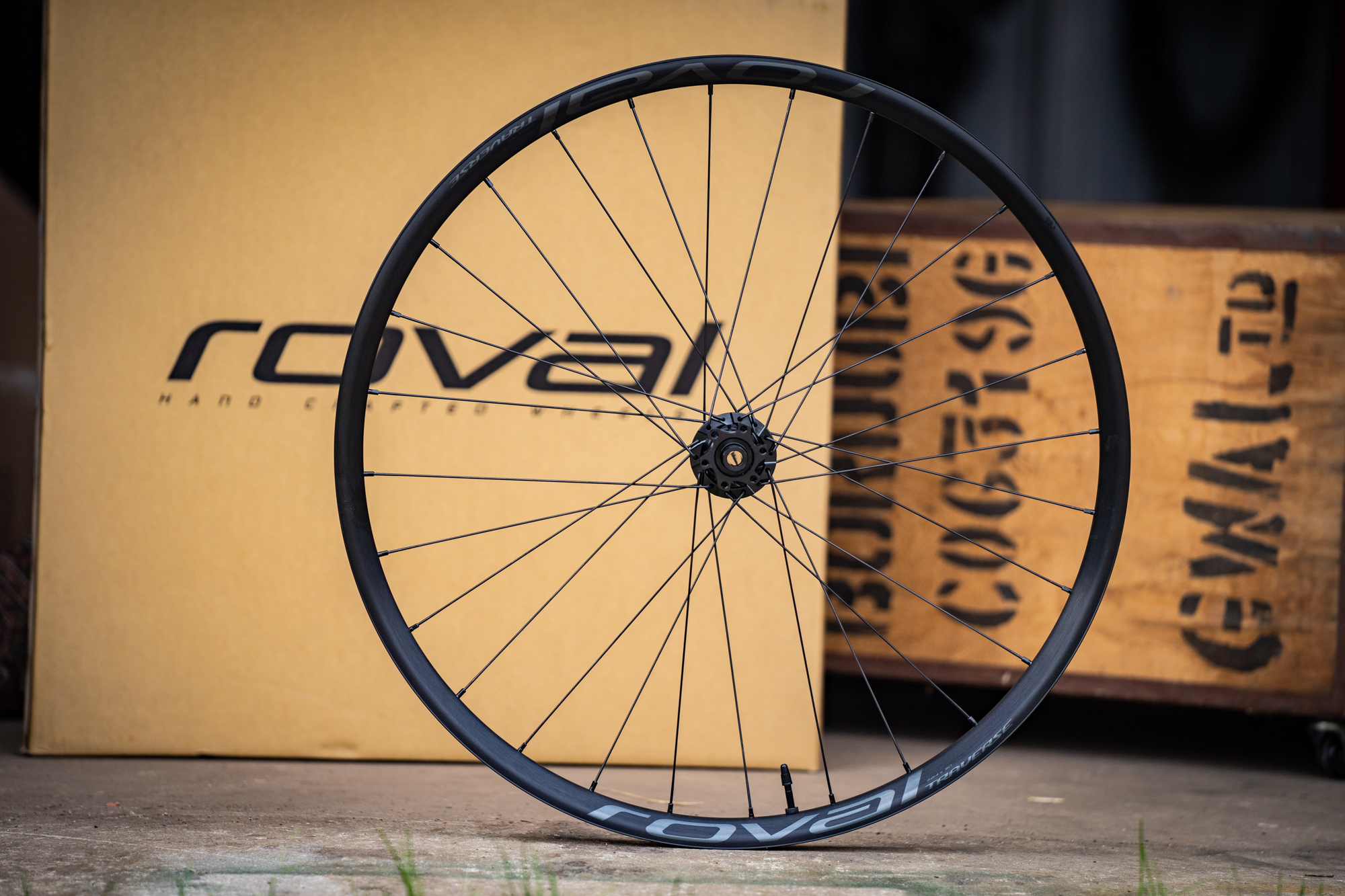 Aside from the 27.5in linkage, of course you'll also need a 27.5in rear wheel and tyre if you're going to switch over to mullet mode. To complete the package, we've got a Roval Traverse Alloy 27.5 rear wheel to bolt into the Stumpy's back end.
Made from E5 alloy with a welded seam, the Traverse Alloy wheelset features the same 30mm inner rim width as the stock wheelset on our Stumpjumper Comp. This is a great match for Specialized's own 2.3in wide tyres, but it's possible to fit up to 2.6in rubber if you're after the big volume vibe.
Roval builds the Traverse Alloy wheelset with 28 x DT Swiss Competition spokes per wheel. Handily, the spoke lengths are identical left-to-right and front-to-rear (assuming you have a matching front wheel of the same diameter). The spokes are of the easily replaceable J-bend variety, and they're matched to brass Prolock nipples for durability.
The rear hub features DT Swiss internals with sealed bearings and a 3-pawl freehub mechanism. However, it is possible to upgrade to a Star Ratchet system, as you'll see below.
---
DT Swiss 3-Pawl to Ratchet LN Upgrade Kit
If you've got a rear hub that features a DT Swiss 3-pawl freehub design, like some of the hubs used in Roval and Bontrager wheelsets, it's possible to upgrade to a Star Ratchet freehub system.
Shown here is the DT Swiss Ratchet LN upgrade kit, which includes the necessary spacers, springs, two ratchets and the drive ring that make up the Star Ratchet system. It also includes a new freehub body, which in our case is a Shimano Micro Spline freehub (SRAM XD and Shimano HG freehubs are also available).
We've fitted this kit to a Roval hub, and the process does require two special tools; one to unthread the stock drive ring, and one to install the new drive ring. Most bike shops will have these tools in their workshop, and so we took a trip to our local Specialized dealer to help us perform this task. It's worth noting that if you're changing from a SRAM XD to Shimano Micro Spline freehub body, you will need the specific hub end cap, which isn't included in the DT Swiss kit.
As for the Ratchet LN freehub itself, this isn't the same as the Ratchet EXP system found on higher-end DT Swiss hubs. Instead the Ratchet LN uses the classic design with two springs and two ratchets with interlocking teeth that slide over each other while freewheeling. There are 18 teeth on each ratchet, which actually delivers slower engagement compared to the 24T 3-pawl freehub that it replaced.
Why upgrade to the Star Ratchet freehub then? Well in our case it was simply to get a Micro Spline freehub body to suit the SLX drivetrain on our Stumpjumper Comp test bike. Otherwise you might upgrade to the Star Ratchet system for its super-solid engagement and bulletproof reliability. Also nice is the chunky, low-volume rumble that the freehub emits while coasting. And if you need faster engagement, it is possible to change out the ratchet plates to a 36T or 54T option down the line.
---
Specialised Purgatory Tyre
Finally, we've got a fresh 27.5in tyre for the back of our Stumpjumper mullet bike. It's exactly the same tyre that comes on the stock 29in setup, which is a Specialised Purgatory tyre in a 2.3in width. The idea is that we'll be able to test the mullet setup back-to-back with the full 29in setup, with the wheelsize being the key variable. That way we can really hone in on the differences between handling, rolling, climbing and descending performance.
As with the stock 29in tyre, this 27.5in Purgatory features Specialized's GRID casing, which adds reinforcing layers into the sidewalls to increase stability and cut resistance.
The hot patch on our tyre lists the Gripton rubber compound, though it's worth noting that this is identical to the 'new' T7 compound. If you want to know how Specialized labels its tyres, and what the different casing and compound options are, check out our review of the Specialized trail tyre lineup.
---
Goodyear Newton MTF & MTR Tyres
The Purgatory isn't the only fresh rubber to arrive at Flow HQ, as we've also taken delivery of Goodyear's newly revamped Newton MTF and MTR. Originally launched in 2018, the 2022 glow up are the first tyres born out of the brand's fully in-house development process, and new production facility in Taiwan.
Designed to be a front and rear combo, the Newton MTF (front), which replaces the Newton ST has a totally new layout with alternating narrow/wide spaced centre tread, each knobby has ramping on the leading edge and siping to help them claw out every iota of grip. The MTR's (rear) Minion DHR II-esque tread pattern is largely unchanged.
Mounted to 30mm wide rims (internal) the MTF is far more rounded than its rear counterpart, which Goodyear say is an intentional MX-inspired design feature. We only have a handful of rides on the Newtons so far, but the result of this combo is oodles of predictable grip. As you lean the bike over and push into the shoulder tread, the front wheel wants to track in the direction it's pointed, and there is no gap in traction or feeling of falling as you put the bike on edge. The MTR gives the backend a distinct bite point, which also makes for a predictable threshold where it breaks traction, and the slide is easy to control.
With this new tyre launch, Goodyear has also simplified the way it organises its range. Depending on the brand, there can be a dozen different casing, sidewall and compound options for one tread pattern in a 2.4in width. Worse, every brand uses different jargon for everything, which can make standing in front of a wall of tyres an intimidating experience for the uninitiated or someone looking to try something new.
Goodyear's new approach is simple: choose your tread pattern and your style of riding — Trail, Enduro, Downhill — and it will have the protection and rubber compound that corresponds with the demands for that particular discipline. Each tyre still has all the jargony tech, but Goodyear has organised it into an easily digestible format.
We have the Enduro casing Newtons, which uses dual ply 120 TPI fabric, with additional butyl sidewall protection. Both front and rear use a triple durometer rubber compound — Dynamic Grip 3S on the MTF and Dynamic Grip 3 on the MTR. With all of that said, they are anything but lightweight, and the Flow Scales of Truth TM put the 29 x 2.5in Newton MTF at 1,400g, and the 29 x 2.4in MTR at 1,269g. Priced at over $100 dollary-doos per end, they are on the more expensive end of the spectrum.
---
OneUp Switch chainrings
Fresh from the Sea to Sky wilderness, we've received a pair of 30t OneUp Switch chainrings. Designed for use with direct mount cranks, the Switch divides the chainring into two pieces, effectively making a four-bolt setup. However it only requires two turns of a 4mm allen key, and rotating the ring by 20-degrees to remove the chainring. It takes all of 30-seconds and is far easier than overcoming a DUB crank bolt properly torqued to 54Nm.
Everything is made from 7075-T6 Aluminium, and the chainrings have a wide/narrow tooth profile.
The Switch chainrings have been around for a while, but we've called in a round and oval ring to embark on some power efficiency testing to try and work out if there is indeed an advantage on offer from non-round chainrings.
We should note that with the Switch Spider priced at $37.95 and the chainrings between $65-69 AUD, the whole system is cheaper than a lot of direct mount chainrings. And when you wear one out, you're only up for another $65-69 AUD to get up and running.
---
POC Oseus VPD Knee
The Oseus VPD Knee pads are the latest joint protection to come from POC. Based around the brand's visco-elastic polymer dough' (VPD), the non-Newtonian material is utilised to protect your kneecap, while separate patches on the sides absorb off-angle knocks.
The Oseus are designed to be slimmer than previous iterations of POC's VPD pads but still offer a high level of protection, and according to the brand, they have passed a laundry list of CE EN impact standards.
The Oseus VPD Knee pads are built a bit like a knee warmer, with silicon grippers at both ends to keep them in place. Once you have pulled them on, they are light and stay securely in place without migrating down your leg as you pedal. There aren't any Velcro straps or other size adjustability, so take extra care when choosing a size, but our medium testers seem pretty spot on.
Compared to previous VPD knee pads, the Oseus feel considerably more flexible and less bulky, and they fit well under long pants, which are ever-increasing in popularity.
---
POC Oseus VPD Elbow
POC is also offering the Oseus VPD for elbows, designed to bear the brunt of hard crashes and keep your funny bone laughing well into the evening.
Following the same design language as the Oseus VPD Knee, the elbow pads are built around a lycra sleeve with silicone grippers at either end to hold them in place.
This time however, the VPD pad starts just above the knuckle of your elbow and runs most of the way down your forearm for full coverage from impact and gravel rash.
They are plenty flexible and don't pinch the crease of your elbow, nor do they slide down your arms over the course of a ride. POC offers the Oseus VPD Elbow pads in four sizes, and same as the knee pads, choose carefully as there aren't any velcro straps to cinch down.