Is this be the next evolution of tubeless? A system that allows more traction than ever before, but without the risk of burped air, snake bites or tubeless tyres rolling off the rim?  Or is this complication we don't need, especially with the new generation of super wide rims?
Schwalbe have finally given us a look inside the belly of their new 'dual chamber' tyre system, Procore. We've know about the existence of this system for some time, especially since riders on the World Cup circuit began riding around on bike with two vales on each rim, but the exact particulars haven't been known until now.
The system is actually a collaboration between Schwalbe and Syntace; both companies had been working on the concept independently but have pooled their knowledge and resources to bring this project to fruition.
So what's it all about? Procore is ultimately aimed at allowing riders to run lower pressures for a smoother and grippier ride, at the same time as nullifying the risks of either a puncture or rolling the tyre off the rim.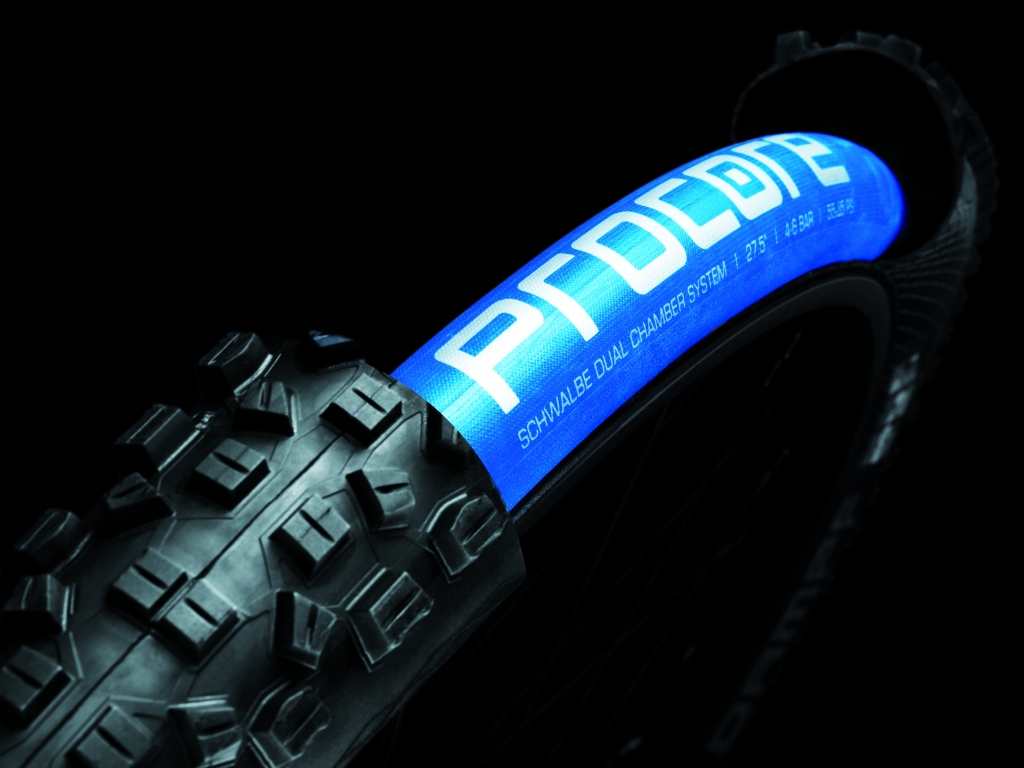 The way it works is actually pretty simple. Procore is a high-pressure, secondary air chamber that is located inside a standard tubeless tyre. This chamber is run at between 55-85psi and serves a few purposes; it provides an extra layer of protection against punctures, it help protect the rims from damage normally associated with running lower pressures, and it helps lock the tyre to the rim protecting against any risk of rolling or burping the tyre. Furthermore, should you still somehow get a flat, Procore offer an emergency 'backup' keeping some pressure in the tyre.
In testing, Schwalbe claim that riders have been running pressures as low as 14psi without issue, and relishing in the extra grip and control this provides. That's an impressively low figure, though not that much lower than some riders are currently achieving using a standard tubeless setup on a super wide rim.
Schwalbe claim the system will only add 200g to a conventional tubeless setup, and that some of this weight will be offset by the ability to run lighter tyres than in the past. Until Eurobike, we won't know further details about compatibility or pricing. We're certainly intrigued – it's a cool concept, but is it more complex than your average rider will accept? We can definitely see it appealing to racers, and perhaps that's where this technology is primarily aimed. In that vein, Nico Lau, Sam Hill and Emmeline Ragot have all had success on the Procore system already, so it clearly works at the highest level of competition.