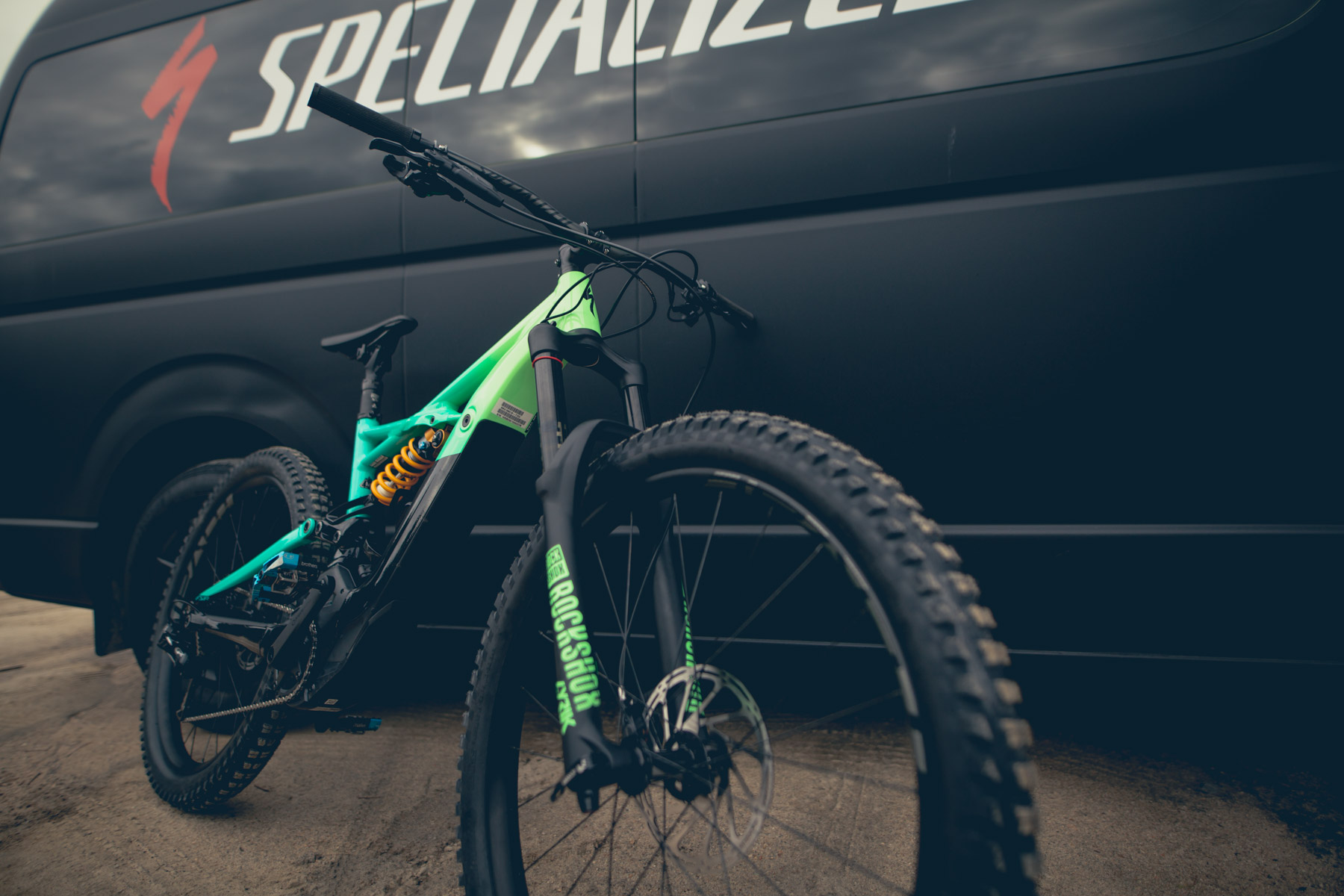 OMG. What IS that?
A 180mm-travel, Ohlins equipped, 2.8″ tyred, descent crusher, that you can pedal up hill faster than Nino Schurter.
The story here is pretty simple. Take the proven Specialized Levo platform, add more travel, better dampers, and slacken it out. What you're left with is a bike just a few steps shy of a full on downhill rig in terms of descending prowess, but that you can comfortably climb at up to 25km/h. If you want more background on the Levo, read our full review here, or some info about the 2018 Levo carbon here.
Surely it weights a tonne? 
Of course, probably 23kg. But when you're barrelling back down the DH run you've just pedalled to the top of, you won't be too worried about the weight, we promise.
Is it alloy or carbon?
Alloy, and there's only the one model of the Kenevo available at the moment, with the spec you see here (though Australia will be getting an all black version). It will retail for $9000 AUD, arriving in October 2017.
So how does it ride?
Well, if the regular Levo offers the e-experience equivalent to the Specialized Stumpjumper, the Kenevo is more like the Enduro, but with even more of a downhill flavour. Because of the bike's weight and insane stability, it has a real downhill bike feel about it, it is incredibly calm, absolutely planted to the earth in the corners on its big rubber. It rumbles over the rocks, just like you'd expect of a bike with a 180mm Lyrik and a coil-spring Ohlins shock to do.
Getting it off the ground was not nearly as hard as we'd feared, and on just our second run down the hill, we found ourselves cleanly hucking a pretty tricky step-down that we'd have assumed was too big a stretch on a heavy bike like this. It flies evenly too, with all the stability you'd expect.
There is a small price to pay in terms of manoeuvrability when compared to a regular Levo, but the difference isn't as dramatic as you might assume.
Who is this bike for?
Frankly, we think a lot of former downhillers are going to fall in love with this bike, plus all those riders who generally just live to descend.
We've always thought this was a predictable path for the evolution of e-bikes, and we're a bit surprised there aren't more long-travel pedal assisted bikes already. You have a motor, it's not like the extra travel is slowing you down.
The pure downhill market is tiny, and shrinking. And it's riders like the staff here at Flow who have been part of that exodus.  We used to do a lot of downhilling. While getting older is part of it, to some degree we also stopped downhilling because it's a bit of a hassle: you need a shuttle vehicle, someone is always having to sit out a run and drive, you only actually get to ride half the time and you're stuffed into a smelly van the rest…. All of these obstacles are overcome with a pedal-assisted bike.
Our test ride on the Kenevo was the first time we've done a group ride on e-bikes, and it was a real revelation. We all rode the climb as a group, chatting the whole time, all arriving at the top of the hill together. No one was left out, no one felt bad for holding the group up, and no one had to drive the shuttle. And then we blasted the descent like normal.
Look, you're either going to love this thing, or you're going to view it as an aberration of the sport. We fall into the first camp. Why? Because downhilling is a lot of fun, and because shuttle vehicles aren't.