Here's our hot tip: north-east Tasmania is going to become the epicentre of mountain bike tourism in Australia very soon. The investment in mountain biking infrastructure underway here is huge, and the first piece in the puzzle to have been dropped into place is the Hollybank Mountain Bike park, just outside Launceston.
The Hollybank Mountain Bike Park has been under construction for almost seven months now and the drapes are all set to be lifted this weekend at the trail centre's official launch. Hundreds of eager crew will get their first taste of the Hollybank trails on Saturday, and we can promise you there's going to be a lot of frothing going on.
Dirt Art are the team who have been entrusted with crafting this very promising site into a 20km+ network of trails, and after a bit of badgering they finally acquiesced and allowed us to take a sneak peek last week. This local crew have done an incredible job creating a park that not only caters for all levels of riders, but really facilitates their progression. There's a 5km green loop, No Sweat, that makes the most of the varied vegetation and terrain types in the park's lower reaches, taking riders through open eucalypt forest, pines and rainforest. This trail passes right by a cracking swimming hole too, so it'll be a popular option come summer. No Sweat feeds into tall Tall Timbers, the 6km intermediate trail which has some of the most luscious, loamy, berms we've ever seen. With two incredible descents linked by mellow climbs, it's the ideal feeder for Hollybank's crowning glory – Juggernaut.
Juggernaut is technically a two-way trail, but we can't imagine too many riders are going to grind up the 11km descent (yes, an 11km descent) when it's so easy to shuttle to the top. (A big thanks to Buck Gibson from Vertigo MTB for playing selfless shuttle driver for us – Vertigo MTB will be providing ongoing shuttle services too, so get in touch). A full run down Juggernaut will take most riders 20-25 minutes of nearly pure descending, but it's the quality and unique nature of the trail that really sets this apart from other iconic descents across Australia.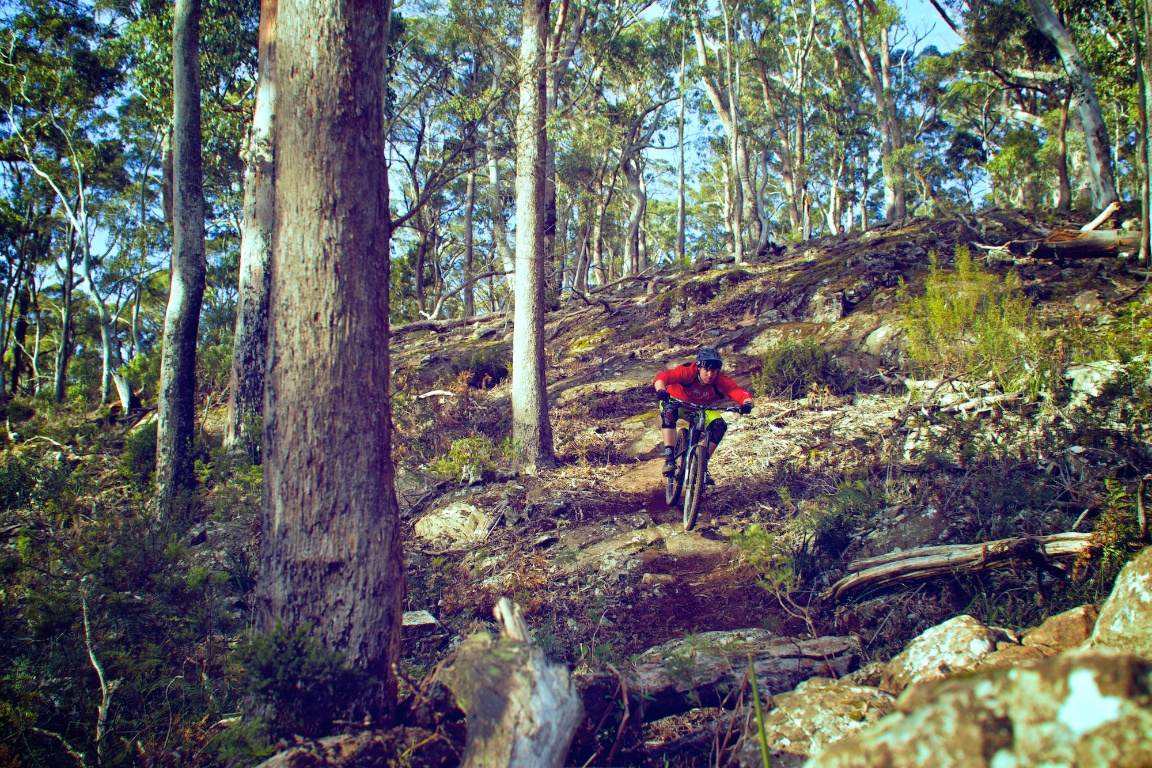 The terrain on the upper half of the trail is what would normally be a trail builder's nightmare, nearly pure rock. But rather than fight the terrain, Dirt Art have worked with some of the most amazing features like huge rock slabs and chutes to create an experience that blends the best parts of a machine-built trail with the kind of attention to detail and technical features normally only found on a hand-built trail. It's amazing how this trail manages to find flow in terrain where you'd least expect it – get your timing right and you can pump your way across the rocks like a massive granite rhythm section. Juggernaut is listed as a blue/intermediate trail, but we'd definitely call it a 'dark' blue, and there are some optional lines that fall well into the black diamond realm.
If you're a Taswegian, get yourself along this weekend, or if you're from interstate you've now got another very good reason to make that Tassie mountain bike trip a reality.