New trail construction in Australia's mountain bike nirvana has been relatively quiet since World Trail finished the Valley Ponds trail to Branxholm and gave Dam Busters a makeover. But, starting this year, World Trail will be back cutting new singletrack in the network, working on everything from a new green flow trail to having something fresh for when the Enduro World Series(EWS) rolls into town (fingers crossed) in early 2023.
Hazy Days
Air Ya Garn is easily one of the most popular trails in Blue Derby. Despite the airflow trail's black rating, it's designed so that pretty much any level of mountain biker can safely ride it, and it's possible to descend the entire trail without leaving the ground once. Furthermore, because this trail appeals to such a range of skill levels, there is the potential for riders descending at vastly different speeds to come together at a tricky spot.
"You have pro riders going down Air Ya Garn stressing about beginner riders below them. But it also goes the other way too. The beginner riders may stress about getting in the way of the pro riders".
Related:
So our client said, 'Look, why don't we build another one which is a bit more beginner based, to take the pressure off and spread the load," says Glen Jacobs from World Trail.
The new airflow trail to be named Hazy Days will start in the same spot as Air Ya Garn, and the alignment will run to the rider's left until the shuttle road crossing — Jacobs says there could be scope for an underpass here, depending on popularity. The new trail will then peel off to the right and finish at the main trailhead.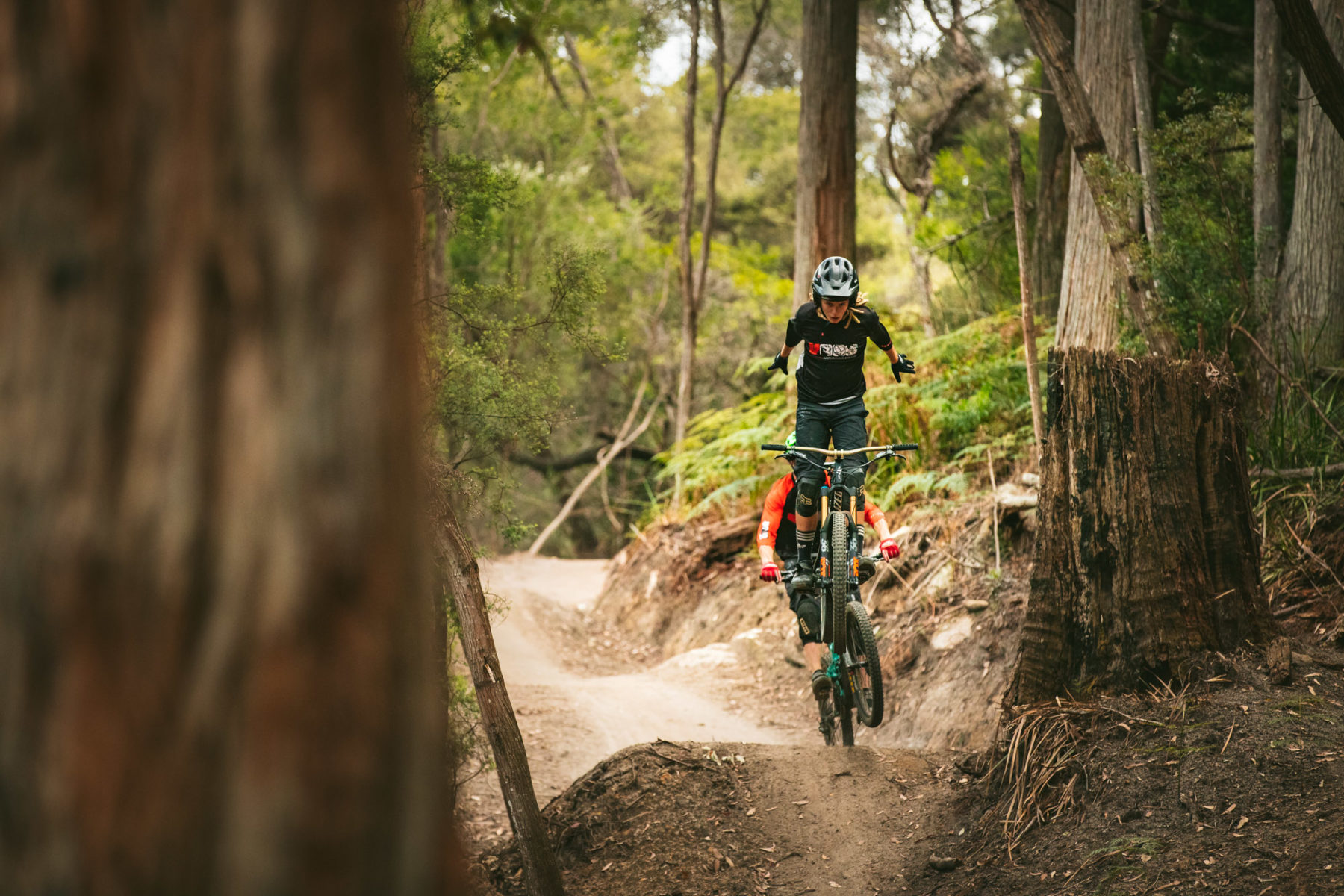 According to Jacobs, this will be the first time World Trail has built a green airflow trail, but it will follow the same design language used with Air Ya Garn, and he predicts it will be something that riders of all levels will enjoy.
"The main trajectory will be green, but there will be side hits and accessories on the trail, whereas somebody gets better, they won't get bored, and there will be more opportunities to hit more features," he says.
Set to start adjacent to Air Ya Garn, Jacobs says they will be putting a new landing pad at the junction of Return to Sender, Kumma-Gutza and Air Ya Garn, and the run in from the Black Stump shuttle drop off will be made a bit easier so that beginner riders can roll down.
"At the moment, you'll go in, and there will be 40 people waiting to drop into Air Ya Garn, pushed up into the fern trees trying to get out of the way," he says. "So we're also going to be building a new trail hub so you can get out of the way.
Jacobs tells us that Rhys Atkinson and Max Connor will be on the tools building Hazy Days.
In Memoriam
The new trail is due to be named 'Hazy Dayz', in honour of Jeffrey Hayes, Derby's loveable larrikin, who sadly passed away in 2020 after suffering a brain aneurysm.
"It's a wonderful thing that's happened with Derby, with the growth and all the new people coming to town, but the people who were already in Derby are so supportive. I know Jeffrey's dad, Derek, will get quite emotional about it, just seeing the energetic growth of the town, with younger families, people starting businesses, and people coming to town and enjoying themselves," says Jacobs. "Jeffrey embraced that, and everybody loved Jeffrey. He's a bit of an icon in the Derby landscape, and now he will be a part of the network."
Old school tech, refurbishing some old favourites and a new trailhead
The new trail development doesn't stop with Hazy Dayz, and Derby General Manager Tim Watson tells Flow some old school tech is also on the way.
"We're going to build a new blue trail which will start at Black Stump, and run along upper Long Shadows and Upper Flickety Sticks. It's going to be all hand-cut," says Derby General Manager, Tim Watson.
"We will let that mature like a nice red wine into a dark blue trail over time. We'll make sure it never goes black, but it's a bit of that old school style," he says.
Depending on whether the weather plays ball, Jacobs tells us he expects these two new trails to be ready to ride in October this year.
The Derby Trail crew has also been hard at work breathing new life into the existing network, and Flickety Sticks has received a ground-up rebuild.
"It follows the same alignment, but it's wider, it's all dirt, and it's got very little rock on it — all the technical stuff is out," Watson says. "It will be our fastest flow trail, there are some new jumps on it and it connects onto Lower Flicktey Sticks, which we also refurbished during the winter — it's like we got a brand new trail."
Watson also tells Flow things might look a bit different at the trailhead the next time you visit. The council depo is getting demolished and will re-emerge as a car park, and the shuttle pickups will be moved to the smaller lot directly at the trailhead. The council will also be putting in an amenities block with showers, change rooms, toilets, shaded picnic areas, and an EV charger.
2023 and beyond: a new shuttle point and fresh trails for the EWS
In preparation for the Enduro World Series rolling back into town in 2023, Watson tells Flow they will get started on fresh trails to test the world's best in the second half of this year.
Details on these new gravity trails are a bit thin because the alignments are still being finalised, but we know it will be on the eastern side of the network, somewhere in the vicinity of Trouty. Watson has confirmed there will be one new trail, with the potential for a second. But that's not all that's on the cards.
"We've identified a new shuttle point, and we'll drop two trails off there at this stage in 2023. One will be a descent that hooks on the start of the RTS (Return To Sender) descent," Watson says.
If you've ridden Return To Sender, you'll know that it starts out as a bit of an XC ride to get to the high point, before you hit the rip-roaring descent with all the berms back into town. The new trail will connect right when gravity takes over and should be about a kilometre long.
"Then we'll drop another trail down the other side onto Kings Wall, and that will come out at the Valley Ponds," says Watson.
Plenty is happening in Derby in 2022; we'll update this story as more details on the new trails come to light — stay tuned.