Born in BC, Canada and still there, Norco have a core vibe about them, they feel like a small brand but are rich in mountain bike heritage. And while they have produced some fairly unsightly bikes in the past, we can only sing praises of their strong rise in recent years to become one amongst the best riding bikes available.
For 2016 there may not be too much new, (but do stay tuned for more) although what we did see when meandering through the room were bikes that were polished in all areas and ones that we could picture owning ourselves.
Here is what caught our eyes the most.
[divider]Norco Sight[/divider]
**Updated – rad our full review of the Sight C 7.2 here: Norco Sight C 7.2 reviewed.
The big news for the Norco Sight for 2016 is the bigger forks. Now a 150mm fork (previously 140mm) the front end is slackened off to a sweet 67 degrees, and with a change of carbon vendors Norco have modified the carbon layup to accommodate for the taller and stiffer forks.
With 140mm out back, and 150mm up front the Sight is a pretty dialled all-mountain bike with geometry that puts it between a hard charging enduro bike and a trail dually. In its first year the Sight Carbon wasn't without its teething issues as we found out when testing the 2014 model. But each and every issue we had back then has been sorted, and the new 2016 Sight looks bloody amazing.
The Sight Carbon 7.2 was on display and available for demo on the sweet trails of Gap Creek, Brisbane. The two-tone matte red paint and excellent parts spec really turns heads.
The Sight adopts Norco's Gravity Tune sizing system. Where typically a bike size is determined by the length of the front end and the rear remains the same length, in Norco's case the front and rear end of the bike will grow in length as the sizes increase. Gravity Tune sizing was developed on the Aurum doanhill bike, and is now found on all new Norco dual suspension bikes going forward.
Five versions of the 2016 Sight will make their way down under:
Sight A 7.2 – $3499
Sight A 7.1 – $4499 (green version pictured above)
Sight C 7.3 – $5499
Sight C 7.2 – $7249 (red version pictured above)
Sight C 7.1 – $8499
[divider]Norco Range[/divider]
A bike that we are very familiar with here at Flow, the Norco Range is a real winner in the big travel enduro segment. Now with longer travel forks like the Sight, you'll find 170mm travel up front for 2016.
We had the 2015 Range on long term review, check it out here: Long Term Test – Norco Range C7.2
The head angle is slackened off a touch to 65.5 degrees, and a modified carbon layup is used to accommodate for the extra stress placed on the frame with a stiffer and taller fork, just like the Sight.
The bike we have pictured here will actually specced with an all-black RockShox Lyrik fork.
Four levels of the Norco Range will be coming here:
Range A 7.1 – $4699
Range A 7.2 – $3699
Range C 7.3 – $5499
Range C 7.2 – $7999 (pictured above)
[divider]Norco Aurum[/divider]
For 2016 we'll see Norco Australia bringing in the entire Aurum range, that is a huge three carbon and two aluminium versions of this burly downhill rig.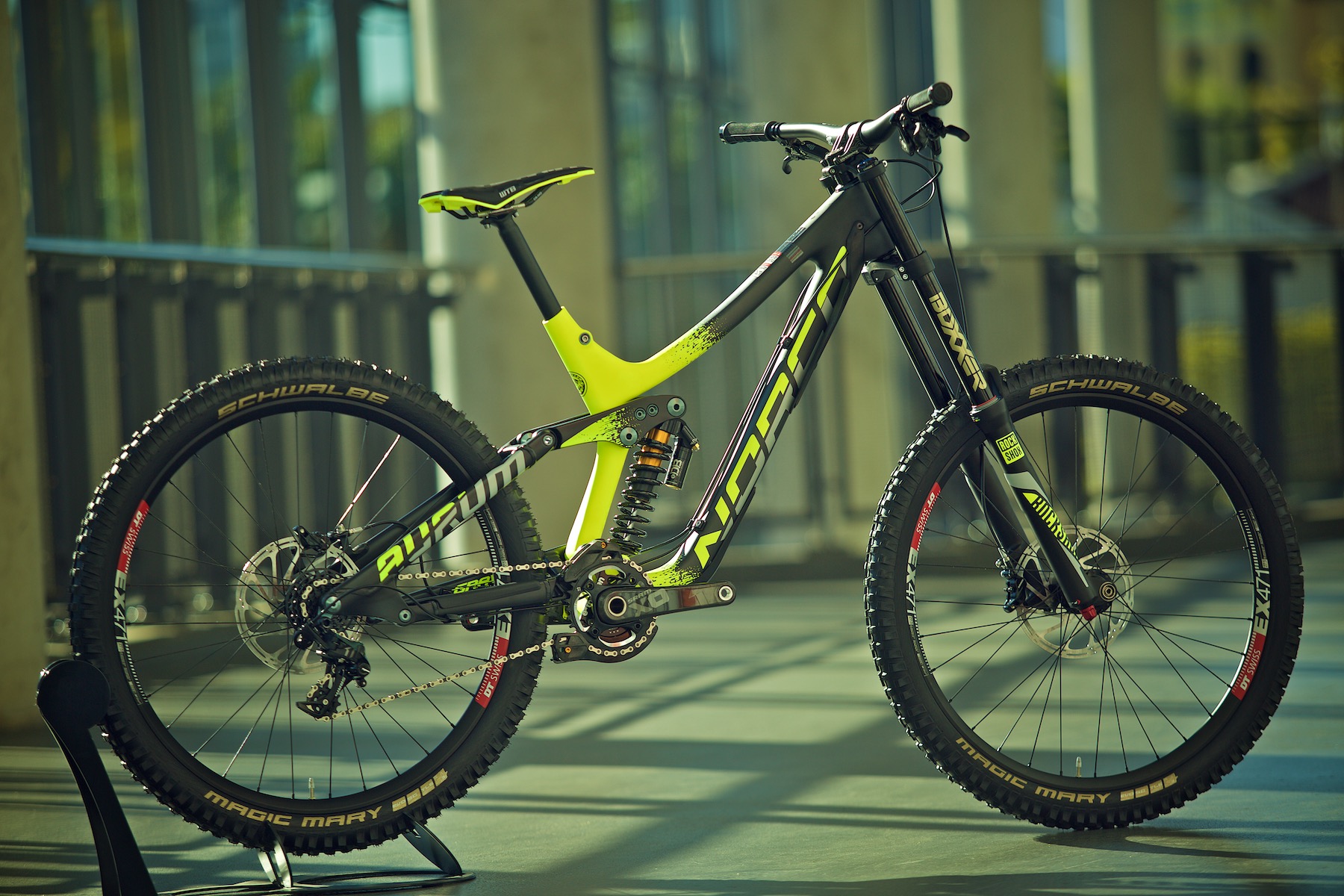 The frame is littered with features, the carbon Aurum 7.2 we saw used a clever integrated fender underneath the downtube. This multi purpose feature doubles up as a bump stop for the fork crowns and a shuttle guard to protect the frame when transporting over the back of a ute tray.
All the cable routing is also very neat, and well thought out, it must be a very silent bike to ride.
With a frame weight of 3300g for the carbon and 3750 for the aluminium, the Aurum pictured here is claimed to weight under 15.5kg, crazy light for a DH bike with coil sprung suspension front and back.
With a 142mm wide rear hub spacing, the Aurum is narrower than many of the current downhill bikes out there. It's said to increase heel clearance, rear derailleur clearance and is made possible with the use of the SRAM XO1 DH 7-speed drivetrain.
Using Norco's Gravity Tune concept, the rear-centre measurement of the bike is shorter for the smaller sized frames and longer in the larger frames. As opposed to traditional bike sizing (which simply lengthens the front-centre or top tube measurement in bigger sizes), the Gravity Tune concept is designed to keep the rider position consistent across the size range.
Five Norco Aurum's are on their way soon:
Norco Aurum A 7.2 – $4199
Norco Aurum A 7.1 – $3099
Norco Aurum C 7.3 – $6399
Norco Aurum C 7.2 – $7499
Norco Aurum C 7.1 – $8999
[divider]Revolver[/divider]
Norco's 29er carbon hardtail remains unchanged for 2016, but a dual suspension version may, or may not be coming soon…
We reviewed the 2015 27.5″ wheel Revolver here: Tested: Norco Revolver 7.1.
Going forward we'll only be seeing the 29er Revolver land Down Under, the sleek carbon beauty suits the bigger wheels for cross country racing.
The Revolver range is consists of two 29ers:
Norco Revolver 9.3 – $2899
Norco Revolver 9.1 – $4999
[divider]Fluid 40[/divider]
Want a decent bike for your kid? The Norco Fluid is now in 20″ and 24″ sizes for young shredders!
Two Fluid models for grommets:
Norco Fluid 20 (20″) – $1999
Norco Fluid 40 (24″ pictured) – $1999
---
Stay tuned for more information on the upcoming range at the Norco website, and in the meantime get down to your Norco dealer and get hassling!
www.norco.com