Curve Cycling is a relatively small outfit based out of Melbourne, which over the past six years has established its name from producing carbon fibre wheels that are designed for everything from road racing, through to gravel, cyclocross, ulta-long distance bikepacking and mountain biking. The company has since broadened its product line to encompass complete bikes and frames built from steel, titanium and carbon fibre, but the wheelbuilding business still remains at the core of what Curve is best known for.
Down & Dirty
With a keen focus on value and keeping the performance-for-the-dollar ratio high, Curve works with manufacturing partners in Asia to produce its carbon fibre rims, which are then handbuilt utilising high quality DT Swiss hubs and Sapim spokes.
Up until recently though, Curve's rims utilised what's known as an 'open-mould' design, which means they're basically a standard rim out of a catalogue that Curve purchases directly from of the factory. This is no bad thing, and there are plenty of small wheelbuilders out there who import rims directly from the factory to build up well-priced carbon wheels for their customers. Assuming you find the right factory and the quality is right, it can be a cost-effective way to get a great set of wheels. Though that's worked in the past though, Curve has taken a slightly different approach with its new Dirt Hoops.
Ain't No Catalogue Rims Here
Released earlier this year, the Curve Dirt Hoops are the brand's newest off-road wheelset. Drawing upon the past six years of wheelbuilding experience, Curve has developed its own unique rim profile that aims to harness the benefits of modern high-volume tubeless tyres, while creating a vastly stronger rim than previous designs.
The Dirt Hoops had been in development for well over a year prior to their release. The test process was as extensive and as wide-ranging as the staff pool at Curve Cycling, which included being walloped at Whistler Bike Park, belted at the 2019 National XCO Championships, and pummelled during the arduous 2018 Race To The Rock. The result is a set of wheels made to cover everything from long-distance bikepacking through to All Mountain riding, which Curve says is its most durable to date.
Aussie Designed & Tortured
Curve has had a number of its sponsored riders putting the new Dirt Hoops through their paces during the development process. That's included super-endurance riders Sarah Hammond and Jesse Carlsson, and XC racer Courtney Sherwell, who finished 6th at the National XCO championships in Bright this year. Jon Odams has also been racing on the Dirt Hoops Wide 35 wheelset, which he's had upgraded to DT Swiss 240 hubs to shave off a few more grams. Claimed weight on those wheels? Just over 1400g.
Wide And, Err, Really Wide
There are two options in the Curve Dirt Hoops range; the Wide 35, and the Wider 40. The number in the name refers to the rim's external width, which as you've probably just realised, is bloody massive. Along with the 27mm depth, these wheels have some serious presence.
The Wide 35 is pitched as more of an XC/gravel wheelset with a 25mm inner width that (according to Curve), will support 1.75-2.5in tyres.
The Wider 40 is the burlier trail/AM wheelset, which has a 30mm inner width and will take 2.3-3.0in wide tyres.
Both rims get 5mm thick beads, which is about as big as we've seen from any carbon rim on the market. In comparison, those new Zipp 3ZERO MOTO rims use 3.75mm thick beads, and that's regarded as being pretty darn fat. Why the thicker bead? According to Curve, it's all about impact strength and durability. Having identified this as an area where previous rims had failed, the Curve team decided to beef up the carbon walls to make them a lot thicker to help spread impact loads. The thicker bead also lessens the chance of cutting the tyre on a heavy bottom-out, which should reduce pinch flats.
Through Thick & Thin
The rims themselves are constructed from 3K & Unidirectional Toray T700 carbon fibre and feature what Curve refers to as 'Mo-Spo technology'. This refers to two things. One is the internal profile of the rim, which is reinforced with thicker layers of carbon fibre around each of the spoke holes. By adding extra carbon only around the inside face of the spoke holes, Curve is able to increase the rim's strength under pulling forces from the spokes, without adding excessive weight.
The other is the spoke holes themselves, which instead of being drilled like most carbon and alloy rims, are moulded instead. This is something we've seen ENVE champion on its own carbon fibre rims, and indeed it holds a patent on it too. However, ENVE's patent is specifically around moulding the pocket for the spoke nipple, which sits inside the rim. That gives a very clean look, but coming from the world of bikepacking and bike shop wrenching, Curve's design team didn't want to do that. So the nipples remain external, where they're more easily adjustable out in the field.
For those who want to build their own Dirt Hoops, the rims are available on their own for $729 each. The Wide 35 comes in both 27.5in and 29in diameters, with a claimed weight of 365g and 385g respectively. The Wide 40 only comes in a 29in size, and has a claimed weight of 440g. All rims feature 28 spoke holes.
What About The In-Between Bits?
As for the complete wheels, they're built utilising Sapim's CX-Ray bladed spokes and Secure Lock brass nipples. Curve acknowledges that alloy nipples are lighter, but prefers the durability and reliability of brass over the minimal weight savings of alloy.
At the centre of the wheels is a set of DT Swiss 350 Straight-Pull hubs with an 18T Star Ratchet freehub mechanism. The 350s utilise slightly larger bearings than the 240s, while only being about 40g heavier. Curve does offer the option to upgrade to 240 hubs if you so choose, and it can also upgrade you to a faster-engaging 36T or 54T ratchet kit too. Being a DT hub, you also have the option of SRAM XD, Shimano HG, and Shimano Microspline freehub bodies, which offers a degree of future-proofing. Well, until another standard comes out anyway.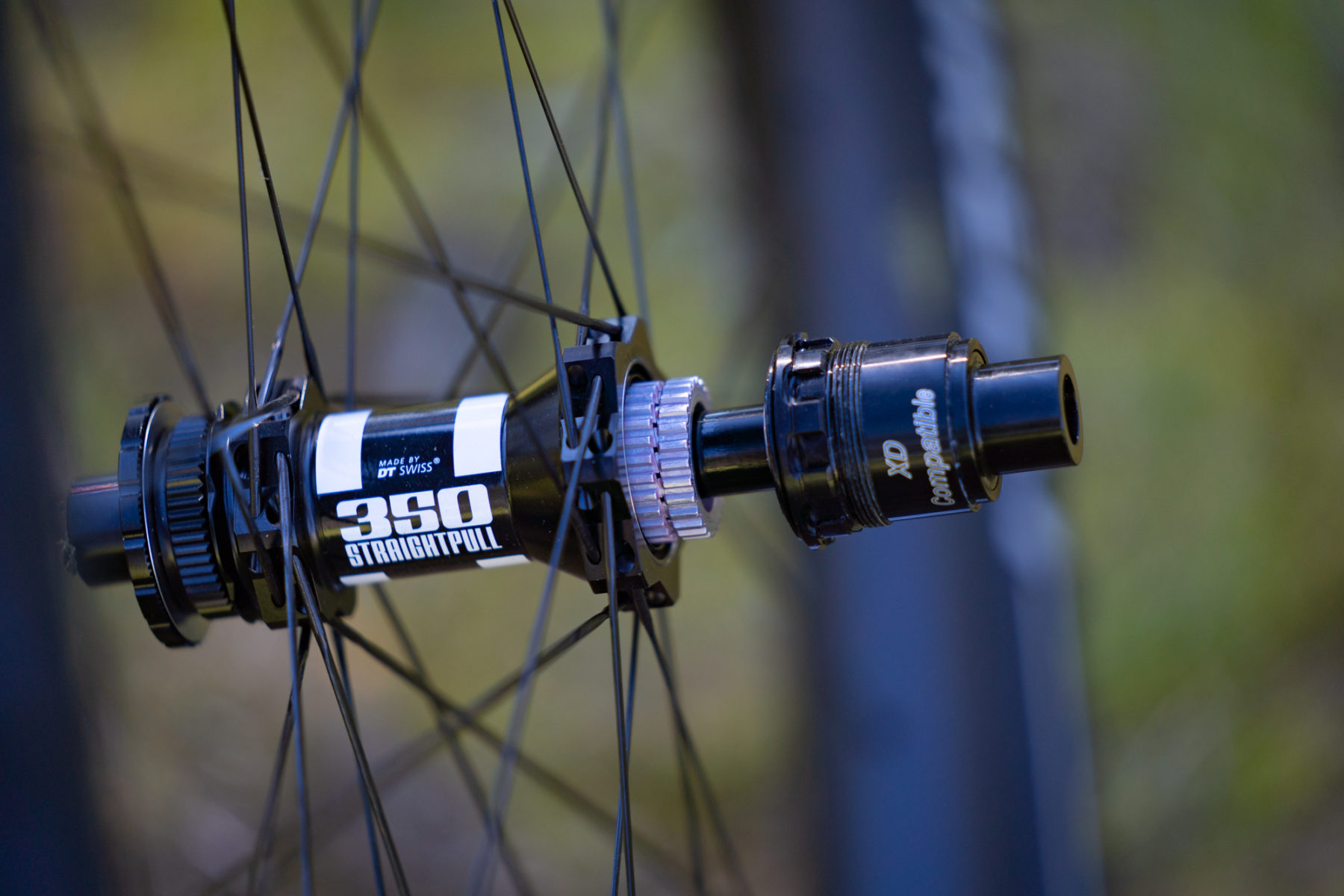 On a similar note, the hubs use a Centerlock disc brake spline, which means you can run them with Shimano Centerlock rotors, or 6-bolt rotors with an adapter. As for the straight-pull design, Curve went down this route since straight-pull spokes are physically easier to remove and replace than J-bend spokes. By that we mean that you don't have to remove the rotors and cassette to replace a spoke – something that long distance bikepackers, adventure riders, and travelling mountain bikers will likely appreciate.
How Do They Compare To The Competition?
Curve is selling the Dirt Hoops complete wheelset for $2,198, which puts it somewhere in the middle of the price spectrum for carbon fibre mountain bike wheels. Confirmed weight for our test set of Wider 40 wheels is 1637g – impressive given the generous proportions of the carbon rims. Here's how they compare to some of the big names around that price point;
Giant TRX 1 (1750g claimed weight) – $1,498
Roval Traverse Carbon (1800g claimed weight) – $1,600
Bontrager Line Pro 30 (1608g claimed weight) – $1,800
Giant TRX 0 (1662g claimed weight) – $2,198
Roval Traverse SL (1735g claimed weight) – $2,800
The closest competitor would be the Giant TRX 0 wheelset, which comes in at exactly the same price and is only slightly heavier (1662g). We've spent a good bit of time abusing those three wheels, as well as various Bontrager and Roval carbon wheels, so we'll have a good basis for comparison with the Curve Dirt Hoops.
The Other Details
While Curve originally started out selling its wheels direct to consumer, it now offers its products through a dealer network too. You can find more information about that via the Curve Cycling website.
All wheels come with a 2-year warranty that covers you for any manufacturing defects that might arise. Curve is pretty confident in its product though, with a substantial 120kg max rider weight limit. Still, should you bust one up pulling a failed 360° tailwhip after being inspired by Red Bull Rampage video highlights, Curve has a crash replacement policy to get you rolling again.
To see just how tough these new Dirt Hoops are, Curve sent us out a set of the Wider 40 wheels in a 29er size. We've currently got them setup with a pair of 2.4in Pirelli Scorpion MTB tyres, though we'll be trying out a few other tyre combos in there over time. Here's a closer look at all the tech specs;
Curve Dirt Hoops Wider 40 Wheel Specs
3K & UD T700 carbon fibre rims
Hookless & tubeless compatible profile w/5mm thick beads
Available in 27.5in and 29in diameters
Mo-Spo moulded spoke holes
External rim width: 40mm
Internal rim width: 30mm
Rim depth: 27mm
Designed for 2.3-3.0in wide tyres
DT Swiss 350 Straight-Pull hubs
18T Star Ratchet freehub mechanism
Centerlock disc brake mount
28 x Sapim CX-Ray bladed stainless steel spokes per wheel
Sapim Secure Lock brass nipples
2-year warranty against manufacturing defects
Claimed weight: 1595g
Actual weight: 1637g (including supplied tubeless tape, valves, and Centerlock rings)
RRP: $2,198
---
As always, we'd love to hear your thoughts – tell us what you reckon about these Aussie-designed carbon wheels. And if you've got any questions for us about the Curve Dirt Hoops, then make sure you drop them into the comments below!