The 2022 Otway Odyssey has been run and won, notching up the 16th edition of this now-iconic mountain bike race. Just shy of 1,200 riders turned up to take on the infamous course, which made for a frankly remarkable sight given the summer of Covid we've had here in Australia. You wouldn't have been able to tell though, with the bustling race village at the Forrest football oval offering plenty of smiles and a relaxed atmosphere as riders and their families enjoyed the return to mountain bike racing.
Saturday set the scene for both the 100km and 50km events, which also included a separate e-MTB category. While most of those folks raced the 50km course, we'll note that there were three e-MTB riders who took on the 100km course. That's some impressive battery management right there!
There was also a shorter 30km race on the Sunday, as well as the Great Otway Gravel Grind race with both 97km and 49km distance options. Many folks made a full weekend of it, racing both the mountain bike and gravel races while soaking up the sights, sounds and smells of the beautiful Otways Ranges.
You can read on for the detailed race report, and if you're curious to know what's been happening around the iconic Forrest trail network, be sure to check out our story on Forrest gets a facelift.
---
The 2022 Otway Odyssey
The Otway Odyssey MTB Marathon presented by FOCUS was dominated by the nation's top riders on Saturday 26 February in Forrest, Victoria.
The event has continually attracted Australia's best mountain bike riders over the past 15 years, and 2022 was a showcase of quality riding by Melbourne to Warrnambool winner Brendan 'Trekky' Johnston and Australian National MTB Champion Rebecca (Bec) McConnell who took out their 100km races.
Johnston clocked a time of 4:38:39 ahead of National Criterium Champion Cam Ivory in second place (4:40:16) and Sam Fox in third (4:42:27), in a day of challenges on the infamously tough trails of the Otways.
The bets were on for who was going to break away and take the win amongst the top three male riders; with Johnston pulling the win after an explosive attack up the legendary Sledgehammer.
"To be honest I wasn't sure what I had today, so I sat back initially and let the others do everything," said Johnston. "I cramped a lot and l thought I'll just let them go, I'll be happy with third. But then they started to sit up! So I thought, do I go now? I have one shot here… and I don't know what happened but I just got away!" continued Johnston.
It was Ivory's second, second-place at the Odyssey. "We definitely gave it some out there today!" said Ivory. "Foxy (Sam Fox) and I pushed the pace a bit to try shake up the field initially, maybe we should have been a bit more conservative. When Trekky attacked up that final climb I tried to go with him, but I didn't have the speed so I just sat back down to nurse myself to the finish!" said Ivory.
Head-to-head for the first time at the Odyssey saw the reigning National Champion and Olympic Representative Bec McConnell power through unchallenged to the finish line with a big day up front solo after pulling away at the 10km mark.
"I am really happy with that race!" said McConnell. "Everything went really smoothly and it's nice to know that the homework is paying off. I had a really good time out there despite being super lonely from about the 10km mark, but it was a good day out. Last year I was surprised just how hard the Odyssey was, so this year my level of expectation on pure suffering was at a maximum!" added McConnell. "Anyone who gets through any of these Odyssey courses is absolutely incredible!"
6-time Otway Odyssey winner Peta Mullens was in second place and once again couldn't stop raving about the reputable and rewardingly challenging course, and her respect for McConnell. "Bec's just in a different race!" laughs Mullens. "I think the rest of us were equally pegged. To be fair I think Bec puts minutes into us just cruising through the single track so it's just nice to be in the same race as Bec and supporting Australian racing whilst at home," said Mullens. "It's a hard woman's race and every year I do it I think it's just so great to be back on the tracks here." added Mullens.
McConnell posted the winning time of 5:28:03, ahead of Mullens in 5:34:46, and third-placed Courtney Sherwell in 5:41:17.
The 50km Otway Shorty event held simultaneous with the 100km race, was won by 18-year-old emerging talent Angus Neaves in 2:23:48; with Scott Needham in second place (2:27:15) and Sam Walcher in third (2:28:04).
"I changed to the 50km course from the 100km after some encouragement to keep my speed up; so yeah it feels pretty awesome to win here today!" said Neaves.
2015 Odyssey 100km race winner Jenni King showed her quality MTB skills by winning the female 50km Otway Shorty in a time of 2:57:06; Jules Haddow was second (3:02:18) and Tanya Cunningham placed third (3:05:35).
"Today was great fun. It was tough and I was cramping but I had a ball out there, the mixture of terrain, the single track – it's a great course and a great event," said King.
"The Otway's came alive today as riders experienced the thrills of such a reputable mountain bike event – it really is one of the best weekends you can have on two wheels!" said Rapid Ascent General Manager, Sam Maffett. "Thank you to everyone for continually supporting the Odyssey event as we hit 16 years; and to the locals of Forrest who frequently dedicate their time to helping maintain these epic trails", added Maffett.
---
The 2022 Great Otway Gravel Grind
In its 6th year the Great Otway Gravel Grind held on Sunday 27 February 2022 attracted its biggest field to date with over 600 riders experiencing just how great riding in the Otways is!
The 97km and 49km courses followed a magical line along the smooth rolling dirt roads of the Otway Ranges, with riders also being wowed by the spectacular views over the Great Ocean Road region.
Getting to the first time-out zone of the 97km Course seems to be the trick to staying at the pointy end of the field which saw riders Tasman Nankervis for the men, and Courtney Sherwell for the women executing race tactics throughout the course to take the wins.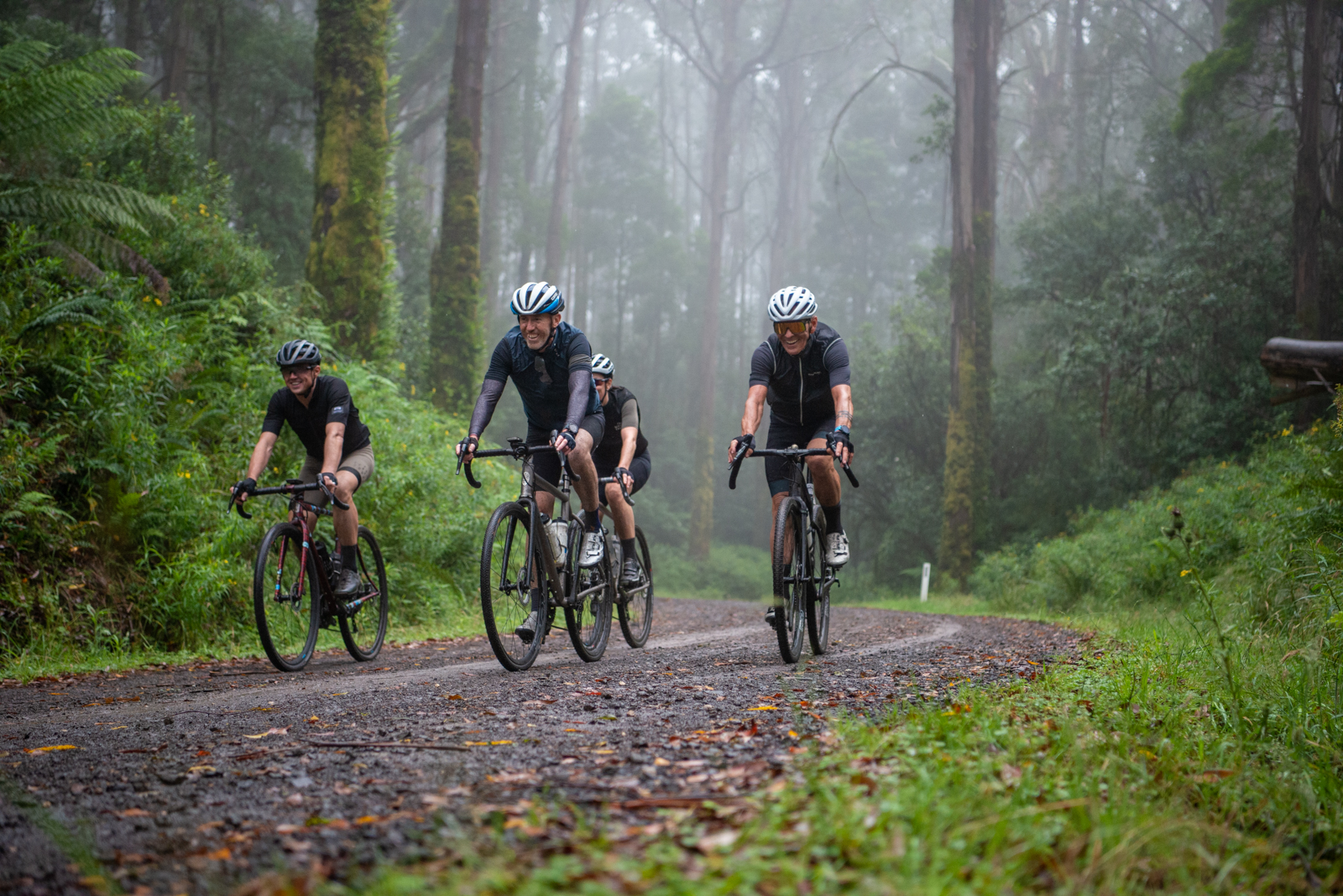 As the field continued to re-group at each time-out zone, it always seems to come down to a final mass sprint to the finish line in Forrest for the men.
Official results take into account these 'luxury' time-out zones seeing Nankervis taking out the win on the 97km course in a collective overall time of 3:46:38, ahead of Griffin Knight (3:47:08) and third Matthew Bird (3:47:08).
"Yeah we used those standard gravel racing tactics and it was that third section of the course where I managed to get up the climb ahead of the boys and hold on for the win," said Nankervis.
Sherwell proved why she is Queen of the Otways, backing up her third place in the 100km Odyssey MTB by placing first overall in the 97km Big Ring Gravel Grind.
"My climbing legs felt good so I was looking forward to the climbs today," said Sherwell. "This year it didn't feel as steep to me, so knowing the course helped a lot. I went out as hard as I could at the start to get a good gap on that first section; then waited at the first time out zone for my team-mate – but she never came so I cruised on for the rest of the ride by myself!" added Sherwell.
Sherwell finished the race in a time of 3:37:52, with Kate Kellett second in 3:46:25, and Liz Taylor in third place overall in 3:54:47.
The day also saw some quality riding in the 49km Gravel Grind Course with Lewis Crofts proving too strong over young rider Alex Holden in 1:39:42 and 1:43:37, respectively.
For the women, it was Annie Millison in an impressive time of 2:12:52. "That was a lot of fun on the mostly smooth roads; a really nice course despite the climb being tough, it's enjoyable and very scenic," said Lewis.
As often mentioned by the riders, a unique and popular feature of the Great Otway Gravel Grind are these 'time-out' sections on course. Riders can stop for a coffee or wait for their friends without impacting their race time—in the style of true gravel grinding.
Complimenting the Gravel Grind on Sunday was the 30km mountain bike course as part of the Otway Odyssey weekend. More than 300 riders took to the popular Forrest trails on a course that is designed specifically for novice mountain bikers and developing juniors.
First across the line was pocket-rocket Sam Harberts in a time of 1:17:29. Belinda Hadden was first across the line the 30km Odyssey Angels category for female riders, posting a time of 1:26:45. "It was fun, tough and dusty – the highlight was racing down the Red Carpet!" said Sam.