Spring has sprung, the weather is warming up, the days are getting longer and the magpies have begun their annual aerial bombardment. Have you been swooped yet?
Since we last checked in, the team at Flow has been busy pecking away at our keyboards, and we've brought you the inside scoop on Lake Mountain Resort, what's in store for Dwellingup and Collie, and went for a ride on Sydney's Northern Beaches with the one and only Cannonball Hall.
We also finished off our reviews of the Canyon Lux Trail and Specialized's range of trail tyres. After months of lurking in the background of tech photos, Wil has finally unveiled his custom-built Specialized Chisel LTD.
We also saw the launch of two bikes from Orbea, the Occam and Rallon, and two e-MTBs, which both generated quite a bit of buzz, albeit for very different reasons — the Yeti 160E and Scott Patron eRide.
That about covers us since the last we spoke. So pop a top, sit back and enjoy the latest edition of Flow's Fresh Produce.
---
Exposure Diablo Mk 12 Light
Exposure lights have always been something special. Between the all-in-one, compact form factor, CNC machined body, and retina-burning power, these British-made lights are the crème de la crème — and in this kaleidoscopic oil slick colourway, will catch your eye in more ways than one.
The Diablo MK 12 is the brand's latest and greatest compact torch, with three LED's that can produce up to 1800-lumens. Weighing 126g, it will happily sit on top of your noggin using Exposure's vent-based helmet mount, but the beam shape will also work well mounted on your bars too.
The light will only last for about an hour at full power, but that burn time dramatically increases as you take advantage of the different light programs — the power and run-times are laser-etched on the light itself.
Exposure has also integrated what it calls Tap technology, and you can change the brightness by tapping the light with your fingers. When a light is on top of your head, sometimes finding the mode button as you're rolling through the dark abyss can be difficult; here, all you have to do is hit any part of the light with your hand, and the Diablo will cycle through the modes. We found the middle of the three sensitivities was a happy medium between trail bumps dimming the light, and feeling like we had to punch our helmet to change the brightness.
---
Exposure TraceR MK 2 Light w/ReAKT & Peloton
Wait, aren't rear lights just for roadies? If you're pedalling back from the trails and the sun has gone down, a rear light is still a good idea and will increase your visibility tenfold. Unfortunately, many tail lights don't play nicely with droppers, however, the compact footprint of the TraceR's mount should work with most seat posts, provided they are not completely slammed into the frame.
Weighing 37g, the whole setup is small enough to fit into a pocket if you don't want a tail light on the trails.
The light can detect when you're braking using built-in accelerometers and flares up when you drop the anchors — it might just prevent your riding mates from rear-ending you if they follow too close. The light also adapts to ambient brightness to maximise visibility and dims when the front light of the rider behind you is detected, so they aren't dazzled.
At the full 75-lumens, the light is claimed to be visible from over a kilometre away, and will last for 3-hours, where the flashing modes can run as long as 24-hours.
---
POC MTB Pure ¾ Jersey
Designed to thrive in the heat and humidity, POC's MTB Pure 3/4 Jersey is made from a stretchy warp mesh fabric that makes quick work of sweat.
The slim-yet-casual fit sits really well on the body, and the ¾ length sleeves offer a degree of protection from the sun and overgrown trails snagging the inside of your elbows.
On the left side, a small zippered pocket is big enough for a few dollarydoos or a credit card, and a drop tail prevents the jersey from riding up underneath a Camelbak.
The geometric 'sea cow' splash pattern stands out in a sea of plain MTB jerseys, but it doesn't make a scene either with overly brash logos and moto-inspired graphics.
---
POC Guardian Air Shorts
Going along with the MTB Pure 3/4 Jersey, we also have a pair of POC's Guardian Air Shorts. Constructed with a lightweight four-way stretch fabric, it's blended with Cordura to add durability, without restricting the range of motion.
A double popper and a zippered fly work in tandem with an elasticated waist to prevent your pants from falling down as you ride, and an angled lower hem ensures you won't have the dreaded gaper gap between your knee pads and your shorts.
The crotch has a seam-free gusset to prevent saddle hangups, and POC has treated the fabric with fluorocarbon-free DWR to shrug off splashes and light showers.
There are zippered thigh pockets on either side, plenty large enough for the latest iPhone and snacks, as well as a smaller pocket on the bum, well-sized for cards or keys. Same as the jersey, POC off offers the Guardian Air shorts in sizes from XS-XXL and in three colours.
---
POC Devour Sunglasses
POC's Devour sunglasses might be the most aptly named product on the market because it's precisely what they do to your face.
The huge profile is designed to provide the protection and coverage of a pair of goggles, but offer the flexibility and comfort of sunnies. They are without a doubt lighter and better ventilated than goggles, and keep your eyes well protected from pokey trail debris.
The nosepiece and temple tips are adjustable to fit the unique proportions of your noggin, and the windscreen on the front gets POC's Ri-Pel hydrophobic and oleophobic treatment, so water, mud and sunscreen infused sweat bead and roll off, rather than smearing. That huge lens is made in collaboration with Carl Zeiss and gets POC's Clarity technology. In the same vein as Oakley's Prizm or Smith's Chromapop, Clarity is essentially selective colour filtering, said to reduce eye strain, and help you perceive roots, rocks and other trail features faster.
The lens itself is swappable, and POC includes a clear spare for low light and night riding. They are not cheap, but we've been really enjoying these sunnies, and will be handy when the trails turn dusty this summer.
---
G-Form Pro-X3 Knee Pads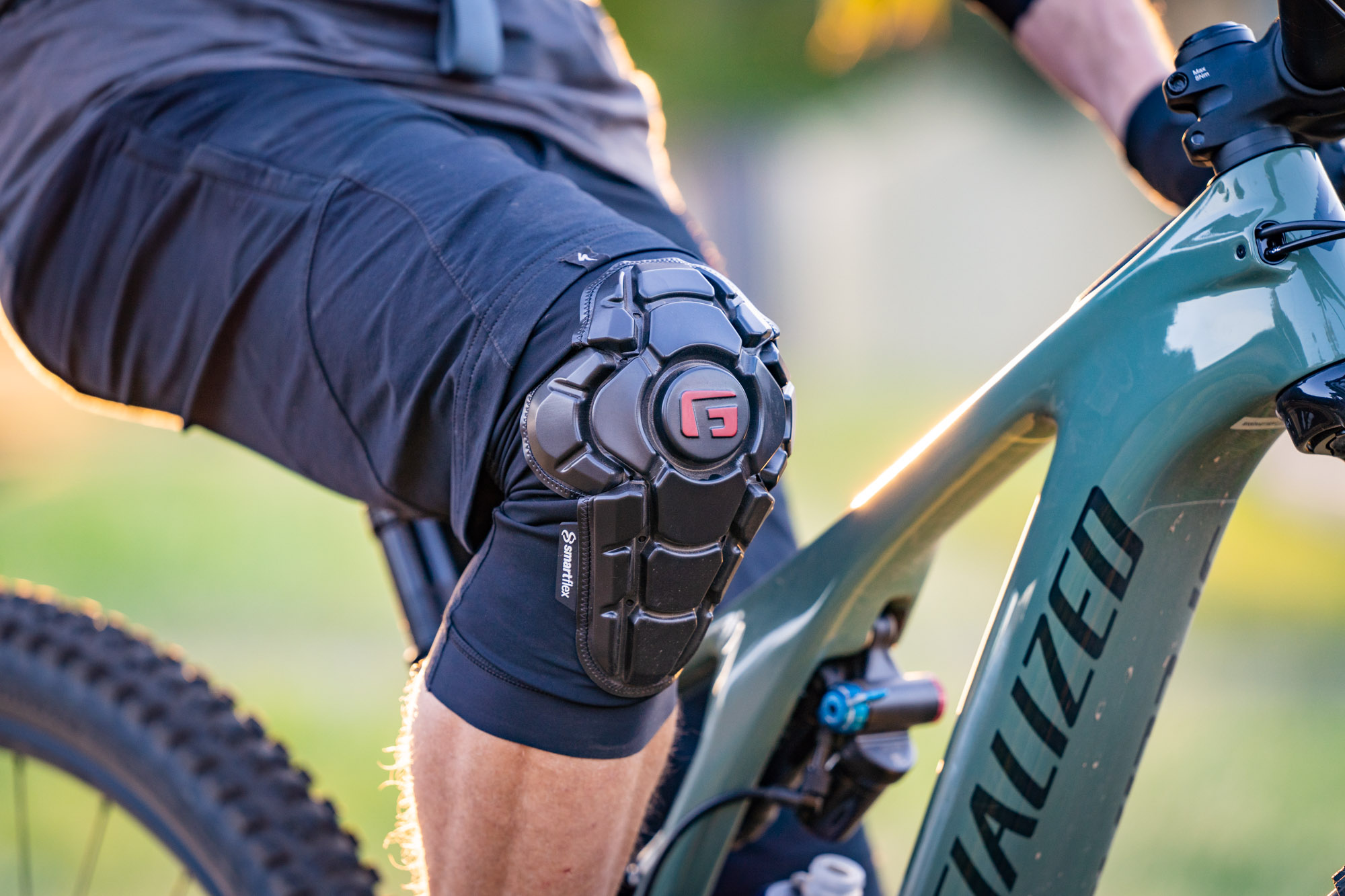 When it comes to lightweight pads for pedalling, US brand G-Form has long been one of the go-to brands. The distinctive-looking knee pads utilise G-Form's own SmartFlex material. This is designed to be soft and flexible to the touch, while possessing the ability to harden on impact to absorb energy and disperse forces throughout the pad. Combined with a series of channels and specific flex points, the pad can easily articulate around your joints to provide flexibility while on the bike.
Shown here are the new Pro-X3 knee pads, which feature a reworked profile for the SmartFlex sections with more consistent coverage around your knee cap. G-Form has also added a layer of soft foam underneath the pad to provide more comfort against your skin.
The Lycra compression tubes are longer than before, and they also feature more generous grippers around the top and bottom cuffs to keep them secure while pedalling.
While the shiny aesthetic may be one of acquired taste, we can attest to the comfort and flexibility of the G-Form Pro-X3 knee pads. Once settled into place they don't move, and much like a lightweight knee warmer, they soon become unnoticeable. Several small holes have been added to the SmartFlex pad to improve ventilation, but they're not as breezy as a properly perforated D30 pad like those found in the Pearl Izumi Elevate knee pads. The G-Form pads are less noticeable when riding though, and that means we're reaching for them more often when heading out for a ride.
---
G-Form Pro-X3 Elbow Pads
To go with the knee protection, we've got a matching set of the G-Form Pro-X3 elbow pads. These utilise an identical construction with the same SmartFlex technology found in the padded section. They're sewn onto a Lycra compression tube, with elasticated cuffs at the top and bottom helping to keep them snug and secure. Just like the knee pads these are machine washable, since the SmartFlex material is sealed and waterproof.
The Pro-X3 elbow pads are reasonably long, leaving only a small patch of skin between the lower cuff and your gloves, which could create some curious tan-lines during summer. They are really comfortable on the trail though, settling into place nicely after some initial tugging and twisting during the first few minutes of a ride.
Given their comfort and flexibility, these have also become an easy choice for riding overgrown off-piste singletrack, where the added protection is useful when glancing off of trees, and whipping past overhanging branches and prickly bushes.
---
G-Form Moab Gloves
G-Form doesn't stop at knee and elbow pads, producing a comprehensive range of protective gear that includes padded undershirts, compression shorts, and gloves. Shown here are the Moab gloves, which are the more protective option of the range.
The same SmartFlex material is brought over from the knee and elbow pads, where it's used to create a series of protective panels over the top of each finger on the glove. They're otherwise a very minimalist glove, using a breathable mesh fabric for the backing, a super-thin Clarino synthetic suede palm, and a simple elasticated cuff.
Despite the armouring, the fit of these is snug and low profile. And the thin palm means they're about as close as you can get to going gloveless.
The SmartFlex segments are suitably flexible, and additional protection is welcome. Our main beef with these though is that the panels stop short of covering your knuckles, which is often the first strike point when barreling through the bracken. So while they're otherwise nice gloves to wear, we'd like to see a little more coverage to make the added protection worthwhile and to justify the price.
---
Ergon SM E-Mountain Saddle
German brand Ergon has a growing range of saddles that's designed to cover everything from mountain biking though to touring, road biking, enduro racing and e-MTB riding.
Built specifically for e-MTB use, the SM E-Mountain saddle features a kick-tail profile that provides a more secure platform for your sit bones when riding up steep terrain. As you're more likely to remain seated on an e-MTB, this ramp reduces the tendency for you to slide off the back of the saddle. The stock saddle on the Canyon Spectral:ON also has a kick-tail profile, but the ramp is much sharper and a little too noticeable. In comparison, the radius of the ramp on the Ergon SM E-Mountain saddle is more gentle, resulting in a more comfortable perch.
Further boosting comfort is the use of orthopaedic foam padding, which is layered with OrthoCell panels to even out pressure distribution. The saddle also uses a relief channel through the middle to promote flex, without the tendency to totally collapse inwards like a saddle that uses a full cutout. On top of that, you can choose between a S/M and a M/L size to get the best match for the width of your derrière.
Saddles are of course personal preference, but we really like the profile of the Ergon SM E-Mountain saddle, which provides a nice and stable platform under your sit bones. The kick-tail is profile is fantastic for seated climbing support, and the rounded edges around the sides and back of the saddle are very much welcome when descending with the saddle lowered. A highly recommended upgrade over the stock saddles on many e-MTBs out there.
---
Ergon GD1 EVO Factory Grips
Also fitted to our Canyon Spectral:ON CF 8 test bike is a set of the latest Ergon GD1 EVO grips. These might look fairly straightforward, but they're surprisingly high tech with a subtly tapered conical profile that becomes thicker towards the outer edge of the grip. Look a little closer, and you'll see a series of one-way traction grooves moulded into the grip surface, providing more surface area for your fingers to latch onto when heaving the bars up and over a drop on the trail.
Like all of Ergon's mountain bike grips, the GD1s are asymmetric with left and right-specific patterns, and there's also a 'top'. Installation requires a 3mm hex key, with the wide CNC machined alloy lockrings clamping down securely without the need for excessive torque to keep them put.
The set we've got uses the high-end Factory rubber – a specially formulated compound that's made in Germany and is designed to offer increased durability despite its tacky feel. In addition to black and green colours, the GD1 also comes in Standard and Slim sizes, so you can pick the right size grip for your paws.
---
Industry Nine Hydra Torque Caps
Wil recently completed a custom build on his new Specialized Chisel LTD, which is rolling on a set of Crank Brothers Synthesis XCT 11 wheels. These are built with ultra-buzzy Industry Nine Hydra hubs, which include standard QR15 end caps for the front hub. To better match his RockShox SID SL fork, Wil purchased a set of oversized Torque Caps designed specifically to mate up with the oversized dropouts.
The benefit of the Torque Cap system is increased stiffness between the fork and front wheel, and it also makes wheel installation a lot easier, with the hub slotting into place neatly without need to float it around before feeding the axle through. It's a small detail, but one that is very much appreciated.
---
PRO Mini Torque Wrench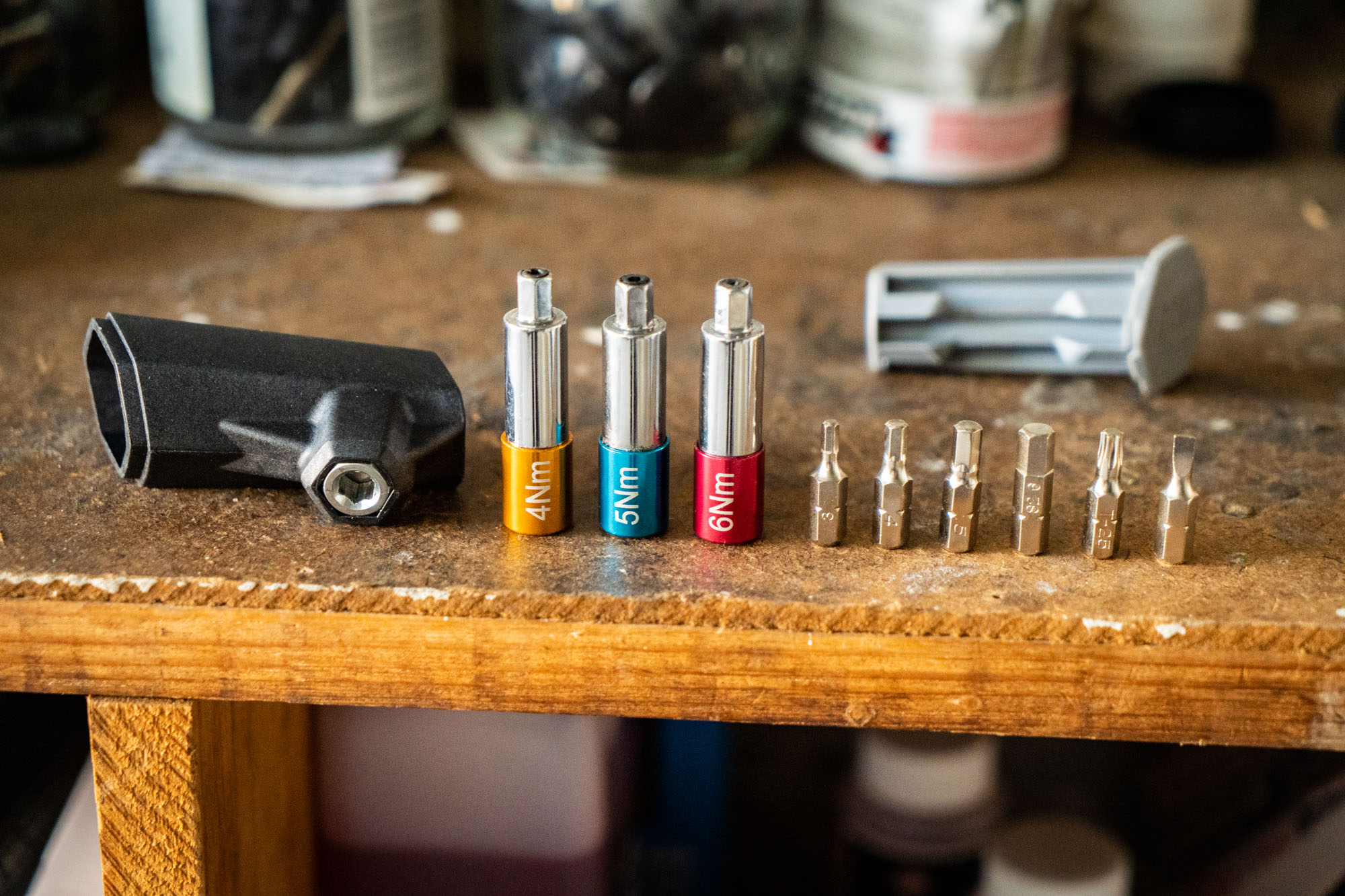 We've had some fresh tools turn up in the workshop courtesy of PRO Bike Gear. Shown here is the clever Mini Torque Wrench, which includes three pre-set torque drivers to cover 4, 5 and 6Nm settings. Hiding inside the barrel of the tool is a holster that loads six different bits: 3, 4, 5 & 6mm hex keys, a flat-blade screwdriver and a Torx T-25 key.
With those tools and torque drivers on hand, the PRO Mini Torque Wrench will cover the majority of the settings you'll need across most fasteners on a modern mountain bike, like the seatpost clamp, stem bolts, shift and brake levers, and disc rotor bolts.
It has a really nice feel in the hand, while still being quite compact and unobtrusive. That makes it a great option when travelling with your bike, or for throwing into the big backpack for a huge all-day ride. It can be a bit fiddly to swap around bits and drivers, and it isn't as flexible as a mini-ratchet tool, but it feels both more secure and more ergonomic in use.
---
2022 Specialized Levo SL Expert Carbon
At the beginning of 2020, Specialized unveiled the (then) brand new Levo SL. Designed specifically around Specialized's own 1.1 SL motor and a slim 320Wh battery, the concept of the Levo SL was to create the lightest full suspension e-MTB possible. The flagship S-Works model did just that, coming in at just 16.95kg for the complete bike. That's about 5kg lighter than the regular Levo!
While it no doubt delivers a different experience to the full-powered Levo, we thoroughly enjoyed riding the Levo SL thanks to its low weight and nippy handling. However, we weren't totally sold on it being equipped with a Fox 34 fork, which was quite bendy in its 150mm travel configuration. The Levo SL may be light, but it was still a 17kg mountain bike that could gather a serious amount of momentum on the descents.
It would seem that Specialized was listening, because for 2021 it has tweaked the spec on the higher-end Levo SL models. We've got the Levo SL Expert Carbon on test here, which has been upgraded to a Fox 36 GRIP2 fork. It also gets a piggyback DPX2 shock, and the brakes step up to SRAM Code callipers with 200mm rotors front and rear. The SL 1.1 motor carries over, but it has been updated with the latest MasterMind firmware that was debuted on the Kenevo SL.
As to how all those changes impact both the scales and its performance on the trail? Stay tuned for our Levo SL review coming soon!