The Watagans are a rabbit warren of trails, and today a few riders saw more of them than was intended! Day three of Port to Port MTB was certainly eventful, in both a positive and troublesome way. We saw some amazing racing, wicked new trails, and a few disoriented, exhausted riders too.
---
At almost 65km in distance and with 1100 metres of climbing, stage three is the longest and toughest day of the Port to Port. But it's also the sweetest, serving up the most sizeable chunk of singletrack for the race. First riders get put through the squiggle of the Awaba Mountain Bike Park, and later a mountain of raw, rough moto singletrack which Em Parkes described as "the best singletrack I've ever ridden." The new trails included in the stage today got a universally positive wrap from riders, with a number of the elite riders we chatted to rating them as some of the best trails they've raced.
All turns have to be earned though, and the bulk of the day's vertical comes in a single, tough, sustained climb up high into the Watagans. As predicted, this was where were saw a real showdown between the race's elite men's podium hopefuls. Kyle Ward came out of Awaba MTB Park like a man on a mission, setting a cracking pace up the steep Mt Faulk Road, pursued by Reece Tucknott and the yellow jersey of Tristan Ward. "When you've got me in fourth place overall, and Tristan and Reece in first and second place, it's really up to me to make an impact on the race," said Kyle Ward. "I probably went a bit hard around Awaba, because when I hit the climb I was already in the red!"

Tucknott eventually bridged across to Kyle Ward. "I was feeling real good on that climb, so I thought I'd see if I could break Tristan, but he just full-gassed it to get back on, full credit to him," said Tucknott. Turning himself inside out in pursuit, the race leader caught the pair, and the trio began chewing through the rolling miles across the ridge lines.
Tucknott was the first to pop – his attack yesterday and chase effort early in the stage took a toll. "I made some mistakes in the singletrack, and Tristan got a gap," said Tucknott, "and once he had a gap I just found myself in the box, pedalling squares. I was getting all the nutrition into me that I could, but I think I was past that stage!" Kyle Ward launched his own attack, flying into the singletrack descent, taking risks that the race leader wasn't willing to, and ultimately opening up a minute and a half gap over Tristan Ward which he sustained to the finish line. "That moto singletrack up the top was probably some of the best trails I've ever ridden," said Kyle Ward. "I think that's where riding the dual suspension Epic really came into play, it just let's you throw it round a little more, and if you make a mistake you can get away with it."
"I made lots of mistakes and fell over a lot!" laughed Tristan Ward. "But I didn't want to push it too hard to make that time up – I'd rather lose twenty seconds on a descent than get a flat tyre and lose the whole race," said Ward. With today's effort, Kyle Ward moves up into a podium position, but Tristan Ward still has a handy two minutes up his sleeve coming into the final stage. "I like to sneak in at the end," laughed Kyle Ward, "with the win in the shootout last night, and the win today, maybe I can grab another tomorrow? We'll see how we go – it's not over till the fat lady sings."

The first inkling that some riders might be getting a little off track came when Jason English suddenly miraculously appeared in third place behind Tristan Ward! Riding at the head of a bunch of five in the chase group, he'd missed a course marking and had taken a short cut inadvertently. He wasn't to be the only one, unfortunately. At this stage we're still not sure if course markings were moved by disgruntled bogans or riders just weren't on the ball with the red mist of racing, but today highlighted once again just how important it is to keep your head up; holding onto the wheel in front only helps if that wheel is following the right course.
While the men's race wasn't too badly affected by the lost riders, the masters and women's categories certainly were, with Samara Sheppard one of the lead riders who ended up in the wilderness for a while. Garmins were gathered up, distances ridden compared, and despite Sheppard actually coming through the finish arch some minutes after the first female, eventually the decision was made to give her the stage win. There's no doubting that Sheppard is riding superbly, and it would have been a real shame for her to suffer a time penalty through a missed or stolen course marking.
The battle between Imogen Smith and Em Parkes had plenty of twists and turns today too. In somewhat bizarre circumstances, Parkes and Smith both ended up riding in a bunch of four with male team mates, Mike Blewitt from Marathon MTB and Aaron Watts of Torq. It's a tricky situation to be in: does race etiquette allow for male team mates to assist, or not? Ultimately it was a very tough day for Imogen Smith. "It was a hard, long slog for me," said Smith, "I dropped my chain twice too in some critical moments, it was just frustrating." She conceded a couple of minutes to Em Parkes, but holds onto second place overall. Rebecca Locke continues with rock-solid consistency, she took fourth for the third stage in a row today, but will have to put in a superhuman effort tomorrow if she wants to grab a step on the podium.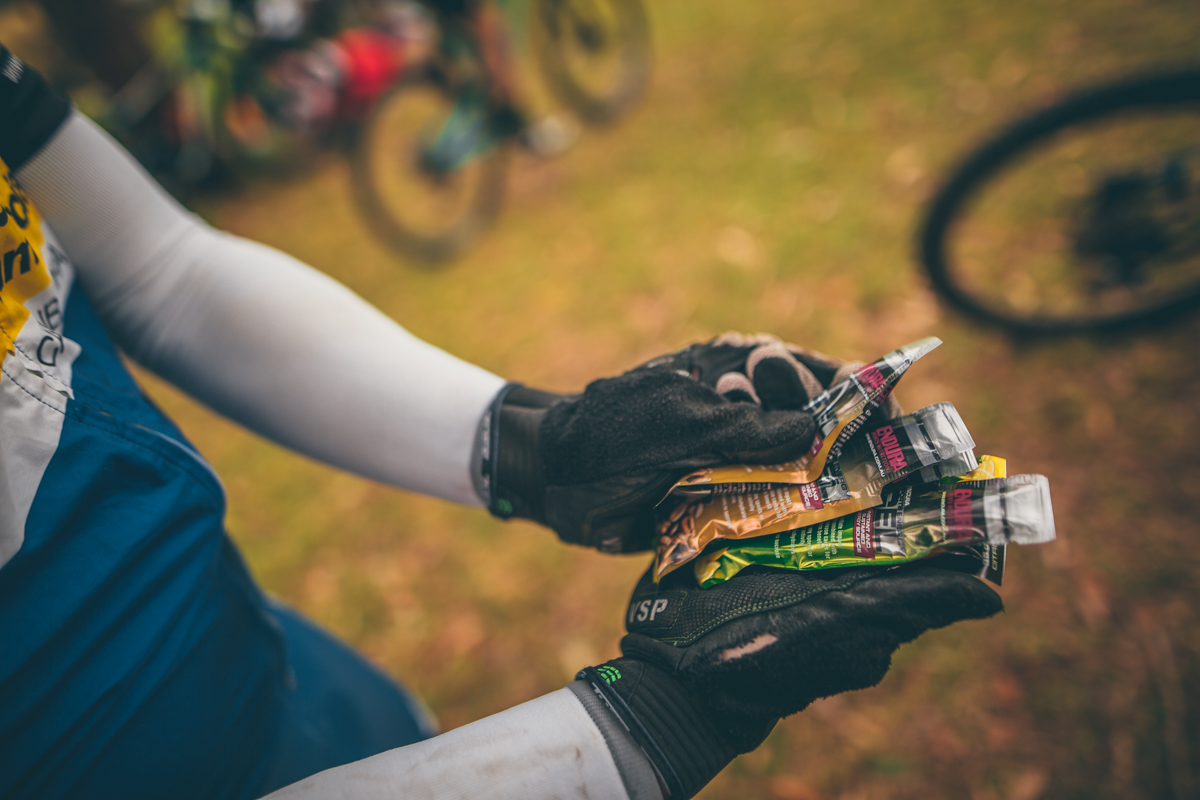 Tomorrow's final stage takes us back to the coast, running along the strip of paradise between Lake Macquarie and the beaches south of Newcastle, before heading into the great trails of Glenrock and finishing by the beach. It's a magnificent way to cap off four varied, brilliant days on the bike. See you there!
---
A Rider's Perspective, with Briony Mattocks

The morning of Stage 3 was proper cold. While the rain stayed away throughout the day, a few early showers had the elite women huddling for cover under a shade tent, both discussing the merits of wearing all sorts of warmers and taking numerous selfies (How to be an elite rider 101). Rather abruptly, the race before the race started, as riders suddenly got the call to the start line, practically clambering over each other to get optimum position behind the neutral car.
After a nice (dry!) roll down the road, the pace changed from quite comfortable to quite uncomfortable as the neutral car rolled away and the sea of lycra headed in a bee-line straight for the single-track of the (probably) World Famous (and super awesome) Awaba Mountain Bike Park. I made up for my lack of sprinting with my knowledge of Awaba, able to peg back a number of positions as we carved through the ~15km of corners, berms, switch-back climbs and wicked descents.
Out of Awaba (sadface) and on to Mt Faulk Road (sadface x2). This climb is definitely not as savage as the one we did yesterday, but it's still 5km of being squarely in the box. After reviewing the stage today I was rather happy with my time, although it's fair to say my legs were feeling it a lot more than my lungs were. Over the crest and on to Undulation City for ~25km or so. Unlike our road counterparts, mountain bikers tend to spend a lot of the time on open fire road attacking each other, as opposed to actually working as a cohesive unit. Regardless, the group I was in got there in the end!
Once again we had the privilege of riding on some of the moto trails – which although rutted and loose are actually a tonne of fun. Except for a moment when after a collective dismount, I found myself running up a narrow rut with my bike eventually reaching about shoulder height (it was not in said rut). Not a line I'll look to take next year!
More single-track, double track, fire road descents and moto trails and I found myself back in the lowlands powering out a miniature time trial for the final flat run into the finish. I loved the length and variety of today's stage – if only there was some fire trail connecting the start to Awaba – one could really put together a great XCM course up here!
Finally, it must be said that there were some unfortunate issues today with course markings, where signage looked to have gone missing (presumed stolen/removed) which lead to a number of riders not completing the full course – which was not in any way their fault or done with the intent to cheat. Unfortunately these things happen (it's not the first time and it won't be the last) at races all over the country and I'd just like to call out that while I had no issues following markings, we should recognise the great effort officials and volunteers put into marking out 65km of trails and thank the event organisers for the objective and logical approach they have taken to resolve it in terms of final times. You guys rock!
---