Olympian Rebecca Henderson claimed her first win in the Elite Womens XCO in Round 3 of the 2015-2016 Subaru National MTB Series at Pemberton, Western Australia on Saturday.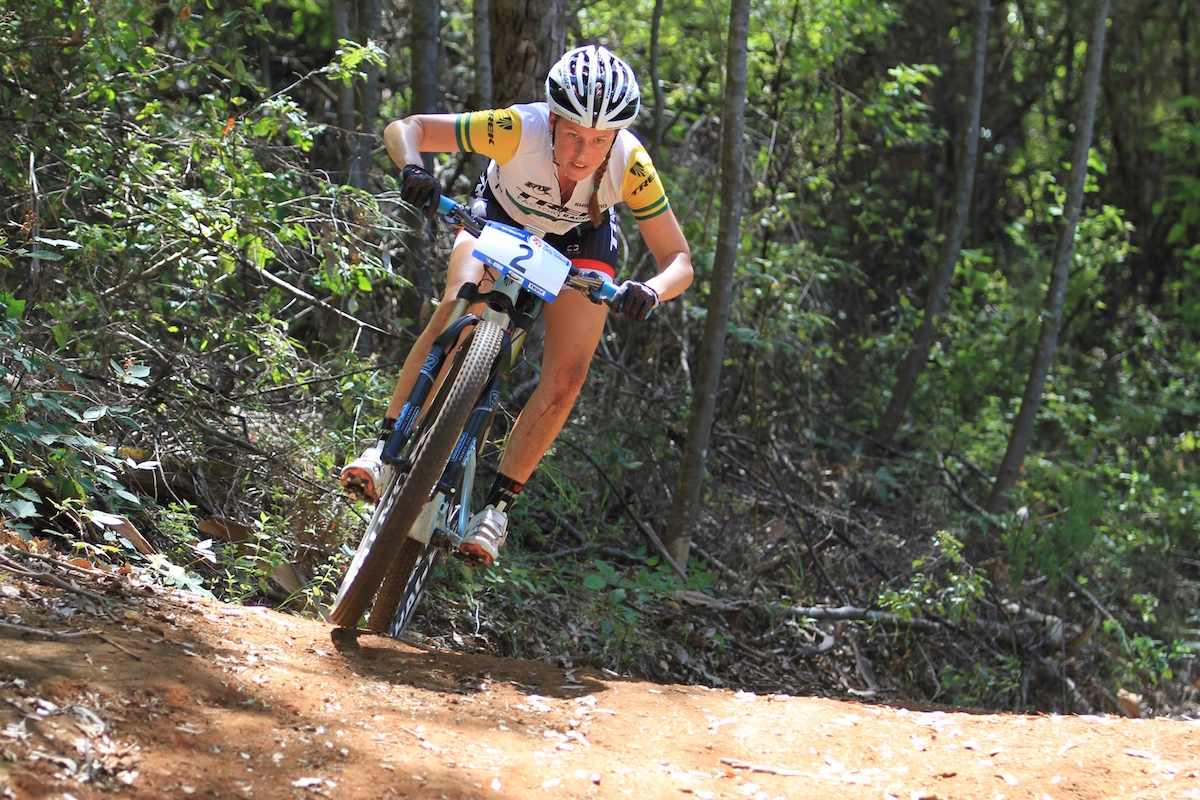 The Australian champion completed the five lap race in 1:44:18, ahead of New Zealand's Samara Sheppard and current series leader Jenni King in third.
"Definitely great to get a win which was back to racing my style which I like to go pretty hard pretty early and find my place from there," said Henderson who's ranked 20 in the world.
Henderson who finished third in the last round at Mt Stromlo in December behind King, held the rest of the field captive around the 4.8km course. 
"It's a tough one there's really not a lot of passing and I did try and use that to my advantage. It was very mentally draining and I had to be concentrating the whole time"
"I've been doing a lot of volume in my training at the moment and not so much speed work," said Canberra based rider.
While the Commonwealth Games bronze medallist was untroubled up front, King was embroiled in a struggle against the Kiwi for the minor placings.
King, who had won the opening two rounds in the Elite Women, admitted Saturday's race was a struggle.
"The girls really put on a hot pace and it takes me a little while to warm up which hurt me a bit," said King.
It would tell on the final lap, as Sheppard made her move and claimed her first podium finish of the series.
There was plenty more up for grabs than a podium place, with international ranking points up for grabs in the UCI Category 1 event.
"My ride I couldn't fault it. As for my form I'm still building and don't plan to peak until March, April and of course August," said Henderson who is vying for her second Olympic Games spot in Rio later this year.
Riders will now back up tomorrow for Round 4 of the Series.
 For all results from Saturday's racing:
http://www.racetecresults.com/results.aspx?CId=16429&RId=61
---
A gut busting ride by Rebecca Henderson handed her a second straight win in the Elite Women XCO at the double header round of the 2015-2016 Subaru National MTB Series at Pemberton, Western Australia.
It was a decisive move on the fourth lap where the Olympian broke the hearts of Samara Sheppard and Jenni King who rounded out the minor placings, as she dropped a minute on her previous lap time to ride out the final lap around 4.5km course alone and record a 1:31:33 second victory.
"I had to work extremely hard for that one it was as much a test of my character as much as my legs," the 24 year old remarked.
A shortened course greeted riders on Sunday morning and it looked as tho yesterday's effort would take a toll on Henderson, as she found herself back in fifth early on.
"My legs were horrible on the early couple of laps, I tried to lead and I wasn't foxing or bluffing that's all I had. "
"It definitely tested how much I love riding my bike," Henderson said.
In a duel out front was current series leader King and New Zealand's Sheppard, who resumed their battle from Round 3, as they put a 34 second gap into the Elite Women's field.
But what-ever race plan the 2014 Commonwealth Games Bronze medallist was concocting it worked, the deficit was reduced to only 8 seconds.
"I caught them in a single track and and I just knew I had to attack at my first opportunity cause I was travelling a lot quicker and had to keep the momentum," said the Trek rider.
On the fourth lap, Henderson, who is bidding to contest a second Olympics Cross Country at Rio in August, passed her weekend rivals with plenty of steam left in the tank.
"It's a good show my form is definitely building to have that race speed especially in the later half of the race is a good sign."  
For Sheppard, the course at Pemberton was a big learning curve as she took on the local wooden berm.
"I never practice the wall cause we don't have wall rides in Wellington, and I didn't think how beneficial it would be so I went into it full gas and snake down the middle but it wasn't very efficient," the second place getter said.
"Bec wound up another gear and I tried to hold on for two seconds."
With her two gold medal wins from the weekend, Henderson has crept up to be second behind King who retains the series leaders ranking heading into Round 5 at Thredbo in a fortnight.
For full results head to: http://www.racetecresults.com/Results.aspx?CId=16429&RId=63