Covering 230km over two days, a sold out Thunderbolts Adventure gudied riders from Gloucester to Moonan Flat and back up and over Barrington Tops — that's 4,800m of climbing over the weekend.
"When you get back on Sunday afternoon, everybody is pretty tired but happy. Usually, there are a few grumbles about the size of the hills or the weather or whatever, but this time everything just fell into place," says Graveleur head honcho Mike Israel
"We had the highest finisher rate ever this year," he says. "We actually had quite a few people who pulled out after day one last year, come back this year and absolutely crush it."
Related:
This event isn't a race, and there is no podium, but it's no walk in the park either. Friend of Flow Laura Renshaw headed out to ride Thunderbolts Adventure seeking a challenge, and it delivered that in spades but with a healthy heaping of scenery.
"(I) Loved the course, and each day was completely different, (with) different climbs and descents. The scenery was next level, just awesome. Fun factor rates very high," she says.
Day One | To the dingo fence we go!
The first 50km of day one are through scenic rolling farmland, but the climb over Barrington Tops looms large, becoming bigger and bigger as your roll closer. From the start, the ascent spans about 20km, but the first 7km are the hardest.
"Everybody sort of knows it's coming and are mostly prepared for it, and we also make the bottom our point of no return," says Israel.
He tells us only one pair of riders took advantage of the turnaround this year, but that wasn't the last they saw of them.
"We had one guy pull up (at that water station) and say look, I had Covid a few weeks ago. I'm really not feeling great. What are my options," says Israel. " We said, well this is the point of no return. You're probably better off turning around here, we'll get you food and water, and since you have a car, drive out to Moonan Flat, and we'll see you at dinner."
"One of his mates rode back with him, and sure enough, they turned up for dinner and were having a great time. I think he even got out on his bike and rode some of the course on Sunday," says Israel.
For those who brave the 20km slog to the top of the range, the feed station at the dingo gate at the top was the day's highlight.
"The view from the dingo gate, beer in hand, overlooking the valley is a core memory, just stunning," says Renshaw.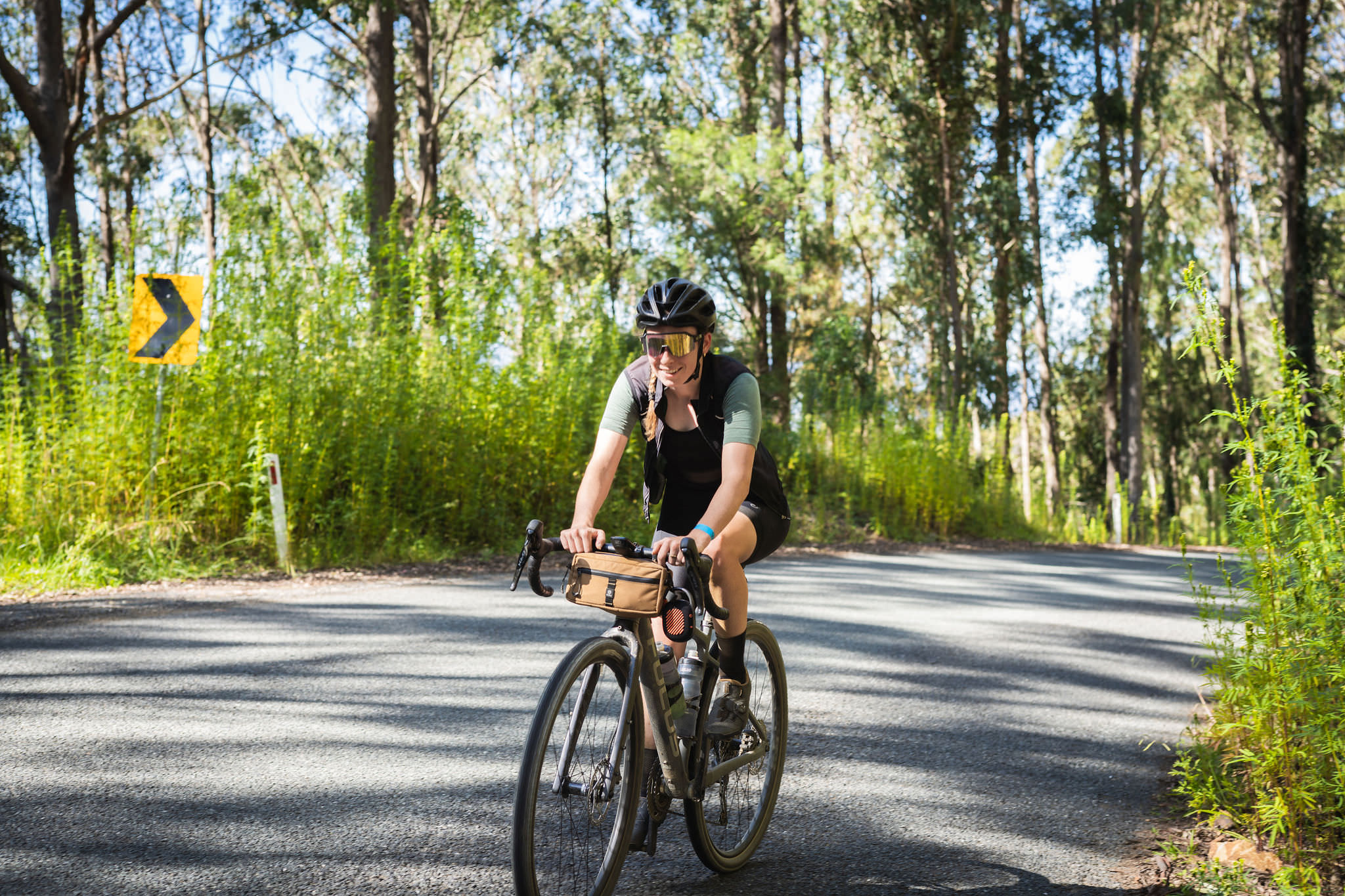 Camp | Bonfire, beers and a LOT of brownies
Thunderbolts had a stick jammed into its spokes at the last minute, with the pub pulling out of catering dinner for the event in the final sprint.
"It was a curveball. I got in touch with the caterer who did it last year, and we only had just under two weeks to pull it together. And it worked out better than we could have hoped," said Israel.
With a full three course meal on offer, including a dessert buffet that would have broken the willpower of even the most dedicated clean eater, with the pub no longer serving dinner, it also changed the whole setup of the night at the campsite.
They were able to get a big bonfire going, there was a bar, and folks just hung out and were merry.
"My favourite part was the location and the people, a huge communal dinner by a fire pit in a beautiful part of the world! New and old friends," says Renshaw, who had her first night ever sleeping in a swag at Thunderbolts.
Day two | Here comes the rains!
Bright and early the next morning, folks set off from Moonan Flat back towards Gloucester. The riders still have to go back over Barrington Tops, but the course doesn't backtrack over the same roads.
Either way, folks had to climb back over the range, but it's worth it. As with yesterday, once you hit the summit of Barrington Tops, your reward is an extended net descent all the way back to the finish. Renshaw tells us that it was another challenging day on the bike, especially backing up 100km rides, and by the end, even the little uphills were taxing on the legs.
"On the big climb, there is a 2-3km ramp that's about 15% — bitumen, straight up. And people are sort of laughing/cursing their way up. But once you're at the top, there is this beautiful sort of net downhill, gravel descent to the finish," Israel says.
On the first day, the weather was nothing short of spectacular. But on day two, something nasty was on the horizon. With a weather system moving late in the day, Israel and his team jumped in a support vehicle to see who was still out there to either turn them around or provide support.
"We went back, and it was freezing — 2°, icy cold rain, blowing a gale. We found this group of four or five guys, and they just had these massive grins on their faces — they were like, how awesome is this? They were fully prepared and just embraced it," says Israel. They rolled in at about seven o'clock on Sunday night and were just so stoked that they finished and got through the weather."
Even with the weather at the end, Israel tells us this is the best Thunderbolts Adventure they've run so far, and a big part of that was the team of 20 volunteers that came together to ensure things ran smoothly.
Israel tells us at the finish, everyone was already asking when the event is coming back next year, and we have some exciting news. The 2024 Thunderbolts Adventure will run May 18-19 — registration will open in a few weeks.
Renshaw tells Flow she is definitely coming back next year and has sage advice for anyone wanting to give Thunderbolts Adventure a shake.
"I have to stress that training for the event is a must, they give you a bit of a training program to follow. Make sure you're getting some big rides in, back-to-back days, leading up to the event," she says. "To see more women would be awesome! It's a super friendly event."
For more info on Thunderbolts Adventure or the other events Graveleur runs, head over to their website.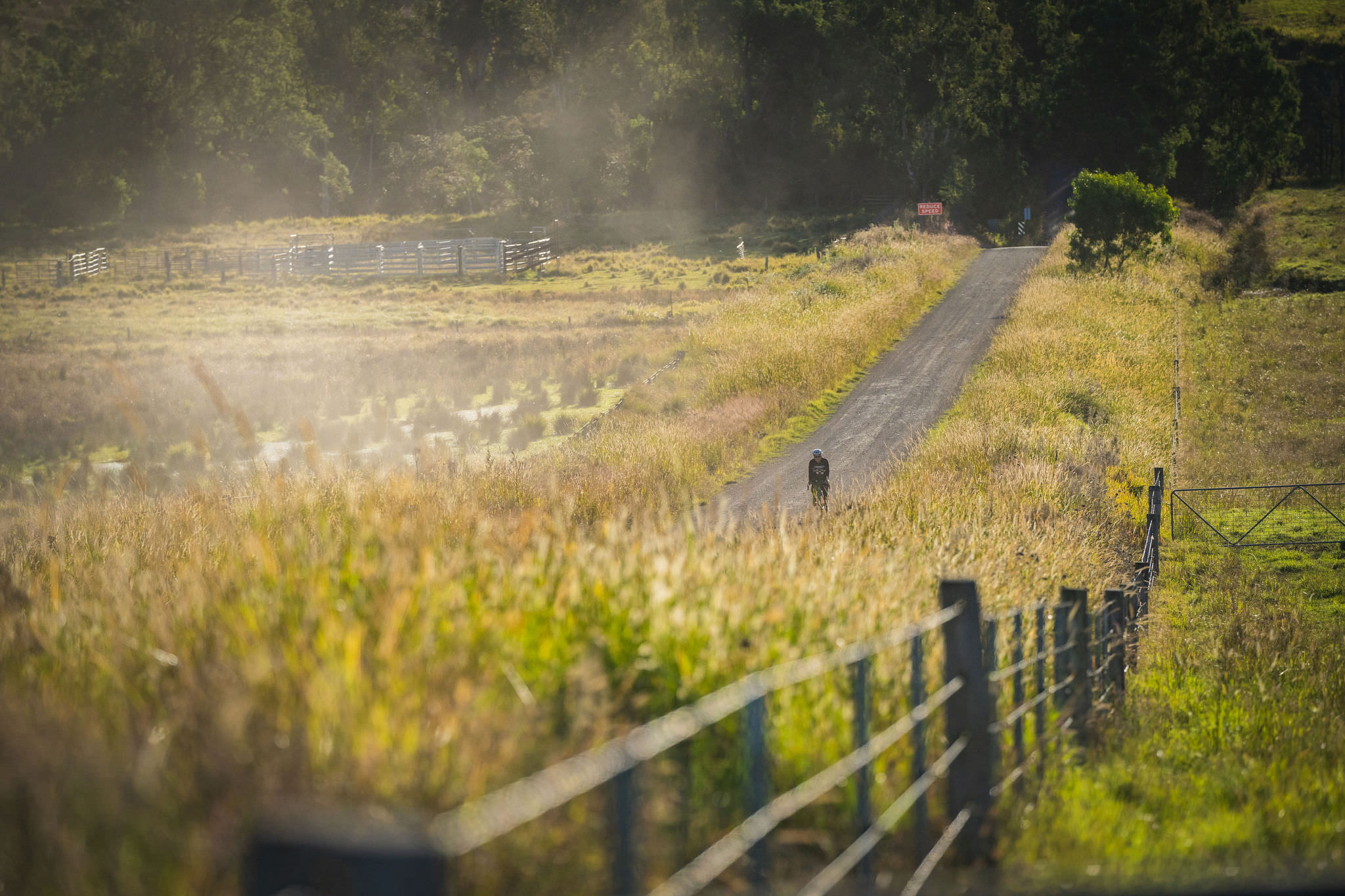 ---
Photos: Josh Stephenson | Ready Aim Media/@ReadyAimMedia