Having lived in Alice Springs, in Central Australia, for three and a half years now, I'm widely considered a local, though I think of myself as 'a Kiwi import'. Either way, I've been riding the red singletrack on the outskirts of town for long enough to feel quite at home on that techy Alice Springs singletrack, with its loose corners and sharp rocks.
I've also been riding seriously for about the same length of time that the Lasseters Easter in the Alice Mountain Bike Muster has been running. Formerly known as 'the Easter Muster,' this club-run three-day four-stage event has been growing steadily over the past four years. Put on by my local mountain bike club, the Central Australian Rough Riders (CARR), the Lasseters Easter in the Alice is a grassroots event that hit the big time this year, gathering momentum and support from the wider community in equal proportions.
This year's Lasseters Easter in the Alice broke records left right and centre for CARR. It attracted the highest number of entries for a CARR club event (97, which ain't bad for a town of 28,000), and over 40 of those were interstate entries – another record down the gurgler. For me, it was a buzz to see my local riding scene and our tracks afresh through our visitors' eyes. Race director John Pyper was thrilled too: 'I just wanted to make an event for that would cater for everyone, so everyone can come to Alice Springs and ride and have a good time.'
JP and his fellow event organisers at CARR are all about big vision, and they know what they're about. Taking a 'let's make this event awesome for everyone!' approach, they've created a locally-run club event with tonnes of slick, pro-like luxury details and a friendly, low-key vibe.
Though there was plenty of hard racing up at the sharp end this year, with a very healthy front pack keeping the competition close, the interstaters I talked to compared Lasseters Easter in the Alice to a hard but chilled outing with their local crew. So while the Lasseters Easter in the Alice event has grown, at heart it has stayed very much the same.
And that's just the way we like it here in the Red Centre.
Meet your new crew
Sure, in a climate this dry, there's always going to be plenty of trips to the little boys and girls rooms before a stage start, but there was very little talk of 'going for a nervous'. The vibe at the Lasseters Easter in the Alice was so low-key most of us set our bike computers to 'cruise control' and left it at that.
The Alice Springs special
Did somebody order a huge helping of red singletrack under clear blue skies, with a side of rocks, sand and toasty temps, hold the thorns?
Rain the week before Easter bedded in the tracks and left the Red Centre greener than anyone could remember.
A family affair
Local lad Ben Gooley's exuberant enthusiasm for riding is legendary. We had to call on Ben's wife Anita and daughter Olivia to help keep Ben at the start line as we waited for the starter horn in the Stage One NT Government Individual Time Trial.
There were a fair number of younger riders sporting race plates too. Race director JP thoughtfully re-directed these budding Jason Englishes and Jessica Douglases to shorter 'Junior' courses, to save us regular folk the embarrassment of being passed by a young whippet.
The Red Centre at night
Night stages always seem to divide visitors from regular Alice yahoo-ers – here in Alice Springs, riding at night is not the after-work-in-winter, cold, muddy mountain bike drudgery it is on the coast.
Bunnies galore!
We kicked off Easter Sunday with a casual cruise through town to the Alice Springs Telegraph Station, everyone fully kitted out in race regalia and bunny ears, for a Welcome to Country by Lhere Artepe Tribal Elders.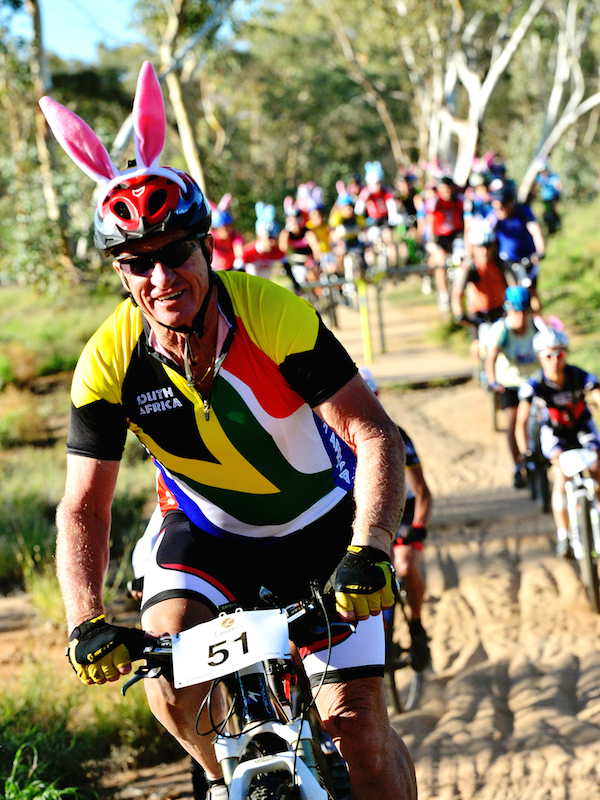 After that, it was all on, with the second starter horn sending us out across the Todd River, over the newly opened Alice Springs Mountain Bike Trails network and then out to Emily Gap and back – around 45km, and mostly singletrack. Phew!
Go faaaaaaaat!
Put two fatbikers into a crowed room and what do you have? A secret club, that's what.
With a growing population of fatbikers in Alice Springs, the Fat-Tyre Flyers category was inevitable.
The fatbike battalion spent most of the weekend posing for the camera, and parking their bikes in prominent places and revelling in the attention their bikes earned them.
But those fatties sure held their own when they did head out for a burl. So we sent them off on their own fabike course in the Subway Mt Gillen Eggcellent Stage Three. Think sand, sand and more sand – they loved it!
The 87km Bunny Buster
The Stage Four Lasseters Bunny Buster was aptly named. That loose and sharp Alice Springs terrain, together with the warmer Central Australian desert temps, really cranked it on, making the 87km course one hell of a challenge!
I've heard it said that 'winners are grinners,' but here in the Territory, it's the grinners who are the real winners, and we had plenty of those at the 2014 Lasseters Easter in the Alice. Roll on Easter 2015!
Wanna get your red singletrack fix at next year's Lasseters Easter in the Alice? Results for this year and more info on next year's event at www.easterinthealice.wordpress.com.