RockShox Flight Attendant has just launched, and we've got a brand new YT Jeffsy to test it out on! Brand new for 2022, Flight Attendant is an innovative, fully wireless and automated suspension system that represents RockShox' highly anticipated response to Fox Live Valve. While both systems are designed to improve the efficiency and responsiveness of your bike, there are some very clear differences. Here we'll be diving into the details behind Flight Attendant to see how it works, how it compares to Fox Live Valve, and what bikes it will be coming on for 2022.
What the heck is RockShox Flight Attendant?
Designed primarily for long-travel trail and enduro bikes, RockShox Flight Attendant claims to improve the efficiency of the suspension by taking control of the compression damping of both the fork and shock. Instead of reaching down to adjust a lever, Flight Attendant automatically adjusts them for you.
This presents several potential benefits. As well as improving general pedalling efficiency, increasing the shock's compression damping helps to stabilise your bike's dynamic seat angle, providing a more comfortable climbing position. On high-speed flow trails, having a firmer compression setting on your fork will also reduce how much it dives through its travel when riding berms, rollers and jumps.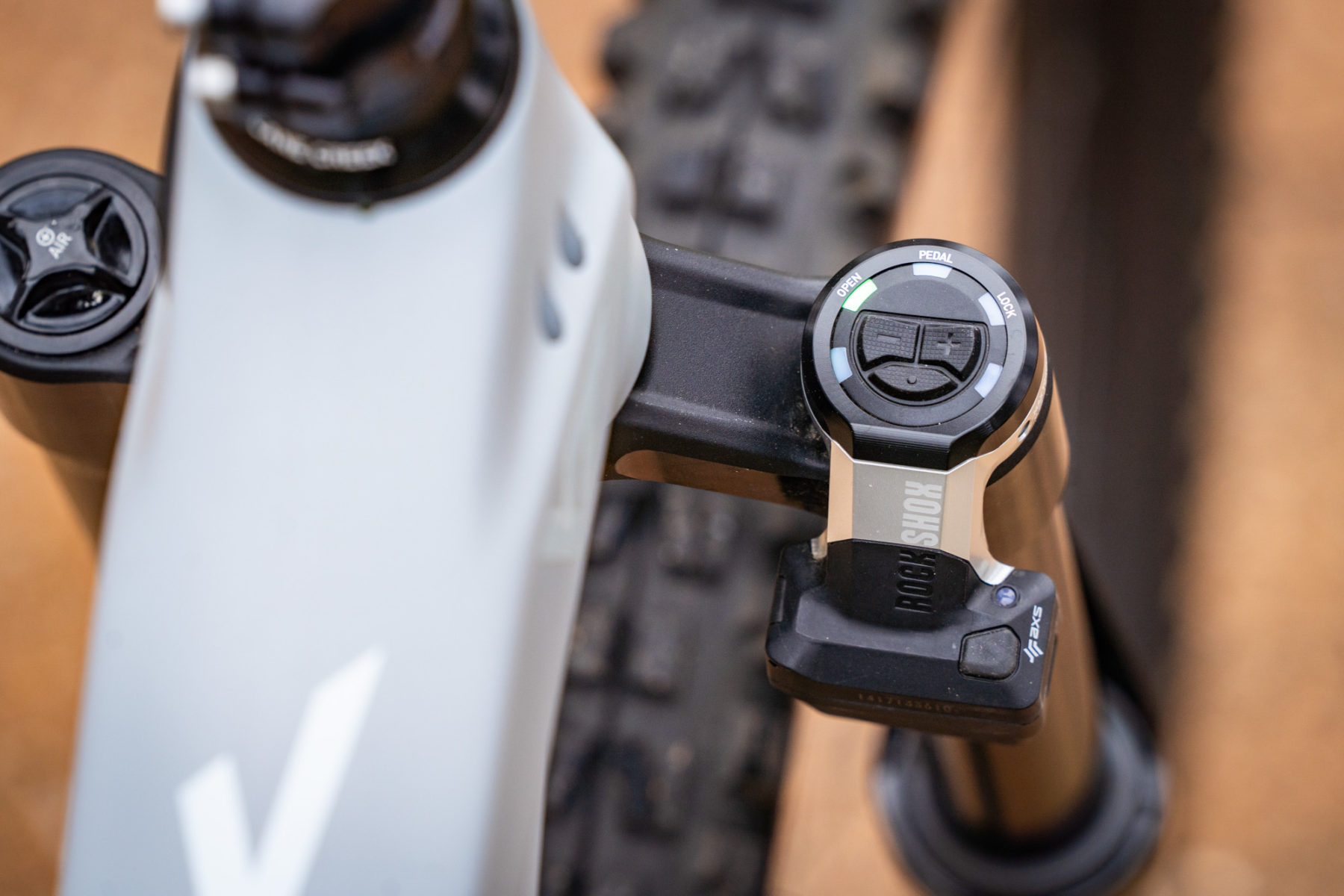 It also means there's less compromise when it comes to suspension setup. An automated system like RockShox Flight Attendant and Fox Live Valve can allow you to setup your suspension with more sag for greater traction and comfort on the descents, while still having access to that firm pedalling platform for the climbs.
Of course any rider can reach down and manually flip adjust the compression damping on their fork and shock. The thing is, we don't do it enough to really make the most of it.
In the case of RockShox Flight Attendant though, not only does it perform this function automatically without you having to think about it, it's claimed to do it a kerbillion times faster than any human possibly could. And it also does it a bazillion times more than any of us would ever have the patience for.
What are the main components?
There are three main components that make up the Flight Attendant system;
Fork Module – Part of the fork damper, sits just behind the crown
Shock Module – Part of the shock damper, sits on top of the piggyback reservoir
Pedal Sensor – Sits inside the crank spindle, compatible with most DUB cranks
All components communicate wirelessly using the same AXS technology used in SRAM's Eagle AXS drivetrains and the RockShox Reverb AXS dropper post. In fact, both the fork and shock modules use exactly the same AXS batteries. The pedal sensor uses a small AAA battery.
How does it work?
The RockShox Flight Attendant system features a range of sensors that are designed to measure inputs from both the rider and the terrain;
Pedal sensor – Determines whether the rider is pedalling or not
Vibration sensor – Detects bumps in the trail, both the size and frequency
Pitch sensor – Determines whether the rider is climbing, on the flat, or descending
Using these sensors, Flight Attendant then determines whether the fork and shock should be in one of three settings: Open, Pedal & Lock.
When you're coasting down the trail without pedalling, the suspension defaults to open. When you begin pedalling, the system wants to firm up the compression damping. Before doing that though, it will first check in with the other sensors to work out what's going on underneath the wheels. From there it will then determine which mode is the most appropriate for the terrain.
It's extremely fast, taking just five milliseconds for the system to make an adjustment. According to RockShox, in the time it takes for you to blink, the system has made about 80 calculations on what the suspension should be doing. It's basically a much less violent version of the T-1000.
Is it adjustable?
Oh yes! There are several ways to adjust the suspension behaviour depending on rider preference;
Auto Mode – The default mode for RockShox Flight Attendant. This is where you just ride and let the suspension do its thing
Manual Mode – You manually select the Open, Pedal or Lock setting
Override Mode – Allows you to switch out of Auto Mode to a predetermined setting (say the Lock setting for a short sprint), before flicking a button to quickly go back into Auto Mode
There are three ways to switch between these different modes. The first is via the main control panel on the fork module, which features several buttons and an LED array to indicate which mode you're in.
You can also change modes via a new left hand RockShox AXS two-button remote. This controller is designed to allow you to operate both a Reverb AXS dropper post and the Flight Attendant system.
Lastly, you can make adjustments via the SRAM AXS app. You can also use this app to calibrate the suspension, customise the AXS controls, check battery levels, and update firmware.
Bias Adjust
You can also fine tune how the system reacts in Auto Mode, and whether it favours the Open or Lock positions. RockShox calls this 'Bias Adjust', and it has five sensitivity settings.
From the factory it comes set in the middle setting (Zero Bias) for all-round performance. There are then two settings on either side to choose from. This allows you to bias the suspension towards Open (-1 or -2) for everyday trail riding where you may prefer a more open feel to the suspension. Or you can bias the suspension towards Lock (+1 or +2), perhaps if you wanted to prioritise pedalling efficiency for race day.
Furthermore, you can also independently adjust the low-speed compression damping for both the fork and shock. There are 10 settings for each, and just like a regular fork and shock, this affects the low-speed compression damping when you're in the Open setting.
Because Flight Attendant doesn't affect rebound damping or the air spring, those are adjusted exactly as per normal.
RockShox Flight Attendant vs Fox Live Valve
Both RockShox Flight Attendant and Fox Live Valve are designed to achieve the same goal of improved efficiency, but the way they go about it is quite different.
The most obvious difference is that Live Valve is a wired system, whereas Flight Attendant is fully wireless. Visually it makes for a much cleaner setup, and the frame doesn't require a special mount for an external battery pack.
However, Flight Attendant does require more batteries. There's an AXS battery for both the fork and shock, a AAA battery in the pedal sensor, and if you're using that left hand AXS remote, another coin cell battery. Put all of that onto a bike that's already running a wireless drivetrain and Reverb dropper post, and you've now got four AXS batteries to remember to recharge. Wow!
There are functional differences too. Live Valve doesn't have a pedal sensor, and it's a two-position system that can only switch between Open and Firm settings.
To make those adjustments, Fox uses a latching solenoid in the fork and shock dampers (basically a tiny electromagnet), which offers a very compact and fast-reacting solution for switching between those two settings. According to Fox, the Live Valve system analyses the terrain 1000 per second, and can switch settings in just three milliseconds. That makes it faster-reacting, which may simply boil down to the use of wires instead of a wireless signal.
In comparison, Flight Attendant makes use of a tiny motor and gearbox inside both the fork and shock modules. We understand the motor and gearbox is basically identical to what you'll find inside an AXS derailleur, so you can expect the same high-pitch whirr every time the suspension changes modes.
As for application, Live Valve does offer a broader scope. You'll find it on World Cup XC race bikes like the Liv Pique, as well as on long-travel enduro bikes like the Pivot Firebird.
At this point in time however, Flight Attendant is predominantly aimed at trail riders and enduro racers. RockShox will be launching Flight Attendant with the new Pike, Lyrik and ZEB forks, and a new Super Deluxe air shock. There's no word from RockShox on when we'll be seeing an XC version for the SID forks and SIDLuxe shock, though given how well suited the system appears for improving efficiency to an XC race bike, we expect it won't be long.
RockShox claims the system only adds around 308g over an equivalent setup without Flight Attendant, so it's not a huge weight penalty. And lord knows there are some dual remote lockout XC bikes out there that could do without the cables…
Brand new RockShox Pike, Lyrik & ZEB incoming
That's right folks, there's more! As part of the Flight Attendant launch, RockShox is also debuting a new Pike, Lyrik and ZEB.
Both the Pike and Lyrik have adopted the ZEB-style lowers and a neatly machined crown. All three forks now feature pressure relief valves on the back of the lowers, and bushing overlap is said to have increased in order to reduce friction. They also introduce bolt-in Torque Cap adapters for riders who aren't using Torque Caps on their front hub.
Inside these forks feature a brand new DebonAir+ air spring and the Flight Attendant Charger damper. What's particularly interesting about both of these is the gold housing that sits at the base of each shaft. This gold housing contains a rubber puck (or is it an elastomer?) that RockShox calls 'ButterCups', which are claimed to absorb high frequency chatter to reduce hand and arm fatigue. Fascinating!
As exciting as all that tech sounds, the new Pike, Lyrik and ZEB are only being shown in their Flight Attendant versions. We expect regular non-Flight Attendant version will follow soon, though we're still awaiting confirmation from RockShox on pricing and availability, and whether all these new features will trickle down through the range.
And a new Super Deluxe shock
RockShox also has a brand new Super Deluxe shock, which looks very similar to the shock seen on the latest Trek Slash.
It features a new DebonAir+ spring design with progressive and linear air can options, both of which feature a tuneable negative air spring. RockShox has also introduced an optional Hydraulic Bottom-Out system, while refinements to the internals and increased bushing overlap are claimed to massively reduce friction.
As with the new forks, RockShox is only releasing the new Super Deluxe shock in its Flight Attendant guise, though we have no doubts we'll be seeing non-electric shocks in the near future.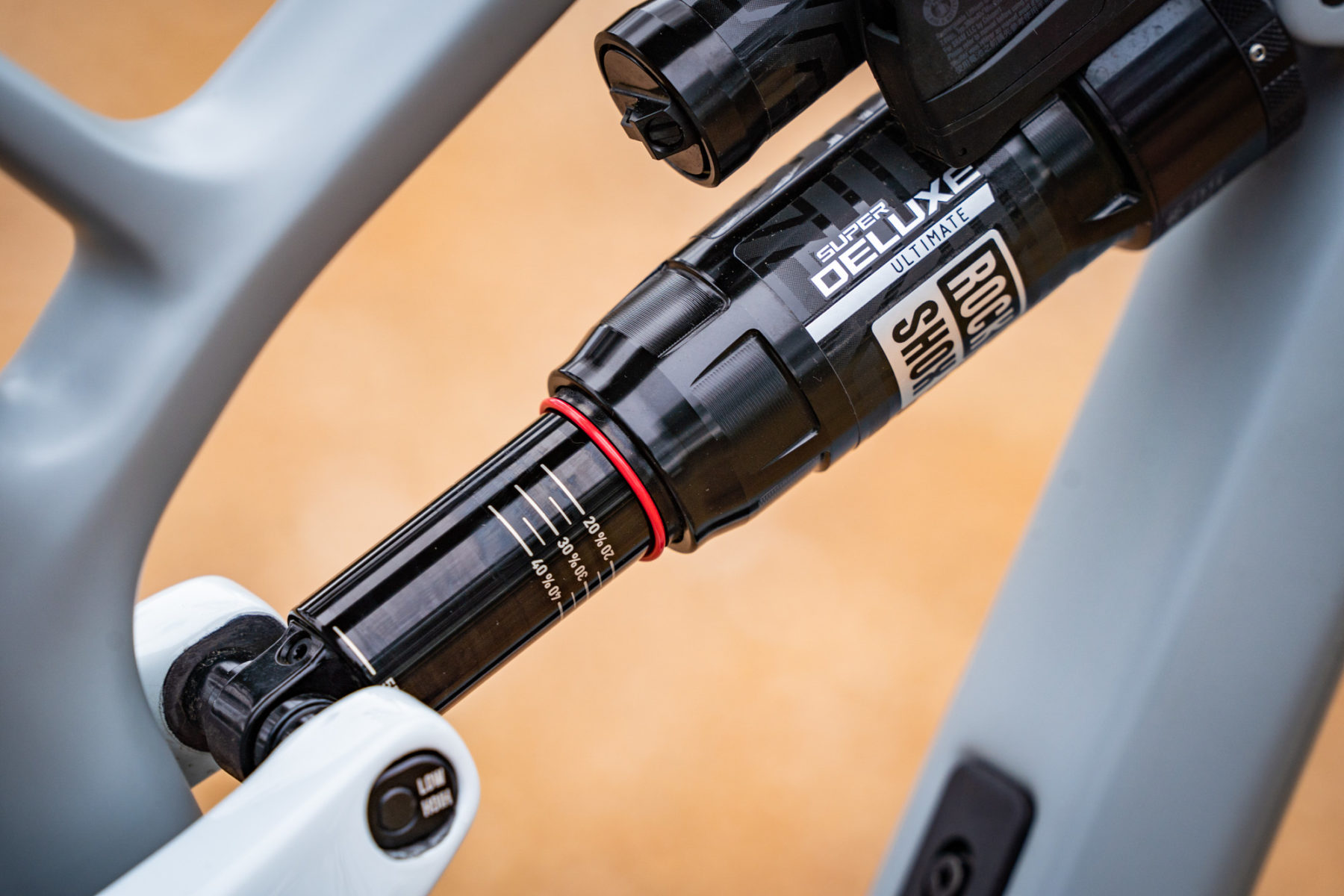 What bikes will RockShox Flight Attendant come on?
To begin with, you'll only be able to get RockShox Flight Attendant on a complete bike. There is a chance that RockShox may offer up the components separately in the future, though the main issue with that is the rear shock. It's physically bigger due to the electronic module, and it also requires specific tuning to the bike it's going on.
For those reasons, RockShox is partnering with just four brands to begin with – Trek, Specialized, Canyon and YT Industries. RockShox says that more brands will follow in the future, but in the meantime, these are the specific Flight Attendant models that will be available from the time of launch;
Trek Slash 9.9 XX1 Flight Attendant – $16,599 AUD
Specialized S-Works Enduro LTD – $19,000 AUD
Canyon Neuron CF SLX LTD – $12,049 AUD
Canyon Spectral 29 CF LTD AXS – $12,049 AUD
YT Jeffsy Uncaged 6 – $12,999 AUD
YT Capra Uncaged 6 – $12,999 AUD
Flow's Take
Ever since Lapierre quietly shelved its e:i suspension system all those years ago, we've been waiting patiently for RockShox to return to the world of electronically-controlled suspension. And while Fox Live Valve has already beaten it to the punch, it's clear that the RockShox engineers have used that time to develop what is a very clean and well-thought out system that builds on the commercial success of the SRAM AXS family.
We've spent a lot of time on various Live Valve-equipped bikes, so we're eager to see how Flight Attendant compares. Not just in its on-trail performance but also in terms of its general usability and tuneability – two areas that Fox hasn't exactly nailed with its three year-old Live Valve system.
Flight Attendant's wireless design is certainly appealing, while the addition of a pedal sensor and the ability of the system to switch between three positions does present a potential advantage over Live Valve. As with anything that offers automated control however, it will only be as good as the programming behind it.
Still, there's a lot to get excited about here, especially with those huge updates to the Pike, Lyrik, ZEB and Super Deluxe shock. We've just received our YT Jeffsy test bike, complete with the RockShox Flight Attendant system, along with a SRAM AXS drivetrain and Reverb dropper post. It's one clean bike, that's for sure! As to how it rides? Be sure to keep an eye on the website for our riding impressions of this new and highly innovative automated suspension system.