The team with the most laps completed included old-hand and former 24-hour World Champion Craig Gordon from Wollongong and Blue Mountain's up and coming racer Scott Reynolds. The pair locked in 36 laps for the line honours.
In the solo classification, it was Newcastle's Jason English who once again defended his JetBlack 12 Hour title, winning the solo male category outright for the eighth time in a row since 2010 with 28 laps in 10h35:36. Gwynn Le Maitre is the female champion clocking in 22 laps in 11h26:14 ahead of a strong U23 solo racer Rachel Cook – rounding off a great result for the Fizo Cycling team. Melissa Bates was third in the women's overall. In the solo men's Daniel Sammut came in second overall with one lap down on Jason English ahead of his fellow Central Coast rider and third overall, Benji Morris, who crossed the line half an hour later.
Jason English said that the warm weather had been tough to deal with, deciding to stop riding at the ten and a half hour mark with enough laps for the Solo Elite win. What followed was the sensation of the race: an e-Biker who had pleaded with the event organisers to "agree to let him participate" a week out from the race recorded 32 laps in 12h17:10 for the "unofficial overall solo line honours".
E-Biker surprises everyone, including himself
The e-Biker was Steve Troughton from Barrack Point and being asked for a photo with Jason English and Daniel Sammut, who had both clocked in 28 and 27 laps respectively on standard mountain bikes, Steve was very reluctant to join them on the podium. "I wasn't here to compete for glory but simply for the fun of being there and enjoying the atmosphere and the challenge", he said. The challenge to ride his mountain bike had been getting harder and harder over the last few years the almost 60-year old admitted. "For me, these e-Bikes really do put the fun back into riding. I can now keep up with my younger riding buddies and whereas I was considering giving up riding I am now revitalised and thrilled every time I mount up", he said.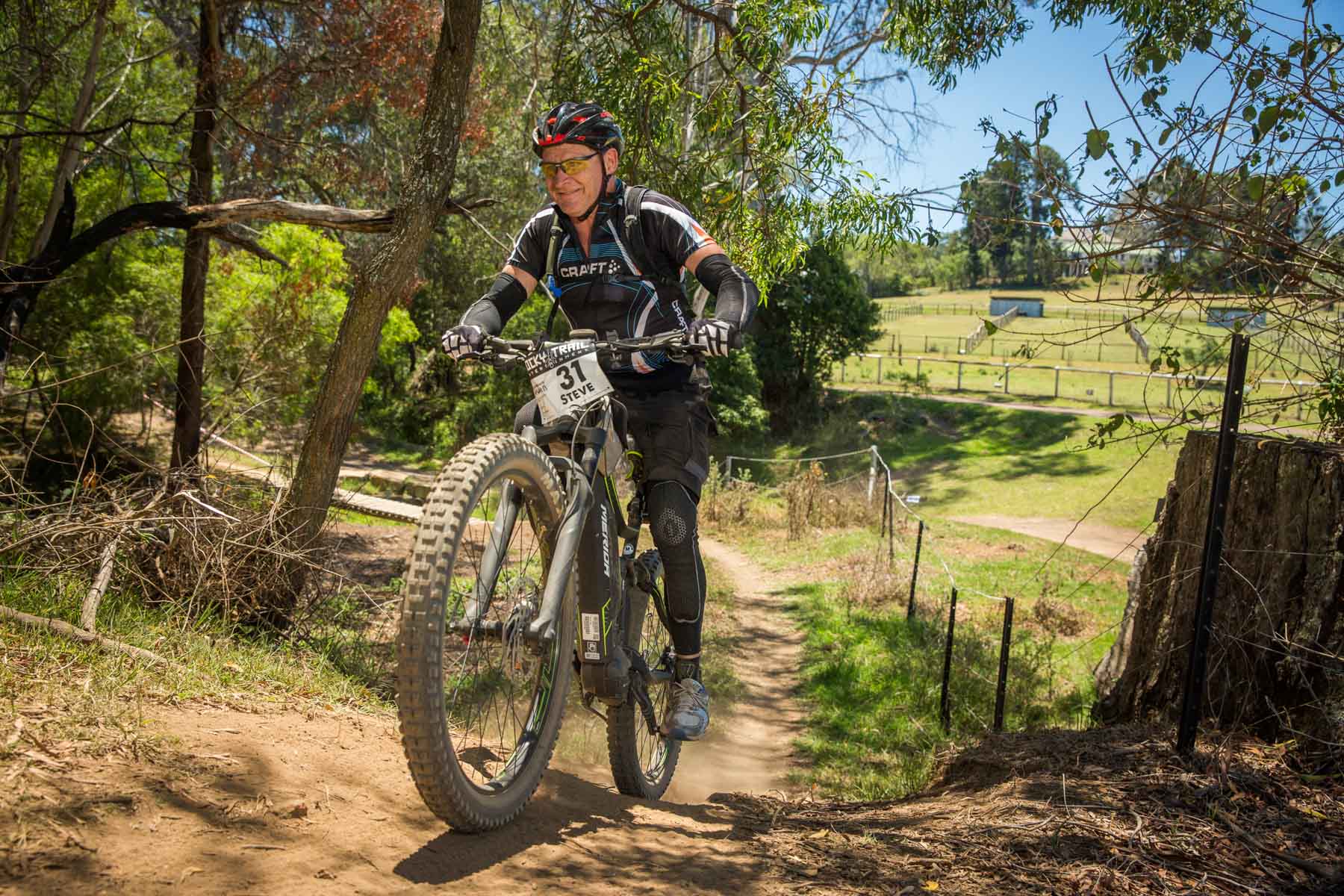 Race Director Martin Wisata said that he hadn't expected such a result by Troughton. "We are glad that we were able to have Steve at our event. He did surprise us all with the number of laps he completed and it needs to be acknowledged that his fellow solo riders did compete without e-Power. However, his ride was quite impressive and that he raced for the entire 12 hours", Wisata said and that he was currently reviewing potential categories and general classification constellations to accommodate e-Bike riders in future events. The events promoter added that he was thankful and really glad that the field of racers really embraced the late-entrant with his e-Bike. "It just shows what a calibre of athletes we have at our events – a huge thanks to Jason English and Daniel Sammut for being such good sports and having their photo taken with Steve – we are so proud of all our Rocky Trail racers and that we can provide them with the playground to reach their goals and document their amazing achievements in this sport – and most of all, see them smile across the finish line, albeit in pain sometimes."
Diamond Anniversary for Rocky Trail in 2018
Next year the JetBlack 12 Hour will be held for the 10th time by events promoter Rocky Trail Entertainment together with its headline sponsor since 2009, JetBlack Cycling Australia. A jam-packed Rocky Trail calendar of events has already been released for its Diamond Anniversary year – superflow enduro, downhill, marathon and cross-country events spanning all across NSW and the ACT are promising new venues and popular favourites. "We will kick the year off with the SHIMANO MTB Grand Prix Series at Glenrock on 3 February and the Fox Superflow Series sealed by Stan's two weeks later", said Martin Wisata, who founded the business with his wife Juliane in 2008 and announced that they had secured a new venue for their endurance flagship event, the JetBlack 24 Hour, which will be held at the Rydal Showgrounds near Lithgow (NSW) on the weekend of 4+5 March 2018! Online registration for all three events will open on 6 December 2017.
Find the full results here.
More photos are available from OuterImage.com.au