The second round of the Flow Rollercoaster gravity enduro series was held last weekend at the Kempsey golf club's purpose built enduro trails, located in the Kalatenee State Forest on the NSW north coast. The race incorporated two runs, with the trails being between five and seven minutes long.
The first trail, 'Big daddy', flowed the whole way down the mountain. At the top, washed out switchbacks forced riders to concentrate on their lines, in the middle section there was high speed berms and jumps, and towards the end pedalling was vital in ensuring a good time. Most riders came down somewhere between five and six minutes for this stage. Overall winner of elite mens Jon Odams won this stage, smashing the 2.5 km track in just five minutes and one second!
After the descent of the first stage, riders again climbed to the top of the trails, this time to face the second trail of the day, Chewbacca.
Living up to its fearsome name, Chewbacca started with a very rocky pedal, which opened up into a steep and fast section with some jumps thrown in for the hell of it. This was an absolute handful after over 100 riders had ridden the trails to dust- as the previously meticulously placed rocks had scattered everywhere! Following this section, riders were treated to an insanely fun motorway section, with 4 doubles laid out over the space of around 200 metres. Whilst this was the A-line, a number of riders chose to pedal flat out through this section.
After these initial high speeds the pain began, with a couple of minutes of pedalling flat out through twisty singletrack. Despite this, the trails were awesome, very flowy and fast.
Chewbacca finished with a short uphill burst followed by a steep descent, where a couple of gap jumps gave the braver riders a big time advantage. Jon Odams again dominated this stage with a staggering time of 5 minutes and 40 seconds.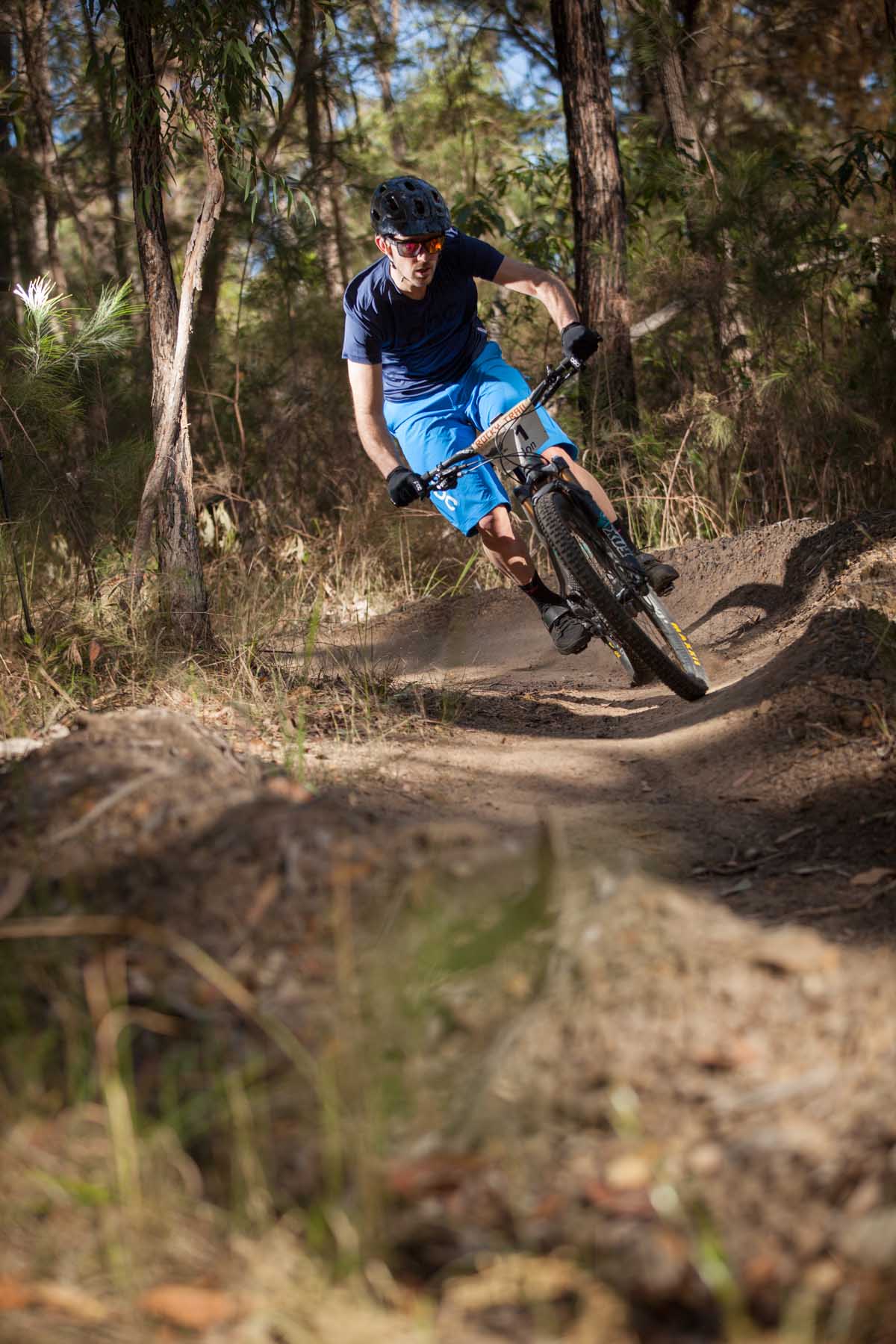 The podiums for respective categories were as follows:
Elite Male:
1. Jon Odams / BikeCulture.com.au / Sans Souci, NSW / 10:41 min
2. Graeme Mudd / Newcastle, NSW / 10:54 min / + 13 sec
3. Jason English / JetBlack Cycling / Port Macquarie, NSW / 11:01 min / + 20 sec
4. Oliver Kristevic / Sydney, NSW / 11:03 min / + 22 sec
5. Max Richardson / Wamberal, NSW / 11:08 min / + 27 sec
Elite Female:
1. Genevieve McKew / Knolly Bikes / Sydney, NSW / 12:45 min
2. Belinda Green / Port Macquarie, NSW / 13:48 min / + 1:03 min
Expert Male:
1. Tim Wynan / Kempsey, NSW / 11:03 min
2. Nigel Rose / Collingwood Park, QLD / 11:07 min
3. Daniel Morgan / Ride bike scooter and skate / Kempsey, NSW / 11:17 min
Under 19's Male:
1. Bryan Dunkin / Breakaway Cycles / Wallsend, NSW / 11:07 min
2. Will Shaw / Brookvale Bike factory / Narrabeen, NSW / 12:01 min
3. Cameron Smee / Sydney, NSW / 12:11 min
See you in November! The final round of the FLOW rollercoaster gravity enduro series will be held at Glenworth Valley on the 16th of November. We can't wait!