We've got big news out of Japan today with the announcement of the brand new Shimano CUES groupset. Or to be more accurate, groupsets.
An abbreviation of the cheesy tagline "Creating Unique ExperienceS", CUES represents a complete overhaul of Shimano's entry-level component lineup. The aim here is to simplify the range, while trickling many of the high-performance technologies down from its premier groupsets to a much more accessible price point.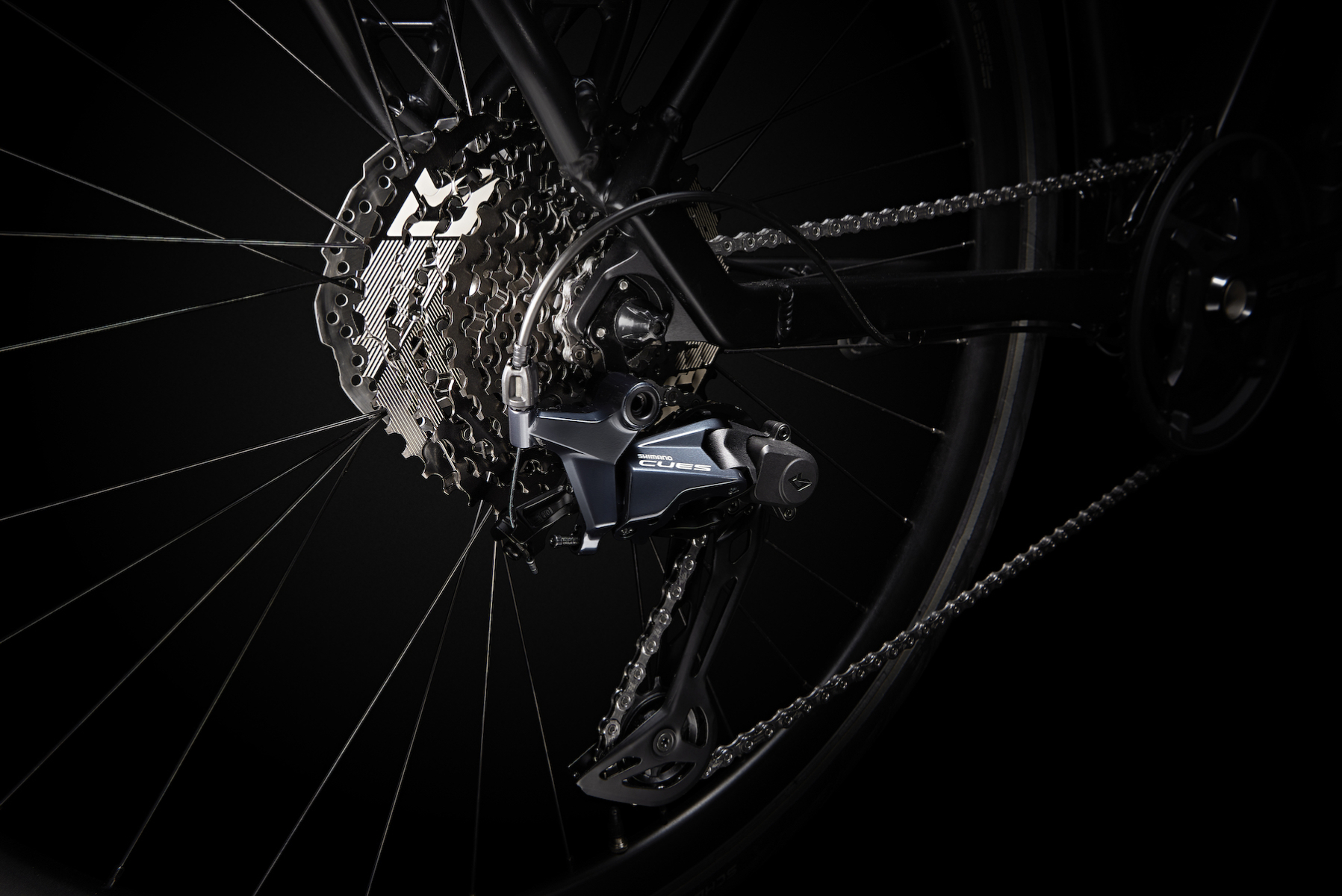 Why is Shimano CUES important?
While the likes of Shimano XTR and SRAM XX1 often enjoy all of the media attention these days, the reality is that those exotic components only end up on a very small percentage of bikes sold around the world. The vast majority of riders out there are on mid and entry-level bikes, and it's the workhorse components fitted to these bikes that makes up a very big portion of Shimano's business.
How big exactly? Shimano claims that 40% of all bikes sold worldwide over the next two years will come fitted with CUES components. That's huge!
With that in mind, the arrival of the new Shimano CUES range no doubt represents one of the most important product launches of 2023. This stuff is going to be everywhere.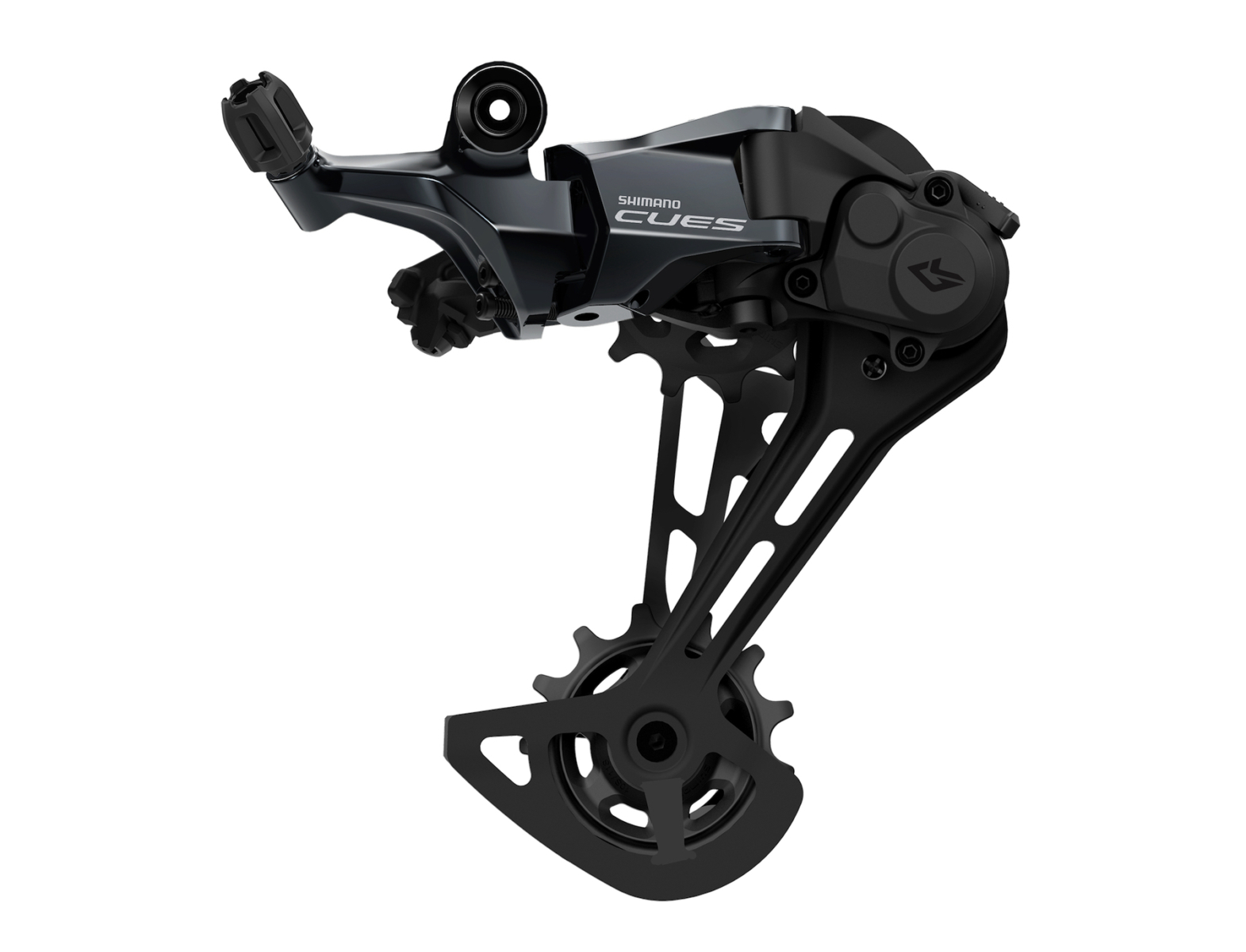 What exactly is Shimano CUES then?
Shimano CUES is a new range of drivetrain and brake components that replaces the existing Alivio, Acera and Altus groupsets. It also replaces the 10 and 11-speed versions of Deore.
Designed to cover a wide range of applications from mountain biking and e-Biking through to commuting and touring, CUES aims to simplify Shimano's offerings by bringing everything under the one label.
It will be produced in 1x and 2x variants that will feature 9, 10 and 11-speed cassette options. For those wondering, the biggest cassette uses an 11-50T ratio, which is the equivalent of a SRAM NX Eagle drivetrain. Furthermore, you'll find both 2-piston and 4-piston brake options.
For those wondering, everything above CUES (that's Deore, SLX, XT and XTR) will remain as 12-speed.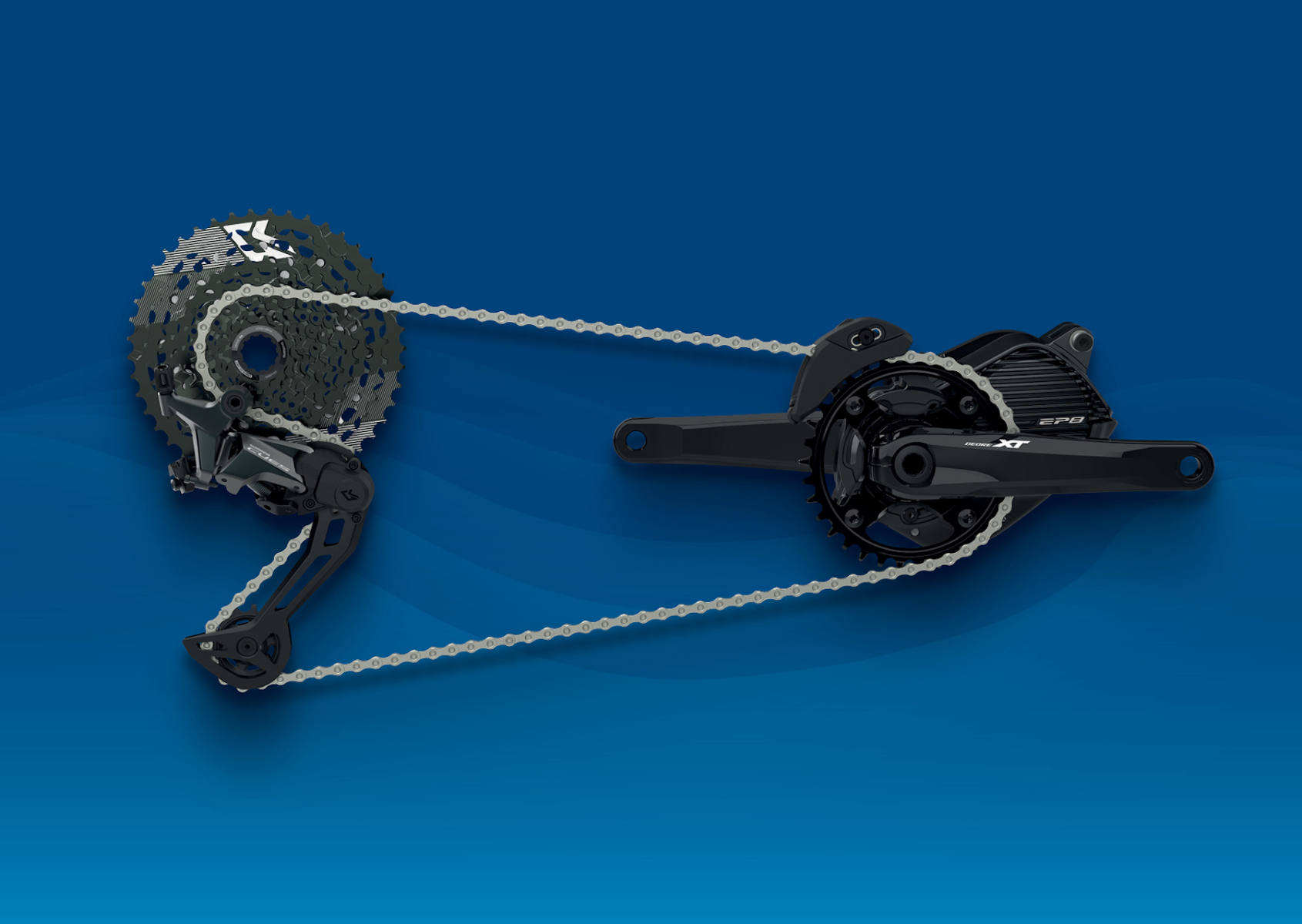 Linkglide tech is a BIG deal
Shimano CUES will see a variety of technologies brought over from the higher-end groupsets. That includes direct-mount shifters, the narrow-profile Shadow derailleur design, and the Shadow Plus one-way friction clutch for dampening chain-slap.
Perhaps the most significant feature to be brought to the CUES groupsets is Shimano's Linkglide technology.
First debuted at the Deore and XT level in 2021, Linkglide is based around a unique cassette that features thicker reinforced sprockets and a special tooth profile. The idea behind Linkglide is to provide bulletproof shifting under load, both up and down the cassette, while also radically improving wear life. Shimano claims a Linkglide cassette will last three times longer than a regular cassette, which is an enormous difference.
All of the new Shimano CUES drivetrains will be based around these new Linkglide cassettes. They also feature a specific Linkglide chain and derailleur to complete the picture.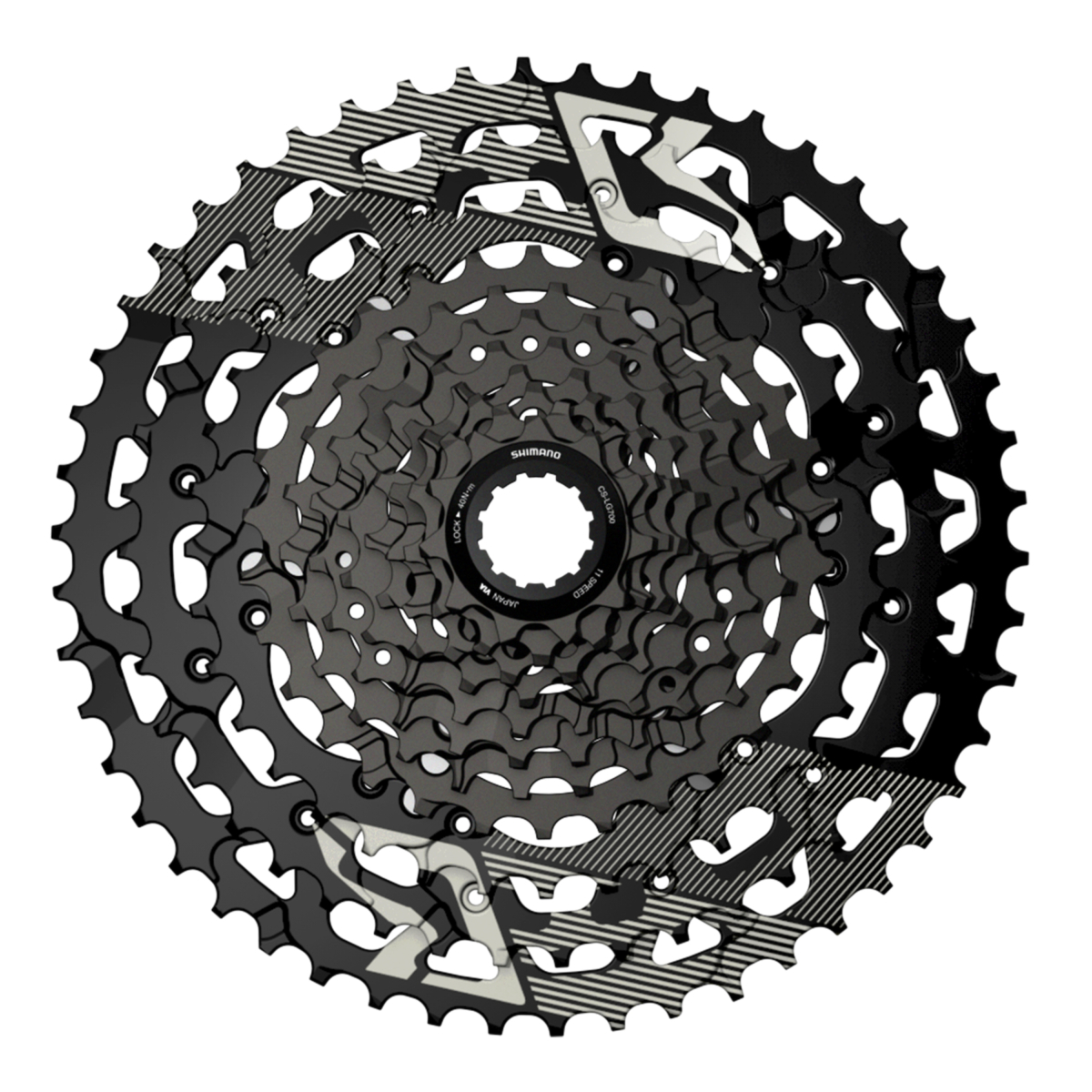 What kind of bikes will it come on?
You can expect Shimano CUES to appear on a broad range of bikes from touring, cargo and commuter bikes, through to entry and mid-level hardtails, mid-level full suspension bikes and e-MTBs.
There will be drop-bar versions of Shimano CUES coming in the future, but that will be a little way down the line.
As for fitting Shimano CUES to a bike, you can breathe a sigh of relief, because there are no new mounting standards. The only limiting factor is the new Linkglide cassette, which requires a HG freehub body. Shimano states the HG freehub design is still the dominant standard (especially at an OEM level), which is why it's stuck with it for the CUES drivetrains. That means you won't find these new Linkglide cassettes produced with a Micro Spline or XD fitment.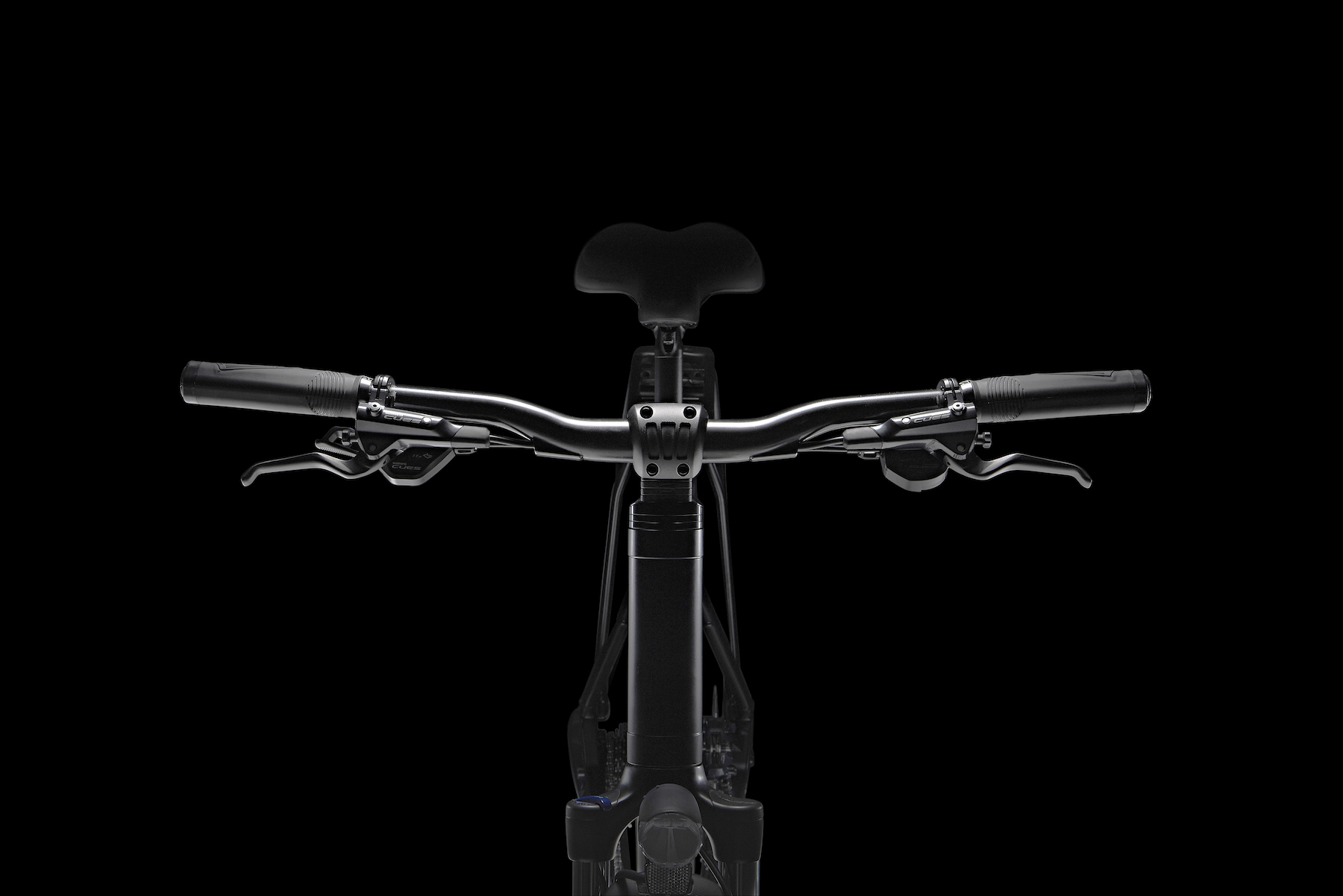 When will we see Shimano CUES arrive?
With production currently underway, Shimano CUES will begin showing up on complete bikes from June 2023. The groupsets will predominantly be sold on complete bikes, as that's where the lion's share of the market is for Shimano.
Individual components will also start trickling into dealers later this year to help stock workshops with spare parts. This will make it possible for consumers to fit a Shimano CUES groupset to their existing bike.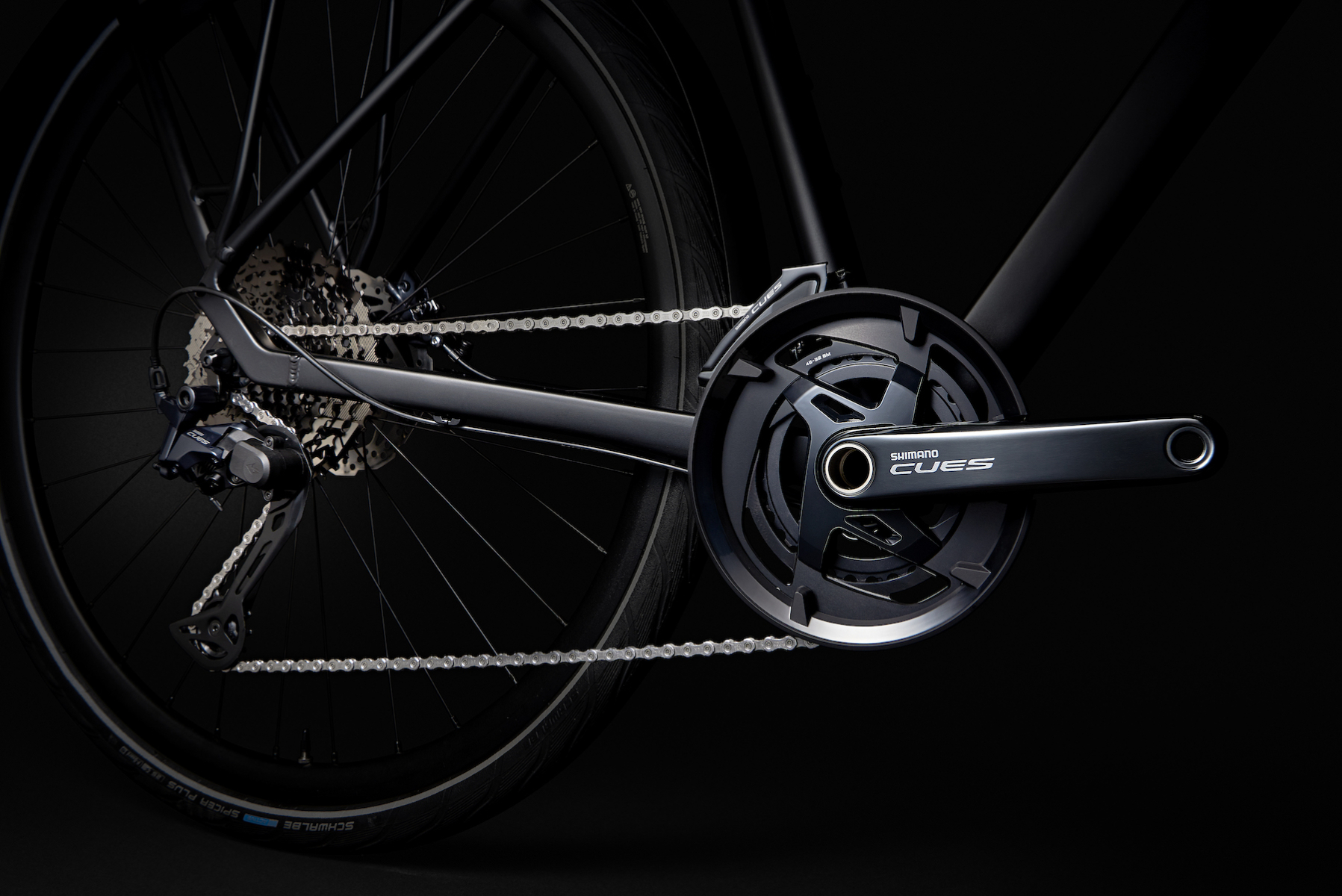 Flow's Take
Shimano CUES isn't the most drool-worthy product release of this year, but it's certainly one of the most significant.
We appreciate Shimano's attempt to simplify its entry and mid-tier groupsets by eliminating several similar-sounding names and replacing them with the one label. We have no doubts this will be appreciated by bike shop mechanics and store managers.
We're also stoked to see the Linkglide concept expanded to a wider range of price points, as its claims of reliable shock-proof shifting will be particularly advantageous for those who are newer to mountain biking. Along with the improved wear life, this drivetrain technology has the potential to enhance the user experience, while also reducing maintenance costs. If that helps to retain new riders and get them hooked on mountain biking, that can only be a good thing.
As for how it performs in the real world? We're looking forward to getting our hands on a new Shimano CUES groupset in the near future to see if these entry-level components really are as good as they sound.