It's no secret that electric mountain bikes can throw a helluva beatdown on your drivetrain. Of course mid-drive motors add a whole lot more torque into the equation, though they can also add that torque at a less-than-ideal time partway through a shift. As a result, e-MTB drivetrains tend to be more susceptible to a broken chain, and they also wear out faster too.
Shimano's answer to those tougher demands? A brand new drivetrain option called Linkglide.
What the heck is Shimano Linkglide?
Designed with electric mountain bikes in mind, the new Shimano Linkglide system comprises of a specific cassette, derailleur and shifter. For 2021 and beyond, there will be two different levels available;
1×10 Deore with a 11-43T cassette
1×11 Deore XT with a 11-50T cassette
The primary purpose of Shimano Linkglide is to offer greater durability over existing 10 and 11-speed drivetrain options. It does this with a heavier duty cassette design, which features an all-steel construction with reinforced sprockets that are substantially thicker at the base. Furthermore, changes to the tooth profile purportedly reduce the 'shock' experienced during each shift. The theory here is to provide smoother shifting under load, while also improving wear resistance over time.
According to Shimano's in-house testing, the new Linkglide cassettes are lasting three times longer than an equivalent 10/11-speed Hyperglide cassette.
Heavier, but longer-lasting
With those thicker sprockets and a more rigid all-steel construction, the new Linkglide cassettes are considerably heavier than their standard Hyperglide counterparts. Like, a lot heavier.
The older 11-speed Deore XT cassette featured an 11-46T ratio and weighed in at 440g. In comparison, the new Deore XT Linkglide 11-50T cassette has a claimed weight of 790g. That's not far off being double the weight!
According to Shimano's in-house testing however, the new Linkglide cassettes are lasting three times longer than an equivalent 10/11-speed Hyperglide cassette. And that's the big story here – you'll wear through three standard Hyperglide cassettes in the same time that you'd wear through one Linkglide cassette. That's an enormous difference for what is a consumable wear item.
Who is Shimano Linkglide designed for?
Whereas the current Hyperglide+ 12-speed drivetrains are designed for high-performance mountain bikes, Shimano is pitching Linkglide at the low-to-mid end of the market across a broader spectrum of riding styles. We're talking hardtail and full suspension e-MTBs, as well as electric commuters, touring bikes, and even cargo bikes.
Shimano also suggests that Linkglide is more 'user-friendly' compared to the 'race-oriented' Hyperglide+ drivetrains. By that it means Linkglide will be suited to less experienced riders, who may not be firing off shifts as smoothly as those with years of practice under their belt.
Given the claims of improved durability however, we also see the Shimano Linkglide drivetrains being popular with e-MTB rental fleets and bike shop demo bikes. And really, it's likely to suit any rider who's less concerned by weight and is looking for maximum durability, e-MTB or otherwise.
What's Shimano Linkglide compatible with?
Good news folks – there are no new frame standards required for the Linkglide system. Phew!
And while Shimano has designed the Linkglide components to pair with its own mid-drive EP8, E8000 and E7000 motors, there is nothing stopping you from fitting a Linkgide drivetrain to your Bosch, Yamaha or Brose-powered e-MTB, or any other mountain bike for that matter. As long as you have a matching 10 or 11-speed chain and chainring, you're good to go.
As for the rear hub, the Shimano Linkglide cassette requires a regular HG freehub body. So if you're already running a 8/9/10/11-speed Shimano cassette, then a Linkglide cassette will slot straight onto the same freehub. That also means that the new Linkglide cassettes are not compatible with newer 12-speed Micro Spline freehub bodies.
And just to make it clear, if you do want to fit a new Linkglide cassette to your bike, you will need a matching derailleur and shifter – it is not cross compatible with existing Shimano 10/11-speed components. The only exception is the chain and chainring, as Linkglide is designed to work with existing 10/11-speed Shimano chains.
What happens to the 12-speed drivetrains?
Nothing. All of the current Shimano 12-speed Hyperglide+ drivetrains, including Deore, SLX, XT and XTR, will carry on unchanged.
These drivetrains continue to be rated for e-MTB use, and for riders wanting maximum range, lower weight and faster shifting, Shimano is still recommending the 12-speed Hyperglide+ drivetrains over the 10/11-speed Linkglide drivetrains.
When will Linkglide be available?
Shimano Australia will be bringing in both the 1×10 Deore and 1×11 Deore XT Linkglide groupsets, which are due to arrive in May. You can check out pricing and more detailed specs on the full component range below.
That aside, our guess is that we're going to see a tonne of OEM spec for the 2022 model year. While consumer demand is sure to remain strong for the 12-speed Hyperglide+ drivetrains, we reckon there'll be plenty of brands looking to spec Linkglide drivetrains on entry and mid-level e-MTBs.
Shimano Linkglide Cassette
Shimano will offer the Linkglide components at two levels: Deore 1×10 and Deore XT 1×11.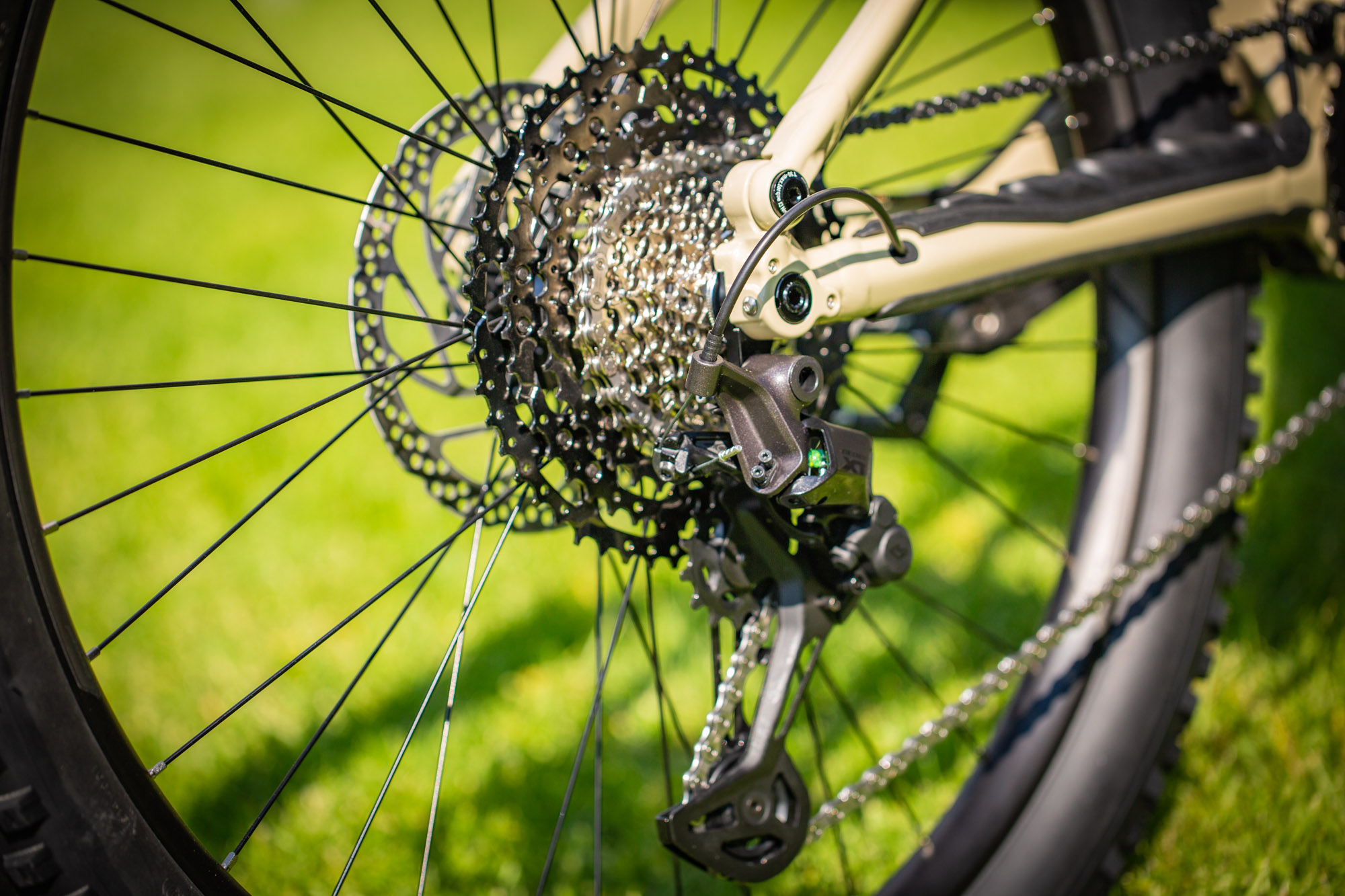 There will be two Linkglide cassettes available; a 11-42T Deore cassette ($114 AUD) and a 11-50T Deore XT cassette ($179 AUD). Being designed for e-MTB use, the ratios are a little more spread out;
11-13-15-17-20-23-26-30-36-43-50T
11-13-15-17-20-23-26-30-36-43T
As mentioned earlier, the Shimano Linkglide cassettes utilise a standard HG freehub body fitment. Compared to a non-Linkglide cassette, the sprockets are notably thicker, with optimised tooth shaping that's designed to improve shift performance under load, while reducing the 'shock' felt as the chain settles after each shift.
Shimano Linkglide Derailleur
There will be two Linkglide derailleurs available;
1×10 Deore ($114 AUD, 358g claimed)
1×11 Deore XT ($189 AUD, 303g claimed)
Featuring a low-profile Shadow design, an adjustable one-way friction clutch and a heavily offset upper pulley, the Linkglide derailleurs look very much like their 12-speed counterparts. However, Shimano says the construction is chunkier and tougher to put up with the greater abuse inflicted by a heavy e-MTB, while the 1×10 derailleur has a shorter cage to better keep it out of harms way.
Tolerances are also said to be a little more forgiving than the 12-speed equivalents, which should make them easier to setup. Busy shop mechanics take note.
Shimano Linkglide Shifter
And finally there will also be two Linkglide shifters;
1×10 Deore ($63 AUD, 140g claimed)
1×11 Deore XT ($115-120 AUD, 132g claimed)
The shifters appear pretty much the same as the 12-speed versions, albeit with the necessary clicks and pull ratios to match the Linkglide derailleurs and cassettes.
The XT shifter will be available in a standard bar clamp version, and an I-SPEC EV direct-mount option. The Deore shifter will only come in a standard bar clamp version, and it features an Optical Gear Display to show riders which gear they're in.
Flow's Take
The new Linkglide drivetrains are a welcome option in the Shimano range, and we expect we'll be seeing a lot of them later this year as bike company's begin to unveil their 2022 models.
That Linkglide cassette is considerably heavier than Shimano's current offerings, but of course weight is less of a concern for e-MTB riders. Strength and shift performance under load are far more important, and if the Linkglide drivetrains live up to the lofty durability claims, we can see them being very popular.
We have a groupset on its way to us, and we're intrigued to see how it performs on the trail, and how the shift quality compares to the current 12-speed drivetrains. Stay tuned!
Looking for Mo'Flow?
We've covered a bunch of the current generation Shimano drivetrains recently. If you're looking for more information on which groupset to select for your bike, take a look at our rundown on the Shimano SLX groupset. On the hunt for a budget groupset for your bike? Shimano Deore is definitely worth a look. We also recently compared two of the main mid-range groupset contenders in our Shimano SLX vs SRAM GX Eagle shootout.