SRAM XPLR brings MTB tech to gravel
Seeking to capitalise on the explosion of growth within the gravel bike segment, SRAM XPLR (pronounced 'explore') is a brand new purpose-built gravel groupset. The range consists of fresh 1×12 drivetrain options, a short-travel RockShox suspension fork, a fully air-sprung Reverb dropper post, and a bump-soothing carbon wheelset from ZIPP.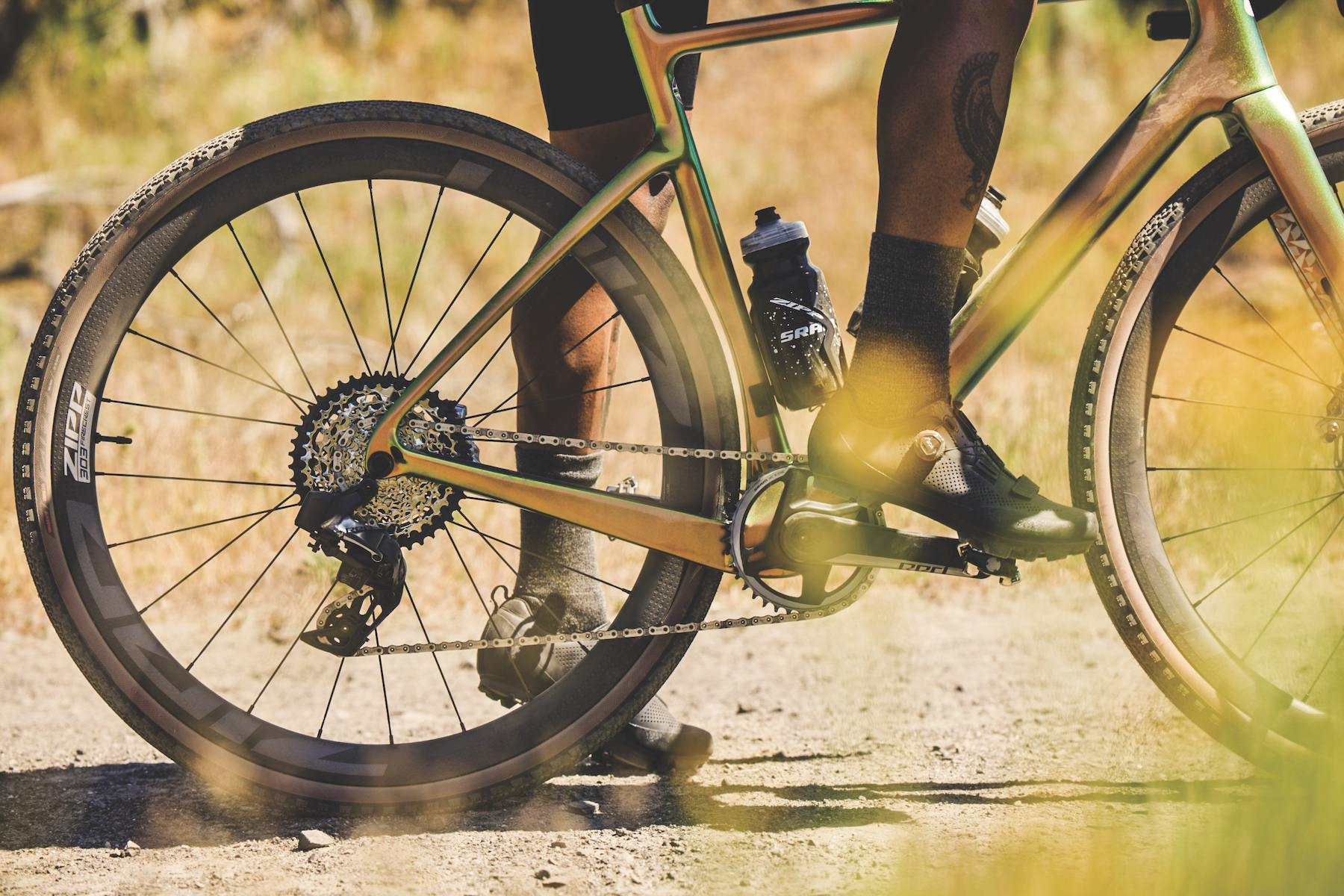 What's this SRAM XPLR groupset all about then?
You don't need to be a genius to see that the overall design of the SRAM XPLR groupset bears more than a passing resemblance to some of the mountain bike components we've seen from SRAM, RockShox and ZIPP. And the XC-adjacent vibes ain't no accident.
Whereas SRAM's existing gravel offerings are mostly derived from the road, the XPLR component range draws heavily from SRAM's mountain bike catalogue. That follows the trend we've seen amongst modern gravel bikes, such as the BMC URS, Canyon Grizl, Specialized Diverge and Focus Atlas, which are bending towards mountain bikes with their slacker geometry, bigger tyres and low-range gearing.
For those gravel riders, the folks who are less interested in tarmac and more into hitting the singletrack, there's plenty to catch your eye within the new SRAM XPLR groupset. Feeling a bit gravel curious yourself? Here we'll be taking a closer look at the six new products being introduced under the new SRAM XPLR range.
RockShox Rudy Suspension Fork
Easily the most exciting product in the SRAM XPLR range, the RockShox Rudy is an all-new, short-travel suspension fork.
Compared to the 100mm travel RockShox SID SL, the Rudy features slimmer 30mm upper tubes. It's equipped with 30mm or 40mm of travel, and there's clearance for up to a 700x50c tyre. Hidden bosses allow you to fit full-length fenders, though the Rudy can also fit a separate bolt-on fender.
The RockShox Rudy features an adjustable Solo Air spring, with a large bottom-out bumper that helps to cushion the final portion of the travel for smoother performance. You also get adjustable rebound damping and, on the Ultimate model, a crown-mounted lockout.
Like the SID SL, the RockShox Rudy gets a lightweight Charger Race Day damper, a machined and anodised alloy crown and steerer, along with one-piece magnesium lowers. However, the legs taper down more dramatically towards the dropouts, which are designed specifically for a 100x12mm thru-axle hub and direct-mount brake callipers.
Claimed weight for the RockShox Rudy? That would be 1,229g, which is only about 70g lighter than the RockShox SID SL Ultimate. RockShox will be offering the Rudy aftermarket but only in the Ultimate version, which will sell for $1,205 AUD.
RockShox Reverb AXS XPLR Dropper Post
The RockShox Reverb AXS XPLR dropper post is another component within the SRAM XPLR family that, for mountain bikers like us, makes the prospect of riding gravel a whole lot more appealing.
Don't be fooled into thinking this is simply a smaller version of the existing Reverb AXS dropper. It is indeed slimmer – the Reverb AXS XLPR comes in a 27.2mm diameter, which is a first for any Reverb. Travel is also shorter too, with 50mm and 75mm travel options.
The internals are all-new too, with an updated air-only spring design that skips the hydraulics entirely. This helps to reduce a little weight, though it also introduces a feature that RockShox calls 'ActiveRide'. The post is rock-solid at the top and bottom of its stroke, but position it anywhere in the middle of its travel, and you get a bit of cushioning, like a suspension seatpost (or a faulty dropper that's in desperate need of a service). This in-built suspension is a feature we've already seen in the BikeYoke Divine SL, though it's a great match for a dropper that'll be fitted to mostly rigid gravel bikes.
The air spring is tuneable via air pressure, and the post is activated wirelessly. You can pair it to any existing AXS controllers, both drop bar and flat bar variants. Weight is a touch lower than the current Reverb AXS dropper, though not much – SRAM is quoting a 549g for the Reverb AXS XPLR dropper on its own. Price is very similar at $860 AUD.
ZIPP 101 XPLR Wheelset
More mountain bike inspiration can be found within the SRAM XPLR groupset in the form of the new ZIPP 101 XPLR wheels.
Taking on the same concept as the 3Zero Moto enduro wheelset, the ZIPP 101 XLPR features a single-wall carbon rim design that promises greater impact strength and improved compliance over rough surfaces. The hookless rims are tubeless compatible and feature a 27mm inner width for use with modern, high-volume gravel tyres.
The wheels are built with Sapim CX Spring spokes and ZIPP's own ZR1 hubset. You'll find sealed cartridge bearings and a 6-pawl freehub mechanism that delivers 66 points of engagement. Axle spacing is 100x12mm front and 142x12mm rear only.
Claimed weight is 1,665g for the ZIPP 101 XPLR wheelset, which isn't particularly lightweight in the drop bar world. And the shallow and square rim profile means these won't exactly be the most aero wheel going. Needless to say that if weight and aerodynamics are more of a concern, then there are other wheels in the ZIPP lineup that you should probably be looking at. In comparison, the ZIPP 101 XPLR wheelset is designed for the rowdier side of gravel, where strength, compliance and wider tyres are the name of the game.
Price for the ZIPP 101 XPLR wheelset? $2,726 AUD for the pair.
SRAM XPLR 10-44T Cassettes
Joining the SRAM XPLR groupset are new drivetrain options that are designed to provide more appropriate gearing for gravel riding.
Up until now, SRAM has only offered 1x gravel riders a 10-36T or 10-50T cassette option, which is quite a big jump. Striking the middle ground, the new 10-44T cassettes slot right in between. Funnily enough, this 440% gear ratio is actually bigger than the original XX1 mountain bike 10-42T cassette. Remember how we all thought that cassette was huge when it came out? How time flies!
The big difference here though is in the spread, with much smaller gaps at the high-end of the cassette for maintaining a smoother cadence at high speeds. Then as you get towards the lower gears, the cog sizes grow and the gaps get bigger.
The SRAM XPLR 10-44T cassettes will be available in both Force (XG-1271) and Rival (XG-1251) variants, both of which are designed specifically for 1×12 SRAM XPLR drivetrains. Weight is 373g and 412g respectively. On a side note, it's nice to see the cogs receiving a nickel chrome finish, rather than the all-black treatment that many SRAM cassettes utilise (which soon wears off anyway).
Price for these will be $316 AUD (Force) and $226 AUD (Rival).
SRAM XPLR eTAP AXS Derailleurs
To match the new 10-44T cassettes, we also have new SRAM XPLR derailleurs. Available at the Red, Force and Rival level, the new XPLR eTAP AXS derailleurs are 1×12 specific with a linkage design that's tailored to suit the 10-44T cassette ratio.
Compared to the existing eTAP road derailleurs the XPLR mechs feature a notably beefier construction, particularly where they mount to the hanger. Inside there's a one-way friction clutch helps to mitigate chain bounce for quieter performance, with larger X-Sync jockey wheels that supposedly improve durability and drivetrain efficiency.
The SRAM XPLR eTAP AXS derailleurs are compatible with existing AXS controllers, so you could set the new drivetrain up on a flat bar or drop bar bike. Pricing is listed at $1,015 AUD (Red), $527 AUD (Force) and $384 AUD (Rival).
SRAM XPLR 1x Cranksets
New crankset options have also arrived with the SRAM XPLR groupset, which we'll see at the Red, Force and Rival level.
The crankarms themselves aren't new, and they're still designed around the DUB bottom bracket and axle system. The 1x chainrings are all-new however, with a direct mount design that is simpler and lighter compared to the existing spider-based designs. These will be available in 38-46T options, all of which utilise the X-Sync tooth profile for secure chain retention.
Also new is the addition of a wider crankset option that offers compatibility with Boost rear hub spacing. Yes, 'Road Boost' is a thing.
To achieve this, the Force 1 Wide and the Rival 1 Wide cranksets feature a longer axle that requires a specific Road WIDE DUB bottom bracket to match. Compared to the standard 45mm chainline, these cranks deliver a 47.5mm chainline that works with a 148x12mm Boost rear hub. For a gravel bike, this Road Boost setup allows frame engineers to build in more tyre and mudguard clearance, without making the chainstays paper-thin.
Pricing is listed at $985 AUD (Red), $375 AUD (Force) and $196 AUD (Rival).
Flow's take on SRAM XPLR
So there we have it, the new SRAM XPLR groupset! Looks pretty tidy eh?
While we're yet to put the new SRAM XPLR components to the test (we'll have a test bike arriving very soon), we're digging the direction where all of this is going. We've had excellent experience with the latest Reverb AXS dropper post, and we love the quiet and smooth ride quality of the ZIPP 3Zero Moto wheelset, so we can see the benefits of bringing that tech into the drop bar world.
There's obviously been a huge investment on SRAM's behalf into the development and production of the XPLR groupset, which not only shows just how much growth there has been in the gravel market, it also gives us a bit of insight into where the more adventurous side of gravel is likely heading into the future.
We're particularly excited to see what new gravel bikes will be coming out with that RockShox Rudy fork. We know Fox is working on a new 32 AX gravel fork too, so perhaps we'll be seeing a new wave of hardtail gravel bikes hitting the market in the next year? We'll certainly be watching with interest.
Is there crossover here between XC and gravel?
Absolutely! And there might even be some clues lurking within the SRAM XPLR groupset that hint towards future XC and trail product.
At the very least, the fact that RockShox now offers up a 27.2mm dropper will also be good news for the XC hardtail owners out there.
It's also worth pointing out that the ZIPP 101 XPLR wheelset is technically wide enough for XC/trail use – a market that ZIPP doesn't currently serve. The 101 wheelset will be too heavy for elite XC racers, but we can see non-racers looking past that in order to access the greater compliance of the single-wall design. Could ZIPP add a Boost-specific version of the 101 wheelset in the future? We reckon they could.
Until then though, we're eager to see how all the new SRAM XPLR components perform on the trail, and how they fit into the overall gravel experience. Stay tuned for more!