The Bay of Fires trail kicks off with a 14km descent through an ever-changing ecosystem. This section of trail is brimming with big berms and jumps, and you can flow all the way to the bottom with nary a pedal stroke.
After losing nearly 800 vertical metres, shortly after crossing the Ansons River, you're spat out on a dirt road, and the route follows Mother Logans Road for about 6km until you reach Ansons Bay Road. Here you'll find a bike wash to stop the spread of Phytophthora Cinnamomi, better known as 'root rot' before you jump back onto singletrack, which guides you all the way to Swimcart beach.
It always felt odd for this fire road liaison to come straight after such a rip-roaring singletrack descent, but a solid chunk of that is being replaced with a purpose-built mountain bike trail, which will bring The Bay of Fires Trail up to the length needed to qualify as an IMBA Epic.
"The Bay of Fires was always earmarked to become an IMBA Epic trail, but right in the middle was a dirt road. If you've ridden that first 13km when you hit the dirt road, you sort of think, 'right, ok I need to spin my legs out a little bit, because it's such a powerfully exciting 13km,'" says Glen Jacobs from World Trail. "But it in came just shy, by 4km, of qualifying."
Related:
Construction of the singletrack link is nearly complete
Now in 2022, World Trail has nearly completed the additional 4km of singletrack needed for The Bay of Fires to qualify — though we hear the finished product is actually closer to 4.8km in length. According to Rhys Atkinson from World Trail, this new bit of singletrack knocks out an undulating section of the fire road. If you've ridden the Bay of Fires Trail, you'll remember this section vividly because it saps quite a bit of energy out of your legs.
"We found some really nice terrain out there which makes the climbing really gradual, and there is quite a fun 400-500m descent in the middle of the new section, which goes through some granite boulders and hits some really nice dirt," said Atkinson.
Back in 2019, when The Bay of Fires trail was first opened, Jacobs told us the reason for the fire road liaison is because they came across some land access issues through this section. So rather than delaying the entire project due to these issues, it was decided to open the trail and send folks down the road while they waded through the bureaucratic red tape.
However, since 2019 there has been a shift at IMBA that has caused structural changes to its Ride Centre and Epic programs.
"We got to the point where we'd started construction, and I reached out to them (IMBA) to let them know so that we could move onto the next step, and they came back to us saying they had decided to shelve their entire Ride Centre and Epic program indefinitely," says Jayne Richardson, Communications Coordinator at Break O'Day Council.
This decision, which it seems was made without telling anyone outside of IMBA, affects not only The Bay of Fires Trail, but also the Indigo Epic, Mount Remarkable Epic, and even the Warburton Mountain Bike Destination — which is seeking IMBA's Gold Ride Centre status. To their credit, the Break O'Day Council has dug in their heels and called B.S. on IMBA's abrupt withdrawal. By all accounts, the body has been receptive, and the talks are still ongoing.
Forging ahead to complete The Bay of Fires
Even still, the council is moving forward to complete The Bay of Fires trail with the project to be wrapped up by the end of April.
"It comes down to rider experience, and we've shifted four-plus kilometres of trail off the fire road onto singletrack, and the guys have put in some pretty cool features," says Richardson.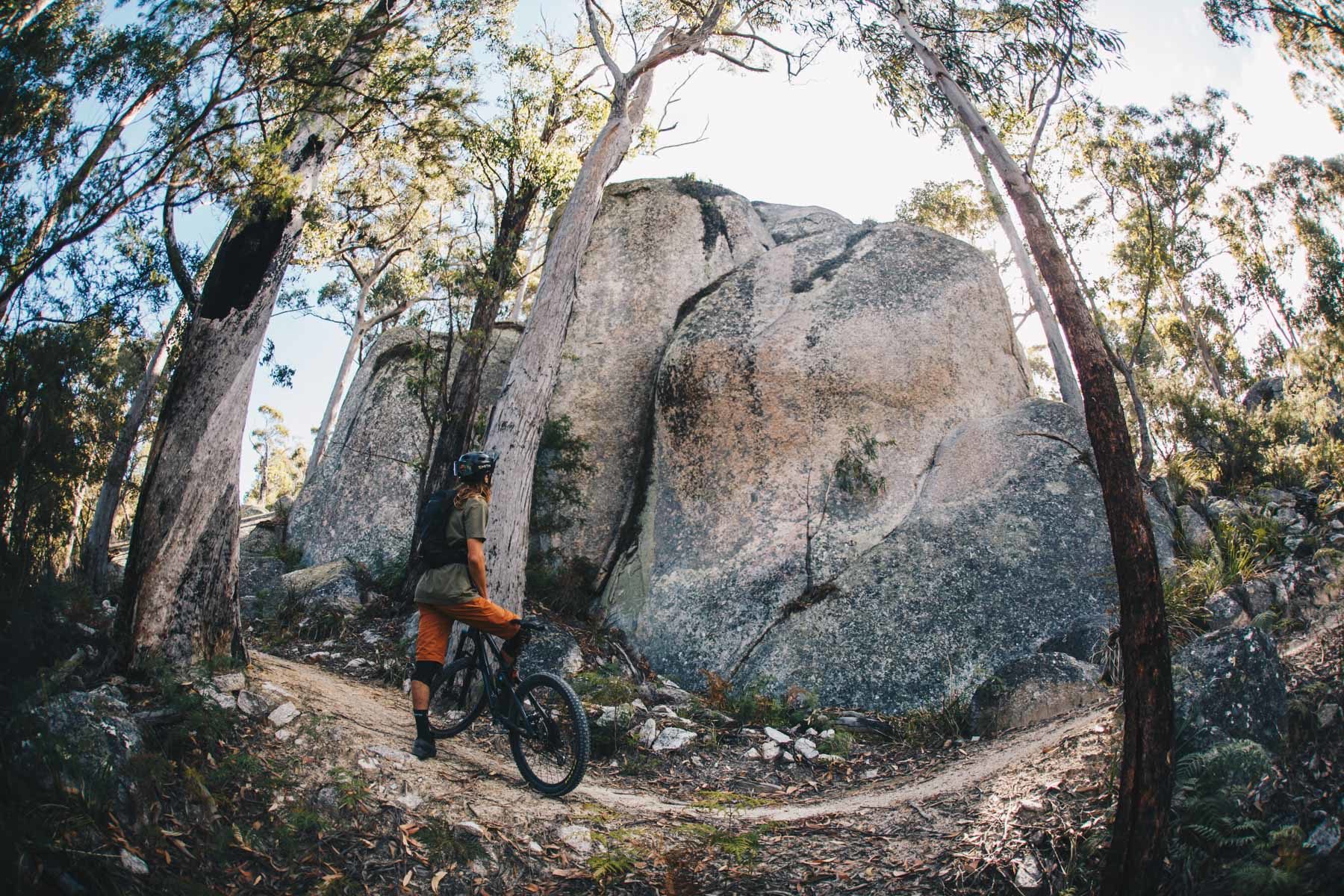 According to Atkinson, the fresh singletrack helps to complete the trail and keep riders engaged.
"Before you hit this new section, you'll still be on the fire road for a bit, which is good and bad — you can catch up with your mates and have a bit of a yarn before you get back into it. This new section just keeps you a bit more engaged and prepares you for the final stint of the trail," he says.
"It goes through some nice rock, and it's just nicer scrub, too — even though it's only a few hundred metres from the road," he continues.
The Blue Tier and the area which The Bay of Fires Trail runs through is also quite significant to the Traditional Owners. The Council is working with the local land councils and Aboriginal Elders to incorporate the region's heritage into the riding experience.
For the latest on The Bay of Fires descent, head over to the St Helens MTB trails website.