With most brands having unveiled their latest mountain bikes for 2020, there have been a few themes we've noticed across the board. There are of course a tonne of new e-MTBs hitting the market for this coming season, and we've also seen more big-travel 29ers arrive too. There's another theme that has stood out like the proverbial sore thumb though. And that is just how many mountain bikes are pushing beyond the $10,000 AUD barrier for 2020.
A mountain bike costing ten grand certainly isn't unheard of – boutique brands like Intense, Yeti and Ibis have been dabbling in that price bracket for some time. But bikes from mass production companies like Giant, Merida and Norco? Well, that's a little more unusual.
Note: Since publishing this story, more $10K+ bikes have launched in Australia, and we've updated the story to include these bikes. We've also published the most expensive mountain bikes of 2022 if you're after a completely updated list.
Why Are Mountain Bikes Getting So Expensive?
We've spoken to representatives from a few brands listed in this feature to ask them that very question. The answer lies in a few different factors;
Currency fluctuations: The Aussie dollar has had a rough time over the past two years, but so too have global currencies thanks to an ongoing trade war between the US and China. Along with the effect that's having at a manufacturing level, Australian distributors are buying bikes and components at significantly higher prices than they have in the past, and that's seen prices increase across the board.
Increasing labour & shipping costs: With much of the bicycle manufacturing industry based in Taiwan and China, increasing wages for factory workers and higher shipping costs to get those bikes to the rest of the world are making their way into the final retail price on the shop floor.
New high-end components: As you'll pick up from this list, there is a lot of SRAM AXS, Fox Live Valve, and carbon exotica found on these range-topping models. These are components that didn't exist up until recently, and they are vastly more expensive than any components that came before them. If you take a bike and add on a $3,000 drivetrain and $3,000 worth of electronic suspension, it's going to make for a bloody expensive bike.
e-MTBs: You'll also notice there are some seriously high-end e-MTBs in this list, a result of the exploding popularity of the electric pedal-assist mountain bike. Add a motor and a battery to a mountain bike, and you immediately add on a couple of grand to the cost. Then strap on some electronic shifting and carbon wheels, and, well you get the idea.
With all that in mind, we've put together a list of 2020 mountain bikes that will be selling in Australia for $10,000 AUD or more. We've attempted to limit this list to bikes that are completely new platforms for the 2020 model year, but as you'll see, there are a couple of exceptions that, well, we just couldn't leave out. All the bikes in this list come from big, well-known bike brands that are available in Australia, and for the most part, they're bikes that you could see on the showroom floor of a bike shop. There are plenty of smaller niche Euro and US brands that offer super-dooper custom build options that would comfortably fit into the price spectrum we have here, but we've focussed on common production offerings.
Enough of the caveats, let's get stuck into the most expensive mountain bikes for 2020!
---
21. Norco Revolver FS AXS 100 – $9,999
Canadian brand Norco released the new Revolver full suspension XC bike for 2020, though technically it actually released two Revolvers; one with 100/100mm of travel (Revolver FS 100), and one with 120/120mm of travel (Revolver FS 120). The lightweight carbon frame is exactly the same between the two, but a longer stroke shock and a longer fork pushes up the travel on the FS 120 model, giving it more of a marathon/svelte trail bike vibe.
Both top-end Revolver FS models are selling in Australia for one dollar short of ten grand, which we believe is a first for Norco. At that price, the bikes are decked out with super trick DT Swiss XRC 1200 wheels and a SRAM XX1 Eagle AXS wireless shift system. The FS 100 gets lighter race tyres, a carbon fibre SID Ultimate fork and SRAM Level Ultimate brakes, whereas the FS 120 specs 4-piston G2 brakes and a Reverb AXS dropper post. On a bit more of a budget? The 2020 Norco Revolver line kicks off at $5,499 for the FS 2 120.
---
20. Giant Reign Advanced Pro 29 0 – $10,299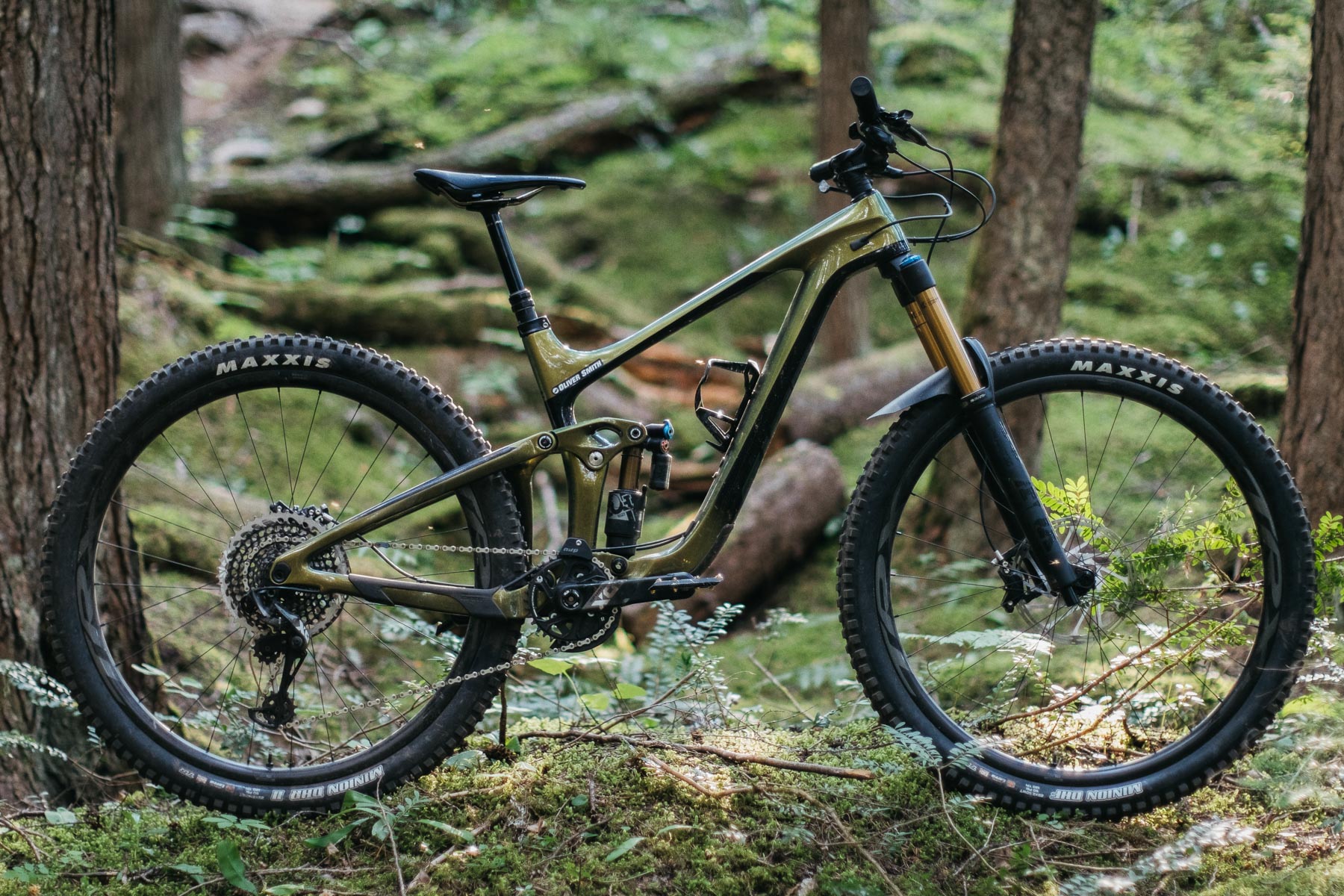 Ever since Giant released the Trance 29er last year, we've been waiting to see just how much bigger the Taiwanese brand would go with 29in wheels. That answer arrived when Giant released the Reign 29er – a 160/146mm travel enduro smasher that's pushing some of the most progressive geometry figures we've seen from the brand.
Also raising eyebrows was the price of the top-end Advanced Pro 29 0 model shown above. At $10,299, this Reign 29 isn't just the brawniest 29er we've seen from Giant, it's also one of the most expensive. Thankfully Giant is offering a full range of spec levels, with the alloy Reign 29 2 kicking off proceedings at $3,999. Check out the full range and our first ride review right here.
---
19. Trek Rail 9.8 – $10,499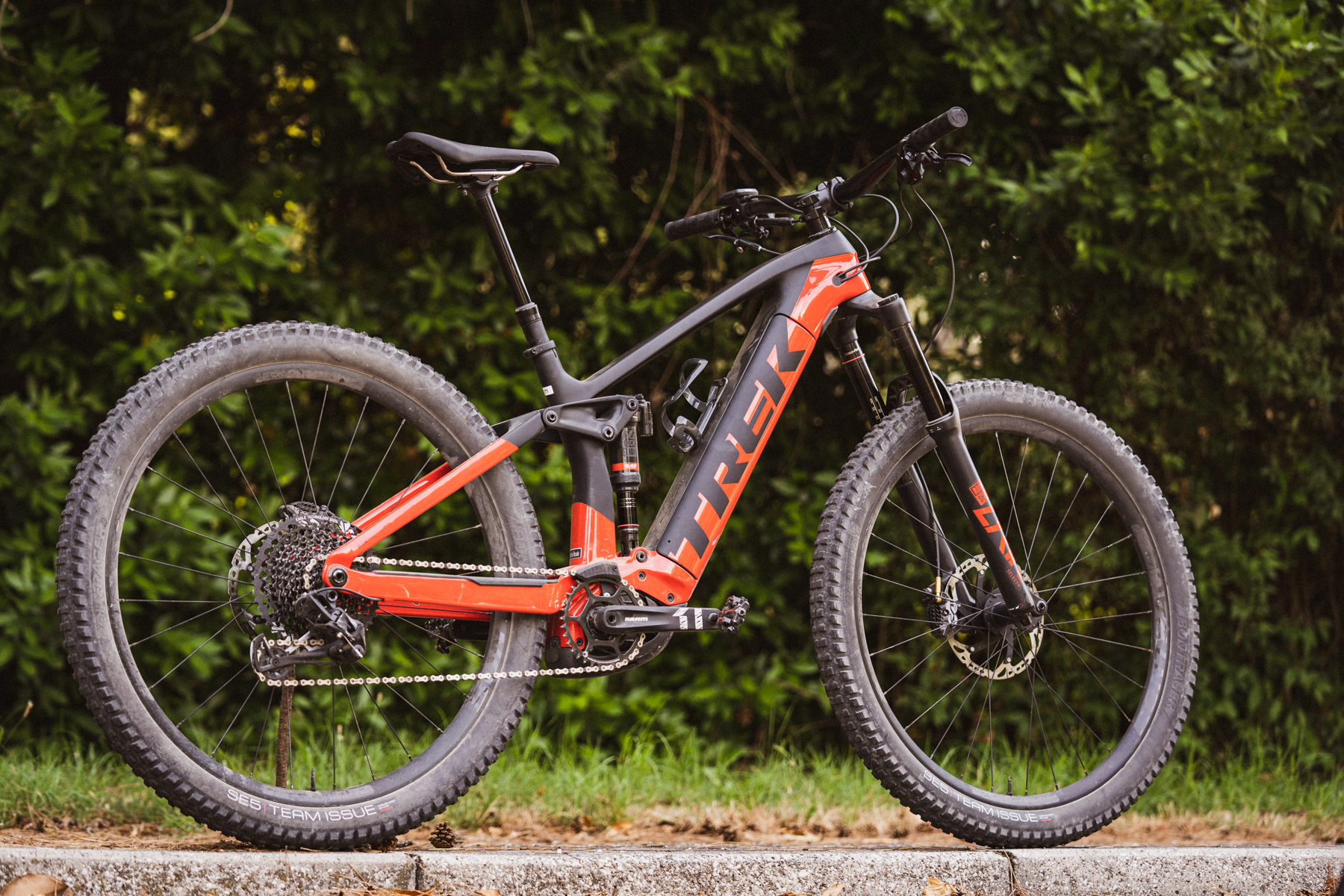 While we enjoyed our time with Trek's previous long-travel electric mountain bike, the Powerfly LT, there were elements of the bike that did let it down – like the gargantuan 475mm chainstay length. Addressing that, and a bunch of other niggles, the Rail is a brand new e-MTB for 2020 that is loosely modelled on the Trek Slash. Using 29in wheels with a 160mm travel fork and 150mm of rear travel, the Trek Rail is a behemoth of a bike that's designed for the roughest of singletrack descents, and climbs.
Utilising the Bosch Performance CX Drive motor, an OCLV Mountain carbon fibre chassis, and premium RockShox suspension with Trek's Thru-Shaft damper for the rear shock, the Rail 9.8 is the top-end spec option in Australia. Don't have $10,500 to wax on a new e-MTB? Then $8K will get you the alloy model with the same Bosch system and geometry. Check out the full range and Mick's first ride review and video on the 2020 Trek Rail here.
---
18. Giant XTC Advanced 29 SL 0 – $10,699
Barely a week after we first published this article, Giant decided to launch its brand new 2020 XTC hardtail range. As a purebred XC race speedster, the new XTC is of course handcrafted from carbon fibre, and particular attention has been paid to both weight and stiffness. In fact, Giant says this new hardtail has the highest stiffness-to-weight ratio of any hardtail it's made. It's also the lightest production mountain bike that Giant has ever made too, with a frame weight that comes in at less than 3/4 of the old frame.
There are three XTC models coming into Australia for 2020, including the XTC Advanced SL 29 0 – the top-of-the-range option that is selling for $10,699. That is quite unreal, especially when you consider that it has neither a rear shock, nor a dropper post. Then again, high performance don't come cheap. Check out the full story on the 2020 Giant XTC Advanced hardtail here.
---
17. 2020 Canyon Lux CF SLX 9.0 Race LTD – $11,049
One of the newest bikes to join our list comes from a brand that is much more well known for its value-oriented packages rather than super-dooper expensive bikes. This is because Canyon sells its bikes direct-to-consumer, which means you purchase the bike online, and then within the fortnight, a bike box arrives on your doorstep having been sent directly from Canyon HQ in Germany. By cutting wholesalers and bike shops out of the equation, Canyon is typically able to offer more bang for your buck. Because of this, we rarely see Canyon mountain bikes notching over the $10K barrier.
The Lux CF SLX 9.0 Race LTD is a notable exception, which was launched alongside all the other 2020 Canyon Lux models. The Race LTD is the top-banger in the range, and it features a build kit to match the incredible price tag. There's Black Label carbon wheels from Reynolds, a RockShox SID Ultimate fork with a carbon one-piece steerer and crown assembly, and wireless shifting courtesy of SRAM. On top of that you'll find a carbon dropper post, as well as carbon brake levers and carbon saddle rails. That all leads to a very lightweight bike – 10.1kg by Canyon's reckoning. Less weight = higher prices right?
If that's a little too much coin though, we recently tested the 2020 Canyon Lux CF SL 8.0, which aside from being nearly half the price, is an absolutely superb XC bike that we'd have no troubles recommending.
---
16. 2020 Specialized Kenevo Expert – $11,400
In perhaps what we might have to refer to as the 'Year Of The Long Travel e-MTB', Specialized has come to the party with a complete overhaul of its Turbo Kenevo – a 180mm travel self-shuttling behemoth. The 2nd generation Kenevo looks nothing like the previous version, having adopted the new Sidearm frame design, a larger battery that now slides inside the big alloy downtube, and the fabulously smooth Specialized 2.1 motor.
There are two Kenevo models coming into Australia for 2020, including the top-end Expert model shown here. This sucker gets the RockShox Boxxer fork up front, a coil-sprung Super Deluxe shock, 4-piston SRAM Code brakes, and 2.6in Specialized Butcher tyres that come equipped with the heavy-duty BLK DMND casing. At nearly 25kg, it's easily the heaviest bike in our list, and it's the only all-alloy bike here too! Check out the full story on the Kenevo range here.
---
15. Giant Reign E+ Pro 0 – $11,499
Giant has had a bunch of new bike releases for 2020, though none caused quite the stir that the Reign E+ did. Essentially a Trance E+ on steroids, the Reign E+ is a hulking e-MTB equipped with 170/160mm of travel and a striking hydroformed alloy frameset that's engineered around Giant's SyncDrive motor and battery system (built by Yamaha).
It's one of the new breed of self-shuttling, DH-capable e-MTBs to hit the market this year, and as such it comes setup with burly components like SRAM Code brakes, a Maxxis DoubleDown rear tyre, and a big-volume piggyback shock. The top-end model shown here adds in a SRAM AXS wireless shifter and dropper post to the equation, which pushes the price point into new territory for Giant. We suspect there'll be seeing a few more of the $8,699 and $7,699 models on the trails though. Check out the full story on the 2020 Giant Reign E+ here.
---
14. Merida eOne-Sixty 10K – $11,999
Another surprising entry into this list is from Merida – a brand that's more well-known for its value-oriented bikes and sharp pricing. It isn't that the new eOne-Sixty isn't packed with value (it is), it's just that Merida is really pushing the redline on this one with its stunning 10K model, which confusingly actually costs $12K. Uh-huh. A twelve thousand dollar Merida!
The previous eOne-Sixty has of course been a stunningly popular e-MTB for Merida, and it's hoping to continue that popularity with this 2nd generation version.
Featuring a new carbon fibre mainframe that cleanly integrates the latest generation Shimano internal battery, the eOne-Sixty is very much on trend with a mullet 29/27.5in wheel setup and robust, aggressive 2.5/2.6in wide tyres. You don't need $12K to get one of these though – Merida has carbon models starting at $6,699 and alloy models from $5,499. Check out our detailed rundown of the eOne-Sixty range, and read our long-term review of the Merida eOne-Sixty 9000 to see what we thought of the Electric Mullet.
---
13. Trek Supercaliber 9.9 XX1 – $11,999
After Trek brought out its new Top Fuel – a previously 100/100mm travel XC bike that was repurposed for 2020 as a lightweight 120/115mm travel trail speedster – everyone was left wondering what Trek was going to offer the XC purists. That question was answered with the arrival of the new Supercaliber – a super short-travel World Cup XC race bike that's built around a svelte carbon fibre chassis with the unique IsoStrut suspension system.
Trek has four Supercaliber models on offer, starting from a paltry $6,500 for the Supercaliber 9.7, and going up to a more robust $11,999 for the Supercaliber 9.9 XX1 shown here. There is also an AXS model in certain markets, and for those who really want to set fire to their wallets, it's also available on the Project One program, where you can customise the build kit and paint job. Whatever the price point, and whatever your thoughts are on the 60mm of rear travel, there's no denying that frame is a mighty impressive feat of engineering. Read all about it in our Supercaliber story here, and take a gander at Jolanda Neff's superb acting skills in the launch video here.
---
12. Liv Pique Advanced Pro 29 0 – $11,999
The 2020 Pique is big news for Liv Cycling this year, given that it represents several firsts for the women's specific brand. For a start, it's the first 29er that Liv has ever made, and it's also the first full carbon, full suspension bike it has ever offered. On top of that, it's the first Liv mountain bike to crack through the $10K barrier, and this particular model – the Pique Advanced Pro 29 0 – has done that by some margin.
As you'll be able to tell by the little battery pack at the base of the downtube, this is also the first (though definitely not the last) bike in our list to feature the Fox Live Valve suspension system. Live Valve only comes on the top-end Pique, though being a lightweight 100/100mm travel XC race bike, it's something that will appeal to the most competitive racers who will appreciate the automated, efficiency-boosting suspension system. You can read all about the $12K Liv Pique Advanced Pro 29 0 superbike in our review here.
---
11. Trek Top Fuel 9.9 AXS – $12,999
Trek enters the list for the third time with another new bike release that stands as the most expensive option in its entire mountain bike line; the Top Fuel – a bike that has been completely redesigned for the 2020 model year. Far from being just a bit of a tweak over the old model, the 2020 Top Fuel gets an entirely new personality courtesy of an increase in suspension travel to 120mm up front and 115mm out back. It's still meant to be tight and efficient for endurance and marathon racing, but its boosted travel puts it into the short-travel trail ripper territory.
There are seven Top Fuel models available in Australia for 2020, and the range starts at $4,499 for the Top Fuel 8. At the other end of the room is this bike – the Top Fuel 9.9 AXS, which (as you can probably guess) comes with SRAM's new wireless AXS groupset, which includes a Reverb AXS dropper post. There's a RockShox Super-Ultimate-Radical-Extreme-Deluxe suspension package, Bontrager carbon wheels, and carbon, well, carbon EVERYTHING. If you feel like the $12,999 price tag is holding you back though, you could always Project One it.
---
10. Scott Genius 900 Ultimate AXS – $13,649
We told you it wouldn't be the last Live Valve bike in our list!
The 2020 Scott Genius 900 Ultimate slots in as a stupendously pricey bike that (as we understand) is the first mass produced mountain bike to have combined Fox Live Valve suspension with SRAM AXS wireless shifting into the one exotic, electrified package. Yes, there are three batteries on this bike that you'll need to stay on top of charging, and it's not even an e-MTB!
For that reason we've included it in our list, even though it's not a brand new platform for 2020 – the frame, geometry and suspension design is unchanged from 2019. Completing the package is a set of Syncros carbon wheels, a Kashima-coated Fox Transfer dropper post, and that striking one-piece carbon fibre handlebar/stem. If you're looking to stand out from the crowd, this bike will probably do it.
---
9. Canyon Strive CFR LTD – $14,199
Canyon's second entrant into this list is a new 2020 spec option for the latest Strive – the German brand's flagship carbon fibre enduro race machine. For this year, Canyon has a new 'LTD' spec that's based on what its enduro team is racing on. So we've got a full SRAM XX1 AXS electronic drivetrain, RockShox Ultimate suspension, a wireless Reverb AXS dropper post, and the incredibly difficult to photograph Zipp 3Zero Moto wheelset. Bolted onto a CFR full-carbon chassis along with the Shapeshifter system, it's one seriously high-end bike – especially for a brand that most people recognise for its budget-friendly bikes.
There are of course a tonne of different spec options within the 2020 Canyon Strive range. If you want to get an idea of what the more 'attainable' options are like, check out Mick's long-term review of the Strive CFR 9.0 Team to see what we thought of it.
---
8. Santa Cruz Megatower CC XX1 AXS RSV – $14,999
Santa Cruz is a brand that has spent a considerable amount of time playing in and above the $10K price bracket, so it's no surprise to see the Californian brand enter our list here. There have been several key 2020 releases for Santa Cruz, including the new Hightower and the radically slack Tallboy, though it has been the big-travel Megatower that has caught most of the attention, given that it's an entirely new model from the tyre's up.
Being a premium piece of kit, the Megatower is only available in carbon fibre, with complete bikes starting at $8,699 for the Megatower C S model. Got $15K to spare? The top-end spec comes with Santa Cruz' own Reserve carbon rims, a Fox 36 Factory Series fork, and SRAM XX1 AXS wireless shifting to sate your appetite for bling. But what's it ride like? And is it for everyone? Mick went along to the launch of the new Santa Cruz Megatower, and you can check out his review and video on the bike here.
---
7. Specialized S-Works Enduro – $15,000
More big-travel big-wheelers have hit the market in 2020 than ever before, though it was the Specialized Enduro that produced the biggest shockwaves with its radically low-slung frame and Demo-derived suspension design.
Previously available with alloy or carbon frames and with 27.5in or 29in wheels, the 2020 Specialized Enduro hones its focus and goes full race spec with a dedicated carbon fibre chassis and 29in wheels only. The S-Works model shown here drops a bit more weight by going to carbon fibre suspension links, while electing for a slick Shimano XTR 1×12 groupset, Roval Traverse SL wheels, and Fox Kashima-coated suspension. Add in a $1,200 Reverb AXS dropper post and you've got yourself one of the most expensive stock enduro bikes on the market. Get the lowdown on the 2020 Specialized Enduro, including all the spec and pricing details on the four spec options available in Australia right here.
---
6. Yeti SB165 T-Series X01 AXS ZIPP – $15,990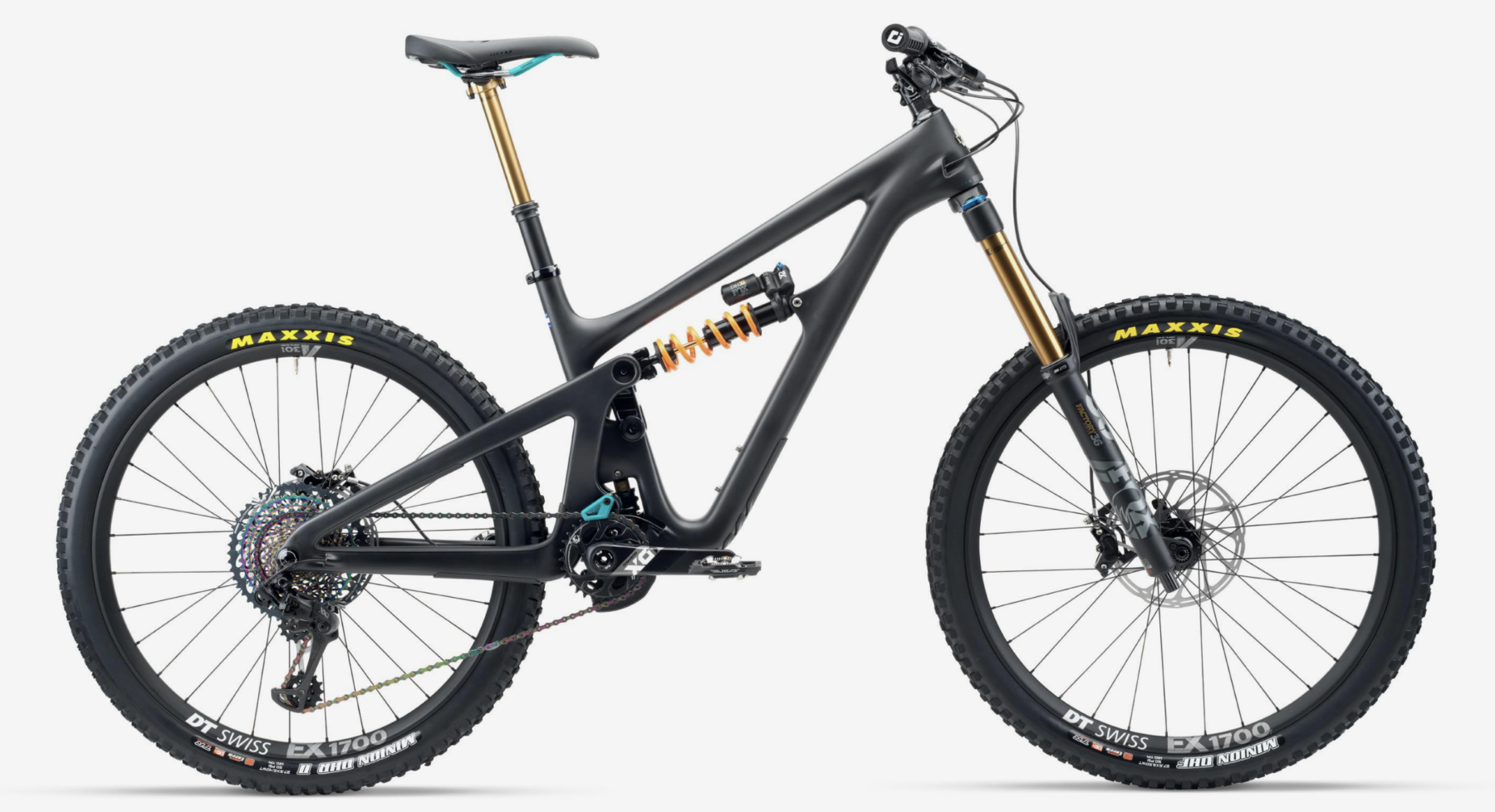 Much like Santa Cruz, Yeti Cycles was always destined to secure an entry into our expensive bike list, and given how busy the Colorado-based company has been over the past year, there's certainly plenty to choose from. The SB130 and SB150 29ers were the first of the new breed of the brand's 'Super Bikes', though this year it's all about the 27.5in models – the SB140 and the SB165. The latter is the newest model from Yeti, and it currently stands as the longest travel option in the yard.
How expensive is it? A Yeti SB165 T-Series frame on its own sells in Australia for $5,890. Wow. Complete bikes kick off with the SRAM GX Eagle spec for $9,990, and top out at an extraordinary $15,990 for the X01 AXS ZIPP model. That particular spec is basically the same as the bike shown above, complete with Fox Factory Series suspension and dropper post, albeit with an upgrade to those new Zipp 3Zero Moto carbon wheels that we currently have on test. Holy toledo!
---
5. Pivot Mach 4 SL XTR Team Live Valve – $16,499
As another one of the US boutique brands alongside the likes of Intense, Yeti and Santa Cruz, Pivot Cycles has been cranking out high-performance mountain bikes for over a decade now, starting out with the original Mach 4 back in 2007. Fast forward to this year, and Pivot has pulled the wrappers off its brand new Mach 4 SL – a lightweight, 100mm travel full suspension XC race bike that features one of the best looking frame designs we've seen from the Arizona-based company.
Being a premium race bike, the Mach 4 SL is only available in carbon fibre, though there's a few spec options available, with prices starting at $7,999 for the XT model. The bike we tested at this year's Port to Port however, was the all-singing, all-dancing, all-juggling Mach 4 SL Team XTR Live Valve model, which (please grab a seat right now) has a list price of $16,499. Is it possible to spend more than that? Why yes, yes it is! There's a $16,999 model with SRAM XX1. Crikey!
Is it that good? Chris and Wil have both ridden it, and they say 'YES!' Check out our review on the Pivot Mach 4 SL here.
---
4. Specialized S-Works Turbo Levo – $18,000
Like the Scott Genius, the Turbo Levo isn't strictly new for 2020, but we just had to include the S-Works model in this list. Because, well, $18,000!
The new generation Turbo Levo features a FACT 11m carbon fibre chassis along with a huge 700Wh battery and Brose 2.1 motor system. The S-Works model has been updated for 2020 with several new spec features, including the RockShox Reverb AXS dropper post. There's also a Kashima suspension package from Fox Racing Shox, carbon wheels from Roval, SRAM Code RSC brakes, a Deity stem, carbon Specialized handlebars, carbon Praxis Works cranks, and a titanium-railed saddle. Pretty bonkers hey?
If $18,000 is just a little too much to spend, you'll be happy to know that the 2020 range kicks off at $7,600 for the alloy model. For those who are curious as to how it rides, make sure you check out our long term review of the Specialized Turbo Levo Expert right here.
---
3. Santa Cruz Heckler CC XX1 AXS RSV – $19,999
We knew Santa Cruz would eventually make the leap into the e-MTB market, and that finally happened in early 2020 with the release of the Heckler CC. Based on the 150mm travel Bronson, the Heckler shares very similar geometry and suspension, with a robust carbon fibre frame built around the Shimano STEPS E8000 motor and a removable battery pack. Santa Cruz bikes aren't known for being particularly cheap, and that reputation has been firmly reinstated with the Heckler CC, with complete bikes starting at $12,999.
You can check out the full Heckler CC range in our news story here, along with our review of the Heckler CC R here. Or you can just ogle at the photo above of the most expensive Santa Cruz ever.
---
2. Pivot Switchblade Team XX1 AXS – $19,999
Sharing second spot with the Heckler is another shiny new bike for 2020, though this one doesn't have a motor. Actually, that's a lie. It has three motors – one in the derailleur, one in the seatpost, and one in the rear shock. But there isn't one between the crank arms – this a pure straight-up mountain bike, not an e-MTB. Released in early 2020, the Pivot Switchblade is entirely new with a revised suspension layout and a striking frame profile that is lightyears ahead of the first generation Switchblade.
We went in-depth into the new Switchblade for our first look feature, which included an overview all of the available spec options – like this XX1 AXS Live Valve model that comes a buck under twenty grand. Yikes! We also tested the new Switchblade, though the one we rode was nearly have that price. A relative bargain huh? Then again, it is up there as one of the best mountain bikes we've ever ridden, and it would want to be too.
---
1. Specialized Levo SL Founder's Edition – $26,500
When we started this feature, we never thought we'd have a bike in here over $20K. Perhaps just under, but not over. Then Specialized came along with this stunningly expensive and very limited 'Founders Edition' of the new Levo SL. Only 250 of them are (were?) available worldwide, and as well as an ultra-premium parts selection, the Founders Edition gets a special paint job, custom embroidered saddle and some gaudy gold-leaf graphics. It's all very Bugatti.
Ignoring this stupendously expensive model, the Levo SL itself is a game-changing e-MTB that launched in early 2020. With the S-Works model weighing in at less than 17kg, the Levo SL has ushered in a new era for lightweight, low-powered e-MTBs. You can get a closer look at all the tech inside the Levo SL, and an overview of the full range in our launch story here. As to how it rides? Wil clocked up three days of testing on the new Levo SL Carbon Expert, and thinks it is one of the best handling mountain bikes he's ever tested.
---
Tell Us What You Think
And that concludes our list of the most expensive production mountain bikes for 2020! So what do you folks think? Have you been wooed by the state-of-the-art tech? Are there bikes here that you're lusting to own yourself, or is your budget somewhere further down the line? And do you think mountain bikes are becoming more expensive in general, or is it just these flagship models with their Live Valve and AXS components that are pushing up the price ceiling compared to previous years?
We'd love to hear your thoughts, so make sure you leave us your comments and questions below!
---
Mo' Flow Please!
Enjoyed that article? Then there's plenty more to check out on Flow Mountain Bike, including all our latest news stories and product reviews. And if you haven't already, make sure you subscribe to our YouTube channel, and sign up to our Facebook page and Instagram feed so you can keep up to date with all things Flow!