Welcome to the first Fresh Produce of twenty-twenty-three! We trust you've all had a marvellous break over the festive period, filled with awkward family get togethers, regretful amounts of booze and disappointing presents. With all of that now mercifully behind us, it's time to embrace the summer season and the glorious riding adventures that entails.
There's plenty of inspiration to whet your appetite too. We just published a fun travel feature about what's new in Derby, and for those interested in taking part in an epic multi-day mountain biking event with their mates, be sure to check out our previews of the upcoming Dragon Trail and Quad Crown series. There's also news a-brewin' on the NSW South Coast, with a big announcement on the Mogo trail network.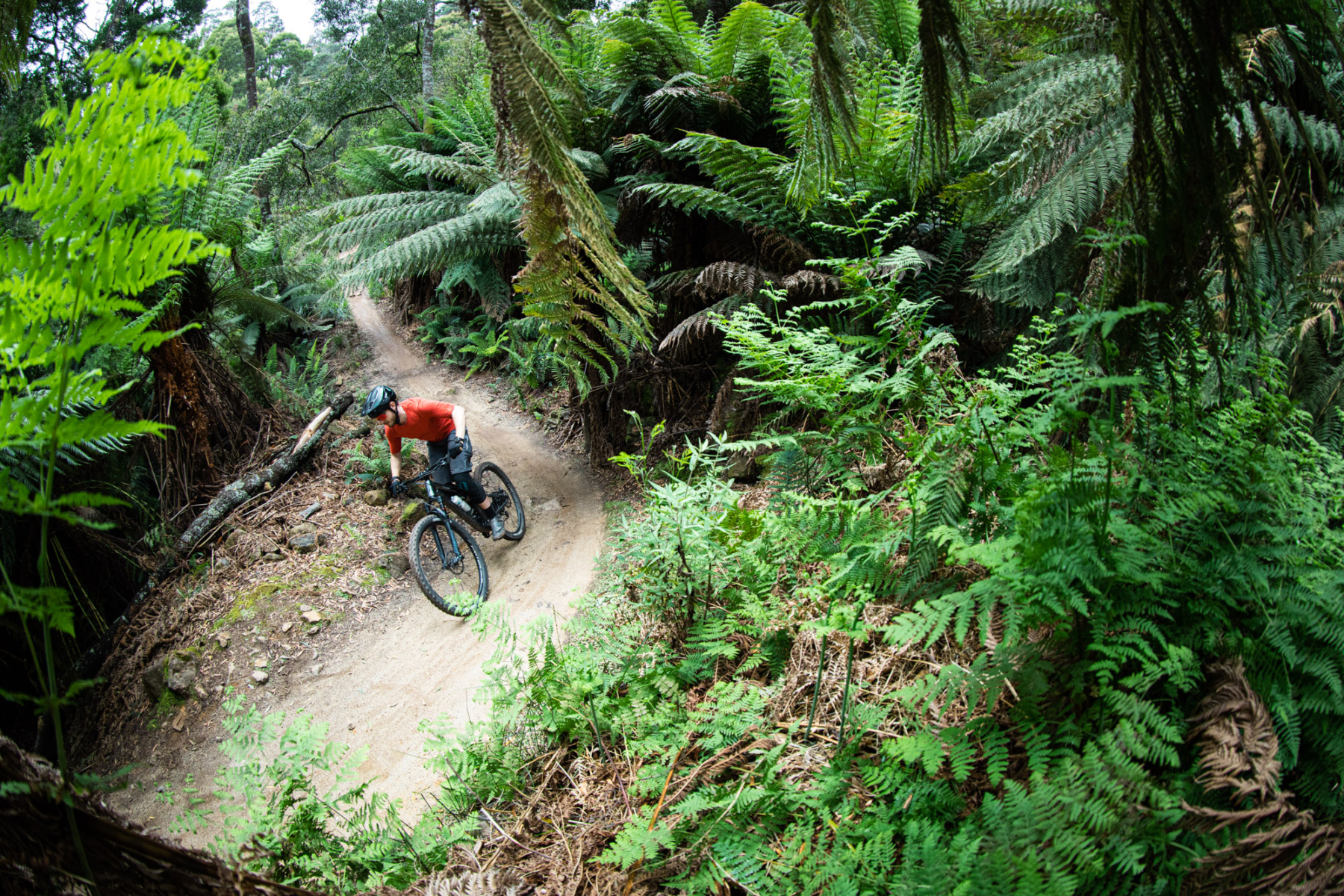 On the tech front, we've just published a review on the exotic Mondraker Foxy, and Colin took a deep dive into the origins and details behind Norco's Ride Aligned system. And for anyone who was lucky to get themselves a new bike, you'll be wanting to sink your teeth into part one of our suspension setup guide. Stay tuned for part two coming soon.
Righto, that just about wraps up all the Flow news for this edition of Fresh Produce. Time to get stuck into all the new bikes and gear that the Fat Man brought us over the holiday period. Enjoy!
---
Thok TK01 R
Now here's something you don't see every day. It's a mullet e-MTB from a small Italian-based company called Thok. Established in 2017, Thok only produces electric mountain bikes and currently has just three models in its lineup. There's a hardtail called the MIG-HT, a 140mm travel trail bike called the MIG, and this big travel beast; the TK01.
While Thok bikes are relatively scarce in Australia, you can expect to see more of them in the future. That's because Bikes Online is now the local distributor, and it'll be selling these e-MTBs direct-to-consumer.
To find out what this brand is all about, we've just received a TK01 to put to the test. Equipped with 170mm of travel front and rear, the Thok TK01 sits in the e-Enduro category. It's built around a hydroformed alloy frame that employs a whopping 1.8in head tube and a four-bar suspension platform. Powering you along is a Shimano EP8 motor and a 630Wh removable battery.
With its bright red paint job, loud graphics and motocross-style mudguards, the Thok TK01 is certainly an eye-catching e-MTB. And thanks to its RockShox Zeb, Shimano XT groupset and Maxxis Assegai EXO+ tyres, it looks well-equipped for taking on some pretty burly terrain.
The competition is admittedly fierce around this $10K price point though. Bikes like the Merida eOne-Sixty, Giant Reign E+, Cube Stereo Hybrid 160, and Norco Sight VLT have plenty of loyal fans in Australia. How will the Italian Stallion stack up? We'll be slinging it around our local trails over the coming weeks in preparation for an in-depth review coming soon.
---
Fox Union Shoes
Fox Racing has leapt feet-first into the mountain bike shoe world with the arrival of the brand new Union shoe. Comprising of three models (two clip-in shoes and one for flat pedals), the Union is the brand's first foray into performance mountain bike footwear. All three shoes lean towards the gravity end of the riding spectrum and feature grippy rubber, in-built protection and a low profile aesthetic.
The most premium option in the range is the Union BOA, which as its name implies, uses dual BOA ratchets. The shoe gets a glass-filled nylon shank for stiffness and stability, with a large asymmetric cleat pocket that's designed to provide smooth pedal entry when clipping in.
The regular Union shoe trades the BOA dials for a Velcro strap and lace-up closure system, lobbing a hundred bucks off the price tag. Otherwise it shares a near-identical construction to the Union BOA, which includes moulded heel cups and reinforced moulded toe caps for protection. The outer sole uses the new 'Ultratack' rubber compound to provide damping and grip when scurrying up the side of a trail.
The cheapest model is the Union Flat. As with the clip-in shoes the Union Flat features a welded one-piece upper, moulded toe and heel caps, and a custom-tuned EVA midsole that's designed to help absorb impact energy without feeling doughy. The outer sole also uses the Ultratack rubber compound, with a hex-shaped pattern to provide a grippy platform for flat pedals.
---
Peaty's Holeshot Biofibre Tubeless Sealant
Following three years of development, Peaty's has released a brand new tubeless sealant formula, and we can attest that it is a big improvement over the previous version.
The new generation 'Holeshot Biofibre Tubeless Sealant' is a water-based latex solution that is ammonia-free and is claimed to last up to six months inside the tyre. Compared to the old stuff it has a notably lower viscosity, which makes it more mobile inside the tyre casing and easier to get through valve cores. The biggest change however is the addition of microscopic biodegradable cellulose fibres, which are said to boost sealing capacity by helping the latex to matt together and form a tighter bond.
Peaty's is still using biodegradable glitter inside the sealant, though it's been changed from blue to black to make it a little less conspicuous. These bioglitter platelets are a big part of the solution's sealing capacity, working with the biofibres to plug up larger holes. According to Peaty's, the new liquid tyre goo will seal punctures up to 6mm.
So far our experience has been very positive, with the Holeshot Biofibre sealant being significantly easier to work with than the previous formula, which was much thicker. You'll still need to make sure that you give the bottle a good shake to get all of those fibres and platelets properly distributed, but the new solution does a better job of coating the inside of the tyre, helping to minimise sidewall seepage while also sealing holes quicker.
---
Wolf Tooth Waveform Pedals
For its first set of mountain bike flat pedals, Wolf Tooth Components has come out absolutely swinging. Machined and assembled in the US, the Waveform is a seriously high-end flat pedal that's designed to be grippy, durable and user serviceable.
The Waveform pedals are built with a 6061-T6 alloy body and a shiny 17-4 PH stainless steel axle. The pins are also made from stainless steel, and there are 11 of them per side. They're rear-loading, which protects the head of the pin so that they're easier to replace if you have a particularly ugly encounter with a rock.
You'll find three cartridge bearings and an IGUS bushing inside each pedal, along with a custom radial seal for keeping the grease in and the dirt out. The Waveforms are designed to be easily serviceable, and Wolf Tooth publishes tutorial videos online to help guide you along. Furthermore, following the company's 'Right to Repair' ethos, each component can be replaced individually, which we reckon is fantastic.
The Waveform pedals are available in two platform sizes; Large (112mm x 106mm) and Small (105mm x 99mm). Both feature chamfered leading edges to help them glance off rocks, and they're anodised in a huge variety of colours.
They get a slightly concave profile thanks to a very thin centre section (12.5mm) that thickens out slightly at the front and rear of the platform (14mm). It's possible to increase concavity by removing the central pins to allow your feet to sink deeper into the middle of the pedal body.
Despite not having titanium axles and there being quite a few bearings inside each pedal, the Waveforms are actually quite light. Claimed weight is 373g (Small) and 384g (Large).
The downside? All of those features and the US construction doesn't come cheap. In fact, these are the most expensive flat pedals we've ever tested, coming in quite a bit higher than the Race Face, OneUp, Deity and DMR pedals we've been using over the past few seasons. Are the Waveforms worth the premium? We'll be putting these through the wringer to find out.
---
Rapha Trail Hip Pack
Rapha continues to expand its mountain bike gear range with the addition of the Trail Hip Pack. Made from 100% recycled ripstop nylon, it's a small and low-profile alternative to carrying a full-size backpack. Instead of encouraging you to carry everything including the kitchen sink, Rapha has designed this bag to be compact and lightweight, with the aim of minimising bounce when you're pedalling along rough singletrack.
We can attest to it being quite comfortable and stable to wear. There's an adjustable strap and buckle for securing it around your waist, while elevated back panels provide padding along with ventilation channels that help to minimise sweat buildup.
Although Rapha claims the Trail Hip Pack offers 3L of storage volume, we reckon it's a bit smaller than that. There's a zippered main compartment for carrying spares, tools and food, with a bright orange lining that makes smaller items easier to spot. An additional valuables pocket sits on the front, which should fit most smartphones. One of our favourite features is the elasticated cord on top of the bag, which is ideal for carrying a lightweight outer layer.
While it doesn't come with a hydration bladder, a pouch on each side of the pack allows you to carry two bottles, or two post-ride beers if you're into that sort of thing.
---
Öhlins TTX Air Volume Spacers
We recently reviewed the Mondraker Foxy, which features an eye-catching Öhlins suspension package with a RXF 36 M.2 fork and a TTX Air shock. Initially we found the rear suspension to be far too linear and frequently bottomed out the shock unless we ran less-than-optimal sag. The solution was to seek out some volume reducers to increase progression.
We got in touch with NSDynamics, which is the official Öhlins distributor and service centre in Australia. It turns out that the high volume version of the TTX Air shock actually uses two different types of volume spacers. There's a larger puck-style spacer that sits in the upper eyelet, and then a series of band-style spacers that sit around the outer air can.
Since the TTX Air shock on the Mondraker Foxy already had the largest eyelet spacer fitted, the solution was to run some more band spacers in the outer air can. Aaron from NSDynamics sent us out a couple of those, and we ended up running the maximum number (4). The volume change did the trick, allowing us to run 30% sag without risk of crunching through the travel.
If you've got an Öhlins shock and your bike's rear suspension isn't quite performing as well as you think it could, it may be worth looking into adjusting the air can's volume. NSDynamics can even do custom tunes for those who want to go down the rabbit hole.
---
100% Speedcraft & Hypercraft Sunglasses
100% is a brand that's well known for its eyewear, having helped popularise the current trend for full-size riding glasses. While they might look a bit full-on, the coverage of these new-school shades is undeniably awesome, and they provide way more protection from the wind and flying debris – good things for mountain biking.
Shown here are two variations of wide-coverage glasses from 100%. Up top is the Hypercraft, which at just 23g is a super-light set of glasses. These use a near-rimless design that provides a huge field of vision with deep coverage and a generous wrap-around profile. The lenses have several cutouts for ventilation, and they get a scratch-resistant coating along with oleophobic and hydrophobic treatments to help them shed water, dirt and oil.
Our test glasses feature the HiPER lens option, which boosts colour contrast for vibrant and crystal-clear vision on the trails. Also included in the box is a pair of darker smoke-tinted lenses for riding in bright full-sun conditions.
Justin, Flow's fabulous photo and videographer, has also been using a pair of Speedcraft glasses, which offer a sturdier build thanks to the broader frame. As well as protecting the lens itself, the TR90 frame also creates a more blunt edge that's less likely to cut into your cheek in the event of a crash.
Another neat feature is the adjustable arms, which you can tweak to optimise the fit around your ears and the helmet harness.
These glasses feature the same HiPER Coral lens, which gets you 52% light transmission that works well for mixed trail conditions. The lenses are interchangeable and 100% offers a variety of options, including photochromic lenses. There's also a Speedcraft SL variation that features slightly a shorter lens profile and a tighter nose bridge to suit smaller faces.
---
100% Altec Helmet
We've previously used the 100% Altis trail helmet and really liked the fit and finish. The Altec shown here steps things up with a multi-density EPS foam core, which puts softer density foam in key areas to help increase its absorption qualities during low-speed tumbles. Higher-density foam is then positioned on the outer part of the shell to manage bigger impacts.
The Altec features the Smartshock Rotational Protective System with a series of elastomers between the helmet's harness and the shell. These 14 little blue elastomers are designed to minimise the effect of rotational forces on the rider's brain. In this sense it's a bit like a MIPS liner, albeit with added damping.
There's loads of coverage around the sides and back of the helmet, and the Altec is goggle-compatible thanks to a multi-point adjustable visor. You'll also find plenty of ventilation, and there's an anti-microbial liner that can be removed to be washed separately if needed. We've found the adjustable fit system to offer usable customisation of the overall fit, and we particularly like the strap splitters that keeps the harness away from your ears.
---
100% Celium Jersey & Shorts
Justin's also just gotten some fresh threads from 100%, which includes this lightweight Celium jersey and a pair of the Celium baggy shorts.
Fitting into the brand's premium all-mountain apparel range, the Celium shorts employ a nifty BOA dial and lace system for adjusting the fit of the waistband. It's surprisingly useful, and unlike the velcro-equivalent, is easy to tweak during a ride. The 4-way stretch fabric is lovely, and we like the discreet perforations that help to bring in cool air. Along with the taped seams, zippered pockets and internal silicone detailings for minimising slippage while pedalling, these are a really nice pair of shorts.
We've also got the matching Celium jersey, which uses an 11% elastane mix to give it plenty of stretch for a comfortable fit. Otherwise it's a pretty straightforward riding top with a dropped tail and an internal wipe for cleaning your glasses or goggles. Available in Small to XL and in three colours, including the Forest Green shown here.
---
Hope Easy Bleed Kit T4
Though it is possible to bleed Hope brakes without it, the Easy Bleed Kit does make things much, err, easier. Designed to suit the new Tech 4 series levers, the kit helps you to perform a gravity-bleed on your brakes using an external reservoir. Included in the box is a bottle of DOT 5.1 fluid, a hose for evacuating waste fluid out of the calliper, a cup, plug, dummy reservoir cap, and of course, instructions on how to perform the bleed.
Like all of Hope's hubs, disc brakes and cranks, the key components of the Easy Bleed Kit are CNC machined from alloy in the UK. It's a surprisingly beautiful bit of kit that's designed to last a long time, while also providing you with a clean and tidy solution for ridding your brakes of every last bubble of air.
We've already used the bleed kit on a pair of Tech 4 E4 brakes that we currently have on test, and it's allowed us to get a much sharper bleed than we expected of a Hope brake. Given the quality of the construction, this is a useful tool that we can recommend for any Hope brake user wanting to perform their own maintenance at home.
---
Rapt Apparel
Mick has just received some fresh threads from a small Aussie brand called Rapt. Owned and operated by mountain bike legend Zoe Cuthbert (Silver medalist at last year's Commonwealth Games), Rapt is helping Zoe to raise funds for her travel and racing campaign. Here's the full story;
"My name is Zoe Cuthbert, and I am a mountain bike rider and designer who decided that I had a good combination of skills to start an outdoor clothing company. I was very wrong and have had to do a lot of learning along the way. Rapt Apparel was born when a friend kept harassing me to design shirts and sell them to help support my bike racing. It got me thinking about what I would do if I could design my own clothes, and I thought I had some pretty good ideas so spent 7 months researching, drawing, sending emails and scheming until I found myself here. Upon reflection, I don't think he meant for me to start a whole company, but I don't like half doing things so here we are."
Rapt currently produces a couple of shirts, hoodies and a riding jersey, with a strong focus on ethical and sustainable production.
Shown here is the 'Hold the Mountains' shirt, which is made from 100% organic cotton and is custom embroidered locally. Mick's also got a Squid Crewneck that's made from organic cotton and recycled polyester. Another highlight from the range is a long-sleeve riding jersey that has a UPF 50+ UV sun protection rating, while being made out of 16 recycled plastic bottles. How awesome is that!
---
Trek Rail 9.8 XT
We last reviewed the Trek Rail in 2021 and came away impressed with its powerful Bosch motor, high-quality suspension and balanced all-round handling. Trek has since updated its big travel e-MTB, with the carbon models introducing a new frame, a bigger battery, and updates to the electronics and geometry.
Thankfully much of the Rail's successful recipe carries over. It's still designed as an electric bruiser, featuring a 160mm fork and 150mm of rear travel via the ABP suspension platform. It comes with 29in wheels front and rear, though thanks to the Mino Link in the seatstay pivot, it's possible to set it up as a mullet with a 27.5in rear wheel.
Compared to the cheaper alloy models, the Rail 9.8 XT that we have here gets a lovely carbon frame that features a considerably longer reach, a steeper seat angle and a slightly slacker head angle. Powering it along is the latest Bosch Performance CX Line motor and a 750Wh PowerTube battery. There's a Kiox 300 display that's integrated into the top tube of the frame, while the LED controller sits next to the left-hand grip.
While a lot of mountain bike media have reviewed the top-end Rail 9.9 model, we weren't particularly interested in its AirWiz and TireWiz gizmos, or its stratospheric price tag. Instead we chose to test the Rail 9.8 XT model, which is $3,500 cheaper while featuring a more practical build kit.
How does it all perform on the trail? We'll have an in-depth review and video coming on this popular e-MTB very soon, so stay tuned to Flow MTB for our verdict.