Rob Warner: "Is there a detective at the finish line, because Brosnan just murdered that course"
Troy Brosnan's maiden world cup win, at possibly the toughest world cup course on the circuit, Fort William, has been a long time in the making. Two times junior world champion, and a protégé on team Specialized with some of the greatest riders of all time, such as Sam Hill and Aaron Gwin, Brosnan has always been surrounded by the fastest riders on the planet. The 2014 World Cup season has finally seen Troy get up to speed with his superhuman teammates, with top ten results in the first three world cups of the season so far.
Flow: You've been the last one up the top of the hill with the fastest qualifier in Australia before, but how was it at a World Cup? Spooky, scary, or were you totally in the zone?
Troy: I Felt Normal. I just tried to treat it like a national round and I knew that's where my riding should be so I wasn't spooked.
Flow: How did travelling to the BDS round earlier help your World Cup preparation?
Troy: It really helped me get my bike all set up and ready to go for the World Cup, I had all of my bike settings changed and for the World Cup I just had to adjust my rebound slightly and I was ready to go
Flow: What's the best thing about having team manager Eric Carter around to help?
Troy: Being an ex-racer he's really helpful when trying to find lines. He also knows what we need as racers and when to give us some space.
Flow: And Aaron Gwin?
Troy: Aaron is very helpful with racing and finding good lines. We do a lot of runs together to help each other go faster and at the end of the day what separates us in the race is who wants it more.
Flow: Could you see the green time update on the finish banner when you dropped into the arena? How was that?
Troy: Yes! Over the last jump I did see a glimpse of green and my eyes lit up. I wasn't sure who was in the hot seat so I just hoped I could outsprint them to the line!
Flow: First time racing a 650B downhill bike? What made you decide to try it at Fort William?
(NO REPLY)
Flow: Where do you think you won the race? On the power sections, or rougher parts of the track?
Troy: I feel it was the whole track, I just really felt the flow hitting all my lines and was riding super smooth. Despite saying that, I did have a really good sprint at the bottom!
Flow: After qualifying first, how confident were you of winning the final?
Troy: It gave me a lot of confidence going into the final, I knew that I could do it but anything can happen in a race run. I just did my best and pedalled everywhere and it paid off!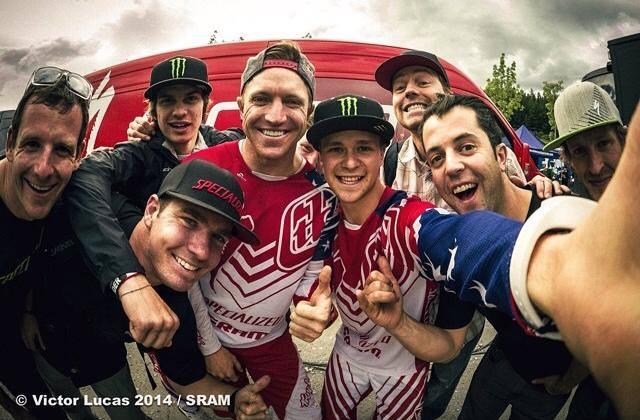 [divider]Troy's winning run, dissected[/divider]
Troy trains as hard as anyone, and watching his run at Fort William this becomes plain to see. Some riders look clean, effortless almost as they clear gaps and track straight through the craziest of rock gardens. Troy Brosnan is one of these riders, but not through anything other than sheer hard work and determination. We see this at a few points through his run:
Click to watch his winning run replay here.
Watch the start of Troy's run 2.01.05. See how quickly he gets up to speed! Troy's efficient technique on the sprint, working the bars, combined with his near perfect pedal stroke and a high power to weight ratio means that he's able to get his Demo going real quick, really, really fast. Continuing with the sprinting theme, has anyone else noticed how many riders on the DH circuit don't actually sprint at every available opportunity, or sit down? If you haven't noticed this, watch the replay of the Cairns World Cup, and notice just how many riders have poor sprints in the long pedal leading up to the finish. Brosnan however, never misses the opportunity to get even a single pedal stroke in. Have a look at 2.01.22, and how quickly he gets back on the pedals after cornering- unbelievable.
Just after this corner, Troy absolutely blasts through the infamous rock garden section at the top of the track. For a long time the general consensus with downhill has been that the heavier riders are able to monster their way through these sections of track better than smaller riders, however Troy leads to a big questioning of this with the way he is able to flick his bike around the rough stuff to find the right line. When downhill legends like Rob Warner in the commentary box are admitting as much, it's definitely a theory that's beginning to gain merit.
Speaking of flicking bikes around, Troy's handling skills are up there with the Sam Hills and Brendan Faircloughs of the downhill scene. The way he transfers his lightweight figure through the rough stuff 2.02.06 to 2.02.12– amazing ninja skills. This could possibly be attributed to the dirt jumping he does as part of his training, as well as his recently commenced motocross sessions.
Despite the numerous attributes of Brosnan's riding that put him firmly up there as a contender for the overall world cup title this year, on top of his second to none pedalling and power through pedally sections, Brosnan has the best tuck in the business. With the speeds going too high to pedal through the open, big jump, 'motorway' sections of world cup courses, getting aero is no longer something you did on the road bike during training. Troy won by 1.6 seconds, and he might just have just sealed the deal with his far more superior tuck through the bottom section of the course as opposed to Sam Hill. Not buying this aero stuff? Watch from 2.02.23 onwards- you'll see.
With the Leogang World Cup taking place this week in Austria, what can Troy pull out? Having mixed results there in the past- a crash in 2012 and eighth place there last year, it's hard to tell, but his confidence will be right up there following his Fort William victory. As it's another technical and physical track, Troy's excellent conditioning and technical ability should favour him!
If Troy can keep performing consistently to the end of the World Cup season, could Australia have another World Cup Champion at the end of the 2014 season?
2012 World Champs Leogang Crash video: Second corner in, Troy crashed injuring his shoulder.
At home with Troy Brosnan, back in early 2013 when recovering from the Leogang World Champs crash.
Time Off With Troy Brosnan Interview – Flow Mountain Bike from Flow Mountain Bike on Vimeo.