Wil reviews the 2022 Specialized Stumpjumper
To celebrate its 40th birthday in 2021, the Specialized Stumpjumper was treated to a complete ground-up redesign alongside the longer travel Stumpjumper EVO. With a clearer distinction between the two models, the Stumpjumper took on a more energetic personality thanks to a lighter frame and updated geometry. Indeed we were mighty impressed with the Stumpjumper Pro we tested, though we were curious to see how its performance translated to the cheaper models. And with the 2022 Specialized Stumpjumper Comp having just arrived on Australian shores, what better opportunity to find out whether this bike – which sells for almost half the price of the Pro model – delivers as many good times on the trail. On top of that, there's also an exciting new upgrade for Stumpjumper owners that we'll be discussing a little later on in this review.
---
Watch our video review of the 2022 Specialized Stumpjumper
---
Sprightly is a good way to describe it too. As modern trail bikes get burlier, slacker and heavier, the Stumpjumper stands out for its ability to ride lighter on the trail compared to many of its contemporaries.
An overview of the Stumpjumper
Following its revamp, the latest Specialized Stumpjumper fills the position as the brand's lightweight, mid-travel trail bike. Built around 29in wheels, the Stumpjumper is equipped with a 140mm travel fork and 130mm of rear wheel travel. That puts it right in a similar zone to the Trek Fuel EX, Norco Optic, Giant Trance 29 and Canyon Spectral 125.
With the aim of delivering a highly capable bike on the descents, the Stumpjumper boasts contemporary geometry with a low BB, a long reach and a 65° head angle. The suspension design has also evolved from the previous model, with the carbon frames moving away from Specialized's classic four-bar FSR platform. The high-end Stumpjumpers instead utilise a one-piece carbon swingarm, which relies on flex through the seatstay instead of a traditional pivot point near the dropout.
As well as being lighter, the flex-stay suspension design affords a more sprightly feel at the pedals. To help tame the springy back end, the suspension dynamics team developed a cunning custom shock tune for the latest Stumpjumper, which sees a digressive compression valve paired to a progressive rebound valve. More on how that works in a bit.
All the other features you'd expect for a modern Specialized mountain bike are present and correct. The carbon frames feature SWAT storage in the downtube, guided internal cable routing, a threaded BB, and generous armouring for the chainstay and downtube. There's a load of other neat details, so if you haven't checked it out already, dive into our 2021 Stumpjumper review for an in-depth look at the whole range and the unique tech behind it.
2022 Specialized Stumpjumper price & spec
There are five variations within the 2022 Specialized Stumpjumper lineup; two that utilise alloy frames and three with carbon frames.
Pricing starts at $3,300 AUD for the Stumpjumper Alloy, and tops out at a staggering $16,900 AUD for the S-Works model. You can also get the S-Works frameset on its own for $6,000 AUD, should the stock build kits not be to your taste.
The bike I've been testing is the Specialized Stumpjumper Comp – the cheapest model to feature a carbon frame. It's not exactly a budget build, though given it has basically the same frame as the S-Works model, it is a vastly better value proposition on paper.
2022 Specialized Stumpjumper Comp
Frame | FACT 11m Carbon Fibre, Flex Stay Suspension Design, 130mm Travel
Fork | Fox Float 34 Rhythm, GRIP Damper, 44mm Offset, 140mm Travel
Shock | Fox Float DPS, Performance Series, 190×45mm
Wheels | Shimano MT400/510 Hubs & Roval 29 Hookless Alloy Rims, 30mm Inner Width
Tyres | Specialized Butcher T9 GRID 2.3in Front & Purgatory T7 GRID 2.3in Rear
Drivetrain | Shimano SLX 1×12 w/30T Crankset & 10-51T Cassette
Brakes | Shimano SLX 4-Piston w/200mm Front & 180mm Rear Rotors
Bar | Specialized 6061 Alloy, 35mm Diameter, 30mm Rise, 780mm Width
Stem | Specialized Alloy Trail, 35mm Diameter, Length: 40mm (S1-S2), 50mm (S3-S6)
Grips | Specialized Trail Grips, Lock-On
Seatpost | X-Fusion Manic w/SRL Lever, 34.9mm Diameter, Travel: 100mm (S1), 120mm (S2), 150mm (S3), 170mm (S4-S5), 190mm (S6)
Saddle | Specialized Bridge Comp
Confirmed Weight | 13.8kg
RRP | $7,200 AUD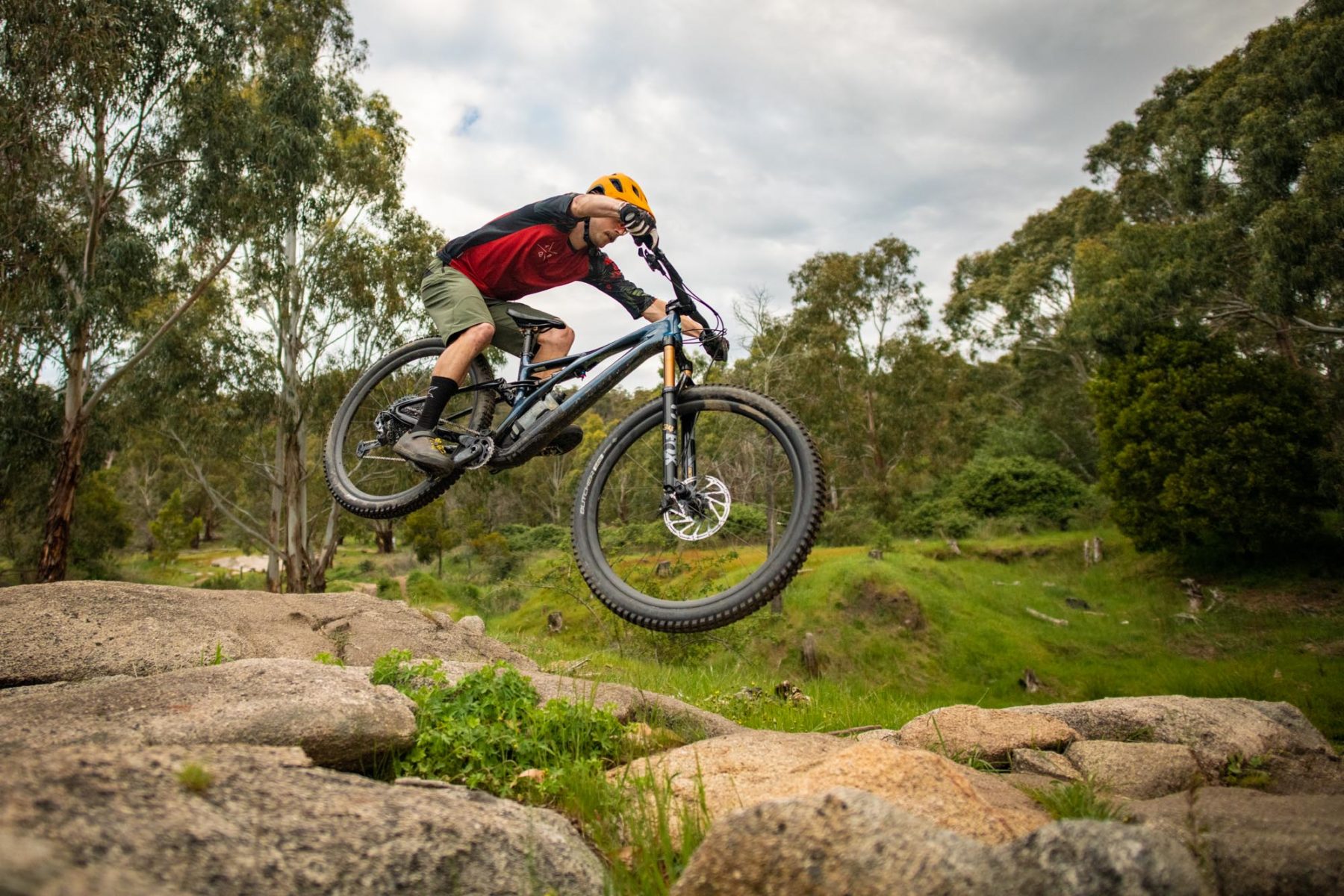 Thankfully, the Specialized Stumpjumper's superb geometry allows you to make the most of the grippy tyres, powerful brakes and active suspension. In fact, I'd say this bike's strongest suit is its predictable and versatile handling.
Specialized Stumpjumper sizing & fit
Whereas many brands only offer four frame sizes, the Specialized Stumpjumper is available in six sizes from S1-S6. Furthermore, each size is claimed to have its own unique layup that is designed to provide a similar ride quality regardless of rider height. This size-specific approach extends to the geometry, with the bigger S5 & S6 frame sizes getting a longer 442mm rear centre. All other sizes rely on shorter chainstays with a 432mm rear centre.
At 175cm tall I've been testing the S3 size, which is essentially a medium. The fit is on the money with a 450mm reach, and the 76° seat angle is steep enough without pushing too much of your weight onto the grips. The kinked seat tube does mean the effective seat angle gets slacker at taller saddle heights though, so long-legged folks will need to shift the saddle forwards on the rails.
No surprises that the Stumpjumper's cockpit is a comfortable place to be thanks to the excellent Bridge saddle, well-shaped handlebar and thin lock-on grips. Bigger frame sizes also benefit from thicker diameter grips and a wider saddle, further exhibiting Specialized's attention to detail. The tidy I-Spec EV clamps are also a nice touch and easy to adjust as needed.
Suspension setup
Echoing my previous experience of testing the Pro model, the Stumpjumper Comp's relatively small shock and flex-stay suspension design rewards a more considered approach to suspension setup. The 45mm shock stroke is the same as what you'll find on the 100mm travel Giant Anthem, which means the 130mm travel Stumpjumper features quite a high leverage ratio in comparison. As a result, operating pressures are on the higher side, and small changes to the sag figure result in noticeable changes to suspension behaviour.
Specialized recommends 30% sag for the rear shock, which equates to just 13.5mm of displacement at the o-ring. To suit my 68kg riding weight, I needed 170psi to hit that sag figure. I found the suspension to be too wallowy however, resulting in more pedal strikes on technical climbs and hitting full travel more regularly than I would have liked. Upping the shock pressure to 180psi made all the difference, lifting the ride height and improving bottom-out support. This 27% sag range proved to be the sweet spot, with the suspension feeling noticeably more active since it was no longer getting bogged down in the firmer mid-stroke.
The lesson in all this? If your Stumpy isn't feeling as plush or as sprightly as you'd like, increasing shock pressure and reducing sag could be worth trying. Just a millimetre change at the o-ring can make a notable difference in performance, so make sure you get out the ruler to experiment with different sag settings.
Otherwise I dialled the rebound damping to halfway (7/14 clicks), and set up the fork as per Fox's recommendations, which proved to work well with the Stumpy's back end.
Specialized Stumpjumper weight
Without pedals, our Specialized Stumpjumper Comp weighs a respectable 13.8kg.
It's worth noting here that the frame plays a big role in keeping the overall weight low. Made from FACT 11m carbon fibre, the front triangle and swingarm are identical to the S-Works Stumpjumper. The only difference is that the S-Works frame gets a carbon shock yoke, which saves a paltry 40g. Even still, the Comp's frame is claimed to weigh just 2,280g including the rear shock, thru-axle and hardware. That is very light for a mid-travel trail bike.
The Fox 34 Rhythm is an OEM-level fork that uses a heavier chassis and a cheaper air spring compared to Fox's higher-end models. It weighs more as a result, coming in at 1.94kg on the workshop scales.
There's also a bit of mass in the stock wheelset thanks to the budget Shimano hubs, straight-gauge spokes and alloy rims. Confirmed weight is 2,223g for the complete wheelset, which is on the heavy side.
Specialized also hasn't skimped on the rubber, with both the Butcher (1,087g) and the Purgatory (954g) receiving reinforced GRID casings. As usual, I fitted a CushCore Pro tubeless insert into the rear wheel. Tyre pressures were set at 22-23psi on the front and 24-26psi on the rear.
What does it do well?
It's been over a year since we tested the Specialized Stumpjumper Pro, so I was curious to see if my positive impressions would be reaffirmed in this cheaper Comp.
It didn't take long to settle into the new bike, which delivers a comfortable and well-proportioned riding position. And despite being a kilo heavier, the Comp still exudes the sprightly performance we enjoyed so much about the Pro.
Sprightly is a good way to describe it too. As modern trail bikes get burlier, slacker and heavier, the Stumpjumper stands out for its ability to ride lighter on the trail compared to many of its contemporaries.
For a start, the custom-valved shock and flex-stay are a great pairing. Even without the horst link, the suspension design is plenty active without feeling mushy. The neutral kinematics allow the rear wheel to absorb rocky ledges on technical ascents, while maintaining grip and control on rowdier descents. The Stumpjumper's rear end isn't as plush as the Trek Fuel EX or Giant Trance X, and it doesn't have the same floaty gooeyness of the longer travel Stumpjumper EVO, but it is still thoroughly effective on the trail.
The enthusiastic suspension performance is complemented nicely by the lightweight carbon chassis, which offers notable compliance on rough terrain. This was something that was blatantly obvious coming off the Canyon Spectral 125 – a similar bike in terms of travel and geometry, but with a more progressive suspension design and a significantly stiffer carbon frame than proved to be rather uncompromising, and somewhat jarring on choppier trails. In comparison, the Stumpjumper is a far more comfortable bike.
There are no doubts that the alloy rims and supple tyre casings contribute to the compliant ride quality. The 2.3in width is well suited to the Stumpjumper's intentions, offering a nice degree of damping without feeling floppy or cumbersome on tight singletrack. The addition of Specialized's new trail tyres does mean the 2022 Stumpjumper is noticeably slower-rolling than the previous model, with the aggressive Butcher up front featuring the gooey T9 rubber compound. The increased rolling resistance is totally worth the tradeoff though, with the front tyre delivering an incredible amount of traction that helps to elevate rider confidence levels. There's also terrific braking traction out back from the Purgatory, allowing you to push deeper and stay off the brakes for longer.
The handling is absolutely spot-on
Thankfully, the Specialized Stumpjumper's superb geometry allows you to make the most of the grippy tyres, powerful brakes and active suspension. In fact, I'd say this bike's strongest suit is its predictable and versatile handling.
The long front end and slack head angle give you the confidence to push the Stumpjumper hard on the descents, while the low-hanging BB and compact rear end mean it's still agile and easy to throw around. I even found it easy to manual, which most certainly isn't a regular feature in my personal bag of trail tricks.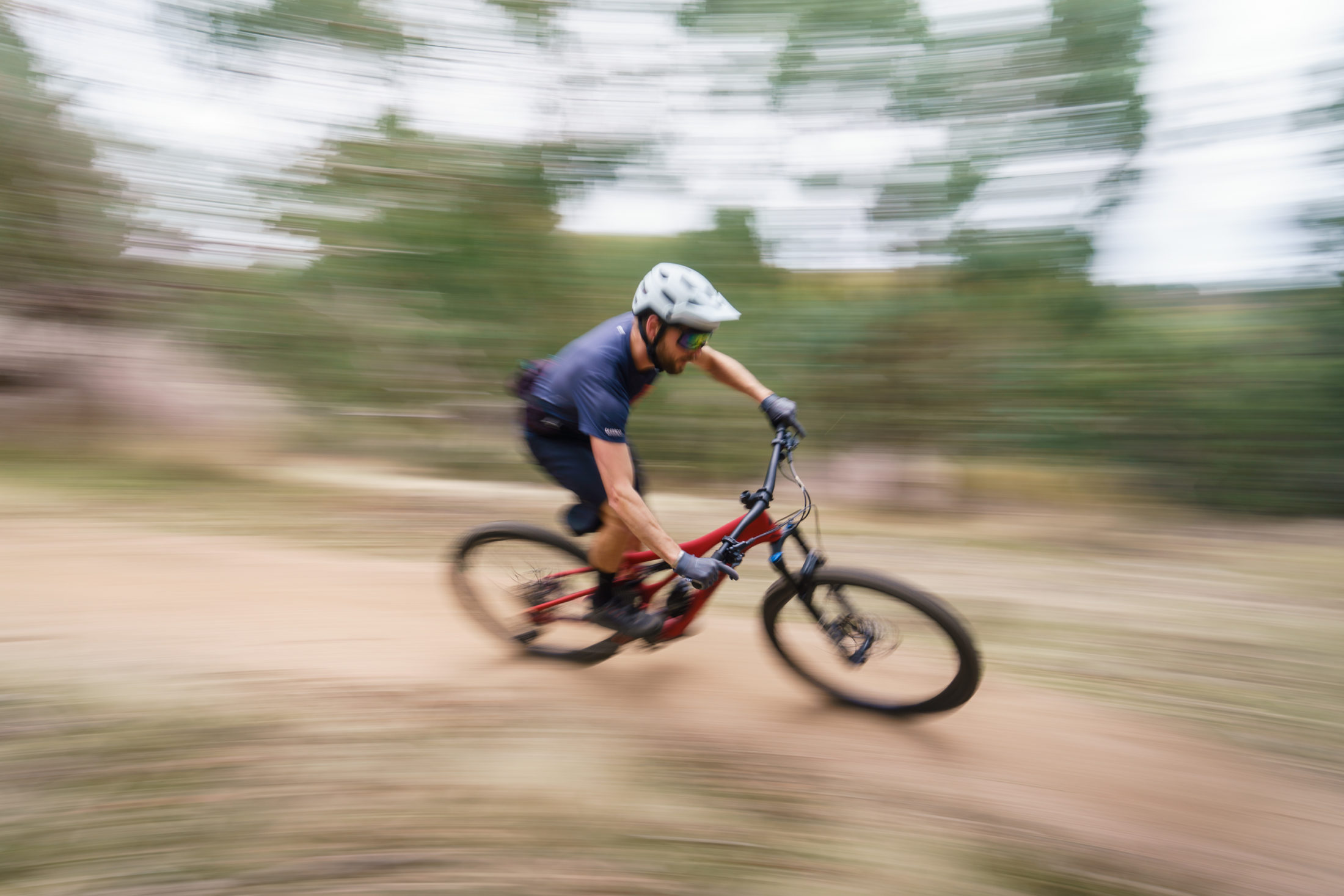 With your weight centred low in the bike, cornering performance is fantastic, allowing you to exploit the grippy rubber. It doesn't quite have the snap-and-release sensation that stiffer bikes offer in really high speed catch berms, but the compliant chassis does make it more adaptable on chunky surfaces. When cornering off-camber or through turns that are dotted with baby head-sized rocks, the Stumpjumper snakes its way through without knocking you off-line.
The enthusiastic demeanour means it's also an easy bike to jump with, whether you're linking up doubles on a flow trail, or searching out a faster line through an awkward rock garden. Since the Stumpjumper is willing to use of all its travel, it is possible to slap full bottom-out when returning the tyres to earth. It's quite controlled at full bottom-out though, with no harshness to speak of. And despite the stored energy in the carbon flex-stays, there's minimal bucking on big hits thanks to the progressive rebound tune. The rear shock comes stock with a 0.6³ volume spacer inside, which provides flexibility for frequent flyers who may want to add a larger volume spacer to increase progression.
What does it struggle with?
With the suspension being quite active on the Specialized Stumpjumper, it's not the firmest bike under power – particularly compared to the pert performance of the Pivot Trail 429 and the Canyon Spectral 125. There's visible shock movement while pedalling, and it tends to sink a little into its travel when you're heading uphill. Along with the short rear end and slack head angle, the front wheel requires careful management to keep it from wandering about on steeper climbs.
It's worth acknowledging that Specialized has built less anti-squat into the Stumpjumper's kinematics, helping to free up the relationship between the chain and the rear suspension. This means there's minimal feedback through the drivetrain, providing excellent traction on feature-rich singletrack climbs. It's neutral and comfortable when pedalling across rock gardens and root beds, which is a trait I was especially conscious of while using flat pedals.
Given the active suspension performance, the Stumpjumper really benefits from using the shock's compression lever to help improve stability on the climbs. Unfortunately the Performance Series shock misses out on the extra low-speed compression dial that comes on the more expensive Expert, Pro and S-Works models, but you still have the three main settings to choose from; Open, Medium and Firm. Handily the lever is within easy reach just below the top tube, allowing you to easily switch settings while riding.
While the Firm setting is nearly a full lockout and really only applicable for riding on bitumen, the Medium setting is totally usable off-road. It helps to stabilise the shock and lift the ride height, making it useful for technical climbs where you can benefit from the additional ground clearance. The increase in damping support also boosts efficiency when you're spinning away on extended fireroad sections. The suspension still remains pretty active, with the digressive compression tune allowing the shock to break through this platform at higher shaft speeds so it can comfortably absorb medium-to-large impacts. You don't get the same seamless small-bump compliance as you do in the full Open setting, but it's surprisingly effective for riding across undulating singletrack. Because of this usability, some riders may find themselves riding the majority of the time in the Medium setting, only flipping into Open as a full-traction mode on rowdier descents.
Speaking of rowdy descents, it has to be said that while the flex-stay suspension design does a marvellous job in most circumstances, it's not quite as active under braking as a true four-bar platform. When the Stumpy was really under the pump, I found I was more likely to overwhelm the rear tyre's limits under heavy braking.
And while I've gotten along well with the lithe chassis, I do think that bigger and more aggressive riders may find it a little too flexy. For those big-hitters who are chasing maximum plushness and more active braking performance, I'd recommend looking at the Stumpjumper EVO as a more suitable option.
Component highs & lows
Despite being the 'cheapest' carbon model in the range, the Specialized Stumpjumper Comp isn't exactly a high value prospect. You'll spend considerably less on similarly-equipped store-bought bikes like the Trek Fuel EX 9.7 ($6,499 AUD), the Giant Trance 29 2 ($6,799 AUD), and the Norco Optic C2 Shimano ($6,899 AUD).
Of course a bike's value should never be placed on how much bling is hanging off it, but rather how it performs on the trail. And in that regard, the Stumpjumper Comp absolutely delivers. It may be nearly half the price of the Pro model, though thanks to its fantastic handling, powerful brakes, grippy tyres and dialled suspension, it gives up very little capability over its pricier siblings.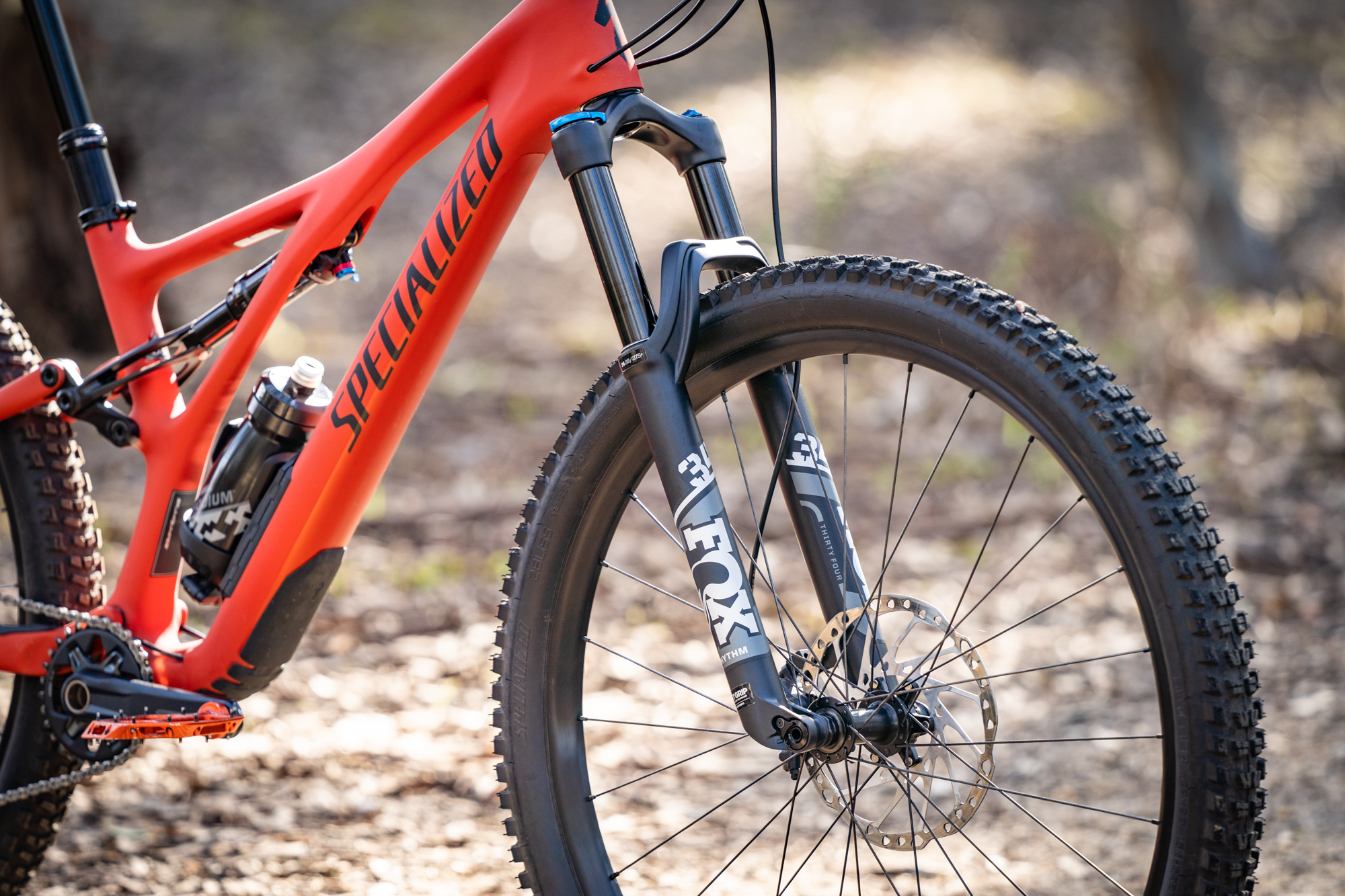 I've mostly been impressed with the plush action of the Fox 34 Rhythm. It's an easy fork to setup, the GRIP damper works well, and the 34mm chassis is a great match for the Stumpjumper. However, during the first ride the fork did exhibit some excessive noise and play under medium-to-large compressions, sounding a bit like a loose headset. It went back to Fox Australia where it was rebuilt with fresh bushings under warranty, and it's been a lot better since. There's still some noise on bigger impacts, which may be due to the Rhythm's cheaper air spring, which utilises a plastic negative base plate assembly that I suspect is more susceptible to flexing under load. It's not a huge deal, but it does reinforce my opinion that a bike at this price point should really be coming with at least a Performance Series 34 up front.
While the wheels are understated and quite heavy, they have proven to be solid throughout testing. The Shimano hubs are basic, but I've had no issues with the bearings or the 36T freehub engagement. The alloy rims have suffered some minor dents through testing, though the wheels remain true and the spokes are holding tension, which is far more than can be said for other factory-built wheels we've ridden of late.
The groupset has otherwise performed admirably. I managed to bust up a derailleur and bend one of the brake levers in two separate incidents, though being of the SLX variety, replacements were relatively inexpensive. More shockingly, my local bike shop actually had both in stock.
Of course much of the focus with this bike is on its FACT 11m carbon frame. It's certainly worthy of any upgrades you'd want to throw at it down the line, particularly as it comes with a lifetime warranty for the original owner. There's also a limited transferable warranty for secondary owners, which isn't common.
As well as being one of the lightest in its class, the Stumpjumper frame also offers appealing practicality thanks to its brilliant SWAT downtube storage. It's nice to see a dry bag included for carrying a tube and spares, and you also get a bottle cage and the neat EMT tool that sits beneath it. All practical stuff that allows you to ride pack-free most of the time.
There's a good deal of frame protection to dampen down chain-slap, while general trail noise is kept to a minimum thanks to the rattle-free internal cable routing. Our test bike has exhibited some unusual cable rub up at the headtube port, which isn't something we experienced with the Stumpjumper Pro. This could be due to a burr inside the guide tube, so we'll investigate further and update this review when we find the cause.
You can now mullet the Stumpjumper
Up until recently, the Specialized Stumpjumper platform has been purpose-built around 29in wheels. That changes with the addition of a new aftermarket link that will allow existing owners to fit a 27.5in rear wheel while maintaining the bike's current geometry and suspension kinematics. The links are already available in some markets, and will be arriving in Australia in the next 3-5 months.
Given that most mullet bikes on the market tend to be longer travel bikes or e-MTBs, this is a curious addition from Specialized. As to what it brings to the 130mm travel Stumpjumper? We've just received a link and a 27.5in wheel to put the mullet setup to the test – stay tuned for a separate review on that one.
It's also worth noting that the Stumpjumper frame is rated for use with a longer 150mm travel fork. And while stock bikes all come with 2.3in wide tyres, Specialized states there's clearance for 2.5in rubber – impressive given the short rear end and standard Boost chainline. I was actually able to fit a 2.6in Purgatory rear tyre in the workshop, though I'll be testing that one out on the trail to see if it's a viable option.
Further tuning can be had via the two-position flip chip in the lower shock mount. Bikes come from the factory set up in the Low position, and flipping into High will steepen the angles by half a degree while lifting the BB height by 7mm.
Most Stumpjumper owners are unlikely to ever use this feature, partly because all bike reviewers seem to champion the slackest and lowest geometry possible. That setup does tend to work well on smooth high-speed flow trails, but a low BB can be an issue when riding techy jank. Indeed the Stumpjumper's BB drop does hang very low and can result in pedal strikes through ruts and up rocky climbs.
Flipping into the High position does require you to remove the whole shock, so it's a more time consuming process compared to Trek's Mino Link. It's worth experimenting with though, as the High position results in a noticeable increase in ground clearance – more than you'll get from changing from 170 to 165mm crank arms. It's free to do, and may save you from buying a whole new crankset. You'll also experience slightly crisper steering, providing you with a better overall setup for tackling tighter and more rugged singletrack.
The lesson in all that? Don't listen to reviewers like me – if your bike has a geometry flip chip, try both settings and see what best suits your riding style and terrain.
Specialized Stumpjumper vs Giant Trance 29
In our review of the 2021 Specialized Stumpjumper, we compared it directly with the Trek Fuel EX and the Giant Trance X. While those comparisons still stand, Giant has since rolled out an updated Trance 29 – a bike that I've been spending a lot of time on lately.
Whereas the Trance X has a bit more travel than the Stumpjumper, the Trance 29 has a bit less with a 130mm fork and 120mm at the back. Its burly frame design and progressive geometry see it matching up pretty closely however, with the Trance 29 even offering downtube storage on the carbon models.
In comparison, the Stumpjumper's SWAT system is better executed with a larger opening that makes it easy to stuff your spares inside. There's also more clearance to fit a 750ml bottle, whereas the equivalent Trance 29 is limited to a 600ml bottle. Home mechanics will likely prefer the Stumpjumper's threaded bottom bracket and guided internal cable routing, and weight weenies will appreciate that the frame is also lighter than the Trance 29 (2,280g vs 2,495g) – according to the manufacturers' claimed weights anyway.
On the trail, the Trance 29 offers a similarly fun-focussed ride quality. Its cornering performance is even better thanks to its stiff and low-slung chassis, allowing you to rip through berms like a mini-slalom bike. It feels tough and reassuringly solid, with the aggressive tyres and slack head angle allowing you to push it surprisingly hard. The dual-link Maestro design offers better natural pedal efficiency compared to the Stumpjumper, and a slightly steeper seat angle keeps you nice and centred on the climbs.
While the Trance 29's suspension is effective and nicely supported on bigger hits, it's not quite as neutral as the Stumpjumper. The stiffer frame is more likely to punish you for poor line choices, and it's less forgiving on rough terrain. No doubt aided by the extra 10mm of travel, the Stumpjumper delivers better all-round compliance and is the more comfortable bike for longer days out. It's also more versatile with the option to fit a bigger fork and now a 27.5in rear wheel.
In terms of price, the Giant Trance Advanced Pro 29 2 features a comparable spec to the Stumpjumper Comp, but comes in $400 cheaper. That's despite it getting a longer dropper post and carbon wheels. Is the Stumpjumper is worth the extra cash? That really depends on how much value you place on the FACT 11m carbon frame. Then again, which bike you choose might simply boil down to availability.
Flow's Verdict
With its low weight, active suspension and confidence-inspiring handling, the 2022 Specialized Stumpjumper continues to be one of the best-performing trail bikes currently on the market. It may not get the same media attention as its longer travel sibling, the Stumpjumper EVO, but the regular Stumpjumper is arguably the better and more versatile option for many riders out there. It's an easy bike to pilot, with superb geometry that allows you to push it hard on the descents while still offering an agile and lively feel on flowy singletrack.
If you're after XC-like pedal efficiency, I'd possibly recommend looking elsewhere. The Stumpjumper isn't the fastest rolling bike thanks to its sticky tyres, and the active suspension design can feel soft on the climbs if you're not making use of the compression lever. The suspension does offer terrific grip on rough terrain though, with a neutral feel that delivers less feedback through the rider's contact points. Along with the compliant chassis and well-damped tyres, the Stumpjumper is a thoroughly comfortable partner for taking on long rides across technical terrain.
It's worth acknowledging that Specialized's competitors are offering similarly spec'd bikes for less money. And while the majority of the Stumpjumper Comp's build kit performed well throughout testing, the budget-oriented fork does seem a bit low-rent on a bike that costs over $7,000 AUD.
It still rides bloody well though, giving up very little performance over the pricier models in the Stumpjumper lineup. And much of the Stumpjumper Comp's value can be attributed its custom-tuned suspension and high-tech carbon chassis. It has one of the lightest frames in its class, and it offers up excellent practicality thanks to its SWAT system, mechanic-friendly furnishings, and the option to tweak the wheel and fork setup. We'll be exploring some of that versatility in the coming weeks, so stay tuned for a follow-up review on the Stumpjumper in mullet form.