Dan reviews the 2023 Canyon Torque:ON CF
The Canyon Torque:ON CF is a brand new e-MTB for 2023. Far from just being a carbon version of the existing alloy Torque:ON, the Torque:ON CF represents a proper ground-up redesign that incorporates a new frame and battery, a reoriented suspension layout, a mixed wheel setup and heavily updated geometry. It certainly looks the business, but there's no doubt this is a lot of bike. We've been putting the Canyon Torque:ON to the test over the past few weeks to see if this is the ultimate self-shuttling DH machine.
---
Watch our video review of the Canyon Torque:ON here:
---
With 180/175mm of travel and geometry that's low and slack, there are no points for guessing what the Canyon Torque:ON CF is designed for.
An overview of the Canyon Torque:ON CF
Designed for downhill hammering and bikepark thrashing, the Canyon Torque:ON CF is the longest travel e-MTB in the German brand's lineup. It's equipped with a 180mm travel fork, 175mm of rear travel and a mixed wheel setup.
The full carbon frame is said to be a whole 1.5kg lighter than the alloy version, which is an enormous difference. The shape is also quite different, with a very wide and boxy downtube that's designed to accommodate Canyon's own 720 or 900Wh battery. The battery sits low in the frame thanks to the Shimano EP8 motor having been clocked upwards by 30°.
You'll still find a four-bar suspension platform, but the linkage has been reworked to position the shock in-line with the downtube. It features a very progressive leverage rate so that you can run a coil or a high-volume air shock.
Geometry & sizing
The Canyon Torque:ON CF features the same 63.5° head angle as the alloy version, but pretty much everything else has been updated.
The seat angle steepens dramatically from 74° to 77.5°, and the reach has basically jumped up a size. On our Large test bike, the reach has grown from 485mm to a whopping 500mm.
To help balance out the wheelbase Canyon has thankfully extended the chainstays. The rear centre length has increased from 430mm to 445mm, and it's the same on all four frame sizes.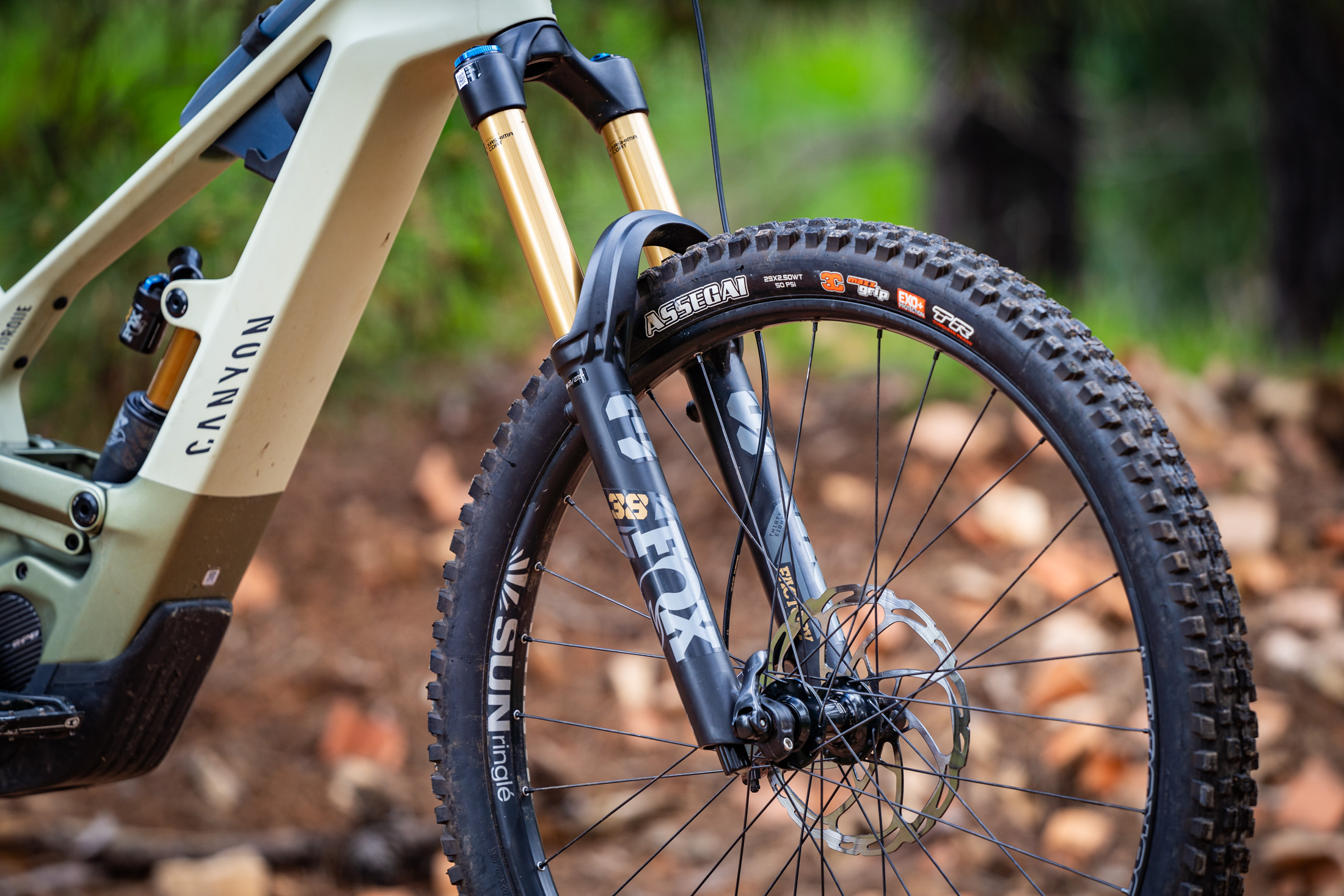 Canyon Torque:ON CF price & specs
The Canyon Torque:ON CF is available in three spec options with prices kicking off at $10,099 AUD for the CF 8. You can see the specs and pricing on all three models in our detailed first look article.
The bike we've been testing sits in the middle. It's the Canyon Torque:ON CF 9, and the current retail price on this is $12,799 AUD. Since Canyon bikes are sold direct to consumer, you'll need to factor in an additional $229 AUD to have it shipped to your door.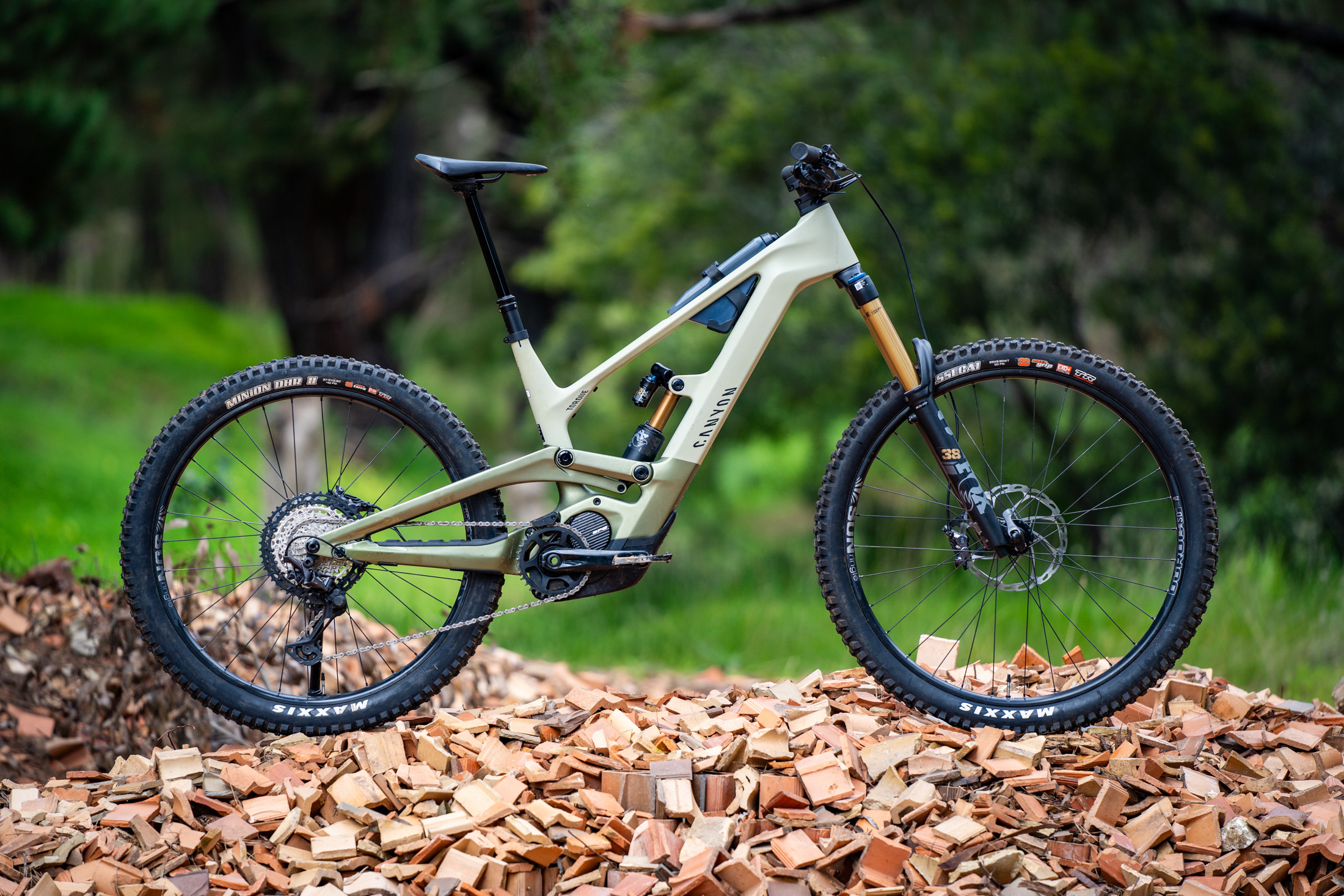 2023 Canyon Torque:ON CF 9
Frame | CF Carbon Fibre, Four Bar Suspension Design, 175mm Travel
Fork | Fox 38 Factory Series, GRIP2 Damper, 44mm Offset, 180mm Travel
Shock | Fox Float X2 Factory Series, 225x70mm
Drive Unit | Shimano EP8, 85Nm
Battery | Canyon 720Wh or 900Wh
Wheels | SUNRinglé Duroc SD, Alloy Rims, Inner Width: 32mm Front & 36mm Rear
Tyres | Maxxis Assegai EXO+ 3C Maxx Grip 29×2.5in Front & Minion DHR II EXO+ 3C Maxx Terra 27.5×2.6in Rear
Drivetrain | Shimano XT 1×12 w/Shimano EM900 34T Crankset & 10-51T Cassette
Brakes | Shimano XT 4-Piston w/203mm Rotors
Bar | Canyon Alloy Riser, Width: 780mm (S), 800mm (M-XL)
Stem | Canyon G5 Alloy, 40mm Length
Seatpost | Canyon Iridium Dropper, Travel: 150mm (S), 170mm (M), 200mm (L-XL)
RRP | $12,799 AUD (plus shipping)
The smaller rear wheel and short chainstays go a long way to helping it turn in quicker and more easily, making this big bike surprisingly fun to ride on twisty flow trails.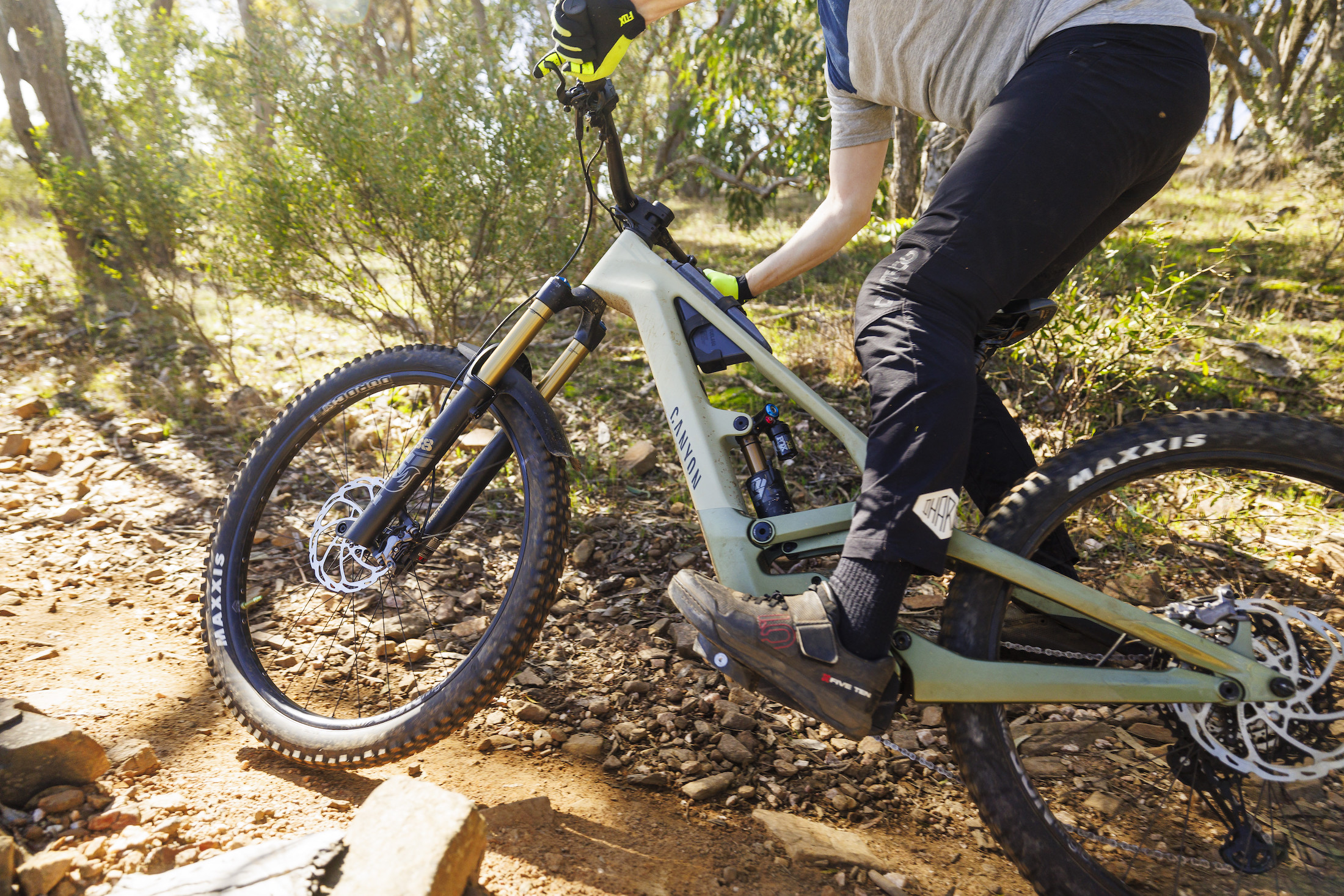 Canyon Torque:ON weight
Confirmed weight for our Canyon Torque:ON CF test bike is 24.02kg. That's with the 720Wh battery, which is said to be almost a kilo lighter than the 900Wh battery.
Given the dimensions of this hulking e-Beast, we were expecting it to weigh more than it does. Bear in mind that Canyon does spec the Torque:ON with Maxxis EXO+ casing tyres, which are on the lighter side for a bike with this much travel.
Testing the Canyon Torque:ON
To test out the new Canyon Torque:ON CF, we put it into the hands of our tame enduro hammerer Dan.
Having spent a load of time on the Polygon Siskiu TE, the Trek Rail and the Norco Sight VLT over the past year, Dan was curious to see what the extra travel and uber-slack geometry of the Torque:ON CF would bring to the e-MTB riding experience.
How have you found the sizing and overall fit Dan?
As usual for my 183cm height, we went with a size Large in the Canyon Torque:ON. The 500mm reach is huge, though after trimming the bars down to 770mm and sliding the seat rails forward the bike felt really comfortable. Still, if you're on the border between two sizes, you'll want to look closely at the geometry chart and potentially size down if you're worried about manoeuvrability.
The climbing position is noticeably upright due to the 77.5° effective seat angle, but the tall stack means your weight is comfortably proportioned.
On the note of the cockpit, the headset routed cabling does mean that you can't ditch the last 10mm spacer under the stem. This is fine on steep descents, but I found I was wishing I could get more weight on the front while riding flatter trails.
Tell us a bit about your suspension and tyre setup
For the Fox 38 Factory GRIP2 fork I ended up pretty close to the recommended setting for my 83kg weight. 90psi gave me about 20% sag, and I set the rebound damping at five clicks out for low-speed and four clicks out for high-speed. I left the low-speed compression fully open and set the high-speed dial one click in from fully open. In this configuration the forks felt smooth and offered great support.
For the Float X2 rear shock I ended up with 165psi to give me 30% sag. I set high-speed rebound three clicks in from closed and low-speed eight clicks in from closed. I ran the high-speed compression fully open, and set the low-speed adjuster nine clicks in from closed.
The tyres were a cinch to set up tubeless, though annoyingly Canyon doesn't include valves or sealant in the box so you'll have to purchase your own separately.
For the Assegai up front I ran 23psi, and for the Minion DHR II on the rear I went with 25psi. This is on the low side as I was mostly riding very wet and muddy trails where the lower tyre pressures helped with grip. During a few rides on rockier terrain I bumped pressures up 2psi to prevent rim dings.
What do you dig about the Canyon Torque:ON CF?
With 180/175mm of travel and geometry that's low and slack, there are no points for guessing what the Canyon Torque:ON CF is designed for. And when pointed downhill it really does come into its own. The low BB height, slack head angle, tall stack and long reach all combine to make this bike a descending dream.
It has quality suspension, lots of it, and it has the geo to match its hard-charging nature. I rode some really steep, muddy and rough trails, and this bike instantly gave me the confidence to push it hard in this sort of terrain. The steeper and rougher, the better the Torque:ON CF gets.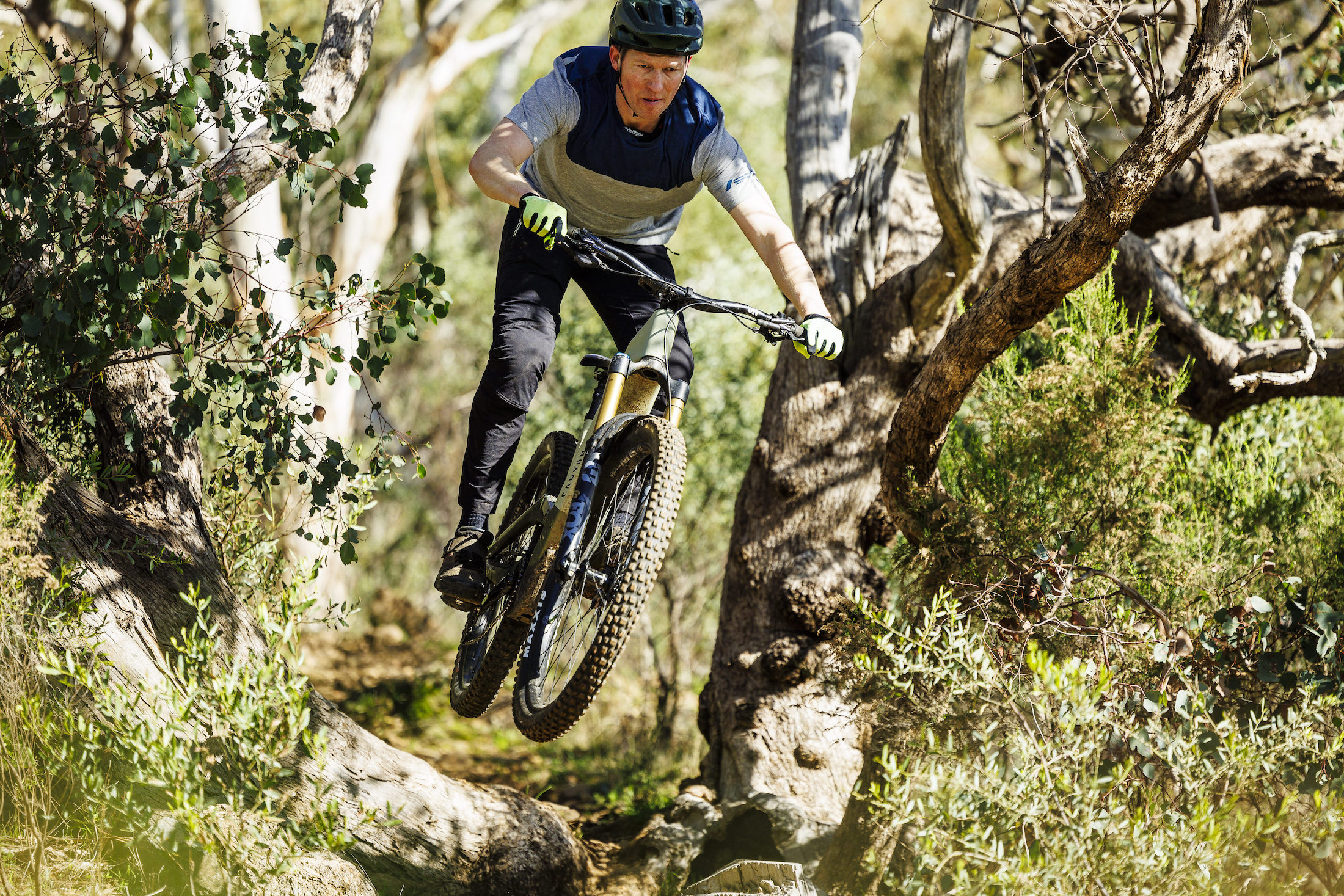 How did you find the mullet setup?
This was actually the first time I'd ridden a mullet setup. I found it helps you to be much more precise when dropping into turns and navigating tighter sections of trail, which tends to be harder with the added weight of an e-MTB.
That's especially the case with the Torque:ON CF since it's able to build so much momentum on the descents. The smaller rear wheel and short chainstays go a long way to helping it turn in quicker and more easily, making this big bike surprisingly fun to ride on twisty flow trails. It jumps just fine too, feeling predictable and stable in the air, with the progressive suspension soaking up harsh landings with incredible composure.
There are no geometry adjustments on the Torque:ON CF. Do you feel like it could do with any?
I never felt like it needed any. Its geometry and travel point it firmly in the direction of a self-shuttler rather than an all round adventure e-MTB, so I think the angles feel pretty spot on for what its aimed at. Those who are looking for a steeper head angle and a higher BB should probably look at other options.
What kind of range were you able to get out of the 720Wh battery?
In the spirit of Wil's standardised range test, I took the Torque:ON CF to one of our local shuttle zones to see how many laps I could accrue on a single battery charge. Zooming up the access road in the full Boost setting, I ended up getting 1,843m of elevation gain before I ran the battery completely flat. That translated to over nine runs in total, which was more than enough for me — I was feeling pretty cooked by the last run!
Do you think you'd choose the 720Wh or the 900Wh battery if you were buying this bike?
Based on my experience as an 83kg rider, the 720Wh battery provided plenty of range for all the rides I took it on. There's enough capacity there that you can comfortably ride on the Boost setting as you like, though stepping down to Trail or Eco will give you the ability to go beyond 2,000m of vertical climbing, which would be a pretty epic ride.
Heavier folks who are anxious about range are likely to appreciate the 900Wh battery, which should allow you to ride 25% further compared to the 720Wh battery. The downside of the bigger battery is that it puts nearly a kilo of extra mass high up on the bike and close to the headtube. As Wil discovered in his Spectral:ON review, that has a negative impact on the bike's handling, especially if you're a lighter rider with less upper body strength. With that in mind, for the majority of people I would think the 720Wh battery would be more than sufficient.
What does it struggle with?
The Canyon Torque:ON CF clearly puts itself in the e-MTB category of the self shuttler. I wouldn't term that as a weakness, but some of the traits of this bike that make it such a great descender also have drawbacks when climbing.
It is more than fine to spin up the shuttle road, but trying to climb singletrack, especially steep and techy trails, presents a few challenges. The low BB height, along with the fact that it sits deep in its 175mm of rear travel, means that pedal strike does become a factor when picking away at rocky and rooty climbs.
The tall stack height pitches your weight backwards and adds to the challenge, as do the relatively short chainstays and the Shimano EP8 motor that lacks a tiny bit of punch on the steeps. It is by no means a terrible climber, but I can think of other more rounded enduro e-MTBs that climb better.
Who would suit this bike then?
If you're looking to replace your downhill bike with an e-MTB, the Canyon Torque:ON CF would be an excellent option.
To get the most out this big descender however, it would suit someone who firstly had the terrain to satiate this bike's hunger for steep and rowdy riding. If your local geography is of the flatter and undulating variety, this likely isn't the e-MTB for you. Really the Torque:ON CF is designed for flat-out downhill trails. The kinds of places where most riders are using an uplift, like Threbo, Maydena Bike Park and Mt Buller.
As well as having big mountains at your disposal, you also need the inclination to push your riding limits in such terrain, as this bike truly is all about the downs. It is confidence-inspiring, but it has to be ridden hard and fast to get the most from it, or one might risk being more of an unwilling passenger.
How does it compare to the Canyon Spectral:ON?
If you're after more of an all-rounder, it might be worth looking at the shorter travel Canyon Spectral:ON that we reviewed last year.
That bike also features a mullet setup, the same Shimano EP8 motor and the option of a 720 or 900Wh battery. It shrinks the travel down to 150/155mm and it tightens up the geometry to make for a lighter and quicker-handling package. That makes it more versatile across a wider variety of trail types, and we reckon it's a better choice for taking on bigger cross-country adventures over undulating terrain.
In comparison, the Torque:ON CF is very much focused on descending. It's plusher, more stable and it offers an absurd level of grip even on the choppiest trails. Sure it's not the best climber, but for its intended purpose it's an absolute blast!
Component highs & lows
Sitting at $12,799 AUD, you get what you pay for with the Canyon Torque:ON CF 9. This bike has great suspension and quality components all-round.
The Shimano XT 4-piston brakes are a highlight as always, and contribute to its hard-charging nature with the confidence of being able to reign this big bike back in if things get out of hand. These brakes are the benchmark in my opinion.
No complaints from the Canyon-branded cockpit items, which are all quality items, and I'll give a double thumbs up for the 200mm travel dropper post. The SUNRinglé Duroc SD wheelset also stood up to some solid abuse, having suffered only a single dent in the rear. And while we are a bit skeptical of headset cable routing, it presented no issues at all over the test period.
Though the Shimano EP8 motor isn't quite as grunty as an equivalent Bosch drive unit, it still performs really well. Canyon's settings for the Trail mode allows you to easily sit in the sweet spot with great support, and it gives the option of a bit more finesse when climbing challenging uphill sections compared to riding in full Boost mode.
Although the motor itself is well protected, I would love to see some more protection for the entire downtube. Being so wide it's more susceptible to rock strikes. A full-length guard would also prevent scuffs if the bike was being transported over a tailgate pad.
Otherwise the only issue I encountered during testing came from a well placed rock that knocked the charging port cover loose, which in turn switched the motor off. The plug is only held in place by a magnet, and there are a few plastic edges to catch in this area of the bike. Perhaps my experience was just the result of bad luck, but we still wouldn't mind seeing a sturdier mechanism to keep the plug locked in place.
How did the EXO+ tyres hold up?
I actually didn't have any issues with the tyres during the test period, even though I ran them without any rim protection. However, I did only limited riding on our notoriously rocky local trails and spent more time at a different spot nearby that's much softer and loamier. It's been a wet winter too, so I've not exactly been schralping dusty bikepark berms!
I will say that all-round traction has been excellent, but given this bike is designed towards smashing downhills, it'd be good to see a more robust tyre casings as standard. A full DH casing might be overkill, but DoubleDown casings would be far more appropriate. Depending on your trail conditions, a tyre upgrade off the bat and a CushCore insert wouldn't be a bad idea at all.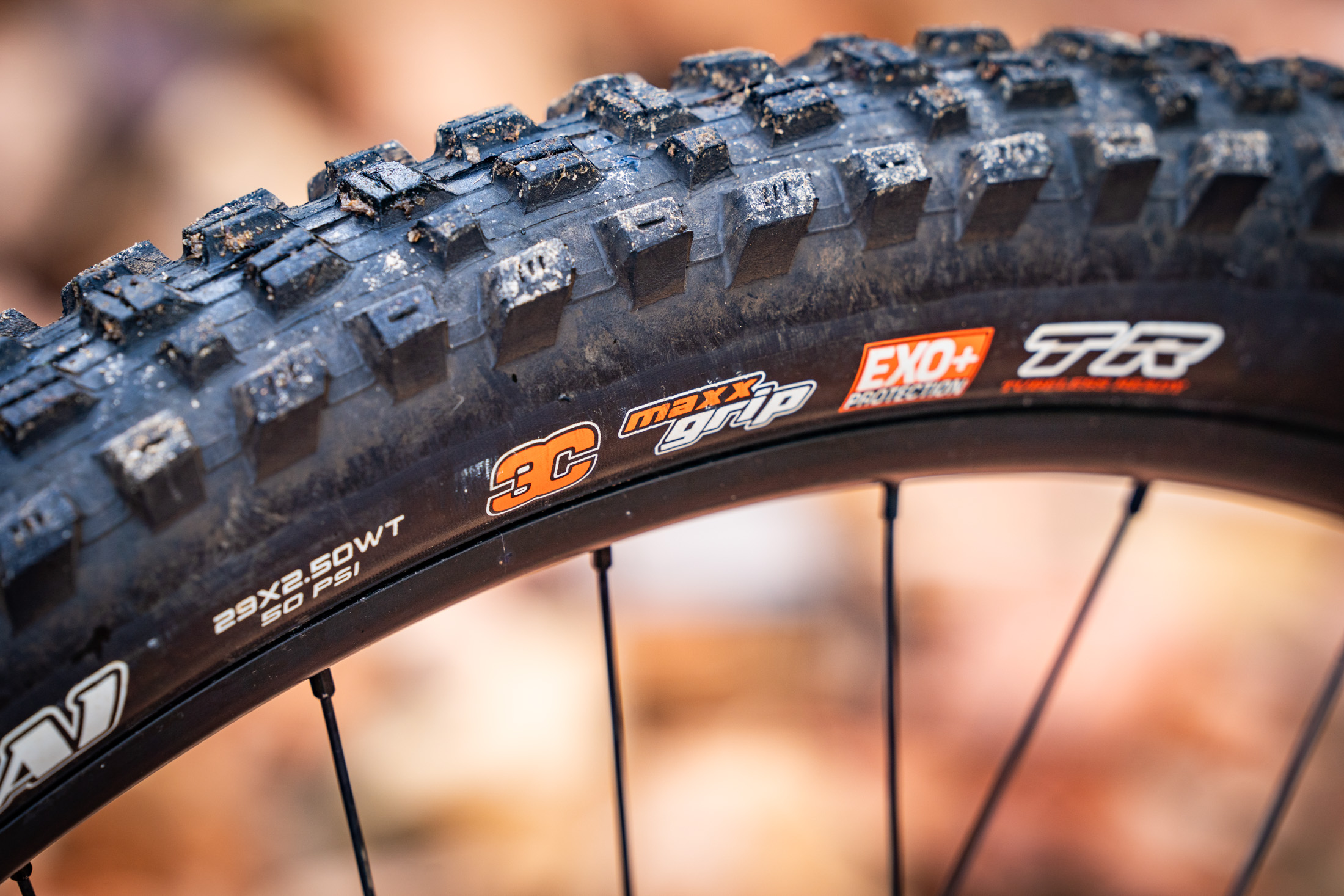 What did you make of the funky water bottle?
The integrated water bottle is, well, different. Canyon's engineers came up with this custom solution since the shock placement meant there was no room for traditional bottle cage mounts. The bottle itself is well designed and locates firmly into its mount in the top tube, but the firm plastic construction and the two-handed operation means it's not really a drink-on-the-fly setup.
Once I got used to it I didn't think it actually looked too bad. It also stayed secure through testing, with the wraparound strap snugging it down. While you have to stop to remove it, I do think having 650ml of water on the bike is better than carrying it on your back, so hats off to Canyon for coming up with a solution rather than there being no bottle at all.
Canyon Torque:ON vs Norco Range VLT
It turns out that in this long travel bracket there aren't too many competitors to the Canyon Torque:ON CF. Or at least, not many that are available in Australia. One bike that is available locally is the Norco Range VLT, and it is a similarly beefy e-MTB.
The Range VLT features 180/170mm of travel, and it differs to the Torque:ON CF in that it comes standard as a full 29er. It otherwise has the same Shimano EP8 motor and it's offered with 540, 720 and 900Wh battery options.
Pricing for the Range VLT C1 is very close at $12,699 AUD with a 720Wh battery, and the spec is pretty similar albeit a touch more aggressive. The Range VLT C1 has the same Fox 38 GRIP2 fork, but it comes with a DHX2 coil shock. It also comes with Maxxis DoubleDown casings and MaxxGrip rubber front and rear. The burlier spec plays out on the scales, with the Range VLT coming in around 26kg.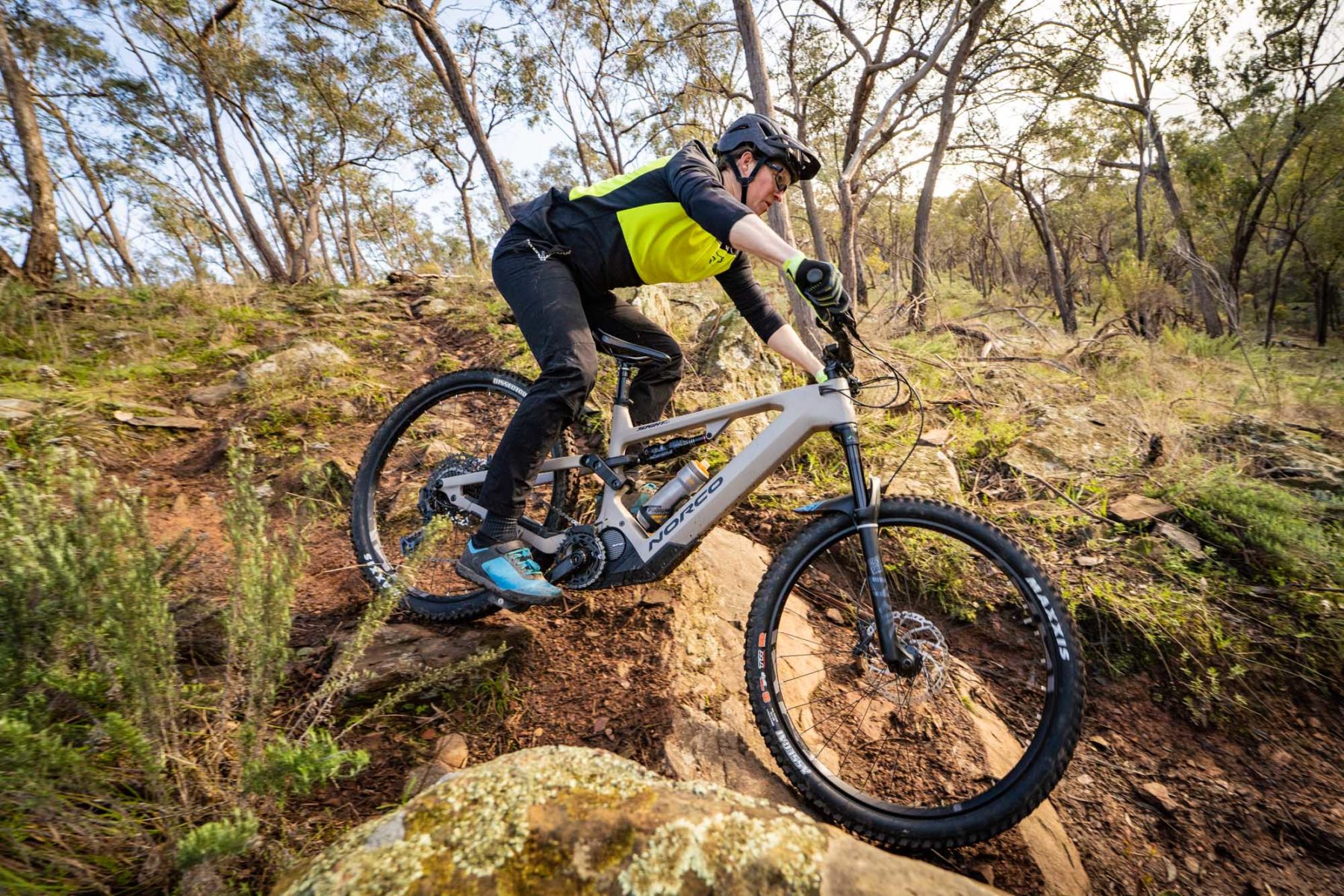 Another factor to consider is the Range VLT's longer chainstays. The rear centre length clocks in at 462mm, which is much longer than those on the Torque:ON CF. Along with the higher weight and full 29er setup you can expect the Range VLT to be less manoeuvrable and more planted on really fast, wide-open descents. We're big fans of a mullet setup on a heavy e-MTB, and it's a big part of why the Torque:ON CF handles as well as it does for a bike with masses of travel.
While we haven't tested the Range VLT as of yet, we have spent a load of time on the Sight VLT that uses exactly the same chassis albeit with a slightly shorter stroke shock and fork. See our Norco Sight VLT review for the full story.
Flow's Verdict
The Canyon Torque:ON CF is a seriously big and burly e-MTB that's an absolute riot when being ridden hard and fast down steep terrain. It handles tighter trails surprisingly well thanks to its mullet setup, and it clocks in at a decent weight given it has so much travel.
It is a lump to ride on flatter gradients however, and it's easy to get lost in all that travel when trying to pump through flowier singletrack. The gravity-oriented geometry means it struggles on technical climbs too, making it less suited to all-round riding. Indeed for many Aussie riders, this will likely be too much bike.
If you've got steep, double-black diamond trails at your disposal however, the Torque:ON CF will be very much in its element. We've been impressed by the suspension quality and its ability to ride the gnarliest trails with such composure, which encourages you to ride at higher speeds and tackle bigger features. As a self-shuttling electric DH bike, the Torque:ON CF is brilliant.