Holy seared eyeballs! Say hello to the new Orbea Rallon XR30, the brightest star in this Spanish company's mountain bike line up, and the only bike that's visible from space.

Orbea have traditionally been renowned for their excellent road and triathlon bikes, and in years past their dual suspension mountain bikes have had all the appeal of a haggis breakfast. But the Rallon signals a new era for this prestigious brand – this bike is right on the money and right on trend.

[divider]Build[/divider]
The Rallon is another addition to the so-hot-right-now all-mountain/enduro category; 160mm-travel, 27.5" wheels, geometry that's happiest when the earth slopes down, but with the gearing and suspension efficiency needed to methodically gobble up the climbs too.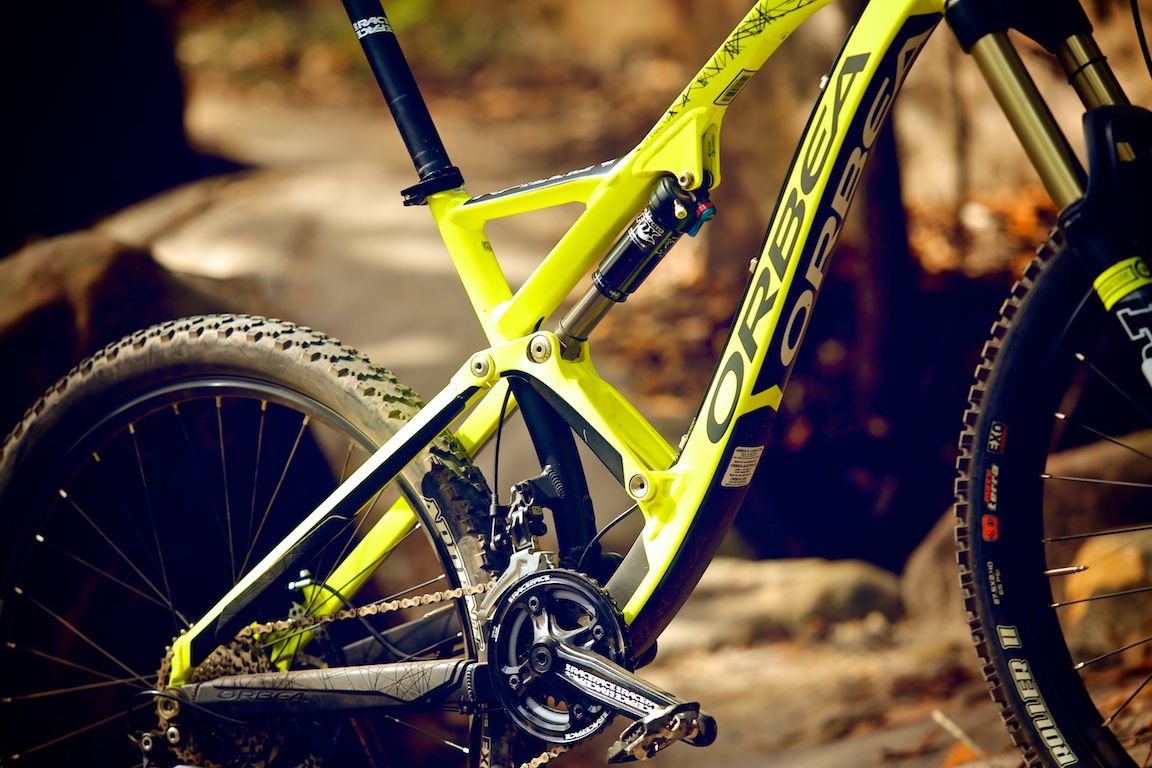 The suspension design is a neat faux-bar arrangement, with a concentric dropout pivot, similar to that found on Trek's ABP system. This setup helps negate the effect of braking forces on the suspension, meaning more grip and a more settled ride when you jam on the anchors after you get blinded by your own top tube and overshoot a corner. FOX's CTD shock (2.5" stroke) takes care of business with simplicity and reliability galore. It's well located for easy access to the CTD lever too, which is handy on the climbs.
It's disappointing that Orbea spec this model of Rallon with a skinny quick-release rear skewer. The dropouts have inserts that allow you to run a 142x12mm through-axle hub, but this really should be out-of-the-box equipment on a bike like this. Similarly, it'd be nice to see more robust bearings at the dropout pivot too; this area is under a lot of stress, and the slim bearings look a little under-gunned.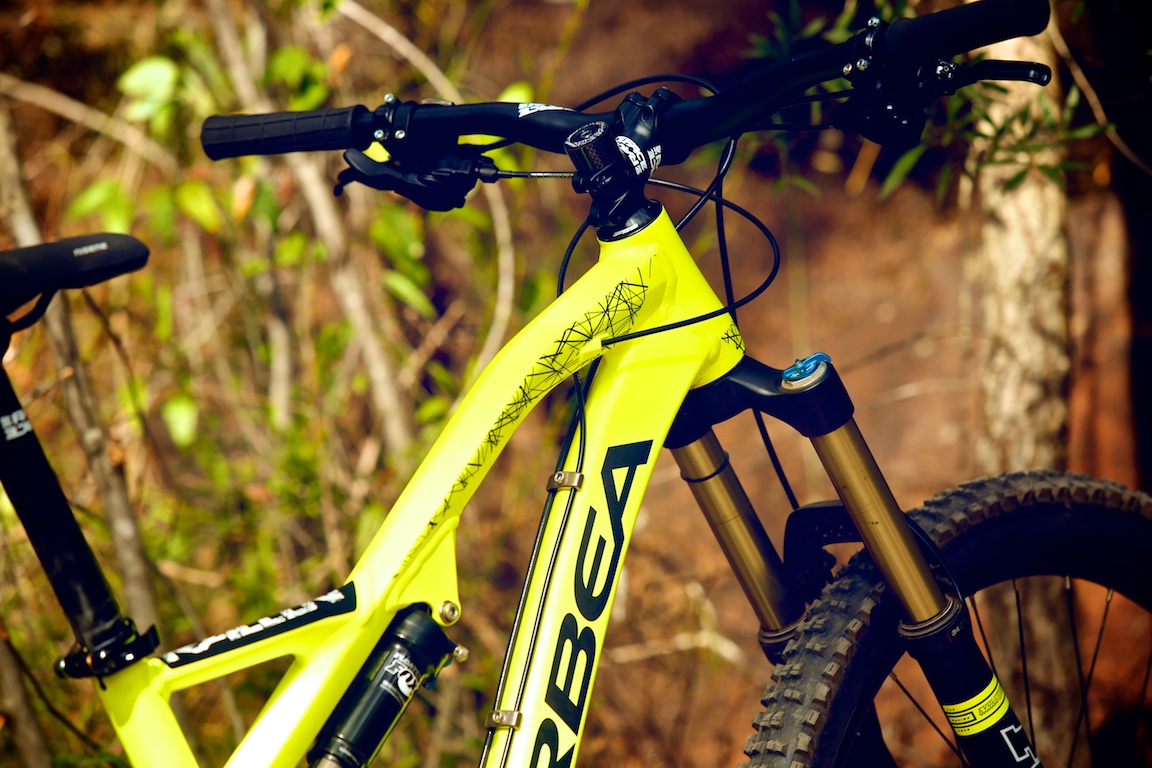 We like the Rallon's excellent standover height. While it's a fairly large bike overall, the dropped top tube keeps it feeling unobtrusive between your knees, like wearing a sarong when you're used to jeans. Given the frame's front triangle design, it's odd that there's no bottle mounts, meaning you'll need to run a backpack, or put up with an amazing dehydration head ache.
Orbea have hit all the right numbers with the Rallon's geometry. Short 420mm chain stays make for a lively ride, and the head angle / bottom bracket height can be tweaked to suit your tastes via the simple, clean offset forward shock mount.
[divider]Spec[/divider]
The Rallon's spec is designed to hit a competitive price point, and on the whole it succeeds in giving riders who don't have a squillion dollar budget a great all-mountain experience.
If we had to pick a highlight, it'd be the suspension; the FOX fork and shock are excellent. Both items are easy to setup, and work with the zen-like harmony of a good dragon boat crew. The other fundamentals which have a huge impact on the ride are also nailed, with a great RaceFace cockpit and top-notch Maxxis rubber. With a confident cockpit, good rubber and great suspension, you've got a solid foundation that won't hold you back in any situation.
Of course, we'd have loved to have seen a dropper post on this bike, but that would push up the price. Still, a dropper would be the first upgrade we'd make (the frame has cable routing provisions for an internal post). Second on the list would be the wheels; the Mavic 321 rims are rather narrow, and aren't tubeless friendly, plus the rear hub is a cheapy with poor sealing. We'd suggest riding these wheels until they turn into octagons in a year or two's time, then upgrading to something wider and tubeless ready.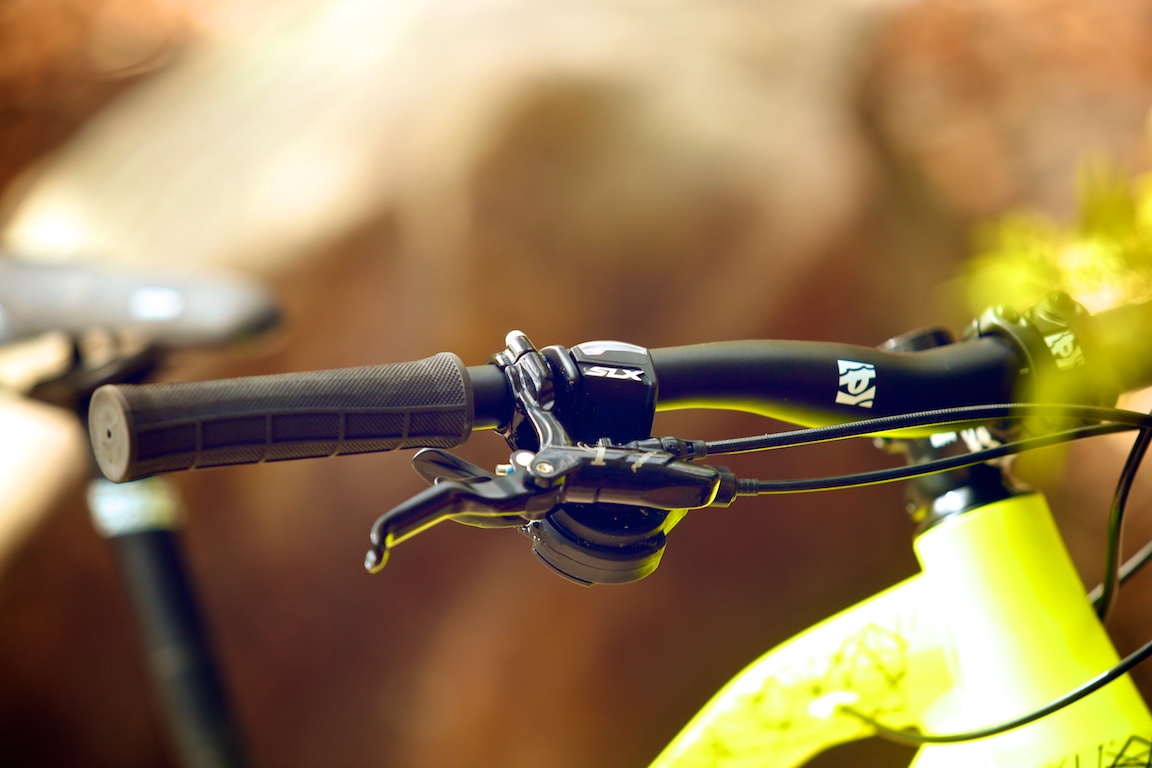 [divider]Ride[/divider]
The Rallon, by virtue of its great geometry and suspension, is an easy bike to trust. With a hefty 14.65kg weight and heavy wheels, momentum is your best friend; stay off the brakes, let the suspension and tyres work their magic. If you get bogged down, it takes a bit of muscle to get thing back up to speed.
A solid, precise front end rewards bold line choices, though sometimes we did a feel bit of a wag in the tail – the difference in stiffness between the front 15mm axle and the quick release rear is obvious on rough corners.
In spite of its weight, the Rallon manages to remain pretty playful in the tight stuff. A tall-ish front end and the short stays make it easy to get the front end in the air, and the Rallon surprised us with its agility and perfectly composed little drifts through singletrack corners. The bitey Maxxis High Roller up front holds tight, letting the rear scoot on through with grin-inducing slides.
Climbing is what it is. The Rallon will get it done, but you'll sweat a bit along the way. Make use of the CTD lever and settle in for a spin to the top. Without a dropper post, you invariably end up running the seat a centimetre or two lower than optimum height (or else you're constantly hopping on and off to adjust it for every descent) so just chill out on the climbs – this bike's all about the descents anyhow.
[divider]Overall[/divider]
As an entry-level all-mountain machine, the Rallon passes with flying fluro colours. The fundamentals are all there; geometry, suspension, confidence-inspiring components – a few simple upgrades down the track, like a dropper post and tubeless wheels, will make this bike really sing.