Flow reviews the Avanti Hammer-E LT2
How much should it cost to get a decent full suspension electric mountain bike with a powerful motor and solid components? If you're looking at an e-MTB like the Specialized Levo, you'll be paying a minimum of $9,400 AUD. And that's for the entry-level model.
In comparison, the Avanti Hammer-E LT manages to come in well under that price point while still offering up plenty of travel, a contemporary parts package and the excellent Bosch Performance CX Gen 4 motor. So how does it ride?
As well as being approachable and easy to get used to, it's also proof that you don't need to spend five figures just to get a capable full suspension e-MTB.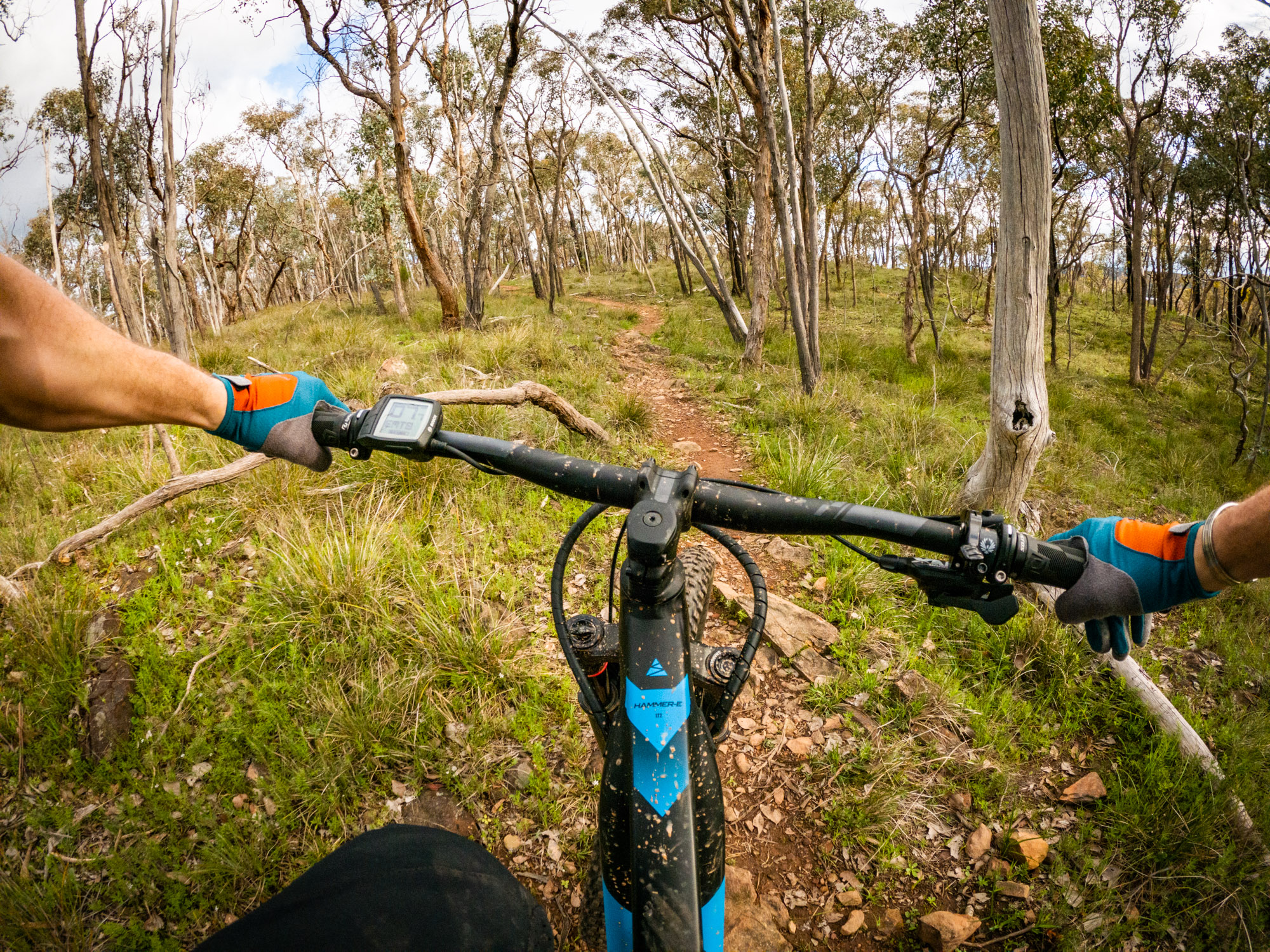 An overview of the Avanti Hammer-E LT
The Avanti Hammer-E LT is a dual suspension, ride-all-of-the-things e-MTB. It's equipped with a 160mm travel fork and 150mm of rear wheel travel courtesy of a simple four-bar suspension platform.
While the Medium, Large and X-Large frames feature 29in wheels, the Small frame comes fitted with 27.5in wheels to offer a little more clearance and lighter steering for shorter riders.
The alloy frame is a relatively low-frills affair, with no carbon, geometry adjustment or integrated displays in sight. It is built around the Bosch Performance CX motor however, which delivers up to 85Nm of peak torque. The older, but entirely functional Purion display sits proudly next to the left-hand brake lever.
There's a removable battery within the downtube, which is protected by a plastic armour plate that sits in place via a tool-free threaded nut. You can charge the battery separately, or while it's mounted in the frame via a port located above the motor.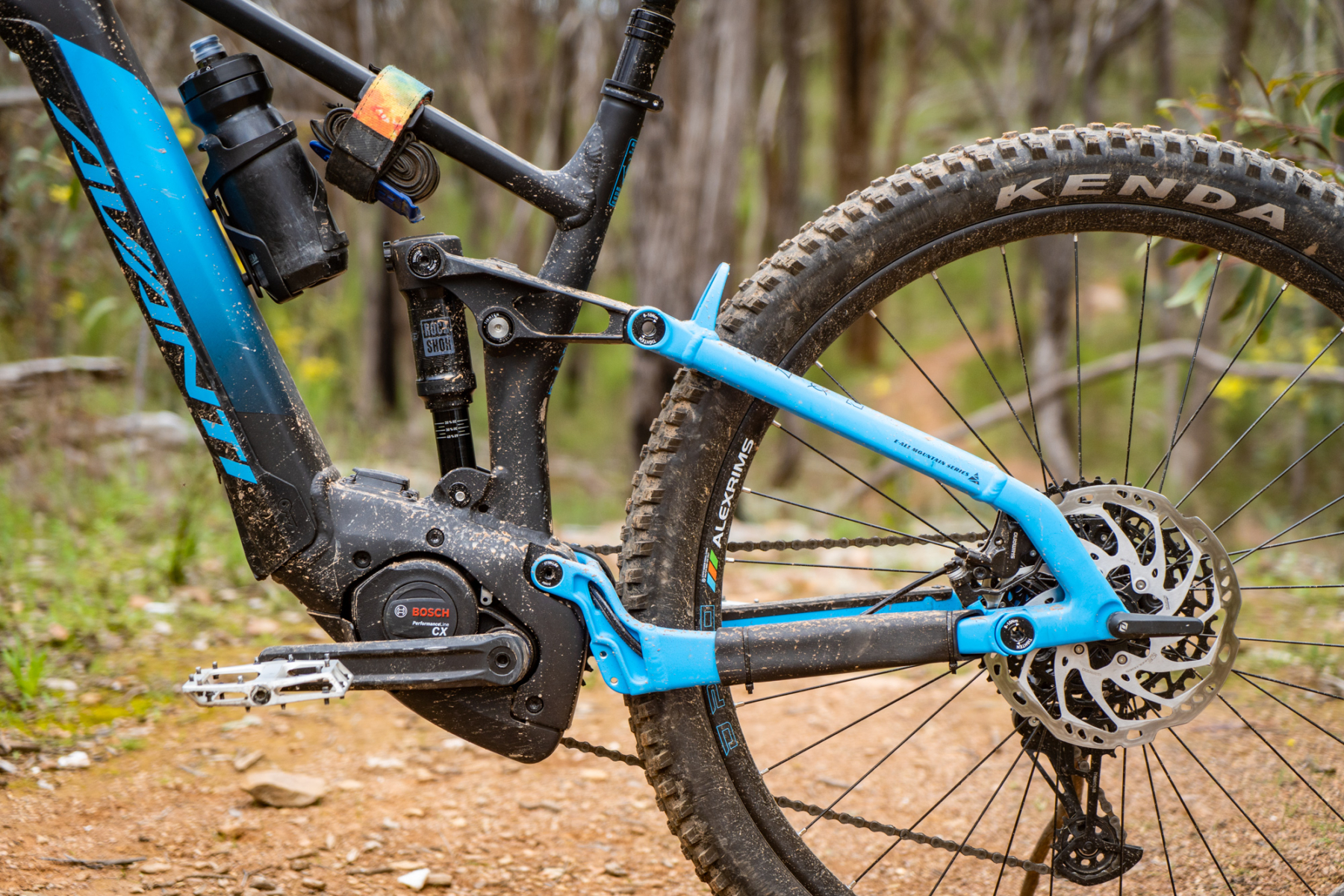 Avanti Hammer-E LT price & specs
There are two Avanti Hammer-E LT models, with prices starting at $7,499 AUD for the LT1. The entry-level model gets the same frame, motor, wheelset and brakes, but it downgrades to a 500Wh battery, RockShox 35 fork and a SRAM SX Eagle drivetrain.
That makes it a bit of a no-brainer to spend the extra grand to get the LT2 that we've been testing. This bike gets the bigger 625Wh battery, a RockShox Zeb and SRAM NX Eagle drivetrain.
2022 Avanti Hammer-E LT2
Frame | AL-6061 Alloy, Four-Bar Suspension Design, 150mm Travel
Fork | RockShox Zeb, Charger R Damper, 160mm Travel
Shock | RockShox Deluxe Select R
Drive Unit | Bosch Performance CX Gen 4, 85Nm
Battery | Bosch PowerTube 625Wh
Wheelset | Shimano MT400 Hubs & Alex DP30 Alloy Rims, 30mm Internal Rim Width
Tyres | Kenda Regolith SCT 2.6in
Drivetrain | SRAM NX Eagle 1×12 w/FSA 34T Crankset & 11-50T Cassette
Brakes | Shimano MT420 4-Piston w/203mm Rotors
Handlebar | Syncros Hixon 2.0, 12mm Rise, 780mm Width
Stem | Syncros FL 2.0, 50mm Length
Seatpost | Syncros Duncan Dropper Post, 31.6mm Diameter, Travel: 100mm (S), 120mm (M), 150mm (L), 170mm (XL)
Saddle | Syncros ER 2.5
Confirmed Weight | 24.68kg
RRP | $8,499 AUD
Avanti Hammer-E size & geometry
With testers ranging from 172-176cm tall, we've been riding a Medium size in the Avanti Hammer-E LT2. Geometry is on the more conservative side with a 445mm reach, a 65.5° head angle and a 75° seat angle.
All frame sizes are spec'd with 165mm long cranks. They all utilise the same back end too, which sees a chainstay length of 462mm. That is very long, and it means that the rear centre is actually longer than the reach on the Small and Medium frames.
Otherwise there's nothing really out of the ordinary in terms of the overall fit. Avanti has spec'd a proper 780mm wide riser bar and a short stem, with an agreeable Syncros saddle and lock-on grips rounding out the cockpit.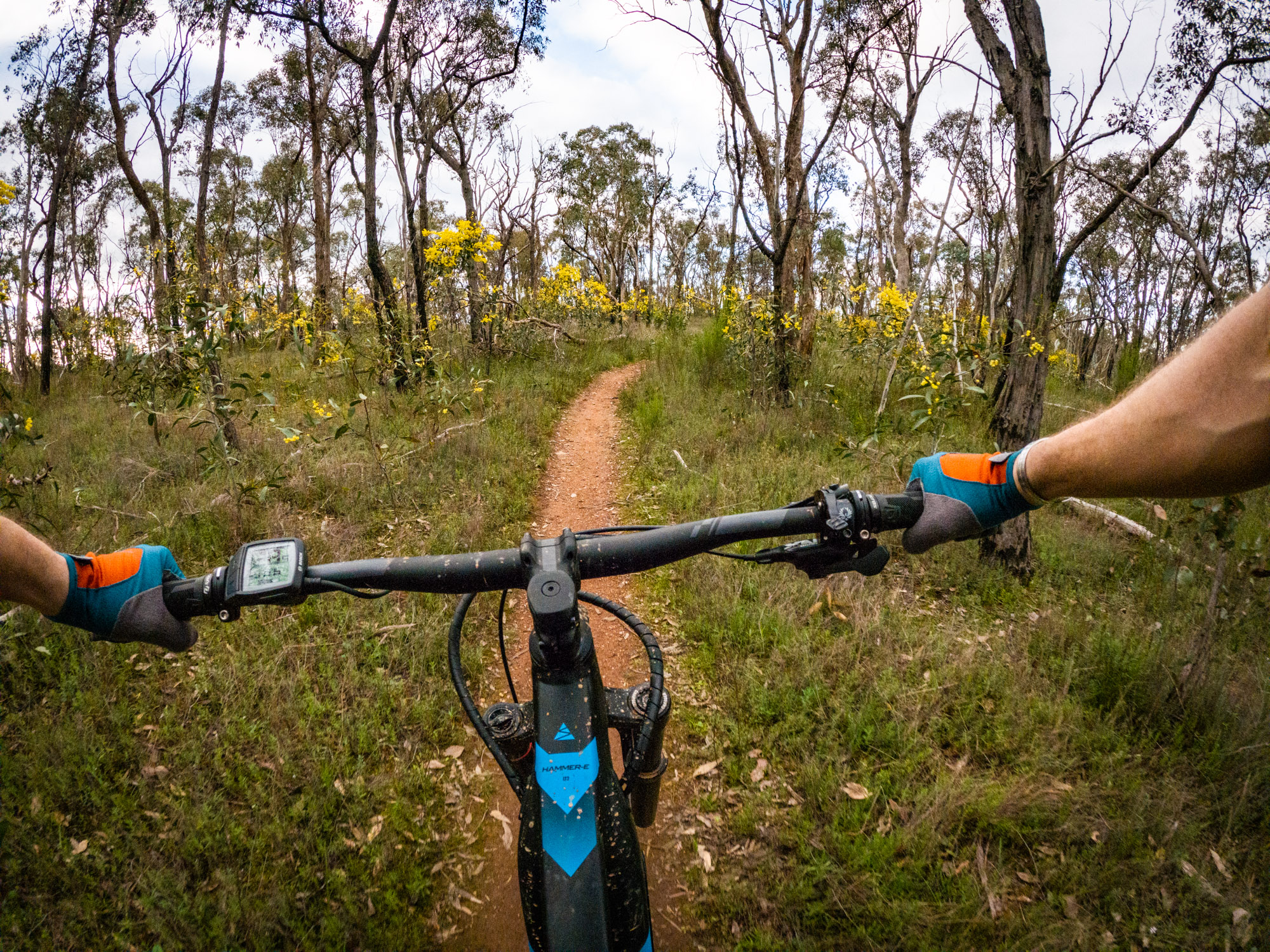 Suspension & tyre setup
There's nothing intimidating about setting up the Avanti Hammer-E LT2. You don't need a smartphone app to configure the motor, nor do you require a degree in fluid dynamics to set up the suspension.
You only have air pressure and rebound damping to adjust on the fork and shock, both of which feature anodised sag gradients. We set up the rear shock with 30% sag, and ran the recommended air pressure in the fork as per the chart printed on the lowers. With rebound damping set a couple of clicks faster than halfway, the suspension felt great out of the box.
Although the wheels and tyres are tubeless compatible, the Hammer-E LT2 comes supplied with inner tubes fitted. We ran pressures between 21-23psi up front and 24-26psi on the rear.
What do we dig about the Avanti Hammer-E LT?
After coming off testing a string of much more exotic e-MTBs, it was a somewhat refreshing experience hitting the trails aboard the Avanti Hammer-E LT2. As well as being approachable and easy to get used to, it's also proof that you don't need to spend five figures just to get a capable full suspension e-MTB.
The suspension is plush, with the shock's trunnion bearing mount delivering great sensitivity. The result is a comfortable ride quality with plenty of traction on tap. While the rear suspension is nice and active, there's also good support on bigger hits too. We're yet to experience any harsh clunks from the rear shock, despite using all 150mm of travel on many occasions.
The RockShox Zeb is a solid performer too. It's not quite as sensitive as the back end, but the big 38mm chassis means it handles big hits with ease, giving a stout and dependable feel between your hands and the trail. Along with the powerful Shimano brakes and big 203mm rotors, the Hammer-E LT2 provides you with the confidence to push hard on the descents.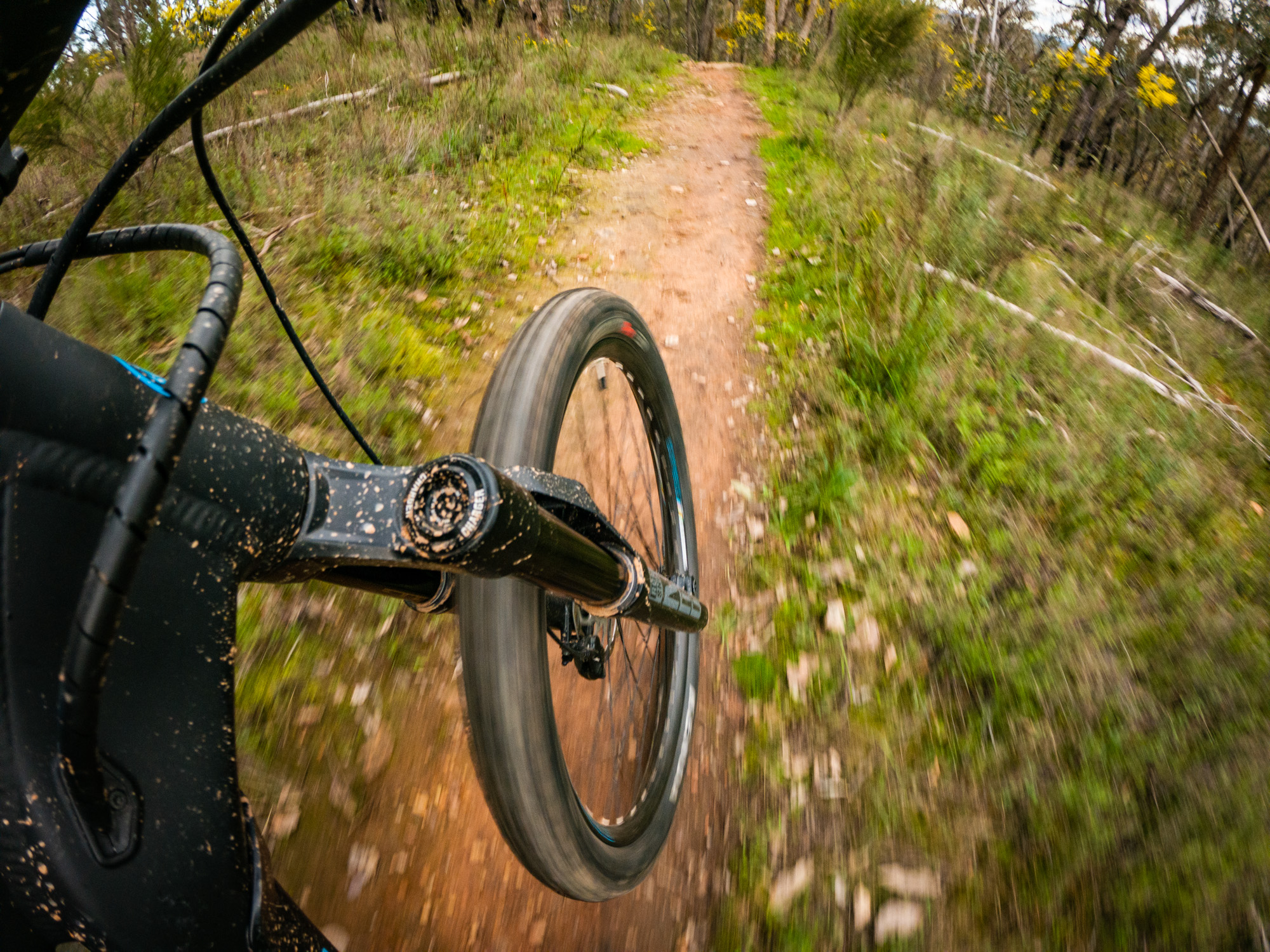 You can certainly push it hard too, as there's great stability from the 29in wheels and long wheelbase. The long back end does mean a lot of your bodyweight is pushed onto the front wheel, so you'll need to extend your arms and get your bum behind the saddle if you're hitting really steep descents. On less extreme gradients however, the Hammer-E LT2 feels steady and calm. The long chainstays are also advantageous on the climbs, keeping the front wheel planted when the trail kicks upwards.
Of course the Bosch motor is a real drawcard for this bike, offering intuitive power delivery with a load of punch. It's noticeably more powerful than a Shimano EP8 drive unit, and it's also less fussy about which gear you're in.
For trail riding we preferred using the eMTB mode, which adapts the motor's output based on the input from your legs. This makes it easy to control the power delivery on tricky climbs littered with loose rocks, while still allowing you to achieve maximum support when you pedal hard enough.
Despite its obvious muscle, in our experience the Bosch drive unit also delivers impressive efficiency. Combined with the 625Wh battery, there's potential to head out some seriously big backcountry rides aboard the Hammer-E LT2.
What could be improved?
Given the obvious capability of the Avanti Hammer-E LT2, we really wanted more traction to make the most of it. The Kenda Regolith tyres have a relatively shallow tread profile, which means they roll well, but struggle to dig in when riding over loose rocks and across powdery dirt. That saw us wash out the front wheel on a couple of occasions. A toothier front tyre, like a Maxxis Assegai or Schwalbe Magic Mary, would offer loads more grip and confidence.
Setting up the wheels tubeless would also be a great upgrade. This would allow you to run lower pressures for more traction and comfort, and the liquid sealant would help to prevent punctures.
While Avanti have otherwise got a lot of the details right on the Hammer-E LT2, the dropper post lever is in a terrible position on the right-hand side of the bars. It's difficult to reach and awkward to activate, with our test bike suffering from a particularly sticky cable from the factory.
Speaking of modifications, it's worth noting that the Hammer-E LT frame does have a geometry flip chip in the lower shock mount that allows you to run a mullet setup.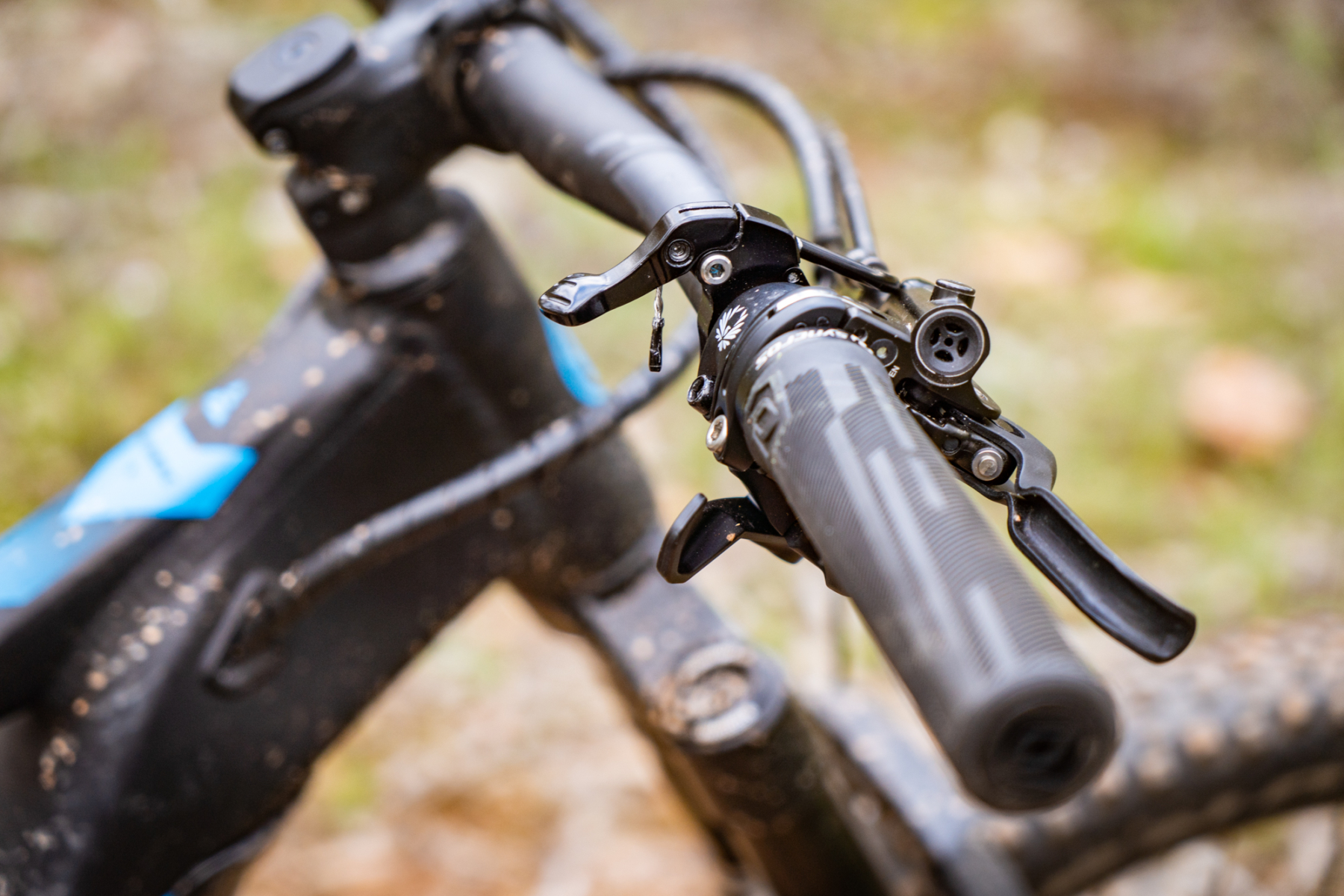 We'd recommend swapping the remote to the left side of the bars, though we'd much rather see an under-the-bar dropper lever to begin with. There are options out there that'll cost you less than $100, and that's an upgrade we could wholeheartedly recommend to any Hammer-E LT owners out there.
The dropper post itself works ok, though the action and return speed is pretty sluggish compared to nicer options out there. The 120mm stroke (on the Medium) is also on the short side, meaning we had less room to move about the cockpit on the descents. Fitting a dropper post with more travel would be another worthy upgrade to improve freedom of movement.
Speaking of modifications, it's worth noting that the Hammer-E LT frame does have a geometry flip chip in the lower shock mount that allows you to run a mullet setup. Our test bike came from the factory in the lower position to suit the stock 29er wheels, though flipping this chip into the high position will help to lift up the BB when running a smaller 27.5in rear wheel. Bear in mind that the change in wheel circumference will affect the motor's cutoff speed, though as we found out recently, experimenting with a mullet can still be a load of fun.
What else is available at this price?
There are a number of full suspension e-MTBs available around a similar price point to the Avanti Hammer-E LT2, many of which we have on-trail experience with.
The Cube Stereo 160 Hybrid HPC Race comes in cheaper at $7,699 AUD, while offering the same Bosch motor and 625Wh battery. It also features a carbon main frame, though it downgrades to a RockShox Domain RC fork with the lesser Motion Control damper. Unlike the Avanti, the Stereo Hybrid 160 range is designed exclusively around 27.5in wheels, which will appeal to some riders and turn off others. We've currently got one on test – check out all the details in our first look of the new Cube Stereo Hybrid 160.
The Polygon Mt Bromo N8 is well priced at $7,899 AUD, while offering more progressive geometry than the Avanti along with top-notch Fox suspension and aggressive Schwalbe tyres as standard. It does use a smaller 504Wh battery however, and you have to purchase it online, which may make it a non-starter for some. For the lowdown, check out our Polygon Mt Bromo review.
The Canyon Spectral:ON CF 7 is another bike that's sold direct-to-consumer, which means you'll need to add on a hefty shipping fee to its $8,899 AUD price tag. That makes it more expensive than the Avanti, though it does feature a sleek carbon frame with a huge 720Wh battery as standard, and it's possible to upgrade to a 900Wh battery for maximum range. Contemporary geometry and a mullet wheel setup make it a load of fun to ride too – see our Canyon Spectral:ON review for more info.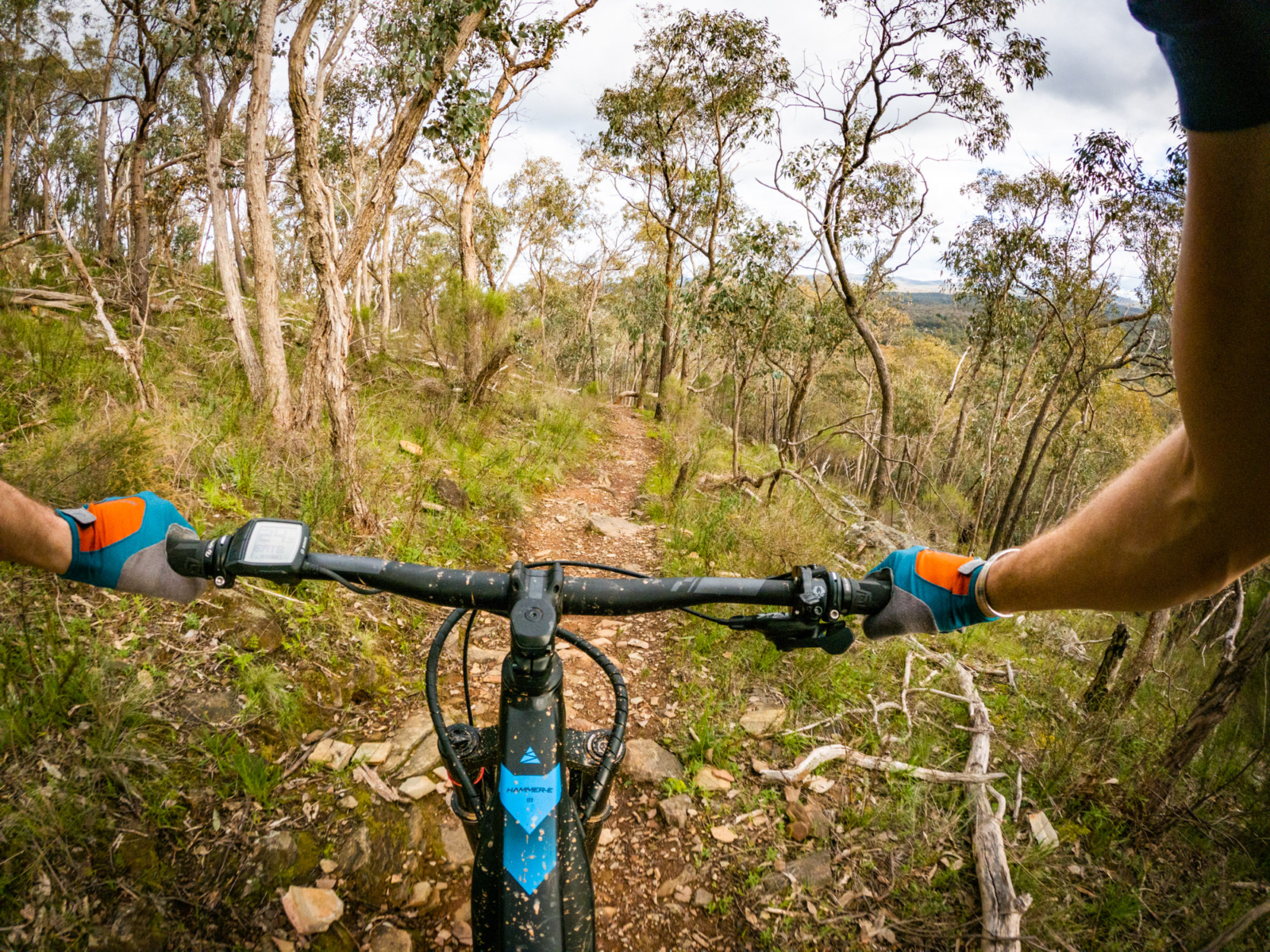 Flow's Verdict
Despite being considerably cheaper than a Specialized Levo, the Avanti Hammer-E LT still manages to pack in almost everything you could want from a modern full suspension e-MTB.
The Bosch motor is superb, offering up terrific power and plenty of range with the 625Wh battery. We've been impressed by the smooth and easily tuneable suspension, which delivers great traction and a comfortable ride over rough terrain. Along with the powerful brakes and beefy fork, there's little here that will hold you back on the descents.
That said, riders who are pushing the limits of the Hammer-E LT2 will benefit from fitting a more aggressive tyre up front. We also found that the stock dropper post and its poorly positioned remote left a lot to be desired.
Avanti has otherwise delivered a great package for the money that'll suit folks who are looking to get onto their first proper full suspension e-MTB. No, it doesn't have the most progressive geometry around, but on the trail that actually makes it an easy bike to ride across a range of riding speeds. And as well as giving confidence to newbies, the solid frame, competent handling and active suspension will allow intermediate riders to grow their skills as they explore different trail networks and take on new challenges.