Wil reviews & rates the best XC mountain bikes
Over the past three years, I've had the chance to review some of the best cross country mountain bikes currently on the market. From the strikingly svelte Trek Supercaliber, to the plush 'n' progressive Merida Ninety-Six, to the lethally lightweight Specialized Epic, we've tested some absolutely incredible full suspension race machines.
While all these bikes possess their own unique strengths, quirks and on-trail personalities, together they represent a broader evolution in the sport of XC as a whole. As race courses become more technical and demanding, we've seen the widespread adoption of dropper posts, wider handlebars and more powerful brakes, which have helped to elevate rider confidence and control. Frame designers are employing wider chainlines to accept bigger tyres, and head angles are getting slacker to improve high-speed stability. And in the case of bikes like the Giant Anthem and Scott Spark, we're also seeing notable increases in suspension travel to deliver more traction and comfort on rougher trails.
Not only have all these improvements allowed elite athletes to ride faster and harder than ever before, they've also made the premise of owning a super-light XC bike all the more appealing for everyday riders. Indeed modern XC bikes are no longer the horribly dainty, overly-twitchy, crash-fests of old. Far from it. A lot of these bikes are actually — dare we say it — fun to ride. And in most cases they're surprisingly versatile too, often with the ability to accommodate a longer stroke shock and a bigger fork that allows them to morph into a lightweight trail bike.
So out of all the snazzy new models that we've been testing, which is the best XC bike? Here we'll be taking you through the top eight full suspension race bikes we've tested, what's impressed us, what hasn't, and which gets our pick out of the lot.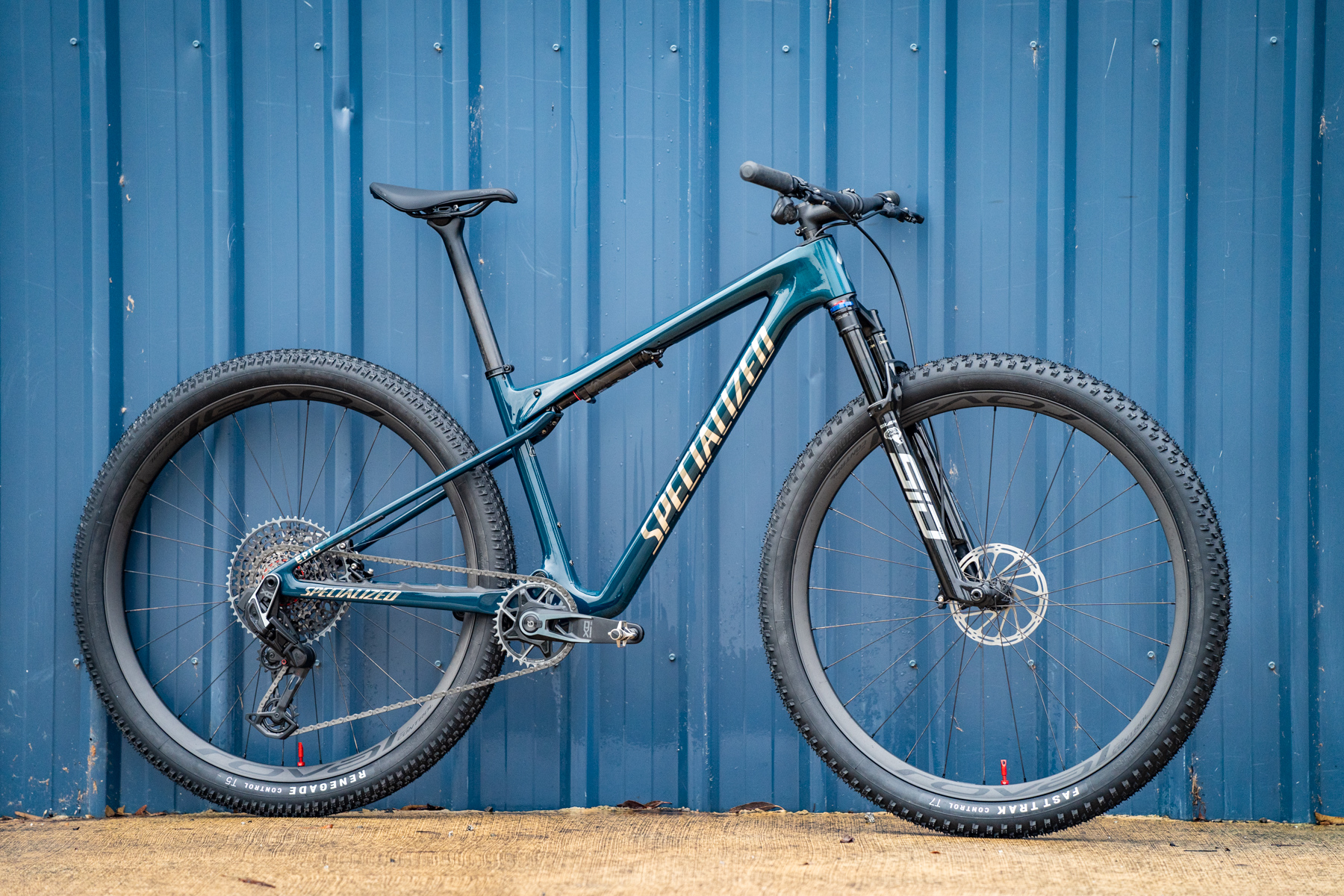 Specialized Epic World Cup
Highs: Exceptional automated efficiency, superb geometry, tuneable shock, clutter-free cockpit, very lightweight, dual bottle ready
Lows: Ride can be unrelenting when not at race pace, proprietary shock is yet to be proven in the mass market, not cheap
A brand new model for 2023, the Specialized Epic World Cup is the result of a 4-year project to build the ultimate XC race bike that combines the responsiveness of a hardtail, with the big-hit control of a conventional full suspension bike.
To achieve this lofty goal, Specialized ditched the Brain damper and collaborated with RockShox to build a new SIDLuxe WCID shock. Instead of an inertia valve, the new shock utilises a clever air spring design that allows you to tune the negative chamber independently of the positive spring. The result is a highly tuneable package that delivers near-hardtail acceleration in its firmest setting.
The proprietary shock delivers just 75mm of rear travel, and that's paired to a custom RockShox SID SL fork with 110mm of travel and an updated Brain damper. It's all built around a new carbon fibre chassis that is claimed to be one of the lightest on the market.
While rear travel is conservative, geometry is very progressive with a 66.5° head angle and a very low 58mm BB drop. It all adds up to create a responsive and highly involving bike to ride, though one that prefers to be pushed hard and fast to get the most out of it. With this in mind, riders who prefer a plusher ride quality and are after a more versatile XC bike will be better off looking at the longer travel Epic EVO.
But if you value outright efficiency, the Epic World Cup is arguably the best on the market while offering a stupendously clean cockpit with no lockout to worry about. Get the full story in our Specialized Epic World Cup review.
Canyon Lux World Cup
Highs: Organic pedal efficiency, precise handling, high-tech bearings, dual bottle ready, very appealing spec for the money
Lows: Racy suspension feel won't suit all tastes, headset cable routing, fork feels under-gunned
Sitting alongside the slightly longer travel Lux Trail, the Canyon Lux World Cup is a purebred race machine. It's equipped with 100mm of travel and a new carbon frame that Canyon claims to be one of, if not the lightest on the market.
The updated geometry has paid dividends on the trail, with the Lux World Cup offering improved balance and stability at speed over its predecessor. It ties in well with its race-tuned chassis and suspension, which provides outstanding pedal efficiency and responsive handling through tight singletrack.
Given how hard you can push the stout frame, the Fox 32 SC does feel somewhat under-gunned up front. We're also surprised that Canyon doesn't offer any of the Lux World Cup models with a dropper post. Combined with the firm suspension tune, the Lux World Cup isn't as plush or as confidence-inspiring on rough terrain as more contemporary bikes like the Scott Spark or Merida Ninety-Six.
With that in mind, those chasing more of an XC all-rounder might want to check out the Lux Trail instead. But if you're after a lightweight, agile and deadly efficient race bike, you'd be hard pressed to find anything that packs in the same level of features and spec for the money as this. See our Canyon Lux World Cup review for the lowdown.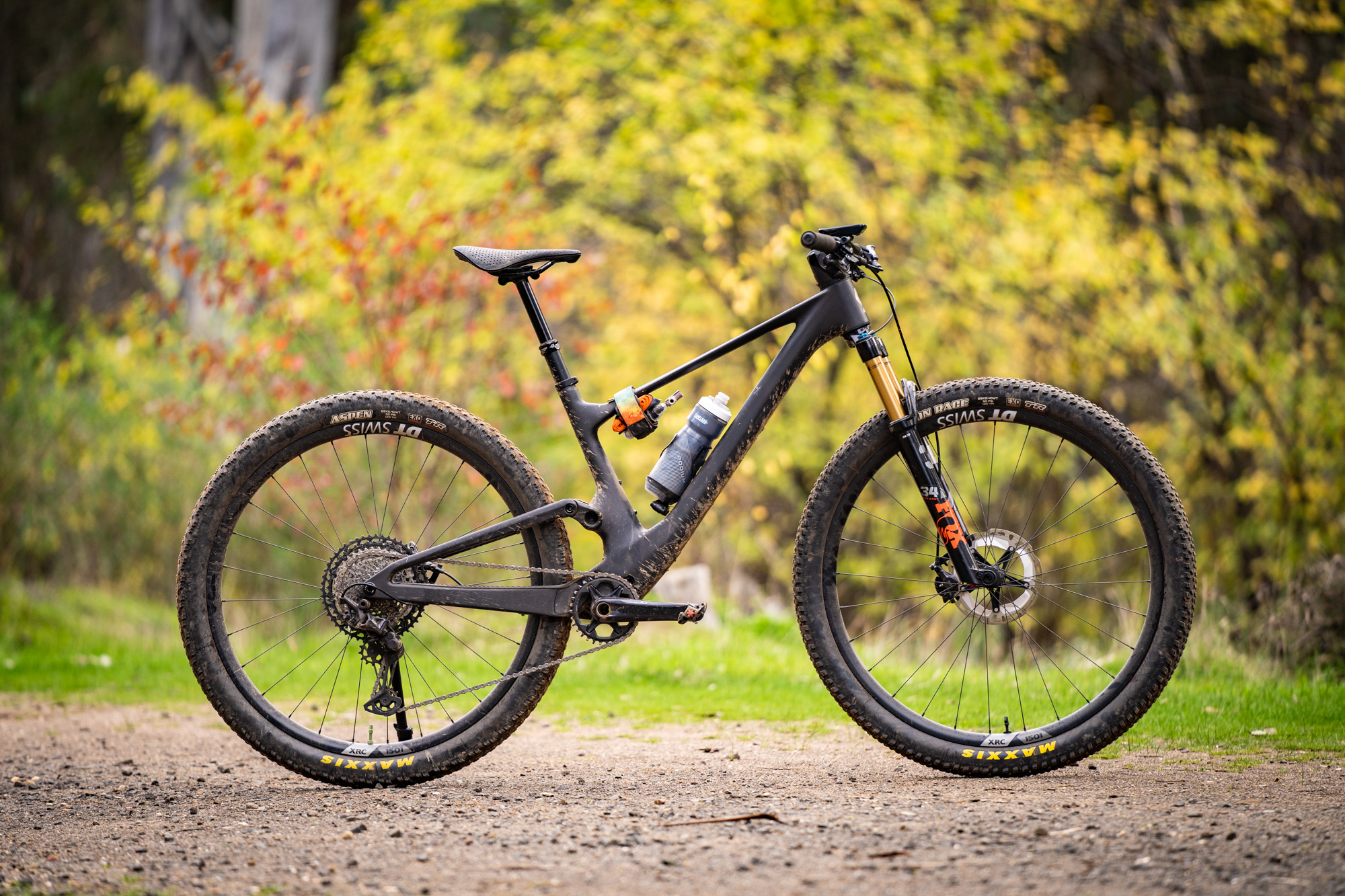 Scott Spark RC
Highs: Progressive geometry, plush and traction-rich suspension, versatile chassis, split-personality TwinLoc system
Lows: Reliant on remote for pedalling efficiency, headset cable routing adds maintenance frustration, noisy frame
No doubt about it, the Scott Spark was one of the biggest bike launches for 2022. Replacing what was perhaps the most successful XC bike on the market, the 4th generation Spark dropped jaws thanks to its high-tech carbon frame and cleverly hidden rear shock. Featuring an updated TwinLoc remote, the Spark also introduced envelope-pushing geometry with adjustable headset cups. It also pushed the envelope with its suspension, extending travel out to 120mm at both ends — a genre-defining statement for World Cup-level XC race bikes.
Despite all the advancements, the Spark still relies on a handlebar remote and two cables to control its suspension. You'll need to use the remote a lot to get the most out of it too, since the pedalling performance is deliberately soft and drivetrain-neutral in the full travel 'Descend' position. If you're not a fan of remotes, then the Spark won't be the bike for you.
If you're happy to flip levers though, and you can live with the internal cable routing through the headset, the Spark offers adaptable performance that makes it both a brilliant technical climber and a fun descender. The plush suspension and low-hanging BB allows you to rip through turns, providing traction and comfort in situations that can scare lesser bikes. It really is impressive, and it all adds up to create the most capable XC race we've ever tested. Get the full story in our Scott Spark RC review.
Giant Anthem
Highs: Very lightweight frame, fantastic all-round handling, updated Live Valve is brilliant for XC racing, near-faultless contemporary build kit
Lows: Our original test frame cracked, Live Valve adds complexity and clutter, single bottle only
The Giant Anthem is the newest XC bike in our list, having encountered a wholesale redesign for 2022. Moving away from its classic Maestro suspension design in favour of a simpler single pivot arrangement, the new Anthem frame has shed a hefty amount of weight and now stands as one of the lightest options on the market.
While weight has gone down, suspension travel has gone up by 10mm at both ends, with complete bikes featuring a 110mm travel Fox 34 SC fork. You'll also find a dropper post and 2.4in Maxxis WT tyres on each model, as well as longer reach measurements and a contemporary 67.5° head angle.
Giant has also doubled-down on its commitment to Fox Live Valve for 2022, with two out of the three Anthem models featuring the updated Live Valve 1.5 system. The electric wires add clutter to the cockpit, while an external battery pack protrudes from the underside of the top tube. The overall packaging also means the Anthem is one of the few new XC bikes on the market that won't fit two bottles.
We've been mighty impressed with the performance of the updated Live Valve system, which offers a smoother but still lightning-fast transition between Open and Firm settings. It's especially advantageous for XC racing where its firm platform delivers stompable efficiency, while giving you access to plush and active suspension on the descents. No need to toggle remote lockouts, just focus on the trail ahead. To hear about our long-term experience, check out our Giant Anthem review for more.
Merida Ninety-Six RC
Highs: New-school geometry, sensitive and progressive suspension performance, excellent spec for the money, dual bottle capability
Lows: Not the snappiest pedaler, not officially compatible with 2.4in tyres, inconsistent TwistLoc remote, headset cable routing adds servicing complexity
The latest Merida Ninety-Six arrived in late 2020, featuring a new carbon frame with 100mm of rear travel. It's available in two variants, with the burlier trail build coming with a 120mm travel fork and very aggressive tyres. In comparison, the Ninety-Six RC gets a 100mm travel fork, faster tyres and a more race-focussed build kit.
Unlike many XC bikes, the Ninety-Six features a non-proprietary rear shock, which is appealing from a long-term ownership perspective. Also appealing is the fact that you can get a Ninety-Six for less than $6K, which is almost unheard of these days in the world of carbon full suspension race bikes.
The updated frame has room for two bottles, and features a neat accessory mount underneath the top tube. The otherwise practical approach is somewhat tarnished by the use of internal routing through the headset though, which gives moisture and dirt more opportunities to penetrate the bearings. The TwistLoc remote isn't the tidiest solution, and the unit on our test bike proved to be frustratingly inconsistent.
Thankfully there have been big improvements to the geometry and suspension performance of the Ninety-Six RC. The simple flex-stay arrangement has dropped weight, while also bolstering lateral rigidity. While hardcore hammerers may find the rear suspension to be a little sensitive under power, there's excellent traction on offer. The progressive linkage also delivers terrific big-hit control, which in combination with the solid chassis and sorted geometry, sees the Ninety-Six RC inspiring a load of confidence on technical trails at racing speeds. See our Merida Ninety-Six RC review for everything you need to know.
Trek Supercaliber
Highs: Stunning frame design, powerful pedalling performance, razor-sharp handling, broad size range, dual bottle ready
Lows: Short travel is less forgiving on really rough trails, shock servicing is more involved, not cheap
As well as being one of the most distinctive models in our best XC bike list, the Trek Supercaliber is also the oldest, having launched back in 2019. Don't for a second think it's outdated though, with the Supercaliber having enjoyed huge success with World Cup, World Championship and Olympic victories to its name.
The Supercaliber continues to stand out from the pack with its pencil-thin seatstays and IsoStrut suspension design. It houses what is basically a Fox Float DPS shock, with the carbon fibre carriage sliding up and down a single oversized stanchion via keyed bushings. This elegant solution gives masses of room in the front triangle to accommodate two bottles, though it delivers just 60mm of rear travel, which is exactly half that of the Scott Spark. And while the travel is well behaved, the Supercaliber is certainly less forgiving when the trail gets really rough.
It is without doubt the best pedalling full suspension bike that we've tested though, with near-hardtail response under power. You don't even need to think about the remote lockout while riding off-road. There's masses of lateral rigidity through the Supercaliber's chassis, delivering incredible handling precision. The sharp steering is less friendly for newer riders, but in the hands of a skilled athlete, it is deadly quick. Check out our Trek Supercaliber review to see what it's like to live with.
Orbea Oiz
Highs: Elegant frame design, on-the-fly adaptable suspension, brilliant Squidlock remote, dual bottle ready, lots of spec options
Lows: Not as planted as longer and slacker contemporaries, flat mount rear brake will turn off some, availability
With a rich XC racing history behind it, the Orbea Oiz was updated in 2020 with a new OMX carbon frame and a redesigned swingarm. The use of high-grade carbon fibre resulted in one of the lightest full suspension frames on the market, with the Oiz OMX claimed to weigh just 1,740g including the rear shock.
It's a gorgeous and well-thought-out frame too, offering clearance for two bottles inside the mainframe. The flat mount brake calliper may put off heavier riders who need maximum braking power, though it is very tidy and brings the seatstay flex point closer to the axle.
The clean lines are enhanced by the shock's hidden internal routing through the top tube. Both the fork and shock are linked up to the ergonomic Squidlock remote, which offers three suspension modes. Cleverly, the middle position firms up the rear shock's damping while leaving the fork entirely open. This helps to steepen the angles and lift the BB, providing a terrific technical climbing mode that maintains front-end compliance on rocky and rooty terrain. It also allows you to set up the rear shock to be nice and plush on the descents, which improves traction and comfort. If you're keen to know how it rides, see our full Orbea Oiz review.
It's worth noting that Orbea has released a new Oiz for 2023, which boasts more travel and updates to both the carbon frame and geometry. Given our positive experience with the previous version, we're looking forward to seeing how the new bike compares. In the meantime, check out our feature on the 2023 Orbea Oiz for everything you need to know.
Cannondale Scalpel
Highs: Progressive and traction-rich suspension, smooth pedalling performance, precise and plush Lefty Ocho, dual bottle option, STASH tool system
Lows: Not the firmest bike under power, proprietary fork and PF30 will be a turnoff for some, no dropper post on complete bikes
Like the Epic, the Cannondale Scalpel was another big XC bike launch in 2020. Representing the 8th generation of Cannondale's flagship full suspension race bike, the latest Scalpel employs a novel approach for its chainstays with a solid leaf-spring section just forward of the dropouts. This allows the suspension to behave like a conventional four-bar linkage, albeit with less weight and improved lateral rigidity.
On the trail the Scalpel is impressively smooth for a 100mm travel XC race bike, delivering excellent traction and uninterrupted pedalling performance over rough terrain. It's also nicely progressive with plenty of big-hit support, though like the Merida Ninety-Six, the sensitive rear suspension may feel a little soft to some. This can be solved by over-inflating the shock, or simply using the dual lockout for out-of-the-saddle sprinting.
Long distance riders will appreciate the option to carry two bottles, and the integrated STASH tool system is excellent. Less appealing is the PF30 bottom bracket and proprietary A.I drivetrain offset.
The Lefty Ocho is equally divisive, but while the long 55mm rake results in a tight trail figure for insanely quick steering response, its needle-bearing internals and triangular slider means it is exceptionally stout and very sensitive under load. Indeed the difference was abundantly clear when we back-to-back tested it with a conventional Fox fork. Get all the details in our Cannondale Scalpel review.
What else is out there?
Our list of the best XC bikes is far from being exhaustive, as there are plenty of other lightweight full suspension race bikes out there that we haven't tested.
I'd love to swing a leg over the latest Santa Cruz Blur 4, and we're still yet to get our hands on the Mondraker F-Podium – an intriguingly contemporary XC bike that Bec McConnell won her first World Cup on.
It was way back in 2016 when Mick tested the Norco Revolver FS, and it's also been a few years since we last rode the Pivot Mach 4 SL, which has recently been updated with a new swingarm.
There are plenty of bikes that we don't really see in Australia, like the Ibis Exie, Cube AMS, Lapierre XR and Ghost Lector FS. If there are any brands out there reading this that want us to test out their bike, feel free to get in touch!
What's the lightest XC bike?
Of course any discussion about XC racing wouldn't be complete without talking about weight. For those who are hunting grams, you may be wondering; what's the lightest XC bike out there?
In all of our bike reviews you'll find a confirmed weight, which is taken with the tyres set up tubeless and with no pedals installed. However, since we're not always testing bikes at the same price point (we'll often receive whatever model is available at the time), those weights aren't really comparable. Also, some XC bikes are still sold without a dropper post, which obviously tilts the weight balance in their favour.
For those reasons, it's no surprise that the extremely premium Trek Supercaliber 9.9 XX1 AXS is the lightest XC bike we've tested at just 9.5kg. The heaviest bike in our list is the 11.3kg Giant Anthem, though it is less than half the price of the Supercaliber, and it also comes with a full-length dropper post.
Where things get a little easier to compare is frame weight. Shown below are the claimed weights from each manufacturer, which is for a frame with the rear shock and hardware;
Amusingly, the lightest XC bike is supposedly the Specialized S-Works Epic EVO, which has more travel than the Epic World Cup, and almost every other frame in that list.
Now I'll point out here that since all of those figures are claimed weights from the manufacturers, we'll have to take them with a pinch of salt. It's not always clear whether their listed weight is for a painted frame, or what size. For example, most manufacturers leave out the rear thru-axle for some reason.
Of all those bikes in the list, the Giant Anthem is the only frame I've been able to weigh myself. It came in at bang-on 1,800g (with a Float DPS shock but without the rear thru-axle), with the 65g difference largely being attributed to the paint job.
So which is the best XC bike out of the lot?
So out of the eight options in our list, which is the best XC bike we've tested? Which bike should you choose?
Honestly, I've been impressed with the performance of all of these bikes. And really, the answer to the above question will largely come down to what your priorities are.
If you value maximum efficiency above all else, then it doesn't get much more responsive than the Trek Supercaliber and Specialized Epic World Cup. These bikes are a sprinter's dream, allowing you to forget about remote lockouts so you can concentrate on the trail ahead. Both offer the broadest size range here, as well as lifetime warranties. However, they certainly don't come cheap.
The Canyon Lux World Cup isn't far behind in terms of its pert pedalling behaviour, though the direct-to-consumer sales model means it can put together a far more appealing package for the money. The Merida Ninety-Six offers similarly impressive bang for buck, and it backs it up on the trail with rapid handling and suspension that is sensitive and well supported. If I was spending my own cash, the Merida and Canyon would be right up there.
Pushing the performance needle a little further, the Cannondale Scalpel and Scott Spark possess remarkably plush and active suspension, which delivers supreme comfort and traction on rough terrain. The Spark is totally reliant on its TwinLoc remote, but if you don't mind toggling levers, it offers genuine on-trail adaptability. The fact that you can turn it into a trail bike with a 130mm fork makes it all the more versatile. The Orbea Oiz can also be up-stroked to increase its travel, and while it is more classic in terms of its geometry, it's still a beautifully-finished and well-rounded XC race bike thanks to the excellent Squidlock remote.
However, the bike that is able to balance all of those attributes is the Giant Anthem. Its Live Valve system adds clutter, cost and complexity, and the fact that it's the only bike here that won't fit two bottles will make it a non-starter for some. The automated efficiency that Live Valve brings to the party is undeniable though, while the comfort and control the suspension delivers on the descents is impressive. Along with the brilliant handling, contemporary build kit, normal cable routing and not-too-insane pricing, the Giant Anthem stands as the best XC bike I've tested.
Flow's Verdict
So there you have it folks – those are the best XC bikes that we've tested here at Flow!
As mentioned earlier, this isn't an exhaustive list. As we test more bikes however, we'll be adding them here so that we can compare them directly with the competition.
The key take away from all this is that, generally speaking, modern XC bikes are getting really bloody good. All of these bikes have impressed us in one way or another, and their unique personalities and quirks will make them appealing to different riders.
Of course with the current challenges in the bike industry with supply meeting demand, availability may very well be a defining factor as to which XC bike you can choose. And in some situations, getting a whole new bike may be off the cards altogether. If that's the case for you, consider checking out our article on the top 8 upgrades for your XC bike. There may actually be a few modifications you can make to your existing bike to level-up its performance and capabilities, while helping to scratch that new bike itch.
---
Bikes tested