The Camelbak K.U.D.U. and T.O.R.O. are designed to integrate a degree of back impact protection into a regular hydration backpack.
Camelbak has been making quality hydration systems and backpacks now for donkey's years. And while donkeys and camels don't share the same genome, it's more of a figure of speech to imply they're experienced at making a good product. There is a reason why people ask for Camelbak when looking for a hydration system; they are the Texta and Tupperware of the cycling world.
Protection for when getting rad goes wrong.
Addressing the ever-important area of back protection, Camelbak integrates CE Level II certified back protection via an insert that you easily forget is there. T.O.R.O. 8 uses a centre back protector that covers the spine, and K.U.D.U. 10 uses a longer full back protector which can also be unzipped from the pack and worn on its own.
The back protectors are designed to absorb energy from an impact in the event of a crash.
If we were looking to feel invincible then we can add the Sternum Protector – pictured below – it works with any of the packs, operates on its own. It is comfortable enough and easy to put on, with an integrated GoPro mount.
---
What are the two models?
T.O.R.O. 8 and K.U.D.U. 10 are two new(ish) packs from Camelbak, with the T.O.R.O. being a lightweight pack and the K.U.D.U. is larger for bigger trail missions. Both packs come in different colours and include a hydration bladder. The Crux Reservoir holds three litres of water, with the big bite valve that Camelbak is famous for.
The whole way through the range the numbers of the packs indicates storage capacity (less the three-litres of water they hold). T.O.R.O. 8 is a five-litre pack, and the K.U.D.U. 10 is a seven-litre pack.
A place for everything and everything in its place.
Despite their size differences they share a lot of similarities with handy zipped pockets, spacious compartments and external straps that can attach helmets and pads on the outside of the pack. These sort of features are what we have become accustomed to with Camelbak.
---
Trail testing the T.O.R.O. 8.
We have been testing the T.O.R.O. 8 for the past two months and enjoyed how lightweight it is, perfect for quick rides and with up-to three-litres of water capacity. We quickly forgot that the bag was more than just our regular backpack.
The triple strap on the T.O.R.O. 8 (which also appears on the K.U.D.U. 10) at first seemed unnecessary, in particular, the dual sternum strap. However, as we got used to it, we liked how firm the pack was against our back when descending. More importantly, the triple strap holds the back protector firmly in place, so there is little risk of it shifting in a crash.
The idea of a back protector on a lightweight daypack did have us lifting an eyebrow at first, how much protection do we need on a quick hit out? As we used the pack, we loved how it's more than just a back protector, and it helps give the pack more shape. As it warms up over the course of a ride, it does mould to the contour of your back. The back plates are also removable.
The CRUX Reservoir hose attaches firmly to the shoulder straps with the two clips. We did find that the hose kinked and blocked water flow when we tried to drink from the big bite valve unless we unclipped it from the bottom clip. However it never came free and flapped around on a bouncy descent, so we appreciated that it was firmly attached.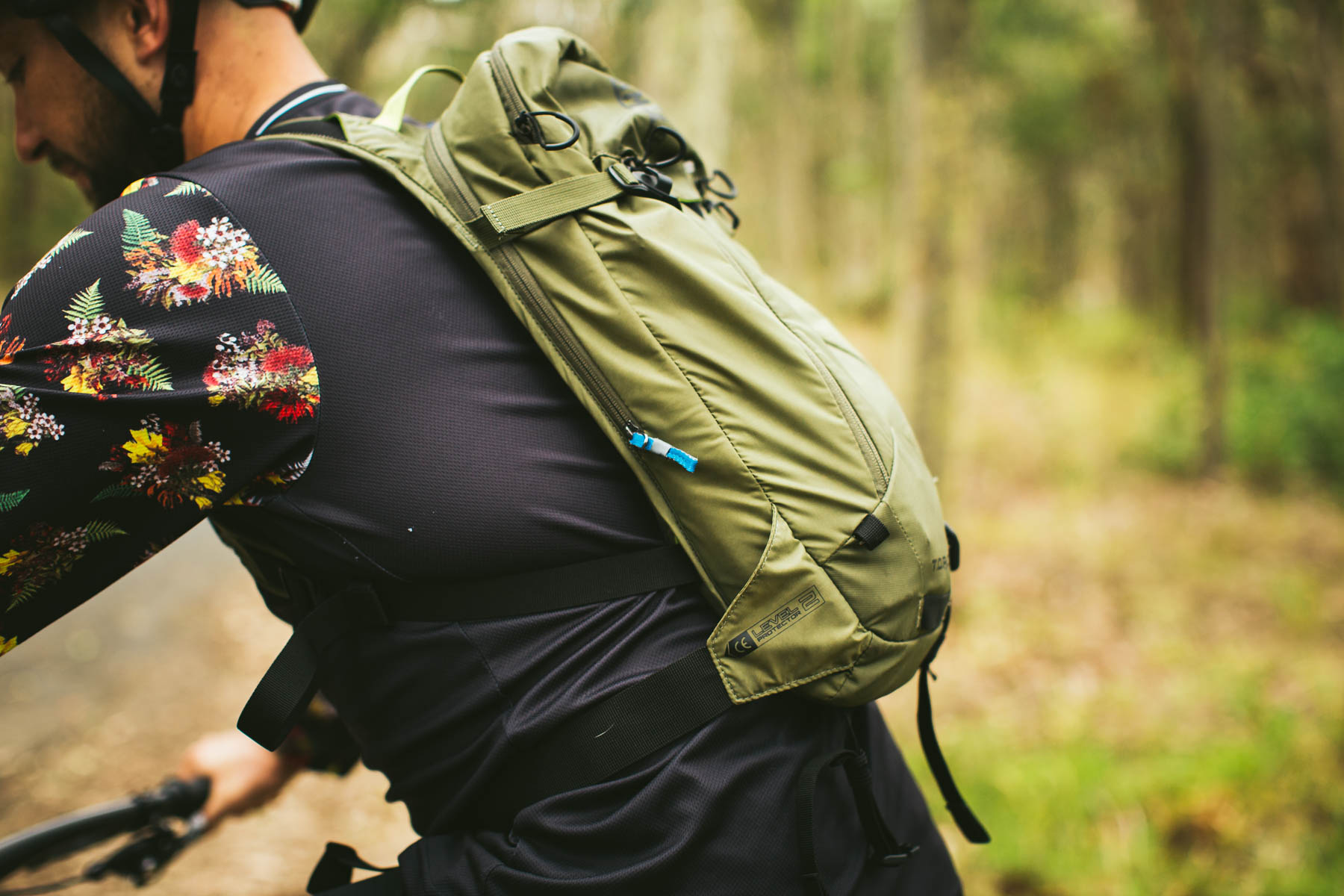 T.O.R.O. 8 is predominantly made from lightweight mesh, over the course of the review we have noticed on the underside of one of the shoulder straps had torn slightly. It probably happened when we dumped the pack on the ground while trail building, sometimes it's hard to find that perfect balance between light, soft and durable but rest assured they offer a lifetime warranty. However, the tears are small and haven't grown over the course of the review.
For a little pack, we could load it up to the hilt! Every time we went out for a ride we tried to max it out with knee pads, weather jackets and food for a whole day. On one spin we accidentally took our change of clothes around the entire ride and didn't notice till we got back to the car. It carried the extra weight so well it wasn't a problem.
You're looking at around a 50% increase in weight in comparison to a bag with similar carrying capacity, the 12l MULE and 7l Skyline bags that don't use the back protection are 800g and 600g respectively. The K.U.D.U. tips the scales at 1.48kg and the T.O.R.O. is 820g.
We have been super impressed with the T.O.R.O. 8; there is a reason that Camelbak is such a household name in the cycling industry. The two bags manage to provide certified protection and combine it with a hydration backpack.