Dan reviews the 2022 Cannondale Jekyll
Looking resplendent in its dazzling iridescent paint job, like some kind of intergalactic peacock, the new Cannondale Jekyll is quite the looker. And it only takes a single glance to recognise that it shares little in common with its predecessor, having ditched the proprietary, remote-activated Gemini suspension system of old. Thanks to its high pivot design and hidden shock, the Jekyll still manages to stand out in its own unique way amongst a sea of 'me-too' enduro bikes. So, is different any better? And what's the new Jekyll actually like to ride? We've been testing it out over the past two months to find out!
---
Watch our video review of the Cannondale Jekyll here:
---
From the get-go the Cannondale Jekyll has proven to be an easy bike to get along with thanks to its centred riding position and balanced weight distribution. The handling is nothing short of exceptional.
Cannondale Jekyll overview
Designed as a full-blown enduro race bike with a thirst for gravity, the Cannondale Jekyll is equipped with 29in wheels, a 170mm travel fork and 165mm of rear wheel travel.
Whereas the old bike used a single-pivot suspension platform, the new Jekyll updates to a four-bar design. The main pivot is positioned higher up the seat tube to provide a more rearward axle path, while the chain routes over an offset idler wheel to mitigate chain growth and anti-squat.
Unlike the previous Jekyll, the new bike is only available in carbon fibre and with 29in wheels. There are no plans to introduce an alloy frame, or a model with 27.5in wheels. You also won't find adjustable geometry, and it isn't designed to be run as a mullet either. This sees the Jekyll following in the footsteps of the Specialized Enduro, Norco Range and GT Force as a bike that is totally focussed on enduro racing.
Cannondale Jekyll price & specs
There are just two models in the 2022 Cannondale Jekyll lineup, both of which feature the same carbon fibre frame and high pivot suspension design.
The top-end Jekyll 1 sells for $8,899 AUD and features a Fox Factory Series 38 fork and Float X2 shock, a SRAM GX Eagle drivetrain and Code RSC brakes.
The bike we've been testing is the Jekyll 2, which comes in two grand cheaper by moving to a Shimano Deore groupset, a RockShox ZEB Select+ fork and a Fox Float DPX2 shock.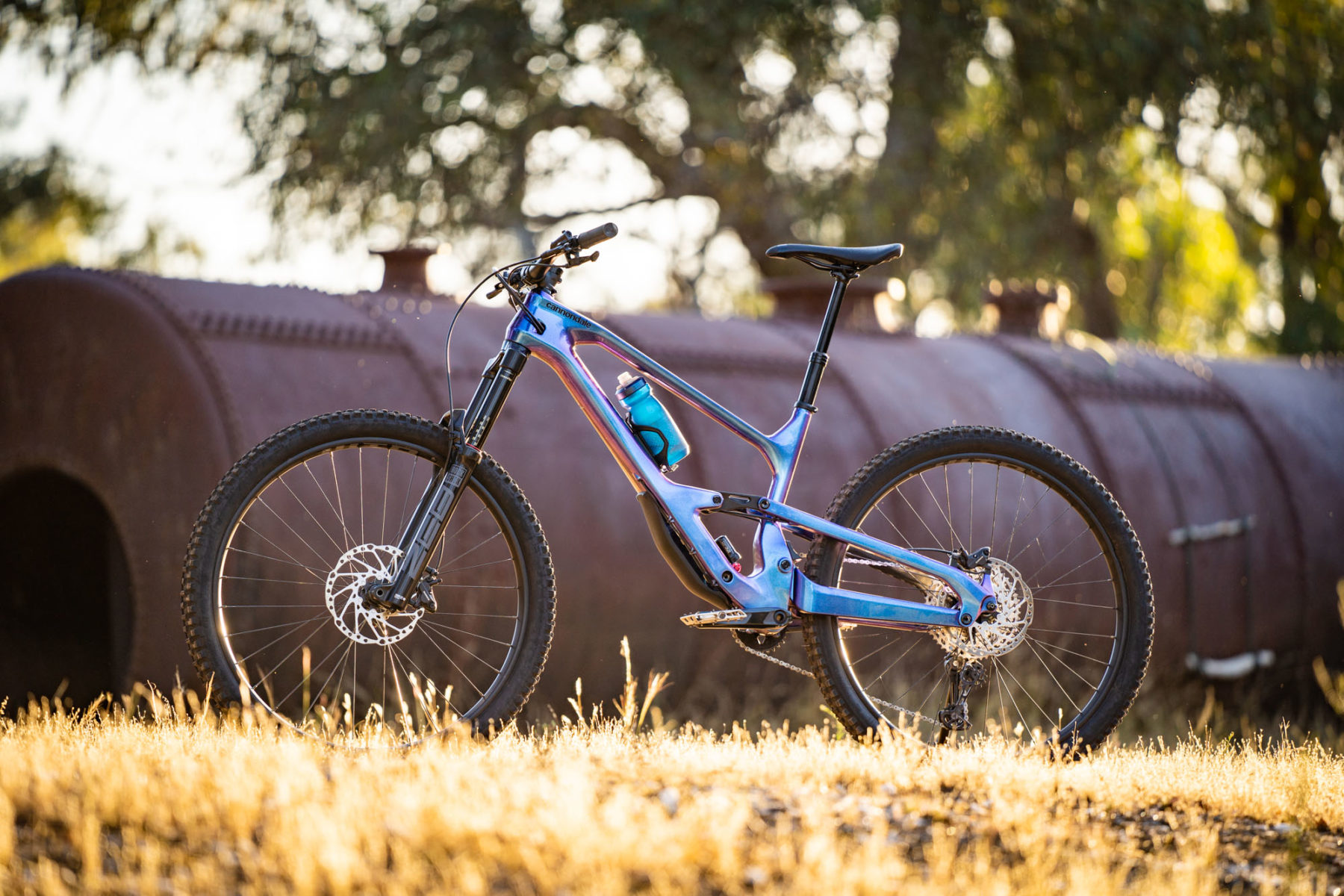 2022 Cannondale Jekyll 2
Frame | Full Carbon, High Pivot Suspension Design, 165mm Travel
Fork | RockShox ZEB Select, Charger RC Damper, 44mm Offset, 170mm Travel
Shock | Fox Float DPX2, Performance Series, 205x65mm
Wheels | Shimano MT400/410 Hubs & WTB STX i30 Alloy Rims, 30mm Inner Width
Tyres | Maxxis Assegai EXO+ 2.5in Front & Minion DHR EXO+ 2.4in Rear
Drivetrain | Shimano Deore 1×12 w/Deore Alloy 30T Crankset & 10-51T Cassette
Brakes | Shimano Deore 4-Piston w/203mm Rotors
Bar | Cannondale 3 Riser, Alloy, 30mm Rise, 780mm Width
Stem | Cannondale 3, 35mm Length
Grips | Fabric Funguy
Seatpost | TranzX Dropper, 31.6mm Diameter, Travel: 130mm (S), 150mm (M-XL)
Saddle | Cannondale Stage 3
Confirmed Weight | 16.14kg
RRP | $6,899 AUD
Sizing & geometry
We put the Cannondale Jekyll into the hands of our big bike smasher Dan, who at 183cm tall has been riding a size Large. The fit has been perfect, with the Jekyll delivering a comfortable and centred riding position thanks to its contemporary, but not outrageous geometry. The key numbers are;
Head angle: 64°
Effective seat angle: 77.5°
Reach: 475mm (Large)
Stack: 643mm
BB drop: 30mm
Rear centre: 442mm (Large)
The generous stack and 30mm rise bars means the front end does feel quite tall out of the box, which is compounded by the high-riding ZEB. Slamming the stem got the grips down to where we wanted, and while the bars do have a weird-looking sweep, they're actually pretty comfortable on the trail. The Fabric grips also deserve a mention for their half-mushroom profile, which offer a nice degree of damping and great feel from the textured panels underneath.
We were disappointed with the 150mm travel dropper post though, which restricts freedom of movement on the descents. The seat tube is short enough to fit at least a 170mm dropper on the Large frame, so how 'bout it Cannondale?
Suspension & tyre setup
Cannondale recommends setting up the Jekyll with 25% shock sag. But while the Schrader valve is easily accessible, the O-ring on the shock stanchion is not. To assist with initial setup we removed the downtube guard from the frame, which allowed us to accurately measure sag.
From there we setup the Fox Float DPX2 with 220psi to support Dan's 82kg riding weight, and set rebound a few clicks faster than halfway (9/14 clicks).
As for the ZEB Select fork, we ran 62psi inside the DebonAir spring as recommended. However, the rebound speed in the cheaper Charger RC damper is a lot faster out of the box compared to the pricier dampers used in the ZEB Select+ and ZEB Ultimate forks. That meant we had to run it considerably slower (6/25 clicks) to keep it from pogoing through the rocks.
Production bikes will come with a Maxxis Assegai up front, but our test bike was fitted with 2.4in wide Maxxis Minion DHR IIs front and rear. We actually preferred this setup for our local trails, which are super rocky, loose and increasingly dehydrated as summer kicks into gear.
On the note of tyres, the EXO+ casings are under-gunned for such a big and capable enduro bike. We'd like to see a DoubleDown tyre spec'd on the rear at the very least. To compensate, we ran slightly higher pressures with 25psi in the front and 27psi in the rear.
Cannondale Jekyll weight
Confirmed weight for our Large-size Cannondale Jekyll 2 is 16.14kg, without pedals and with the tyres setup tubeless. That's not unreasonable for a big enduro bike these days, though it is about a kilo lighter than the Norco Range C2 we recently tested.
The frame is no doubt on the burly side, with a claimed weight of 4.1kg with a Float X2 shock, thru-axle, armour and hardware. However, much of the weight is placed centrally and low-down in the frame thanks to the position of the rear shock. The twin-spar downtube is no doubt more complex to manufacture compared to a conventional frame, but given an air shock can weigh 450-650g and a coil shock can weigh up to a kilo, Cannondale clearly saw enough benefit from placing this mass as low down as possible to pursue the unique design.
On the note of weight, the wheels are quite porky, coming in at 2,358g on our workshop scales. If you wanted to drop some weight, a wheelset upgrade would be a great place to start.
What does the Jekyll do well?
From the get-go the Cannondale Jekyll has proven to be an easy bike to get along with thanks to its centred riding position and balanced weight distribution. The handling is nothing short of exceptional.
Part of this must be attributed to Cannondale's 'Proportional Response' concept, which sees each frame size equipped with a unique rear centre length. We're starting to see more brands adopt this approach, but it is still far from being common. For example, both the Specialized Enduro and Trek Slash have fixed rear centre lengths across their entire size range.
In the case of the Jekyll, the smallest frame gets a 430mm rear centre, and that grows to a generous 450mm on the XL. Our size Large features a 442mm rear centre, affording a sweet balance between high speed stability and tight trail manoeuvrability.
Cannondale achieves this scaled rear centre sizing by simply altering the pivot points on the mainframe, which allows the chainstays, seatstays and rocker link to be shared between the four frame sizes. This also means each frame size receives its own unique suspension kinematics, with the leverage rate, anti-squat and anti-rise values tailored to a specific centre of mass based on the expected height and weight of the rider aboard it.
The result of this nuanced approach to both the geometry and suspension is a bike with exceptional poise. The Jekyll generates loads of grip through the corners, and it doesn't ask you to hang over the front wheel just to keep it sticking. It's no doubt a long bike, but it's very well proportioned, and it delivers a spirited and agile ride quality for a 165mm travel enduro bike.
There's terrific small-bump compliance and mid-stroke support from the ZEB, and it cops bigger hits remarkably well thanks to its hulking 38mm chassis. But while it is sensitive, the Charger RC damper isn't as composed as its pricier siblings when things get chaotic on extended descents, where it can lack consistency. Worth noting, it is possible to upgrade to a Charger 2.1 RC2 damper down the line if you so desired.
High(ish) pivot suspension
The Jekyll's rear suspension has also performed mighty well. It's beautifully active, while offering stability and control all the way through the travel.
The rearward axle path isn't perhaps as noticeable as you might expect though. The main pivot only sits about 110mm above the crank spindle, so it's more of a 'mid-high' pivot design compared to something like the Norco Range that puts its main pivot halfway up the seat tube.
According to Cannondale, the axle moves rearwards for the first 2/3rd of the travel, extending the rear centre length by a total of 12mm. Once sag is factored in though, the rear centre only extends by around 4-5mm, before the axle path straightens up and arcs forwards in the final third of the travel. The claim here is to provide some of that square-edge-eating tenacity of a high pivot design, without going so dramatic with the rearward axle path as to shift the bike's weight distribution, particularly through the corners.
And again it's this nuanced approach to the Jekyll's suspension and geometry that gives it such balanced and predictable handling. It isn't quite as agile as the Trek Slash, which features a single-pivot suspension design and shorter chainstays on the equivalent Large-size frame. The slightly rearward axle path does allow the Jekyll to round off harsher edges though, and it's impressively neutral when pedalling through choppy rock gardens.
The longer dynamic wheelbase also makes it a planted bike at speed. No doubt about it – this is one enduro race bike that loves to rip through fast, open and rough terrain, and it does so with oodles of control. Still, it never feels like you get lost in the wheelbase or the suspension. There's great support for pushing off of when required, and the fact the rear end doesn't grown an obscene amount means the Jekyll maintains useful agility through tight turns.
What does it struggle with?
The generous weight, aggressive rubber and active suspension design means the Cannondale Jekyll isn't the most spirited bike on the uphills. That's perhaps less of an issue for riders who spend a lot of time at the bikepark, but there are no shuttles or chairlifts in our neck of the woods, so it's a case of pedalling up to get down.
We'll clarify that the Jekyll does have a fantastic seated position thanks to its steep seat angle and high stack. And the lengthened rear centre is certainly welcome on steep gradients where it helps to keep the whole bike tracking calmly.
There's not much noise from the Guidler wheel either, and we soon forgot about it within the first couple of rides. You will want to keep the chain lubricated more regularly though, as a dry chain seems to amplify any noise.
Cannondale claims the anti-squat hovers around 100% in the lowest gear, and it quickly drops off as you go through the travel. But unless you're pushing hard in that 51T sprocket, there is noticeable bobbing from the rear shock when you're on steeper gradients. Not helping things, the climb switch on the DPX2 sits right down by your ankles, making it awkward to access while riding. It's fine to flip it before a long fireroad climb or a transition between race stages, but it's not the sort of thing you'll want to do all the time.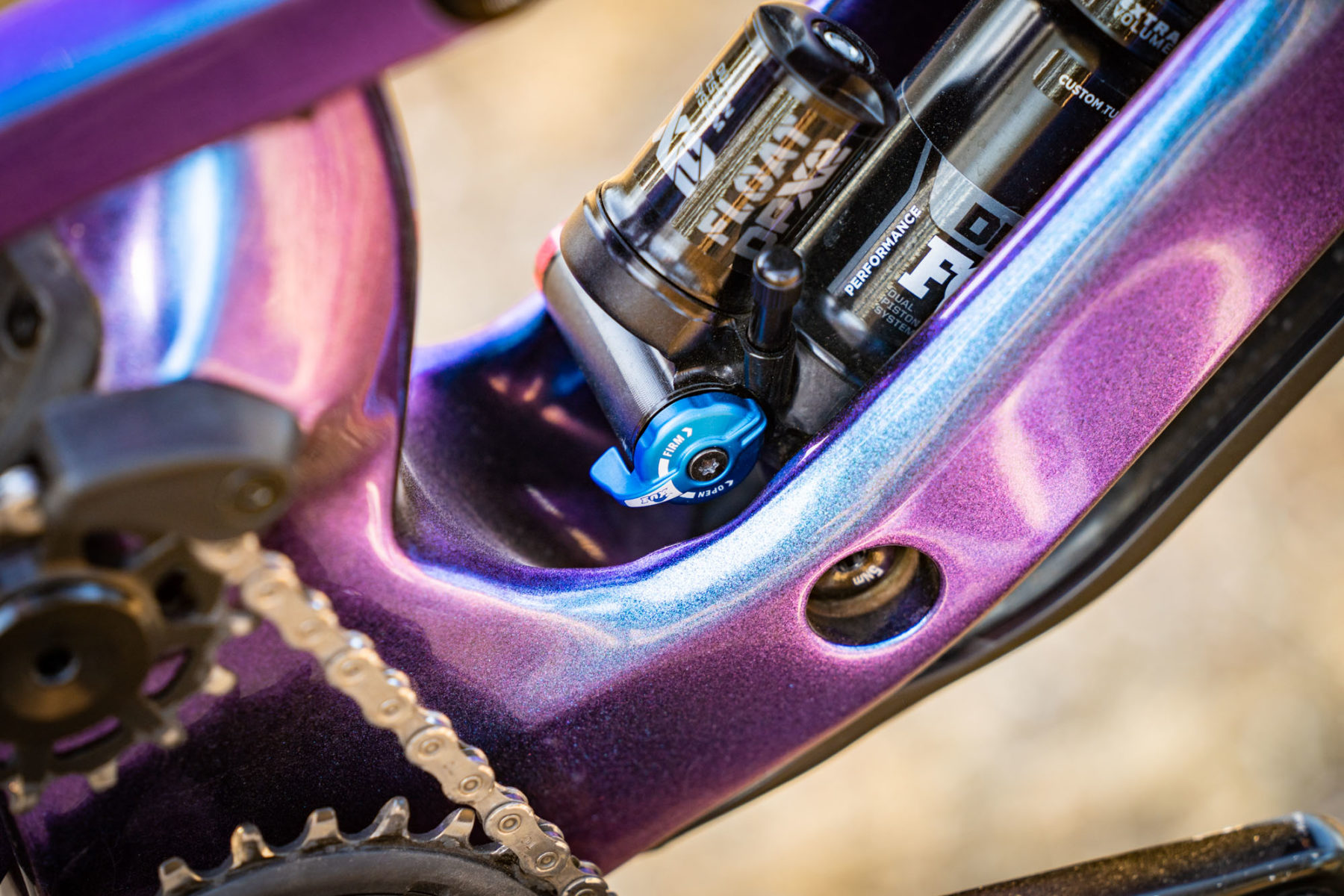 This is a gravity-oriented enduro bike that weighs over 16kg though, and one that is rated for use with a 180mm fork and a coil shock, should you wish to tip the balance even further towards downhill domination. Still, much like our experience with the Norco Range, we did find ourselves thinking that a short travel version of the Jekyll would absolutely rip. A high-pivot Habit? Yes please!
Component highs & lows
For the most part the Cannondale Jekyll has impressed with its superb handling and high quality suspension performance.
However, we've been less impressed with the wheelset, which seems particularly cheap with its low-level WTB rims and Shimano MT410 hubs. Indicative of the momentum the Jekyll is capable of when flying through rock gardens, the rear wheel has struggled to maintain spoke tension and has suffered a number of dings already. And following a particularly big moment towards the end of our final photoshoot, it's also been knocked pretty severely out of true.
As mentioned earlier, we'd love to see Cannondale spec a longer-stroke dropper post and a Maxxis DoubleDown tyre on the rear. We otherwise appreciated the reliable cornering grip and braking bite of the Minion DHR II tyres, though for racing duties we'd definitely be fitting inserts for peace of mind.
While it does help to get the price down, the Shimano Deore groupset deserves mention for its rock-solid reliability. It's top-quality stuff that shares much of the same functionality as SLX and XT, albeit with a bit more weight. The brakes are plenty powerful, and we were glad to see metallic pads and 203mm rotors spec'd front and rear.
Matching the Deore chainring, the Guidler pulley is also made of steel. Cannondale claims it's a bit noisier than if it were made from alloy, but it's significantly more durable. Also good to see is Cannondale's bold move from its much-loved PF30 system back to a threaded BB shell.
There are some mild annoyances throughout the Jekyll's frame. The cable routing is pretty tidy and easily accessible, but unfortunately the port for the brake hose is biased towards those who use their right hand to control the rear. Some observers have also commented about the dropper post cable running externally between the shock and downtube guard, though this is a necessity since the twin-spars are made from solid carbon. So deal with it.
The guard itself does the job it's intended for, but we did have a number of rides where a small stone or two would manage to jump into the Gravity Cavity at the beginning of a descent, making a right old racket on the way down. Fastidious cleaners will also want to remove the guard when washing the bike, as dirt can build up around the edges over time.
If we're being especially picky, we'd like to see a 6mm hex key for the rear axle to match the front. Speaking of, rear wheel installation tends to be faffy due to the bulky chainstay pivot, which often snags the chain.
Otherwise the frame is finished nicely with plenty of rubber armouring throughout the driveside chainstay and seatstay. There's also a neat integrated mudflap over the main pivot, sealed bearings throughout, and locking collet hardware for most of the pivot points.
Flow's Verdict
With its twin-spar chassis, hidden rear shock and shapeshifting paint job, the Cannondale Jekyll is no doubt one of the most striking enduro bikes on the market. Thankfully its performance on the trail backs up its unique looks, with an exceptionally well-rounded performance that'll suit enduro riders who are tackling the most technical of trails.
That said, our test bike wasn't exactly without flaws. We'd like to see a longer dropper post, tougher wheels and a DoubleDown rear tyre in order to capitalise on the Jekyll's rock-smashing abilities. And riders who are really pushing the limits may want to consider a damper upgrade for the fork.
However, the important aspects – the chassis, suspension and geometry – are absolutely dialled. We like that Cannondale has taken a measured approach to the high pivot hype, with the Jekyll hitting a sweet spot between square-edge compliance and cornering agility. Combined with the size-specific kinematics and rear centre lengths, the result is a great-fitting bike that offers beautifully balanced weight distribution and predictable handling, which the racers will no doubt appreciate.