Fresh from the folk who approach things a little differently comes the Cannondale Trigger, a peculiar looking beast packing enough tech features to make a vegetarian single speeder throw their hands in the air.
With 130mm of adjustable travel, aggressive tyres fitted to 29" wheels, wide bars and a dropper post this guy is pretty new school and attracts a lot of confused looks. For starters, it uses Cannondale's radical one sided Lefty suspension 'fork' (can we call it a fork?) that still puzzles people, and out the back, resembling something you would use for underwater exploration, the FOX DYAD shock. It's all about adjustability and adaptability for this bike.
Let's begin with the front suspension. This Lefty is a fatty, with a far bigger girth than any Lefty we've seen; hence the steering precision is simply outstanding. To allow you to run a short stem (normally impossible with a Lefty, due to the top of the leg interfering with the handlebars), this new Lefty Max uses a 60mm offset axle allowing Cannondale to run a stumpy 50mm stem for rapid steering.
Without going into too much detail about the fork's workings and internals, what is does well is go exactly where you point it. With a firm grip on the bars you can steer it through all sorts of surfaces without that uncertainty that twisting fork legs can give you when pushed hard. It was a real highlight in fact, and we found ourselves using the bike's solid steering to its fullest. Line choices were less crucial, as the notion of simply ploughing through whatever was in your path became a very good option.
It was however not all rosy and sweet. We found the Lefty's suspension action to be very harsh on our hands when the speeds increased, as if the fork just wasn't reacting fast enough for repetitive hits, even with the rebound adjuster wound as fast as it would go. We raced this bike in the Flow Rollercoaster Gravity Enduro down Thredbo's new Kosciusko Flow Trail, where you go flying full speed into repetitive braking ruts for over ten minutes. After back-to-back comparisons between a 26" bike with a FOX fork, the Lefty just felt wooden and harsh on the hands. We tried various air pressure settings, but that didn't have much of an impact.
At slow speed however, the front and rear suspension felt plush, smooth, sensitive and balanced. It left us wondering if the fork could be tuned internally (or wishing for more external adjustments) so we could dial it in for faster terrain.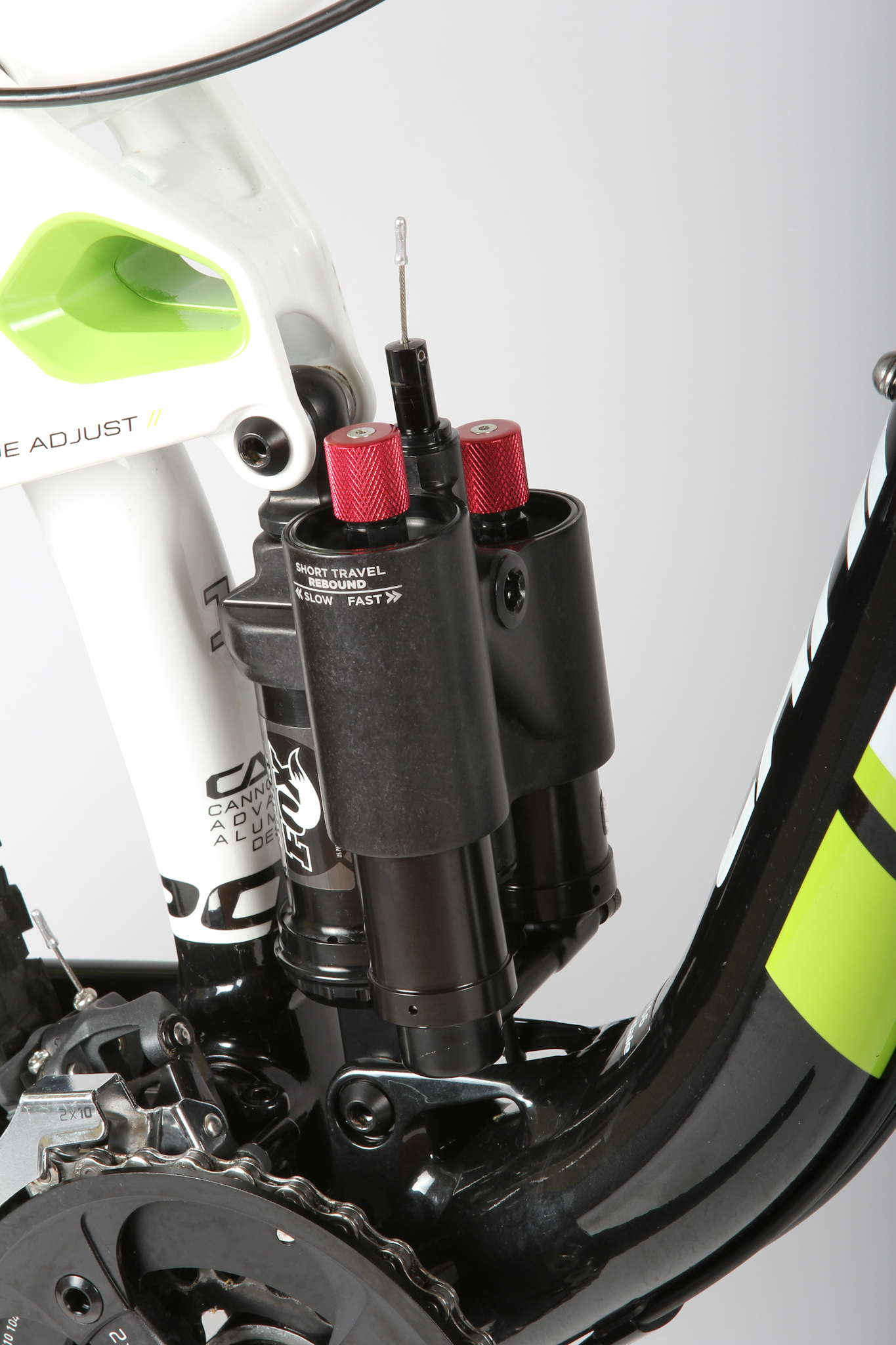 The rear suspension on the other hand pleased us and does what it sets out to do perfectly. Via the remote lever on the handlebar, you are able to toggle between two travel modes (130mm and 80mm), noting that this also has an effect on the bike's riding position. Hitting the ergonomic lever is very easy; pushing it lessens the rear travel and stiffens the suspension, plus it lifts the back of the bike up slightly, putting you in a better climbing position (similar to dropping a travel-adjustable fork down in its travel).
We used the lever regularly when we riding undulating singletrack, partially because in full travel mode the bike did wallow slightly under big bursts of pedal power, but also because it helped the bike jump up and get the uphills over and done with super fast. Setting the rear suspension air pressures is a little bit more involved than usual (as you've got two air chambers to deal with), but Cannondale have a handy little app that does the calculations off your body weight for you, taking out the guesswork. FOX also has this helpful page to help you set-up yours.
The way the Trigger rides is what we'd like to call new school. Our test bike came in size small, but still the generous length in the front end coupled with a short stem and wide 730mm bars put you in a position ready for trail negotiation, rather than racing efficiency. Take the Trigger to a technical trail and it will eat it up. The traction from the 29" wheels and the mighty Schwalbe Hans Dampf tyres is more generous than we could hope for, and breaking traction through a corner or up a steep climb became a novelty if it ever happened. We absolutely love these tyres, even though they may be a little slower to get rolling, the added traction outweighs that when you need far less braking to get through the turns without slipping.
It seems like when a 29er with more than 120mm of travel is released, all attention goes to the length of the chain stays and how short they can be (shorter means snappier handling). At 448mm it is a couple millimetres shorter than the comparable Specialized Stumpjumper FSR we reviewed recently, and on the trail the Trigger rips through turns as fast as we could ever hope for. 13.6kg is a fair weight too, considering its burly nature.
If you take a close look at the frame, the fine construction and neat finishing will be easy to see. Large axles in the suspension pivots and wildly shaped tubing make the Trigger look even burlier than it rides, and give the bike its laterally stiff character. The rear dropout is a classy feature, using one 5mm allen key in the Syntace X-12 rear axle system, no quick release skewer to bash on rocks, but requires a key for wheel removal like the front does.
Cannondale have dressed the Trigger for success, with all the components performing well during our testing session. Even the basic X-Fusion adjustable post – although pretty squeaky when compressed – was always there for us. The brakes were super, and a Shadow Plus rear derailleur kept the drivetrain from losing composure in the rough. In one muddy ride the rear tyre, being tucked in so close, did deposit a lot of trail gloop right into the front derailleur mechanism and the front shifting started to go bad – just one more reason to fit a single chain ring setup we say! The only real mechanical issues was having to spend 15 minutes with a spoke key on the front wheel, after it lost a lot of spoke tension after only a few rides.
Oh yes we did like the Trigger, if it wasn't for our aching hands at Thredbo we would have never given it back. It's a real 'one bike for all rides' type of bike, and enjoyed what we were able to conquer on the trails aboard such a grippy and agile riding bike.