Wil reviews the 2022 Canyon Lux Trail
The Canyon Lux Trail is the newest mountain bike to come from those fastidious frothers out of Germany. Strictly speaking though, this isn't actually a whole new bike. That's because the Lux Trail actually employs the same back end as the regular Lux. The front triangle is new however, and it is vastly longer and slacker than its racier counterpart. Along with an increase in suspension travel and the addition of some burlier components, the Lux Trail forges a different path that promises greater versatility and more fun.
But is this just a half-arsed way to add another model to the range? Or a clever way to create a new bike out of an existing and well-proven platform? We've been testing the Canyon Lux Trail CF 9 for the past few weeks to find out!
---
Watch our Canyon Lux Trail video review here:
---
The new Canyon Lux Trail is quite an adventurous move for Canyon. It's taken what is otherwise a conservative bike and has successfully augmented it with a radically longer and slacker front end, delivering a welcome boost in high-speed stability in the process.
Canyon Lux Trail overview
For those unfamiliar with the name, the Lux is Canyon's lightweight full suspension XC bike. It's built from carbon fibre and features the efficient Flex Stay suspension design, with clearance to fit two bottles inside the front triangle.
There are some 11 models within the Lux lineup, though there are subtle differences in suspension travel across the range. And the arrival of the new Canyon Lux Trail means there are now three distinct varieties;
Canyon Lux CF SLX – 100mm front & 100mm rear
Canyon Lux CF – 110mm front & 100mm rear
Canyon Lux Trail – 120mm front & 110mm rear
The main point of difference for the Canyon Lux Trail is its slacker geometry and inflated suspension travel. Compared to the regular Lux, the Lux Trail features a 120mm travel fork and 110mm of rear wheel travel. It's still an XC bike, but it's made for the riders who believe there is more to life than just racing, riders who may also be eyeing up the Specialized Epic EVO, Merida Ninety-Six 8000, Orbea Oiz TR and Scott Spark.
There's a whole new party up front!
Along with the increase in travel, the Canyon Lux Trail gets a whole new front triangle. It features a significantly longer top tube, with reach measurements growing by a whopping 25-30mm over the regular Lux. The head tube angle is also over two degrees slacker, clocking in at 67.5°.
There's a lot of box-ticking elsewhere too, to the point that we suspect that Canyon's design team has Flow MTB bookmarked on their internet browser. Indeed the Canyon Lux Trail covers almost everything from our article on how to make your XC bike more fun. It gets a longer fork, wider handlebars, and 2.4in tyres that are supported by modern 30mm wide rims. You'll also find a dropper post on every model.
But it still means business
Don't be fooled though, because the Canyon Lux Trail is no heavy-hitting trail bike. It still features a svelte carbon frame, with a one-piece swingarm that's directly imported from the regular Lux CF.
There's a single-pivot Flex Stay suspension design, which eliminates the need for a pivot at the rear dropout. Instead, the slim seatstay tubes are designed to flex throughout the travel. A tiny alloy link connects the seatstays to the seat tube, with a composite yoke driving the rear shock. The packaging is impressive, and it lends to the Lux' elegant, hardtail-like profile.
And to hammer home that this is still an XC bike, look towards the flat mount rear brake calliper, 34T chainring and lightweight tyre casings, with a speedy Schwalbe Racing Ralph on the rear.
To achieve the additional rear wheel travel, the shock stroke is increased from 50mm to 55mm. The eye-to-eye length otherwise remains the same, and so does the linkage and all the key pivot points. This ensures the Canyon Lux Trail retains the same kinematics and efficient pedalling manners as the regular Lux.
Even still, Canyon has given the Lux Trail a dual remote lockout system. And to hammer home that this is still an XC bike, look towards the flat mount rear brake calliper, 34T chainring and lightweight tyre casings, with a speedy Schwalbe Racing Ralph on the rear.
Canyon Lux Trail price & specs
Being a direct-to-consumer brand, it's no surprise that the Canyon Lux Trail is priced competitively. Given pandemic-induced shortages and industry-wide price hikes however, the value on paper is staggering.
This is no doubt possible due to the fact that the Lux Trail isn't using an entirely new frame. This reduces both development and manufacturing costs, and it would appear that Canyon has passed those savings onto the consumer.
The carbon frame is the same on all four models, including the entry-level Lux Trail CF 6. Even with shipping costs factored in, that bike sells for just $5,428 AUD. That's a helluva package when you consider the Fox suspension, dropper post, DT Swiss wheels and Shimano SLX groupset. You can check out the pricing and specs of the whole lineup in our first look story on the Canyon Lux Trail.
The bike I've been testing is the top-end Canyon Lux Trail CF 9, also known as the 'Emily Batty Edition'. Featuring one of the most colourful paint jobs we've ever seen from Canyon, this bike gets an appropriately blingy build kit with Shimano XTR components, a DT Swiss XRC 1200 carbon wheelset, Fox Factory Series suspension and a lightweight Transfer SL dropper post. In the land of Trek and Specialized, those kind of specs will send you over the $14,000 AUD mark. Even Merida's top-end Ninety-Six RC sells for $10,499 AUD.
Indeed on paper at least, the Lux Trail looks like scorching value. The question is; can it live up to that excitement on the trail?
2022 Canyon Lux Trail CF 9 Specs
Frame | Carbon Fibre, Single-Pivot Flex Stay Suspension Design, 110mm Travel
Fork | Fox 34 Float Step-Cast, Factory Series, FIT4 Damper w/Remote Lockout, 44mm Offset, 120mm Travel
Shock | Fox Float DPS, Factory Series, Remote Lockout, 210x55mm
Wheels | DT Swiss XRC 1200, Carbon Rims, 30mm Inner Width
Tyres | Schwalbe Wicked Will 2.4in Front & Racing Ralph 2.35in Rear
Drivetrain | Shimano XTR 1×12 w/34T XTR Crankset & 10-51T Cassette
Brakes | Shimano XTR M9100 Race 2-Piston w/Hayes D Series 180/160mm Rotors
Bar | Race Face Next 35 Carbon, 10mm Rise, 760mm Width
Stem | Race Face Ride 35, 60mm Length
Seatpost | Fox Transfer SL, Factory Series, 30.9mm Diameter, 100mm Travel
Saddle | Selle Italia SLR boost
Sizes | Small, Medium, Large, X-Large
Claimed Weight | 10.9kg
RRP | $8,949 AUD (Plus $199 Shipping)
Give it the beans it craves, and you'll discover a very fun and highly engaging XC bike that loves to go fast.
Canyon Lux Trail sizing & fit
To suit my 175cm height, I've been riding a Medium size in the Canyon Lux Trail. Though for the first time ever testing a Canyon, it occurred to me during my first ride out that this size could actually be too big.
No doubt about it, the 460mm reach measurement is huge. It's significantly longer than the Epic EVO (436mm), and the Ninety-Six 8000 (440mm). Even the Mondraker F-Podium, a brand known for its Forward Geometry concept, has a shorter reach (450mm).
I've previously tested a Medium size in the Canyon Lux CF, which fit well. However, the new Lux Trail has a vastly longer top tube. What's interesting to note is that the two bikes share the same 74.5° effective seat tube angle. This is because the location of the pivot points and shock are unchanged, meaning the seat tube couldn't be made any steeper on the Lux Trail. So while the front triangle has been made much longer and slacker, the seated position hasn't steepened with it.
I didn't get along with the stock Selle Italia saddle, so I switched it for one of my favourites, an Ergon SM Pro. As well as being more comfortable, the Ergon saddle has longer rails so you can shunt it quite a bit further forward. Once into position, the effective seat angle measured closer to 76°.
The seat tube itself is quite long at 465mm on the Medium. This is an XC bike though, and there's plenty of room for the 100mm travel Fox Transfer SL. However, shorter-legged riders who are desperate to fit a longer-stroke dropper post will want to pay close attention to the Lux Trail's seat tube lengths.
The spacious cockpit is complemented with 760mm wide low-rise bars and a 60mm stem, which delivers a very long and low riding position. Partway through testing I tried out a 40mm stem, which made for a significantly more comfortable fit and helped to quicken up the steering too.
Having switched the saddle and stem, I'm now totally happy with the fit of the Medium size Lux Trail. However, for those folks who are on the border between two sizes, it's worth taking a closer look at the reach, effective top tube measurements and seat tube lengths. It's important to understand that this is a considerably longer bike than what we've seen from Canyon's XC and trail bikes in the past, and as such, you'll be more likely to downsize rather than upsize.
Suspension & tyre setup
Depending on what you want out of the Canyon Lux Trail, you can set up the rear shock with 25% sag for a firmer and racier feel, or up to 30% sag for a smoother and more forgiving ride.
Because the long shock creates such a low leverage ratio, operating pressures are also very low. For my 68kg riding weight I ended up with just 105psi inside the Fox Float DPS shock. This put me closer to that 30% sag figure, providing a better balance with the supple fork up front.
The low leverage ratio also means the shock's damping has a strong effect on the suspension action. So even with those springy carbon seatstays, you don't need to run an excessive amount rebound damping. I actually ended up one click faster than halfway (8/14 clicks).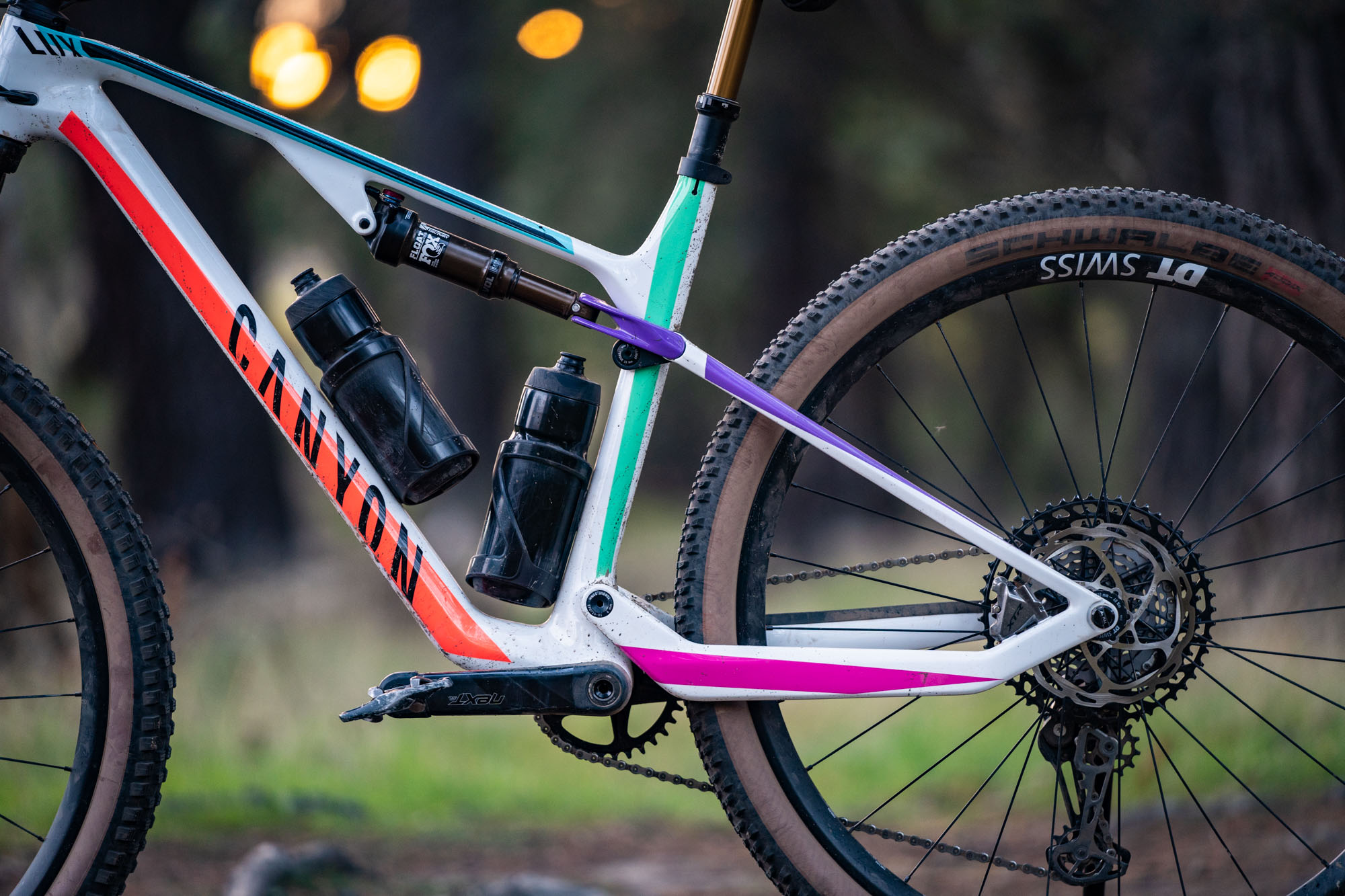 While I have been able to hit full travel on bigger landings, bottom-out hasn't been harsh or excessive. Which is good, because Fox doesn't recommend fitting any volume spacers with this particular shock size (the compression rate ends up being too high). If you're bottoming out regularly, your only option is to add more air pressure to increase support.
This was our first experience with the new 2022 Fox 34 Step-Cast fork, and I'm happy to report that it's been a throughly positive one. The recommended air pressure and rebound settings have been spot-on, and aside from adjusting the low-speed compression damping for the trail conditions, no further tweaking was required.
With a keen eye on weight, Canyon has equipped the Lux Trail with Schwalbe's lightweight Super Race casings. These are very supple tyres, though the sidewalls are quite thin – the 720g Racing Ralph on the rear being particularly dainty. Sensing potential trail drama, I fitted a Tyreinvader insert into the rear wheel. Pressures varied with 20-22psi up front and 23-25psi on the rear.
Canyon Lux Trail weight
Without pedals and with the tyres setup tubeless, confirmed weight for our Canyon Lux Trail CF 9 is 11.22kg.
The frame itself is pretty light – Canyon claims it weighs just 2,276g with the rear shock, thru-axle and hardware. That's only 220g more than Canyon's premium Lux SLX frame, and around 350g heavier than a Trek Supercaliber.
For my fellow weight weenies, here's the confirmed weight for a few of the highlights on our Canyon Lux Trail CF 9;
2022 Fox 34 Step-Cast fork weight – 1,531g
DT Swiss XRC 1200 wheel weight – 1,525g
Fox Transfer SL dropper post weight – 353g
Those are all very light indeed, which is why you'll see them spec'd on a number of World Cup XCO race bikes. Again, this provides further clues as to the Lux Trail's riding intentions.
What does the Canyon Lux Trail do well?
Initially I found the Canyon Lux Trail to be something of a curiosity. Indeed the lengthened geometry and increased travel suggests it might be closer to a cushy trail bike. From the very first pedal stroke however, it's clear that this is still very much an XC bike, and it's still very much a Lux.
Coming in a little over 11kg, the Lux Trail CF 9 is lightweight, fast and responsive. It features an incredibly efficient suspension design, with those carbon flex stays adding notable spring force and support throughout the travel. Along with the inherent anti-squat from the relatively high main pivot, the Lux Trail possesses excellent organic pedal efficiency, even with the shock set wide open.
The front wheel sticks out further ahead of you, offering a more confidence-inspiring riding position on the descents with a bigger margin for error.
There's a powerful surge forwards under forceful pedalling inputs, with a stable platform around the sag point. You don't need to resort to heavy compression damping on this bike, though the remote lockout is there for riding on the road and out-of-the-saddle sprinting efforts.
Complemented by the lightweight and stiff carbon wheels, acceleration is prompt with minimal lag. Only the knobbly tread pattern of the Wicked Will up front tempers the Lux Trail's urgency. With a faster rolling tyre up front, like the Racing Ray, this bike would be totally race-able out of the box. In fact, I'd argue that for most riders the Lux Trail would be a better race bike option compared to the regular Lux.
Still sporty, but spicier
Where things get interesting with the Canyon Lux Trail is that longer front centre, which significantly boosts its overall stability.
The wheelbase is almost 50mm longer compared to the regular Lux (1,176mm vs 1,129mm), and that gives the Lux Trail a vastly bigger footprint between the tyre contact patches. The front wheel sticks out further ahead of you, offering a more confidence-inspiring riding position on the descents with a bigger margin for error.
The wider bars improve stability and control over the front wheel, and so far I've been impressed with the cornering bite and all-round traction from the Schwalbe Wicked Will. The shallow centre tread blocks can sometimes struggle to latch onto loose rocks, but otherwise it's been great on our dusty hardpacked trails with fabulous cornering support.
The Fox 34 SC is also brilliant. It's supple and lively, helping to maximise grip on rougher sections of trail. Along with the 44mm offset and the slackened 67.5° head angle, the front-end steering feels very steady and predictable for such a lightweight XC bike.
It isn't as razor-sharp as the regular Lux though, and initially I found myself understeering through flatter corners. On tighter spaghetti singletrack, the Lux Trail can require a little more premeditation for upcoming corners. Rather than turning the handlebars, it responds better to dropping the saddle and leaning the whole bike assertively through those sharper bends. The shorter 40mm stem has really helped in this regard, as do the 760mm wide bars.
Overall it's still a very lithe and sporty bike though. The back end is short and snappy with a 435mm rear centre length, and the bottom bracket sits low with a 38mm drop, keeping your weight close to the ground. Along with the stiff wheels, low overall weight and responsive pedalling performance, the Lux Trail really encourages an attacking riding style.
What does it struggle with?
I certainly wouldn't describe the rear suspension as being plush. It performs similarly to the regular Lux, in that it is quite firm, and very different to Canyon's cushier and more comfortable 130mm travel Neuron trail bike.
Some small-bump sensitivity has been sacrificed in favour of the Lux Trail's snappy pedalling performance, so there is more surface feedback compared to plusher multi-link bikes like the Pivot Trail 429 and Santa Cruz Tallboy.
The firm suspension tune can also see the rear tyre struggling for traction when winching up steeper pinches in loose conditions. The climbing position itself is good, as the wallow-free rear suspension means the dynamic seat tube angle is consistent. But if the climb is particularly chunky, you will find yourself getting knocked around if you try to sit and spin in a low gear. I found that when facing uphill rock garden puzzles, clicking into a slightly higher gear, getting out of the saddle and using brute force was the best way to muscle the bike up and over those trickier sections.
It's also taken some time to recalibrate with the two-position dropper post. The Fox Transfer SL is either fully extended or fully compressed, with no option in between. Initially I didn't think this would be an issue, but I actually found myself wishing for a middle position on those more technical ascents.
Biting off more than you can chew
With the front end of the Canyon Lux Trail inspiring plenty of confidence, this bike goads you into charging hard and fast on the descents. The rougher the descent however, the more challenging it can be for the back end to keep up.
In loose conditions the Racing Ralph breaks traction much sooner than the front. It's hilarious fun on smoother trails, where the slide is predictable and useful for squaring off corners. On choppier singletrack though, the lightweight rear tyre will make you second guess your entry speed and line choice.
Overall it's a great bike at speed, but the rougher the trail the harder it is to ride fast. The back end can get squirrelly under duress, especially when it's being smashed into big boulders one after the other. This is a combination of the rebound characteristic of the carbon flex stays, and also general swingarm flex under more violent impacts. We are talking about riding some pretty hectic trails here, where the Lux Trail's puffed-up chest means you can occasionally bite off more than you can chew.
The suspension itself is otherwise well managed. Once you push past the sag point, the mid-stroke support is superb. The Float DPS shock doesn't wallow, and it doesn't blow through its travel. Control at speed is excellent, so even though there's only 110mm of travel, there's always plenty in reserve over washboard stutter bumps. While it may not be the most velvety-feeling suspension, it is highly effective.
Component highs & lows
Even with the top-notch build kit on the Canyon Lux Trail CF 9, our test bike hasn't been immune from any issues.
The Fox Transfer SL dropper post has impressed with its low weight and effortless action, but it soon developed an excessive amount of rotational play. It's also started sticking slightly just before it reaches full extension. This means when you go to sit back down on the saddle, the post slams all the way down without warning. Yikes! I'll be sending it off to Fox to be repaired under warranty, but it is disappointing that in 2021 we're still encountering durability issues with dropper posts, particularly ones that costs $600 AUD.
Unfortunately the fork lockout system on our test bike has been totally ineffective. The fork itself has performed beautifully, but there is no change in compression damping when flicking the remote lever into the firmer positions. We understand this is a tuning issue from the factory, so I'll be getting that rectified along with the dropper post shortly.
Otherwise the rest of the Lux Trail CF 9 has performed admirably. Echoing our previous experience, the DT Swiss XRC 1200 wheels have been superb, offering responsive performance with minimal flex. That said, combined with the 35mm diameter carbon handlebars, the front end of the bike is quite stiff and unrelenting on high-speed chatter.
The chainguide is similarly discreet yet practical, the tool-free Quixle is super handy for rear wheel removal, and I love being able to carry two 750ml water bottles for longer trail rides.
I'm a big fan of the Shimano XTR Race brakes, and they've worked beautifully despite the off-brand Hayes rotors. I expect heavier riders may wish for more power though, so it's worth noting that you can upsize to a 180mm rotor for more bite.
The drivetrain has been similarly flawless, and I love both the textured rubber pads on the XTR shift paddles and the double upshift function. The Race Face Next SL cranks offer additional curb appeal, though I have had more shoe rub due to the thicker carbon arms. I'm also not a huge fan of stuffing a 30mm axle and low profile bearings into a PF92 bottom bracket shell.
That aside, there are some excellent details on the Canyon Lux Trail. The IPU steering limiter is entirely unnoticeable when riding, but it is useful for protecting the top tube from the handlebar controls. The chainguide is similarly discreet yet practical, the tool-free Quixle is super handy for rear wheel removal, and I love being able to carry two 750ml water bottles for longer trail rides. It certainly makes it hard to go back to a bike with just a single bottle.
What could be improved?
Given how efficient the Canyon Lux Trail's suspension is, I'm tempted to ditch the remote lockout entirely and lose two extra cables from a busy cockpit. That would also allow you to mount an under-the-bar dropper lever. Still, I quickly got used to the over-the-bar dropper lever, and the remote lockout system is useful in a racing scenario. It also allows you to setup the shock with that softer 30% sag setting, while still having access to a firmer compression mode to stabilise the rear shock on the climbs – a setup trick that we really enjoyed the Orbea Oiz.
At the risk of sounding like a broken record here, the 35mm bars do seem excessive on a lightweight XC bike. I'd change those to a 31.8mm diameter to bring some added compliance to the front end.
I'd also love to try out the Lux Trail with some different tyre setups. The stock combo is fantastic for the given purpose, though with some XC racing on the horizon, I'll definitely be trying out a faster-rolling front tyre. For trail shenanigans, a burlier rear tyre with a tougher casing would help to increase grip and rider confidence.
On the note of tyres, can we have some tubeless valves and sealant thrown in the box please Canyon?
Going a bit deeper, the Lux Trail could benefit from a steeper seat tube angle. However, that change would require a whole new frame and suspension redesign, which would increase manufacturing costs and result in a higher sticker price. I also don't think it's totally necessary. In my experience on the Medium size at least, once I changed saddles I was able to achieve a comfortable riding position.
Canyon Lux Trail vs The Competition
I gotta say that we are absolutely loving the concept behind these new generation XC rippers. Bikes like the Trek Top Fuel, Orbea Oiz TR, Scott Spark and Norco Revolver FS 120, all of which feature a little more travel, progressive geometry and a more practical build kit. They're so much more versatile compared to the traditional 100mm travel XC race bike, and they're just truckloads more fun too.
Alongside the new Canyon Lux Trail, there are two comparable bikes we've tested that offer a similar vibe; the Specialized Epic EVO and the Merida Ninety-Six 8000.
Specialized Epic EVO
Launched a bit over a year ago, the latest Specialized Epic EVO features the same amount of travel as the Canyon Lux Trail, and it uses a similar carbon flex stay suspension design with a yoke-driven shock.
The frame will take two bottles, though the overall profile of the Epic EVO is cleaner due to the lack of a remote lockout. It's also around half a kilo lighter with a claimed frame weight of just 1,757g (and 1,659g on the S-Works frame!).
Compared to the Lux Trail, the Epic EVO's head angle is slacker at 66.5°, while the reach is quite a bit shorter at 436mm. The rest of the geometry is pretty similar between the two bikes, though it's worth noting that Specialized does offer the Epic EVO in an XS frame size.
On the trail the Epic EVO offers a more balanced feel front and rear in terms of small-bump sensitivity. The rear suspension is plusher, allowing you to maintain a steadier trajectory on rowdier terrain. You get more traction and comfort, which is noticeable on both technical climbs and rough descents.
It's not as naturally efficient as the Canyon though. The Epic EVO sits a fraction deeper into its travel on the climbs, so while the two bikes share the same 74.5° seat tube angle, the climbing position is better and more stable on the Lux Trail. You also have the ability to firm up the suspension via the remote lockout system, which is very handy from a racing perspective.
Of course Canyon also crushes it on the value-for-money stakes. Even once you factor in the shipping fee, the Lux Trail CF 9 is still over two grand cheaper than an Epic EVO Expert, despite having considerably higher-end components.
Merida Ninety-Six 8000
Another progressive XC bike, the Merida Ninety-Six 8000 has received a totally new frame design for 2021. It also features a 120mm travel fork, but sticks to 100mm on the rear. That's delivered by a flex stay design, albeit with a drop-link driving the rear shock.
Geometry is on point – the head angle is half a degree slacker at 67° and the seat angle is half a degree steeper at 75°. The 440mm reach is a bit shorter, though it also gets a shorter seat tube that allows Merida to spec a long travel dropper.
Coming in at basically the same price as the Lux Trail CF 9, the Merida Ninety-Six 8000 doesn't quite match the bling factor, but it is great value for a bike you purchase through a local bike store.
The Merida Ninety-Six 8000 also delivers plusher suspension performance, even with supposedly less rear travel. It's also a very progressive suspension design with marvellous big-hit support. It's really poppy for an XC bike, and loves getting air time. The bigger Maxxis Minion DHR II tyres offer an insane amount of traction and cornering stability, making the Ninety-Six 8000 the more comfortable and capable bike on rougher trails.
It gets a practical frame design with dual bottle capability, tool storage, a threaded BB and the SRAM UDH. The headset cable routing is less practical though. We also had issues with the TwistLoc remote not staying put, and the riding position was quite aggressive with the 740mm flat bars.
The active suspension design certainly doesn't pedal as well as the Lux Trail, with more wallow on the climbs. And while you can basically ride upside down with those Minions, they're much slower rolling compared to the Schwalbe combo. As a result, out of the box the Merida feels more like a pocket rocket trail bike, whereas the Canyon is the speedier and racier-feeling XC bike.
Flow's Verdict
The new Canyon Lux Trail is quite an adventurous move for Canyon. It's taken what is otherwise a conservative bike and has successfully augmented it with a radically longer and slacker front end, delivering a welcome boost in high-speed stability in the process.
Cleverly though, the choice to import the back end from the regular Lux means that Canyon's engineers have managed to keep the overall costs down. The result is a gorgeous but well-priced bike that is brimming with lots of neat details, and a highly appealing build kit that offers incredible bang for buck.
Despite the progressive front end, it's important to note that this is no cushy trail bike. The rear suspension is on the firmer side, placing a strong emphasis on stability and organic pedal efficiency. As a result, it doesn't ooze small-bump compliance, and it's not as comfortable in the rough compared to some of its competitors.
It is very responsive though, which encourages and rewards an assertive riding style. Give it the beans it craves, and you'll discover a very fun and highly engaging XC bike that loves to go fast. Indeed the low weight and snappy pedalling performance means it's really only a front tyre change away from lining up at a club race or entering a multi-day event like the Port to Port. It may not be quite as sharp as a dedicated race bike like the Lux SLX, but for many riders the increased versatility and capability of the Lux Trail will make it the more practical choice, and quite possibly the faster bike of the two.