Wil reviews the Canyon Spectral 125
A fresh release for 2022, the Canyon Spectral 125 is the newest addition to the Canyon mountain bike lineup. Essentially a shrunken down version of the existing Spectral 29, the Spectral 125 is an aggressive mid-travel trail bike that's been hardwired with big-hitting ambitions. So just how different are the two bikes on the trail? And how does the Spectral 125 compare to Canyon's existing trail bike, the Neuron?
---
Watch our video review of the Canyon Spectral 125 here:
---
It tips in effortlessly, with a heap of natural wheel flop from the slack head angle. There's no hint of flex or vagueness through the frame or stiff carbon wheels, delivering plenty of feedback between your feet, hands and the trail. Along with the excellent tyre combo, the Spectral 125 absolutely rails high-speed turns.
Overview
Featuring 125mm of rear travel paired to a 140mm fork, the Canyon Spectral 125 is built specifically around 29in wheels. Those specs put it into similar territory to other mid-travel trail bikes like the Norco Optic, Trek Fuel EX and Specialized Stumpjumper.
It shares a similar frame shape to the regular Spectral, including the four-bar suspension platform. The geometry is basically identical between the two bikes, with the same head angle (64°), reach (460mm, Medium), rear centre length (437mm) and BB drop (35mm).
While they do look very similar, the chassis is unique to the Spectral 125, which is claimed to be 100g lighter thanks to its slimmer tube profiles. The suspension kinematics are also different, with a higher level of anti-squat and a slightly less progressive leverage rate that promises more responsive pedalling performance.
Canyon Spectral 125 price & specs
There are five Canyon Spectral 125 models available for 2022, with three using a full-carbon frame, and two using a cheaper alloy frame.
The entry point into the range is the Canyon Spectral 125 AL 5, which has a list price of $3,899 AUD. As usual, you'll need to add on the shipping cost ($199 AUD) and the cardboard bike box ($29.90 AUD) to the final price.
The bike we've been testing sits at the other end of the scale. It's the top-end Spectral 125 CF 9, which sells for $9,027.90 AUD once you factor in shipping costs.
2022 Canyon Spectral 125 CF 9
Frame | Carbon Fibre, Triple Phase Suspension Design, 125mm Travel
Fork | Fox 36, Factory Series, GRIP2 Damper, 44mm Offset, 140mm Travel
Shock | Fox Float X, Factory Series, 210x50mm
Wheels | DT Swiss XMC 1501, Carbon Rims, 30mm Inner Width
Tyres | Maxxis Minion DHR II EXO 3C MaxxTerra 2.4in Front & Dissector EXO 3C MaxxTerra 2.4in Rear
Drivetrain | SRAM GX AXS Eagle 1×12 w/X1 Carbon 32T Crankset & 10-52T Cassette
Brakes | SRAM Code RSC 4-Piston w/200mm Front & 180mm Rear Rotors
Bar | Canyon G5 Carbon Riser Bar, 30mm Rise, 780mm Width
Stem | Canyon G5 Alloy, 40mm Length
Grips | Ergon GE1 EVO
Seatpost | Canyon G5 Adjustable Dropper, 30.9mm Diameter, Travel: 150mm (S), 170mm (M), 200mm (L-XL)
Saddle | Ergon SM10 Enduro Comp
Confirmed Weight | 13.72kg
RRP | $8,799 AUD (plus $199 shipping)
And that certainly begs the question; if the Spectral 125 isn't any lighter, why would you choose to have less travel? Well there are reasons, which I'll get onto shortly.
Canyon Spectral 125 sizing & fit
At 175cm tall I've been riding a Medium size in the Canyon Spectral 125. It's a great fit with its enduro-inspired cockpit, featuring a long reach, short stem and 30mm rise handlebars. The Ergon grips and saddle are sweet touch points too.
The seat tube on the Spectral 125 is a fraction shorter compared to the regular Spectral, providing heaps of room for a big 170mm dropper post on the Medium. If you found you needed a lower saddle height still, the dropper's travel can be easily reduced without tools.
Suspension setup
I'm going to sound like a broken record here, but I still can't quite believe that a consumer direct company like Canyon doesn't have a detailed suspension setup guide on its website. Brands like Norco and Trek are way ahead in this regard, and Canyon could do well to take note and provide more resources for its customers to set their bikes up properly.
During a chat with the team at Canyon, I was informed that rear shock sag should be set up at 25%. To hit that number I needed 170psi to support my 68kg riding weight. However, I found the suspension to be overly firm and somewhat harsh, which was especially the case on non-groomed singletrack. In the search of more comfort and traction I ended up dropping the pressure down to 150psi. This put me closer to 30% sag, but felt much better on the trail.
I set up the Fox 36 as per the guide on the back of the fork lowers, though I also found this setting to be miles too stiff. It felt like I'd been through a boxing match on the first ride, and I honestly couldn't get off the bike quick enough. A significant reduction in air pressure was required, and so instead of 78psi like Fox suggests, I ended up at just 63psi. I suspect this anomaly has to do with the 36 being lowered down to 140mm of travel from its usual 160mm setting. Either way, it took a few good rides until I had both the front and rear suspension dialled in.
Canyon Spectral 125 weight
Confirmed weight for our Canyon Spectral 125 CF 9 test bike is 13.72kg, which isn't as light as you might expect for a 125mm travel trail bike.
It's also worth noting that the longer travel Canyon Spectral 29 CF 9, which sells for the same money and features a very similar build kit, is actually claimed to be lighter at 13.6kg. And that certainly begs the question; if the Spectral 125 isn't any lighter, why would you choose to have less travel? Well there are reasons, which I'll get onto shortly.
It's worth acknowledging that the Spectral 125's carbon frame is actually quite svelte, coming in at a claimed 2.5kg including the rear shock. It's not as feathery as a Specialized Stumpjumper, but it's about the same as a Giant Trance X Advanced frame.
One area I'd happily see a few extra grams added is the tyres, specifically the lightweight EXO casings. These seem a little out of step for a bike that has a 64° head angle and a piggyback shock. To give the rear tyre a fighting chance, I fitted a CushCore insert and set pressures at 22psi on the front and 25psi at the rear.
Speaking of the tyres, it baffles me that Canyon still doesn't include tubeless valves in the box. The rims are pre-taped, but you'll have to BYO valves and sealant to go tubeless.
What does it do well?
From the very first ride it's clear that the Canyon Spectral 125 is a more efficient pedalling bike compared to the regular Spectral. Not that we've ever complained about the Spectral's pedalling performance, it's just that the Spectral 125 is noticeably firmer and more responsive under power.
And thanks to the stout carbon chassis, the handling is more responsive too. Combined with the low-slung geometry and relatively compact rear end, the Spectral 125 delivers stonkingly good cornering performance.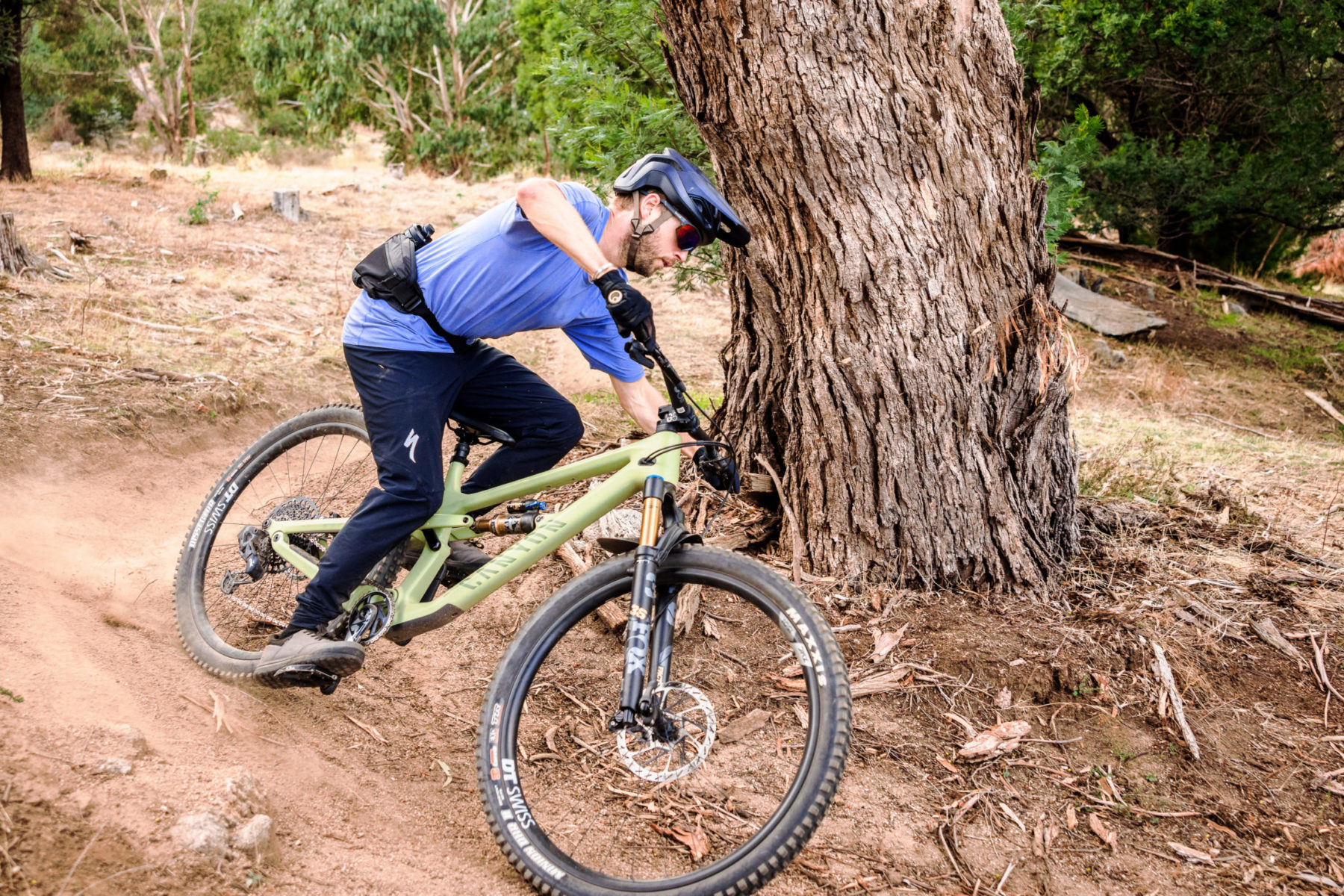 It tips in effortlessly, with a heap of natural wheel flop from the slack head angle. There's no hint of flex or vagueness through the frame or stiff carbon wheels, delivering plenty of feedback between your feet, hands and the trail. Along with the excellent tyre combo, the Spectral 125 absolutely rails high-speed turns.
Big-hitting confidence
While it does have less travel than its bigger brother, the Spectral 125's brutish front end inspires bucketloads of confidence. The Fox 36 is a superb performer, with effective big-hitting composure thanks to the highly tweakable GRIP2 damper. The 36mm chassis is even stiffer in this lowered 140mm travel guise, with the increased bushing overlap resulting in less torsional flex. It's a significant contributor to the Spectral 125's muscly feel on the trail, and helps to distinguish it from similar trail bikes fitted with skinnier forks.
There's also impressive support from the Float X shock, which features a proper bottom out bumper compared to the skimpy O-ring used in the DPX2. There's already plenty of ramp-up built into the Spectral 125's leverage rate, and that's complemented nicely by the supportive end stroke of the Float X. As a result I never once noticed bottoming it out, despite using all the travel on several occasions.
Indeed the Spectral 125's modest travel doesn't seem to hold it back on rowdy trails. The stout chassis, raked-out geometry and capable build go a long way towards maximising high speed stability, making it a thoroughly exciting bike to ride on the edge. It also loves taking to the air, with the supportive suspension allowing you to boost lips into infinity and beyond. Indeed this would be a sweet option for ripping up bigger jump lines and riding steep, feature-rich bike park terrain where you can entertain it with all the doubles, berms and bonus lines you can find.
What does it struggle with?
The same chassis stiffness and progressive suspension performance that makes the Canyon Spectral 125 such a hoot to ride on machine-built flow trails ends up being a detriment on rockier off-piste singletrack. That's especially the case if you're not riding assertively, or simply feeling fatigued deeper into a long ride.
Part of this is due to the slack head angle, which produces less vertical travel compared to a bike with a steeper head angle. That's great when you're charging down high speed descents, but on undulating terrain you really need to push the front end hard to properly engage the fork's travel. Along with the stiff frame and carbon wheels, the Spectral 125 pings about through chunky rock gardens.
This is something we experienced with the regular Spectral, though the sensation is condensed in this shorter travel version, which feels even stiffer and less compliant when the trail gets rough. The Germans are well known for their love of high stiffness-to-weight ratios, and that affinity is very much apparent in the Spectral 125.
It's worth noting that heavier riders are less likely to have a problem with the stout chassis. Being a lighter rider myself, and someone who generally frequents more rugged singletrack, I tend to be more sensitive to bikes that are too stiff. For this reason, I'd be curious to try out the alloy frame to see if it offers a more amenable ride quality.
Flipping the geometry chip into the High position did improve things for riding on more technical trails. You get an extra 8mm of clearance underneath the BB, and the angles steepen by half a degree to provide you with sharper steering. There's still no getting around the fact that it's a very firm ride though. Certainly for those who are after a comfortable trail bike with gooey-plush suspension, I'd suggest you look elsewhere.
Component highs & lows
As we've come to expect from the online brand, the Canyon Spectral 125 CF 9 does a very good job of curating such a desirable build kit for the price.
The Fox Factory suspension is top-notch and offers loads of tuning options, the Code RSC brakes deliver huge power and consistency with the thick HS2 rotors, and shift performance is effortless thanks to the wireless GX AXS drivetrain.
While the Minion DHR II/Dissector tyre combo works a treat on the corner-ripping Spectral 125, the EXO casings are too light. I managed to pinch-flat the rear tyre despite running CushCore, so I'd like to see Canyon spec at least an EXO+ casing to offer more protection for the high-zoot carbon rims.
I'm otherwise happy to see all of Canyon's usual amenities on the Spectral 125, including the brilliant Quixle tool-free rear axle. There's room for a small bottle underneath the shock, optional top tube tool storage, and bolt-on armour underneath the downtube.
Unfortunately the squidgy chainstay protector was installed a little too far back from the factory, resulting in some annoying chain slap and paint-chipping just behind the chainring. Our test bike also exhibited some creaking under suspension compression, which I tracked down to the plastic guide tubes that sit between the seat tube and chainstay. A touch of lube has since quietened it down. I've also had a small rock get jammed in this area and scratch the frame, so I think some sort of rubber mudflap over this pivot junction would be a sensible addition.
Canyon Spectral 125 vs Neuron vs Spectral 29
Even before the introduction of the new Canyon Spectral 125, the German brand's full suspension lineup was already starting to look pretty crowded. So where exactly does the Spectral 125 fit in, and how does it compare to the current Neuron and Spectral 29?
Canyon Neuron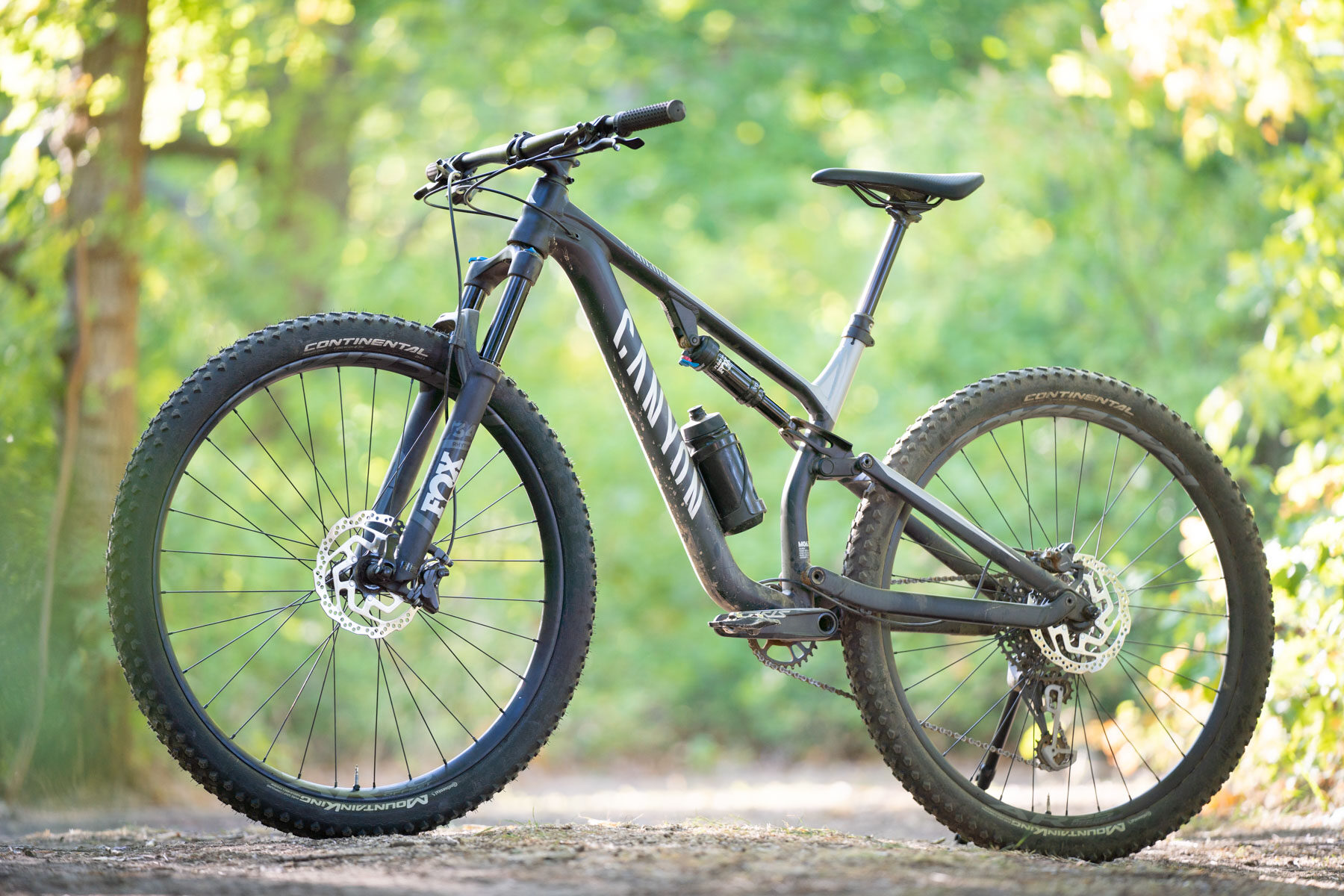 Making things somewhat confusing, the Neuron features almost exactly the same amount of suspension travel as the Spectral 125. It's equipped with a 140mm travel fork and 130mm at the rear, and it's built around 29in wheels on the larger sizes and 27.5in wheels in for the smaller frames.
The geometry is considerably more conservative on the Neuron with a steeper head angle (67°), a much shorter reach (433mm) and longer chainstays (440mm). The riding position is quite upright as a result, which gives it a comfortable and cruisey vibe on the trail. The suspension tune is also more linear, offering greater compliance, albeit with less support on bigger hits.
Along with its light weight build kit, efficient pedalling performance and faster rolling tyres, the Neuron leans towards being a long-legged XC bike that offers more comfort for long distance riding compared to the Spectral 125. If you don't frequent uber-steep terrain, and you're more likely to be riding the greens and blues instead of the black diamond trails, then the Neuron offers more approachable handling and is likely the better pick. Check out our Canyon Neuron review for more.
Canyon Spectral 29
We've also spent a load of time on the Spectral 29, which is much closer in performance to the Spectral 125. Indeed the two bikes are very similar in terms of their overall design, geometry, build kit, and even weight.
The Spectral 29 lifts suspension travel to 160mm up front and 150mm at the rear. The leverage rate is also a little more progressive, giving a more supple feel around the sag point, with greater support deeper into the travel.
On the trail the Spectral 29 is more forgiving, with better small bump sensitivity and a calmer demeanour on rough and rowdy singletrack. The rear wheel tracks better on repeat hits, delivering more traction and giving a wider margin for error when choosing your line down particularly ugly rock gardens. While it doesn't offer the same corner-slinging agility as the Spectral 125, the added suspension control means it's totally worthy of fronting up to an enduro race. In that regard, it's the more versatile option for those riders who are looking for the one bike to do it all. Check out our Canyon Spectral 29 review for more info.
In comparison, the Spectral 125 is less of an all-rounder. This bike is really suited to enduro and DH riders who are looking for a shorter travel trail bike that'll give them similar feels to their slacked-out race rig, but with a bucket-load more responsiveness and excitement for riding smoother trails.
Flow's Verdict
Combining progressive geometry in a mid-travel package, the Canyon Spectral 125 delivers a raucously fun ride quality that thrives on modern high speed flow trails. It's more efficient than the regular Spectral, but really it's the responsive handling and corner-ripping attitude that sets it apart from its bigger brother.
The stiff carbon chassis, slack head angle and supportive suspension tune means it is hard work to ride on rugged, undulating terrain. It lacks compliance when bashing through rocks, and it can be quite an unrelenting ride if you're off your A-game.
With that in mind, the Spectral 125 is better suited to softer trail conditions and big machine-built bike parks, where its agile handling and willingness to get airborne can be fully exploited. It loves to go fast, and it builds speed in a way that doesn't insulate you from the trail. Indeed for the aggressive riders out there who find long travel bikes to feel a little too soft and vague, the Spectral 125 is a punchy performer that keeps you thoroughly connected to the trail.