The Torque is an all-new long travel monster from the fast-moving German brand selling directly to the consumer. Since Canyon came to Australia, we have continuously been impressed by their unique approach to the engineering of their suspension frames, with distinctly high attention to detail.
The Torque is a huge bike, what type of rider or trail would justify something like this?
---
In this review we're going to talk about how it rides, but do you want to know EVERYTHING about the Canyon Torque?
It's a neat machine, worth checking out. Head to our feature on the new Torque release here.
Interested to hear a little background on the new platform from Canyon riders; Fabien Barel and Jo Barnes? Read this.
---
Torque + Maydena Bike Park = Woohoo Yeah!
We nabbed a Torque from Canyon Australia's demo fleet and ripped a few hot laps of the freshly opened Maydena Bike Park. The model we tested is different to the blue one pictured here, they were early release pre-production models with a high spec with an aluminium frame. And although we only spent a few hours over two days on it, we could still get a fair idea what it's about.
What's Maydena Bike Park? Excuse me, is that even a question? The biggest news in trail developments in Australia, Tasmania's new bike park!
At first, we did a few laps on the Canyon Strive, an enduro bike we are more than familiar with. The trails at Maydena are very advanced, super-steep and the jumps can get pretty significant, so the Strive found its limits at times, especially as we were riding the different tracks unseen. While the Strive was limited by the fact it was brand new and the brakes were still bedding in, and with a stock Maxxis Minion SS rear tyre not helping in the deceleration department, we still had a damn good time ripping hard and fast laps.
Torque has confidence in spades, and with that confidence, we began to properly let the brakes off and follow the faster riders in front.
Trading up to the Torque from the Strive was where things got exciting. The Torque has confidence in spades, and with that confidence, we began to properly let the brakes off and follow the faster riders in front. A 180mm travel fork would guarantee to put just about anyone into a reckless frame of mind, and while we admit to never realising its full potential we can say that in the right hands you could get away with so much stupid riding.
Mini downhill bike.
Pretty much! The Torque fills a significant void between the Strive and Sender, Canyon's enduro race bike and downhill race bike. It uses a whopping 175mm travel in the rear and 180mm up front. Those numbers translate to some serious firepower on the trail. While it might act like a mini-DH bike, the only common parts that you'd find on a downhill race bike would be the SRAM Code brakes and perhaps the FOX DHX shock, the rest of the kit you'd recognise from a regular trail bike or enduro bike. Components like a RockShox Reverb dropper post, 12-speed SRAM drivetrain, and a FOX 36 fork with lockout will widen the Torque's worth; we're talking about pedalling back up.
In comparison to the Sender downhill bike, The torque is a couple of degrees sharper in the head angle, shorter in the wheelbase, but the reach measurement is the same. So, in comparison, you could expect the Sender to climb like s$%t and stall at slower speeds, while the Torque strikes a balance that will make it manageable when the clock isn't ticking.
Perfect bike park bike? Oh yes, while we only have a couple of places with uplift services worthy of the term 'bike park' in Australia like Maydena, Thredbo, Mt Buller you could trade in a downhill bike or upgrade an enduro bike and let loose.
We took on incredibly steep terrain with confidence, the tall front end, powerful brakes and roomy frame give you a strong position to brace yourself. We rode longer descents with less fatigue in our upper body.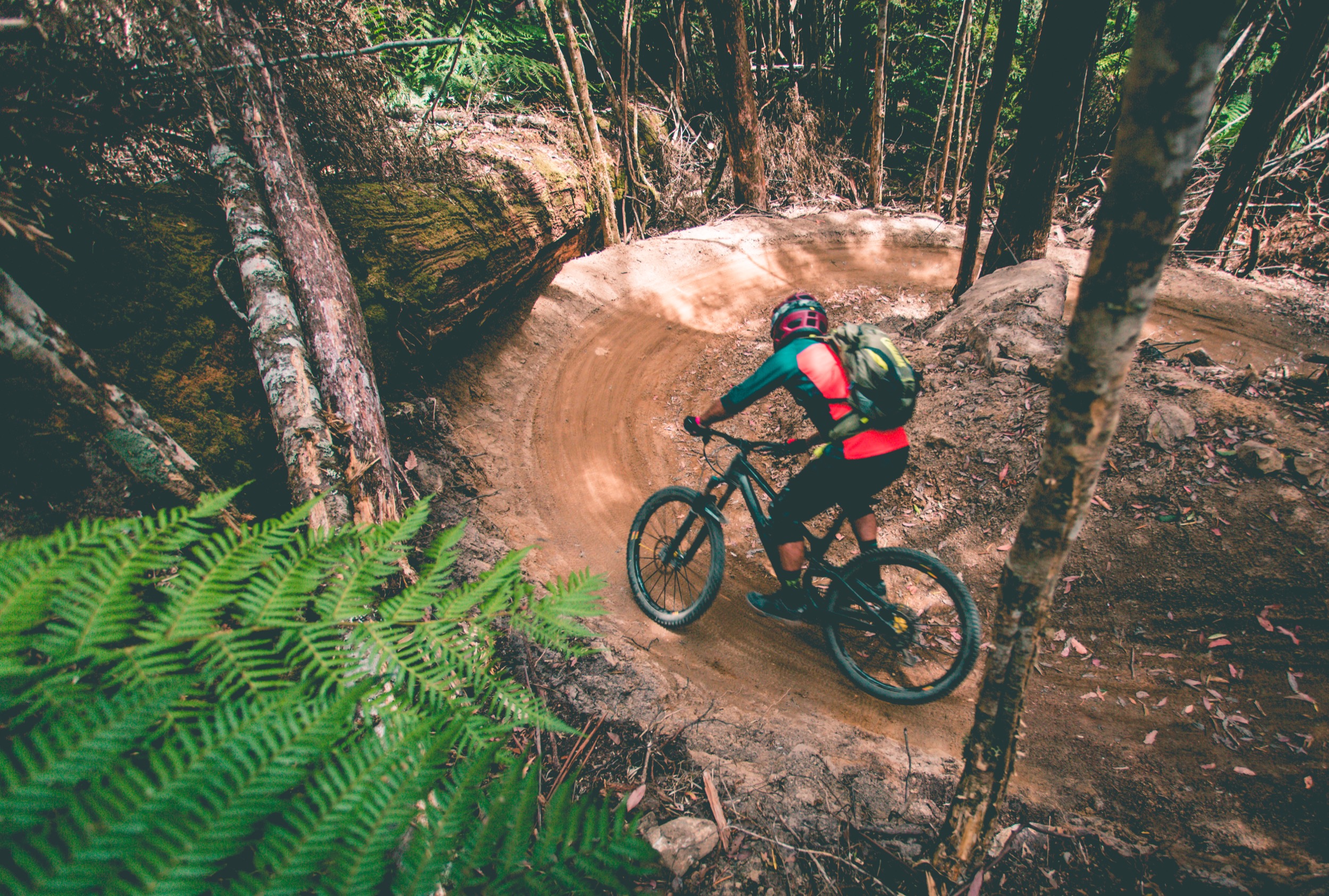 Too big to pedal, too much to handle?
Don't expect it to jump up with excitement and climb when you turn it upwards; it's going to get there eventually. While Maydena is a gravity park with everything pointing down (steeply!), we did take a detour which involved a few short climbs and long pedalling straights. With the dropper post right up, and the little blue lever on the DHX shock turned in; we were pleasantly surprised that it didn't kill us. Canyon claim the top-level Torque CF 9.0 Pro Carbon is 14.1kg, not bad for a bike that size!
It's the type of bike that you need to sit down and spin the legs with patience for best results.
It's the type of bike that you need to sit down and spin the legs with patience for best results. If you get up out of the saddle and mash about, the tall front end and raked-out forks will make for a reasonably awkward climbing position. Horses for courses, pretty much.
On slower corners or tight switchbacks, you do feel the Torque's size, exacerbated for us by the fact we'd just ridden the Strive. Though we quickly got used to it, and by that we mean we just rode everything faster! That's the key.
Enduro?
Sure, if the tracks are rough enough to warrant 180mm travel forks, the Torque could certainly be a decent enduro race bike. While the Strive was the bike we saw the Canyon Factory Enduro Race Team using the most last EWS season, we did see them ride the smaller Spectral in Rotorua, NZ and Derby, TAS rounds the season prior. Will the team use the Torque on the roughest EWS rounds this season?
Who's it for then?
The Torque sits amongst a select few long travel new-generation 'freeride bikes' like the; Commencal Supreme SX, Pivot Firebird, Polygon XQUARONE.
After only a couple days on the Torque we got the feeling that if you do the odd downhill shuttle, spend a time riding a chairlift, hit massive jumps, ride big mountain enduro, enter the occasional DH race or just like bikes that aren't afraid of anything that can still be pedalled up a hill, you could fit the bill.