With the likes of Chris Jongeward and Jason English having used these tyres (or a combination including these tyres) we were keen to see what was so good about Continental Race Kings.
These sweet looking German-made tyres came to us in 26 x 2.2″ in a UST configuration and weighed in at a comfortable 700g each (very reasonable for a proper UST tyre). Setup was easy and they both inflated without the use of sealant, the UST sidewalls and bead sealed tight with no air leakage. We popped in a cap of sealant to be safe. [private]
We've been running fairly skinny tyres (1.9″-2.1″) and had been keen to fit some fatter tyres for racing; the Race Kings at 2.2″ seemed like a good option. They looked and measured slightly smaller than their claimed 2.2" size however. This was probably helped by the very round profile of the tyre.
The low tread pattern remains at a consistent height across the whole profile of the tyre. Both these characteristics, the low tread and round profile, should lead to a fairly fast rolling tyre.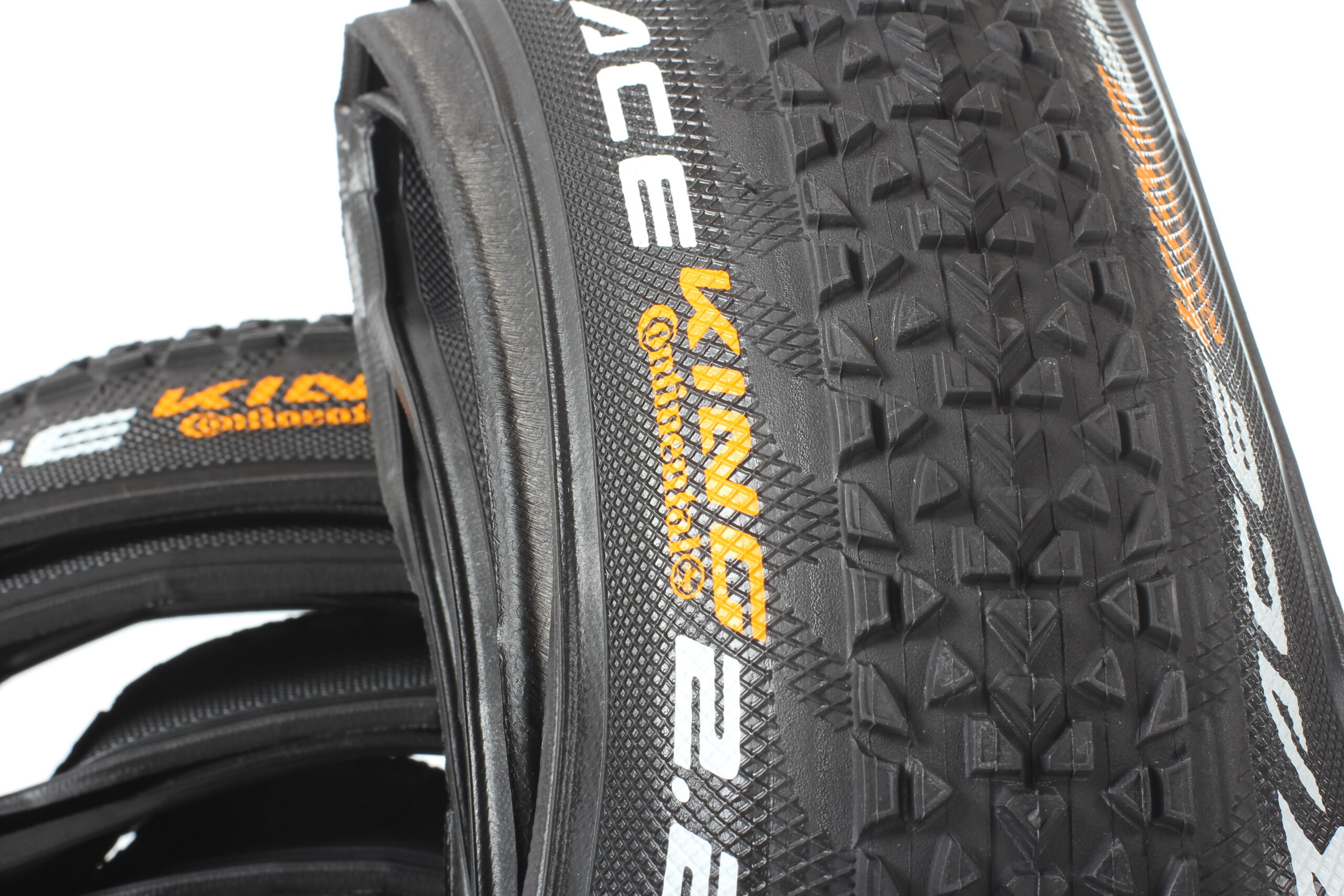 Time to ride! Initially it took a little while to wear through the shiny, wax-like finish on the tyre but once that slippery finish was scrubbed off, and they started to grip we found the tyres were predicable and gripped well in just about every condition.
From hard-packed dust-bowls to soft loam soil the tread is tightly enough packed to offer fast rolling through the middle and open enough through the remainder to find grip in a wide range of conditions.
Testing on the road the Race Kings surprised us by rolling quietly, comparable to our semi slick commuting tyres.
We have used the soft compound Conti tyres of old and wore through a brand new set during a solo 24 effort; we're happy to report that the UST Race Kings, still offer sufficient traction while not wearing through fast.
The front tyre has lost grip when pushed on a few occasions and this is probably why many riders match a Race King tyre on the rear with a more aggressive X-King or similar on the front. But overall I've found the Race Kings to be a very good performer for a UST 2.2, reliable through a variety of conditions. [/private]