There are not many Devinci bikes on the trail around these parts, but the handmade-in-Canada brand is edging its way Down Under and we welcome it with open arms. We were very excited to get our hands on the 29er Atlas RC for a comprehensive test.
With such a strong presence in the gravity end of the spectrum with World Cup downhillers gaining loads of exposure for the brand, we expected the Atlas to be targeted at the mountain biker who's focused on handling first and foremost, and this proved to be the case. Claiming to have the shortest chain stays in its class, the Atlas focusses its attention on creating a 29er with a ride characteristic that is fun and nimble like a 26″ bike, and with less of the negative handling characteristics sometimes found with 29ers.
We have heard this all before, but on paper they look to have got it sorted. Often we find that bikes with nimble handling end up compromising on stability though, so how did the Atlas fare? [private]
It feels all too often that we get on a 29er and say things like, "why do I even bother with 26-inch bikes these days" or, "these trails are perfect for a 29er". Our first experience on the Atlas was one of those moments, especially as it was dark and on a particularly technical trail riddled with sandstone steps, and motorbike induced ruts. As it turns out, this guy loved to be led blindly through hectic terrain with the pilot hanging on for dear life following a frothing Chris Southwood on an all-mountain bike. The steps appeared smaller, surfaces seemed to have more traction, and ruts were found to be easier to avoid. Go 29ers.
The Atlas is a seriously agile number, with your average 120mm 29er feeling pretty big under you, this one doesn't give that impression. We did notice the rear wheel was tucked in closer to the bike's centre, and with bar height down nice and low it didn't feel like we were riding too much bike – a pleasant change from some 29ers. First impressions were great, we relished the fact we could pop a wheelie on it, and flick it about quite easily.
All was peachy until the trails turned rocky. Not an issue with the suspension ability, rather the fact that we found ourselves bashing our pedals on rocks and undulations in the trail at an alarming rate. We thought perhaps we'd lost air from the shock, but that wasn't the cause. Admittedly the frame's geometry adjustment option was in its slackest and lowest position, but even still we shouldn't have been clipping pedals so often.
Further investigation proved that it was a combination of a low bottom bracket and a shock tune that was too light in the compression valving and/or air volume department. It became a real problem and caused a few stern words to be yelled out to the dark skies. We would sit back to pedal up a rock step and the cranks would bash into the ground, causing the bike to bounce back and the rear wheel to lose traction. In corners we would have to really pay attention to pedal placement as the suspension neared the bottom of the stroke. It simply put us off our game. The flip side is that the rear suspension was very supple and smooth, and of course it used all of its travel easily making for a plush and comfortable ride.
Not content to let it get to us, we set about looking into the rear shock sag. Increasing air pressures and reducing the sag by half we found the bike to ride a little higher. We also made more liberal use of the rear shock's ProPedal lever and found this also helped. But the flip side was that this did detract from the sensitivity of the bike's suspension, and that was a shame.
The real remedy lies in reducing the air volume of the FOX RP23 shock. This can be done with specialised plastic volume reducers. Installing them can be done yourself if you are keen, or simply send it to a shock tuning centre or to FOX via your local bike shop.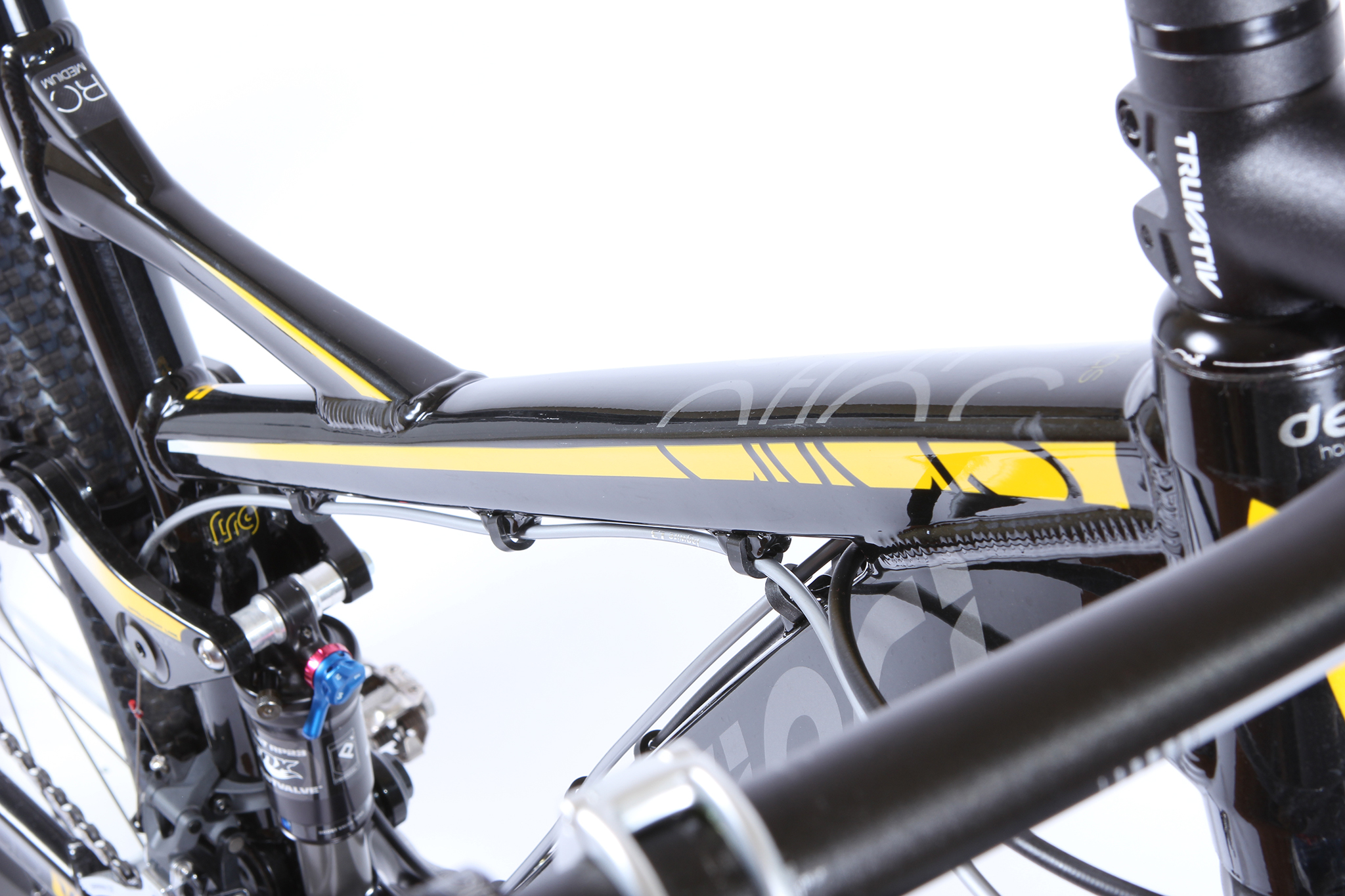 Up front the FOX fork wasn't without its own worries either. A knocking clunking feeling between the transition of compression and rebound was noted. Running less rebound damping helped it become less noticeable though. However, we fear that heavier riders will need more rebound damping to control the increased air pressure, and that will exacerbate the issue. All this was a surprise, as FOX suspension is typically consistently fine in our healthy experience.
Out on the trails, and paying close attention to where we pedalled, we felt at home. It's a very supple and smooth bike to ride. Pedalling efficiency is right up there with the best, although we left the ProPedal lever on the majority of the time. Under brakes, the Split Pivot suspension system does what it is intended to do and isolates the braking forces from the suspension. This was particularly evident when dragging the rear brake whilst descending rough surfaces. The Atlas' rear wheel remains in contact with the ground very well, instead of skipping about with the suspension locked up like some bikes do.
The Atlas didn't respond to heavy handling through turns though. The frame's front section exhibited just a little bit too much flex for our liking. Under pedalling and rear wheel steering the back end felt plenty laterally stiff enough. Heavier and taller riders will no doubt notice it more, but at the same time a rider that would rather sit and spin through the trails won't even find it an issue. Plus, the ride is so comfortable the frame never feels harsh or jarring which is certainly a positive.
We found all the components to be good, with a solid parts spec from the SRAM camp, with brakes and shifting taken care of nicely. The handlebars are kept free of clutter via the neat matching of the brake and shifter clamps, and we found the 2×10 gearing more than sufficient to crank around all gradients with ease. At $4799 it is well up there, but there is a cheaper spec option, the Atlas XP at $3599. And if carbon is your preferred frame material, a stunning Atlas RC Carbon starts at approximately $5899. We can attribute part of the high price to the handmade aspect of the bike and increased logistics for it to travel from Canada to Australia, a long way indeed.
Devinci bikes in Australia are actually sold to consumers a little differently via Meeco Sales in QLD. As Peter from Meeco puts it, "Ultimately, the best way for a customer to purchase a Devinci is to give us a call and we can advise them on availability, and put them in touch with their closest dealer. Whilst we have dealers in most capital cities, where there isn't a dealer, we have bike shops acting as agents that can receive the bikes and build them up for the customer".
We feel this is an interesting business model, allowing dealers to avoid carrying too much stock. It's pretty easy to organise a demo of one though, and if a Devinci is your thing, it's worth the effort for sure.
In the end we enjoyed riding the Atlas, its smooth riding character and agile geometry was a pleasure to flick about the singletrack. It prefers to be handled lightly, and calmly rather than muscled about. It may need a shock tune to prevent the pedals from bashing the ground too much, but niggles aside we enjoyed the Atlas. It's a comfortable and smooth singletrack machine, making the most of the many benefits a 29er gives us. This guy is well worth a demo.
[/private]