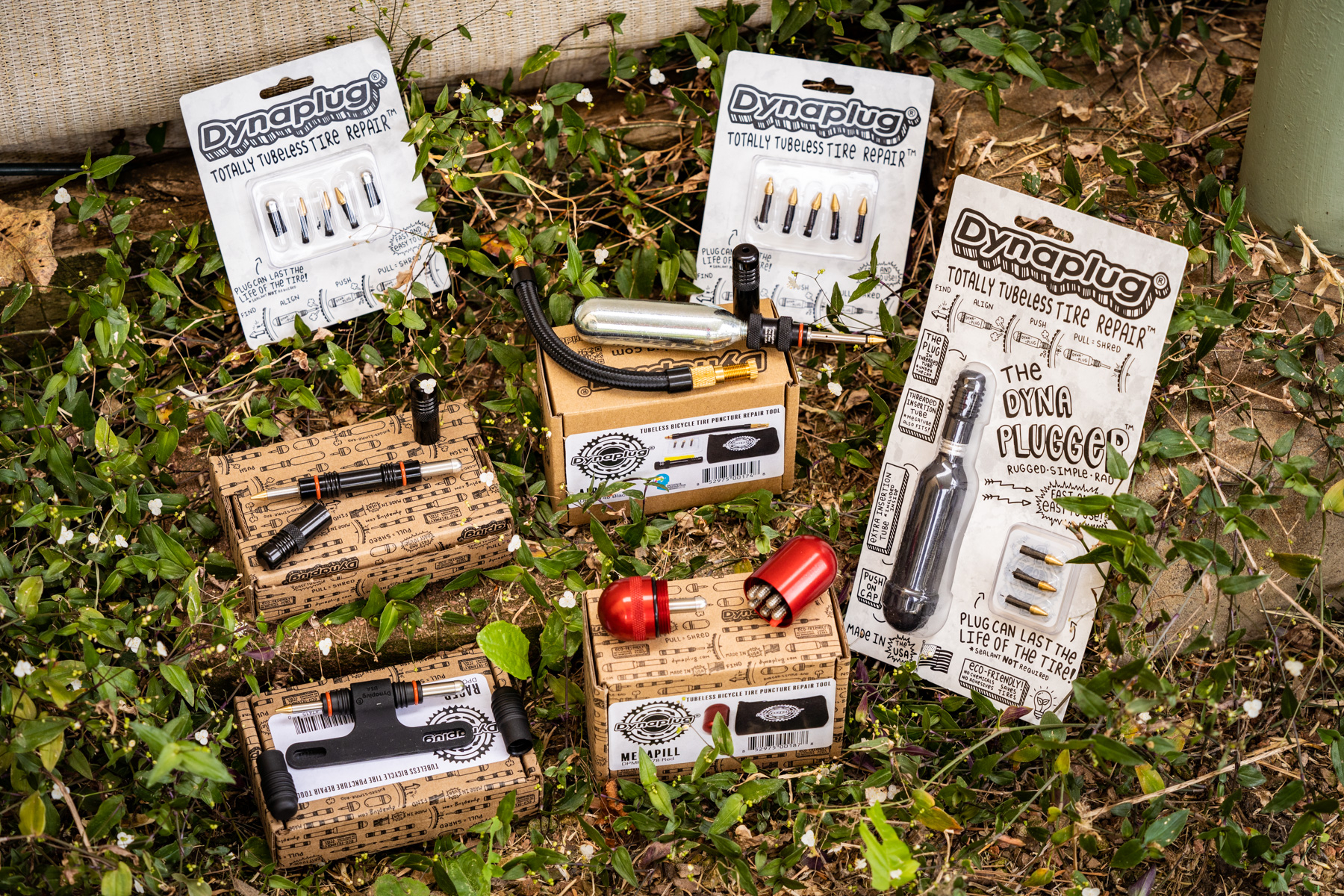 When it comes to tubeless repair kits, Dynaplug is one of the most well-known names in the game. And for many good reasons. Featuring a high quality construction with metal tips, Dynaplugs are far easier to insert than a traditional tubeless tyre plug, and in our experience, they tend to be more reliable too. We can count several tyres we've plugged that carried on in service until the tread was completely worn out, saving us a decent amount of cash along the way.
With roots in the automotive world, Dynaplug has developed a comprehensive range of bicycle-specific plug tools over the past few years. Australian distributor for Dynaplug, KWT Imports, recently sent us a selection from the latest range to test out.
The Dyna Plugger
One of the originals and still the best-value option in the Dynaplug lineup. Called the 'Dyna Plugger', this tool features a plastic body that's about the same size as a CO2 cylinder. It fits in your hand nicely and allows you to drive the plug and its metal tip into your tubeless tyre with as much force as needed. The rubber end cap at the base comes with a spare Dynaplug loaded, so you've always got two plugs at the ready.
You can get spare Dynaplugs in packs of five for $24.95 AUD. That's notably cheaper than a five-pack of Stan's DART plugs ($34.95 AUD), and in our experience the Dynaplug system is vastly more effective at sealing punctures.
The plugs are also available in two versions; there's the standard Dynaplug with the pointy brass end, and the bigger Megaplug with a silver bullet-shaped end. The Megaplug is considerably thicker, so it's useful for sealing up bigger puncture wounds.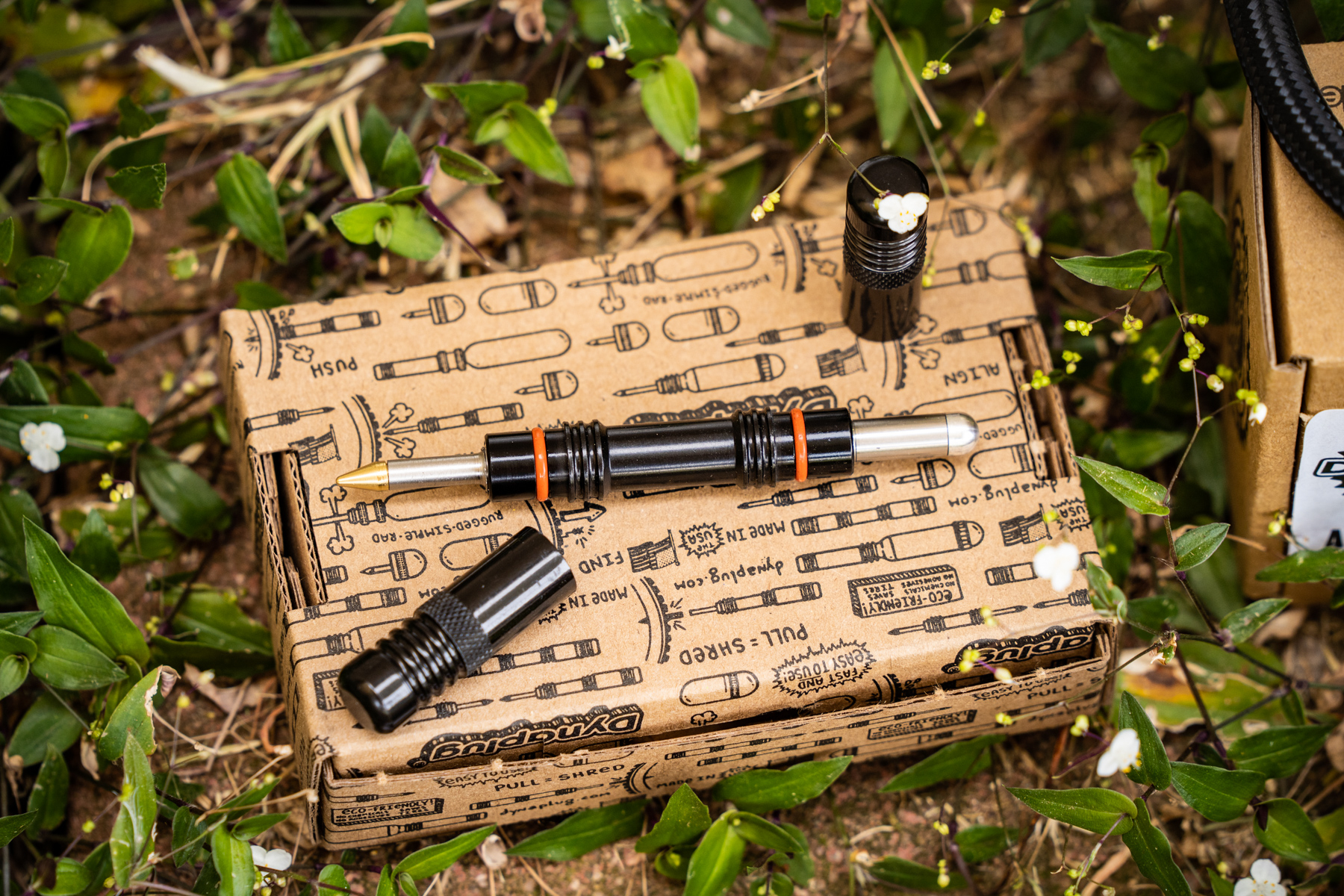 Dynaplug Racer Pro & Carbon Racer
Price: $79.95 AUD (Carbon Racer) – $84.95 AUD (Racer Pro)
For those after a sleeker and lighter option, look toward the Dynaplug Racer Pro and Carbon Racer tools. These use a much slimmer body that allows them to fit neatly into a saddle bag or accessory pouch in your riding pack.
Weighing in at just 14g, the Carbon Racer is the lightest Dynaplug tool in the range. It uses a glass fibre-reinforced nylon body and comes loaded with two Dynaplugs at the ready. End caps keep the plugs shielded from contaminants when not in use, and the included bottle cage mount provides a discreet but quickly-accessible carrying option.
In comparison, the Racer Pro gets a beautiful CNC machined alloy body and reversible dual-ended Dynaplug tips. This allows it to store four plugs at a time, making it a very space-efficient option. Along with its machined alloy caps and the option of a black, silver or red anodised finish, the Racer Pro is one of our favourite tools to perform trailside puncture surgery with.
Dynaplug Air MTB
Price: $99.95 AUD (Air MTB)
One of the newer options in the tool range is the Dynaplug Air. This clever device allows you to plug the puncture in your tyre and inflate it with a CO2 cylinder at the same time. It does this using a chuck and a special Dynaplug insert tool that features a small air valve. Once you've inserted the tool into the tyre, CO2 can be released via the air valve.
As well as eliminating the need to bring along a separate CO2 chuck, this compact solution makes repairs quicker to perform, which will be particularly valuable for XC and enduro racers.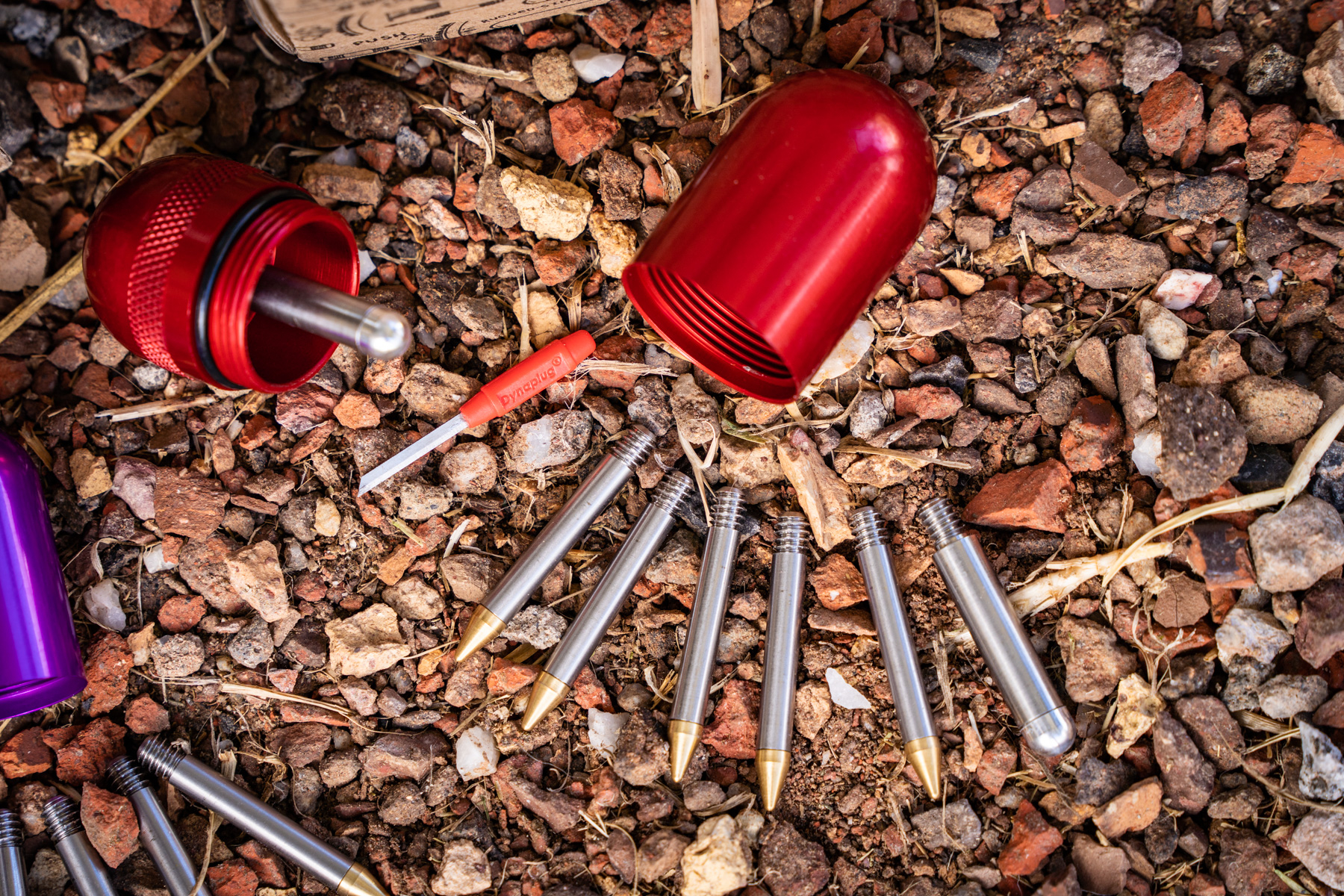 Dynaplug Micro Pro & Mega Pill
Price: $99.95 AUD (Micro Pro) – $109.95 AUD (Mega Pill)
Last but certainly not least are two of our favourite tools in the Dynaplug range; the Micro Pro and Megapill. Despite their compact form, these tubeless tyre repair kits pack a load of spare plugs, making them a great option to carry in your riding pack for an epic all-day group ride out in the mountains.
The Micro Pro carries five Dynaplugs and the world's tiniest shank for cutting off the excess length of the plug after repairing a puncture. The bigger Megapill carries five Dynaplugs and two Megaplugs, which in our experience makes it a better option for mountain bikers. We like that you can get these tools in shiny anodised colours, making them harder to lose in your pack or on the side of the trail. While they certainly aren't cheap, they are very high quality thanks to being made from billet 6061 alloy and hardened 304 stainless steel. And like all Dynaplug products, these also come with a limited lifetime warranty.