Holy red beast bike! What is that? 
The latest bike from Pivot is called the Mach 5.5 Carbon. A robust looking 140/160mm trail bike, that rolls all the Pivot traits and design features we like into grippy and lightweight all-rounder.
Cast an eye over that rear end – pretty solid looking, huh? The linkage and one-piece rear end are so stout – don't expect any waggle in this puppy's tail. That said, the claimed frame weights are from 2.35kg, which is bloody light for a 140mm bike.
We have fond memories of the Pivot Mach 5.7, we still remember it as one of the best trail bikes we've  ridden, and it looks like the 5.5 Carbon builds on the legacy of the Mach 5.7 nicely, bringing that classic trail bike formula into a modern format.
Big rubber! 27.5+?
The waters are getting muddier. When does a tyre move from being just a 'big' 27.5" tyre and become a 27.5+ sized tyre? Does it even really matter? We know for sure that there are more 27.5 x 2.6" tyres options coming soon, so get used to seeing bigger treads on trail bikes.
Either way, the end result is traction with a capital ACTION – the 2.6" tyres and excellent suspension make for much malarky but without the vagueness of a 2.8" or 3.0" tyre.
---
Looks similar to the Switchblade.
It sure does, albeit a little less swoopy in its lines. But where the Switchblade is built to run either 27.5+ or 29er wheels, the 5.5 is 27.5 only. Complete bikes are all specced with the big 2.6" Maxxis we've got here, and 35mm rims. You could run smaller, lighter tyres of course, though the bottom bracket height will drop. The 5.5 also uses standard 148×12 rear axle spacing, rather than the 157mm Superboost spacing used on the Switchblade.
In other regards, the 5.5 with a 160mm fork shares almost identical geometry to the Switchblade with a 150mm fork in a 27.5+ format. The only differences of real note being the slightly increased travel,10mm more reach and a slightly lower stack height on 5.5. Both share a 66.5 degree head angle.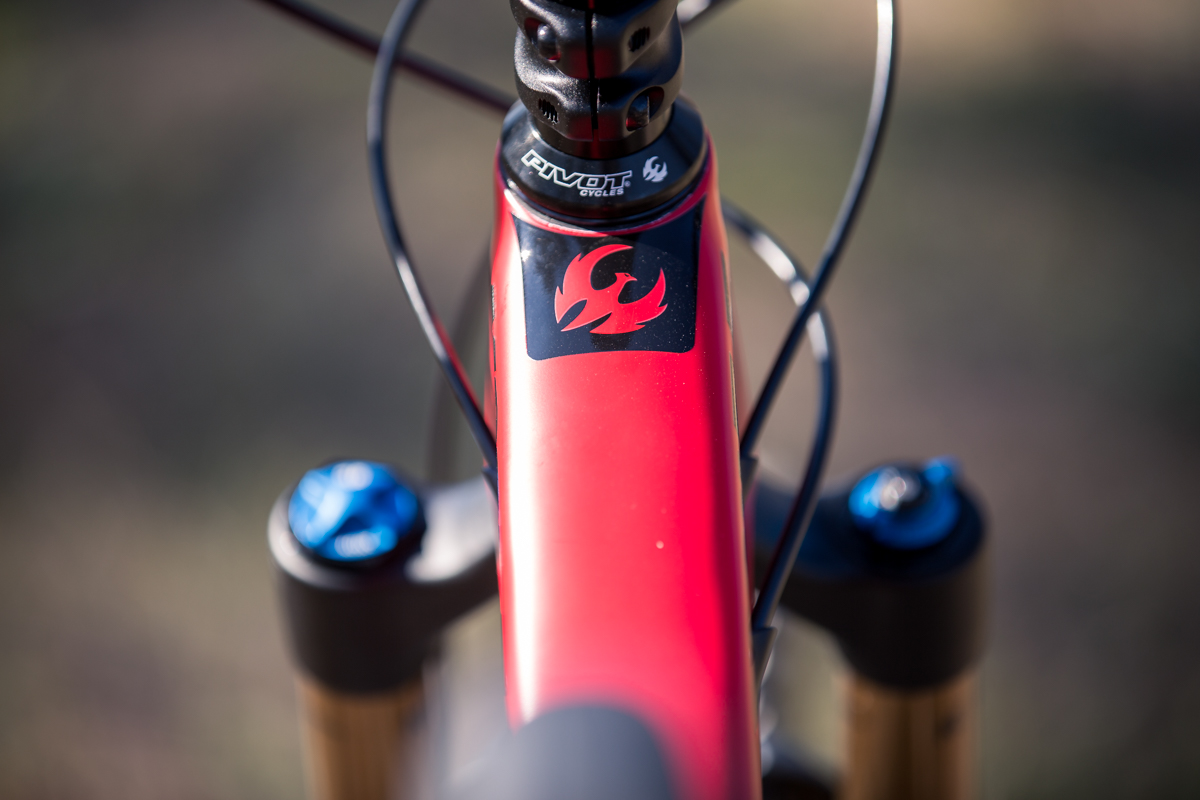 ---
What's the ride like? 
Well, we've had a grand total of maybe two hours riding this bike at Stromlo, but so far it re-confirms for us the levels of grip, efficiency and superb build quality we've come to expect from Pivots. The ride does, admittedly, feel a lot like a Switchblade in 27.5+ format, but there's an extra degree of precision that we assume stems from the slightly smaller tyre size. Pivots have been getting longer in recent times, and there's definitely more room up front to work with in this new bike than previous Pivots. Still, we'd be tempted to try upsizing and running a shorter stem if you're an aggressive rider.
The suspension is magnificent. The stability and efficiency of the dw-link is tops, and the new air spring in the 2017 FOX 36 is a noticeable improvement too, more supple than ever before.
It's going to tick a lot of boxes for the 27.5″ wheel fans, with the market expanding on 29ers, the 5.5 will have a place. On the trail the bike feels nimble, precise and confident, especially on jumps with tight landings and super-techy corners that would have a 29er struggling.
The 160mm travel fork is very tall when combined with the high stem mounted above a conical headset spacer, so when the climbs got steep the front wheel would lift and wander about. We'd love to experiment lowering the stem for a better climbing position, and given how confident we felt punching the descents we expect a lower bar height wouldn't detract from the bike's descending ability too much at all.
---
What about other details? And is that a front derailleur mount? 
Every one of the five frame sizes will fit a full-sized water bottle, even the XS. Like other recent Pivots, the bike gets neat cable ports and is fully ready for Di2 shifting with a battery port and wire guides.
There's some neat attention to detail, especially in terms of frame protection, and also we notice a few entry and exit ports for more electronics, we can only speculate about why there is a place for something by the rear disc rotor and in front of the rear shock. Perhaps sensors, accelerometers, and suspension adjusters…?
And yes, Pivot are still wedded to front derailleurs. Ok, we get it, some people still want them, but surely it's a small contingent asking for a front mech on a bike at this level?
---
Pricing? 
This is a top end piece of kit, so take a deep breath. A frameset will leave your wallet $4799 lighter, and complete builds start from $7599 for an XT build kit up to a whopping $14,999 for the team build kit with XTR Di2 2×11. The XT/XTR 1×11 build kit option we've ridden here is $8999.
What next? 
We had to leave this bike in Canberra for dealers to have a look at, but we'll be reviewing it properly in the coming weeks. In the meantime, read our full review of the Pivot Switchblade here, and the Firebird here.